Take salad from a side dish to the main dish! Baby spinach is topped with sauteed chicken, roasted butternut squash, and a warm bacon-maple vinaigrette. You won't believe that this gourmet salad can be ready in just under 30 minutes!
One of my favorite memories growing up was sitting down to a meal together with my family. It was hard sometimes, with my dad working overnights, so sometimes that meal was breakfast when my dad got home from work.
I have my own family now, and meals together are still important to me. Sitting down together can still be difficult, because I don't get out of work until 6, and toddlers just don't want to wait for dinner to be ready. Meals that are quick and easy to get onto the table are essential.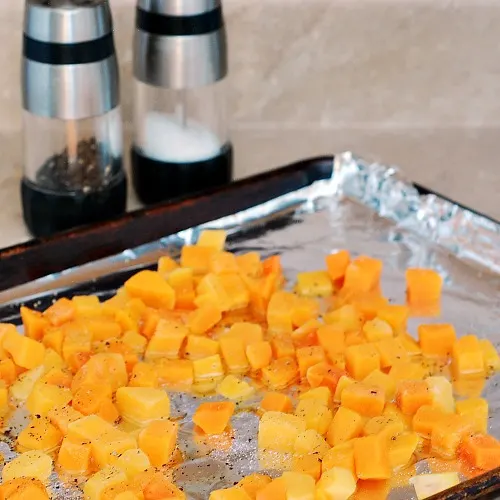 Thankfully, Perdue recently released their Signature Stock to help busy families. This delicious, just-like-homemade stock can be found in your local grocery store, in the refrigerated section next to Perdue chicken, in "regular" and "reduced sodium" varieties. It's refrigerated for maximum freshness, because it doesn't contain any preservatives. It's so easy to twist the cap open and get cooking. I also love the window on the side with measurements that lets me know just how much stock I have left.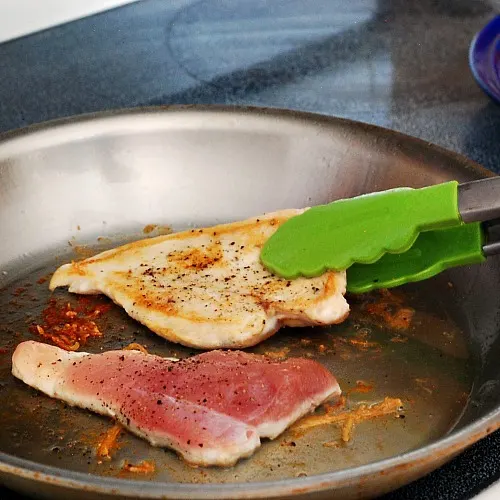 Some tips to get this delicious salad on the table in just under 30 minutes: either buy thin-sliced chicken cutlets, or buy whole breasts and cut them in half horizontally yourself. The thinner slices cook more quickly. The same goes for the squash: I bought pre-cut squash cubes, and cut them down to ½-inch cubes, so they would roast more quickly.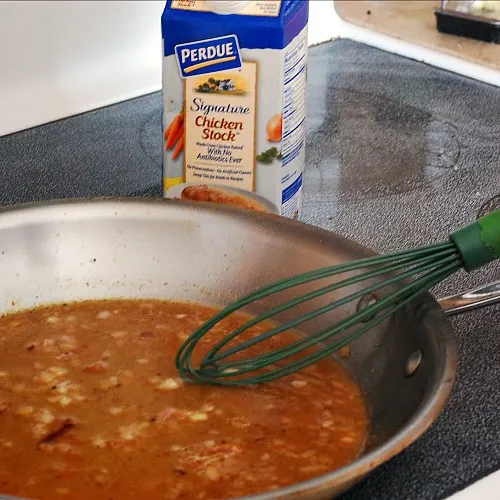 I loved this salad because, well, it has roasted butternut squash, one of my favorite ingredients. It's also different from the usual weeknight meal of meat plus one starch side and one veggie side. Having something unusual makes the weeknight just a little more special.
And though I served this salad warm for dinner, the leftovers were just as delicious when I had them cold for lunch the next day!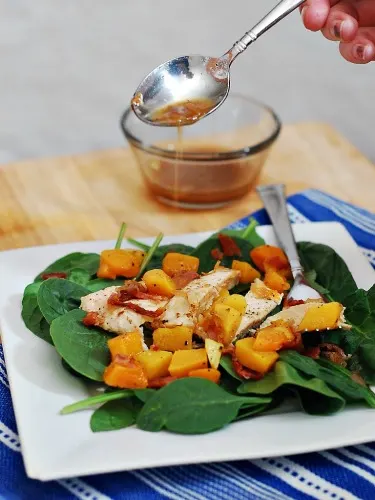 Join the Perdue Crew to get some pretty sweet rewards. http://www.perduecrew.com/
Learn more about Perdue, including The Perdue Way, Where to Buy, Recipes and Tips from the Kitchen, at http://www.perdue.com/
Also, be sure to check out the other Weekday Supper Perdue Recipes by following our Pinterest board: http://www.pinterest.com/thesundaysupper/weekdaysupper-recipes-made-with-perdue-chicken/
Learn more about PERDUE® Signature Chicken Stock here: http://www.perduechickenstock.com/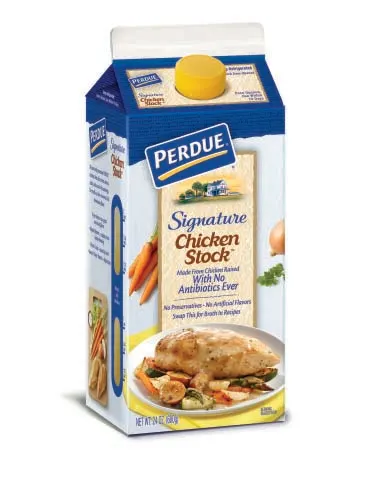 Facebook: https://www.facebook.com/PerdueChicken
Pinterest: http://www.pinterest.com/perduechicken
Twitter: https://twitter.com/PerdueChicken
And don't forget to see the rest of this week's posts for Weekday Supper! You can get a ton of great meal ideas that are quick, easy and delish so check them out!
Monday - Quick Chicken Francese by Rants From My Crazy Kitchen
Tuesday - Dijon Chicken by The Messy Baker
Wednesday - Chicken, Squash and Spinach Salad with Bacon Vinaigrette by The Redhead Baker
Thursday - Quick & Creamy Risotto by Eat Picks
Friday - Orzo with Chicken and Spinach by Cooking Chat
I received PERDUE® Signature Chicken Stock from Perdue in conjunction with a sponsored social media campaign through Sunday Supper LLC. All opinions are my own.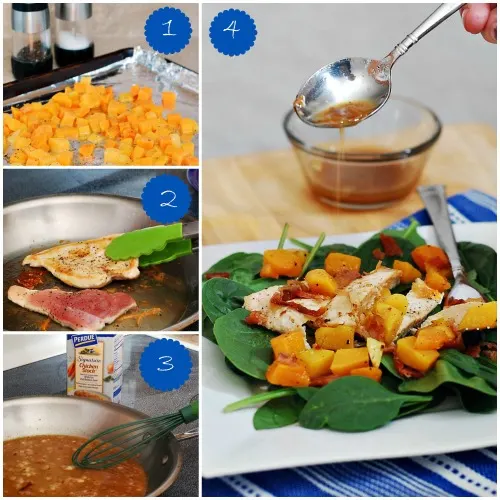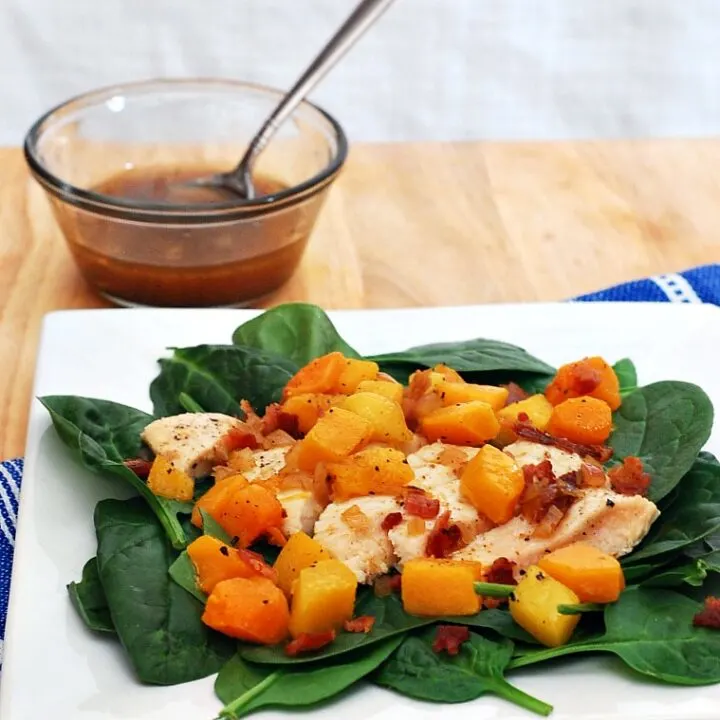 Chicken, Squash and Spinach Salad with Bacon Vinaigrette #WeekdaySupper
Ingredients
1 lb butternut squash, cut into ½-inch cubes
2 tablespoon olive oil, divided
4 thin-sliced chicken cutlets
4 slices center cut bacon
1 small shallot, finely diced
2 tablespoon apple cider vinegar
⅓ cup chicken stock
1 tablespoon pure maple syrup
6 oz to 8 bag baby spinach
Instructions
Preheat oven to 400 degrees. Line a baking sheet with foil and spread the squash on the sheet. Toss with 1 tablespoon of the oil, and season with salt and pepper. Roast for 15 minutes, or until fork-tender.
In a skillet, heat the oil over medium-high heat. Season the chicken cutlets on both sides with salt and pepper, and add to the skillet. Cook for one to two minutes on each side, until cooked through. Remove to a plate, and tent with foil to keep warm.
Reduce the heat under the skillet to medium. Add the bacon to the skillet, and cook until crisp (about 6 minutes). Remove the bacon from the pan, reserving the drippings.
Add the shallots to the bacon drippings and saute for about 30 seconds. Add the vinegar, chicken stock, and maple syrup, and stir, scraping up any stuck bits from the bottom of the skillet. Cook for 1 minute. Remove from the heat and season to taste with salt and pepper, if needed.
Divide the baby spinach among 4 bowls. Slice each chicken cutlet into strips, and place over the spinach in each bowl. Divide the squash among the four bowls, then crumble one strip of bacon into each bowl. Dress each salad with about 2 tablespoons of the warm dressing.
Recipe by The Redhead Baker