This post and recipe was created for #HalloweenTreatsWeek. I was sent samples by some of the sponsor companies but as always opinions are 100% mine.
Turn cupcakes into Cauldron Cakes for Halloween! Chocolate cupcakes are the base for a marshmallow potion, and Sweets & Treats sprinkles bubble out of the top.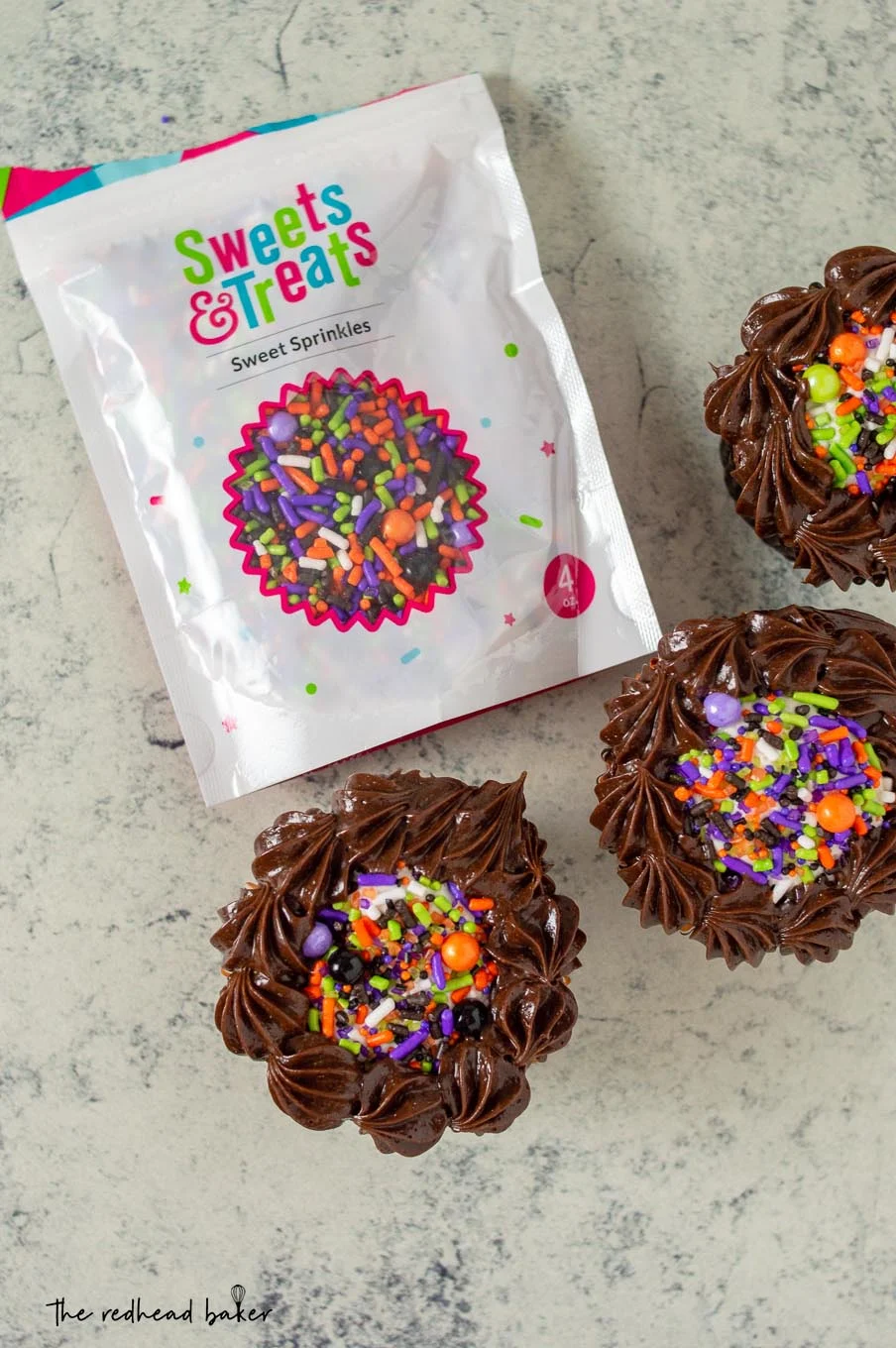 I hope these spooky sweets and treats are getting you into the Halloween mood!
When I think of Halloween, one of the classic symbols is a witch. Witch decorations, witch costumes, etc.! So, why not witchy treats? I turned ordinary chocolate cupcakes into cauldron cakes with the help of Sweets & Treats Boutique's sprinkle mix.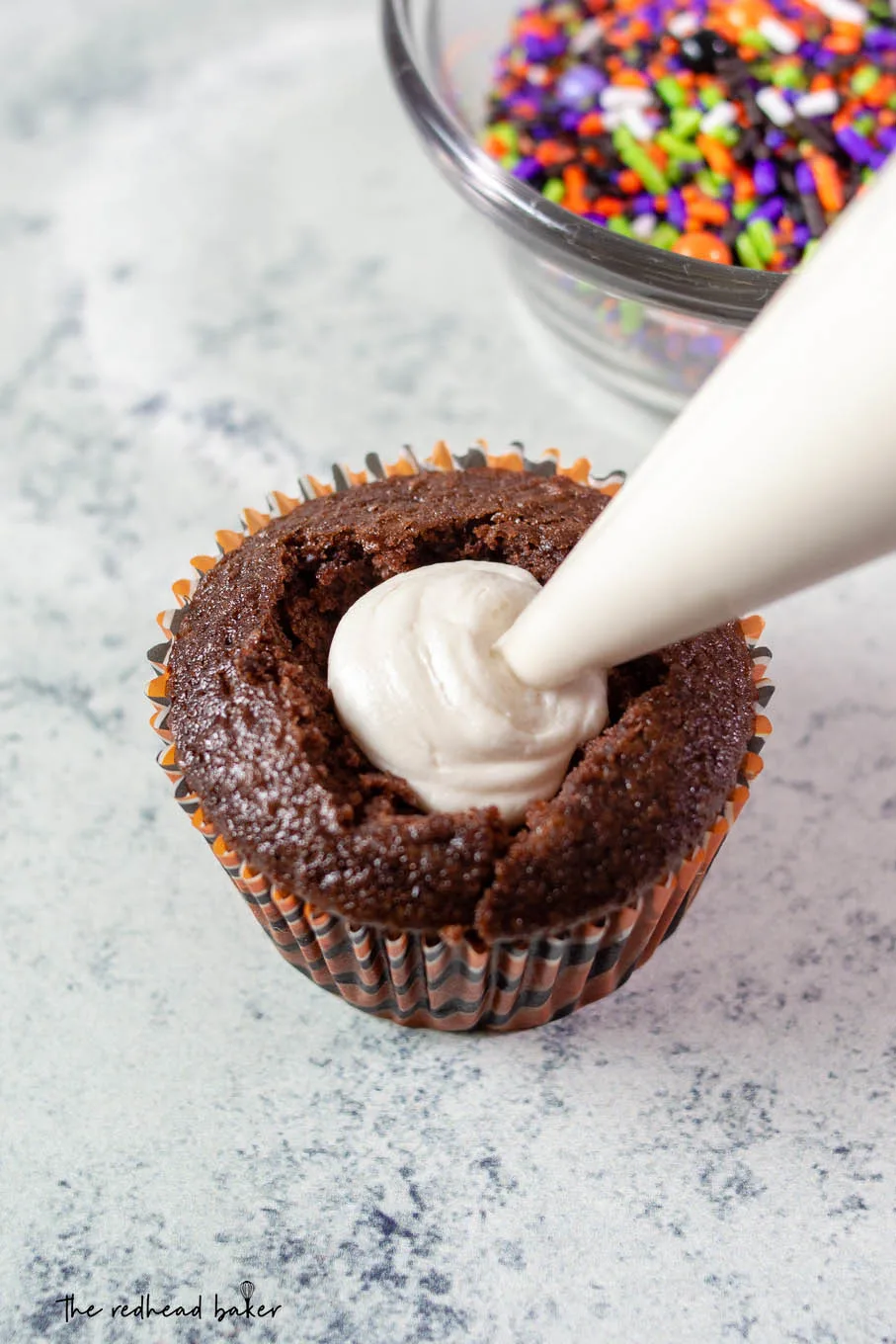 When I was considering how to construct these cauldron cakes, I was originally going to frost them, then add the sprinkles. But, they wouldn't resemble cauldrons at all. Just cupcakes with sprinkles. Then I found a tutorial from Pastry Affair, and while they look AWESOME (seriously, go check them out!), they are a lot of work. And since the cauldron handles aren't made with tempered chocolate, they wouldn't maintain their shape after a while.
So, I simplified mine a bit. I loved the idea of filling them with yummy marshmallow cream to help the sprinkles adhere. But after that, I simply added some dollops of chocolate frosting around the edges for a rim. I really doubt my 6-year-old would appreciate the time and effort of making cauldron feet out of chocolate chips.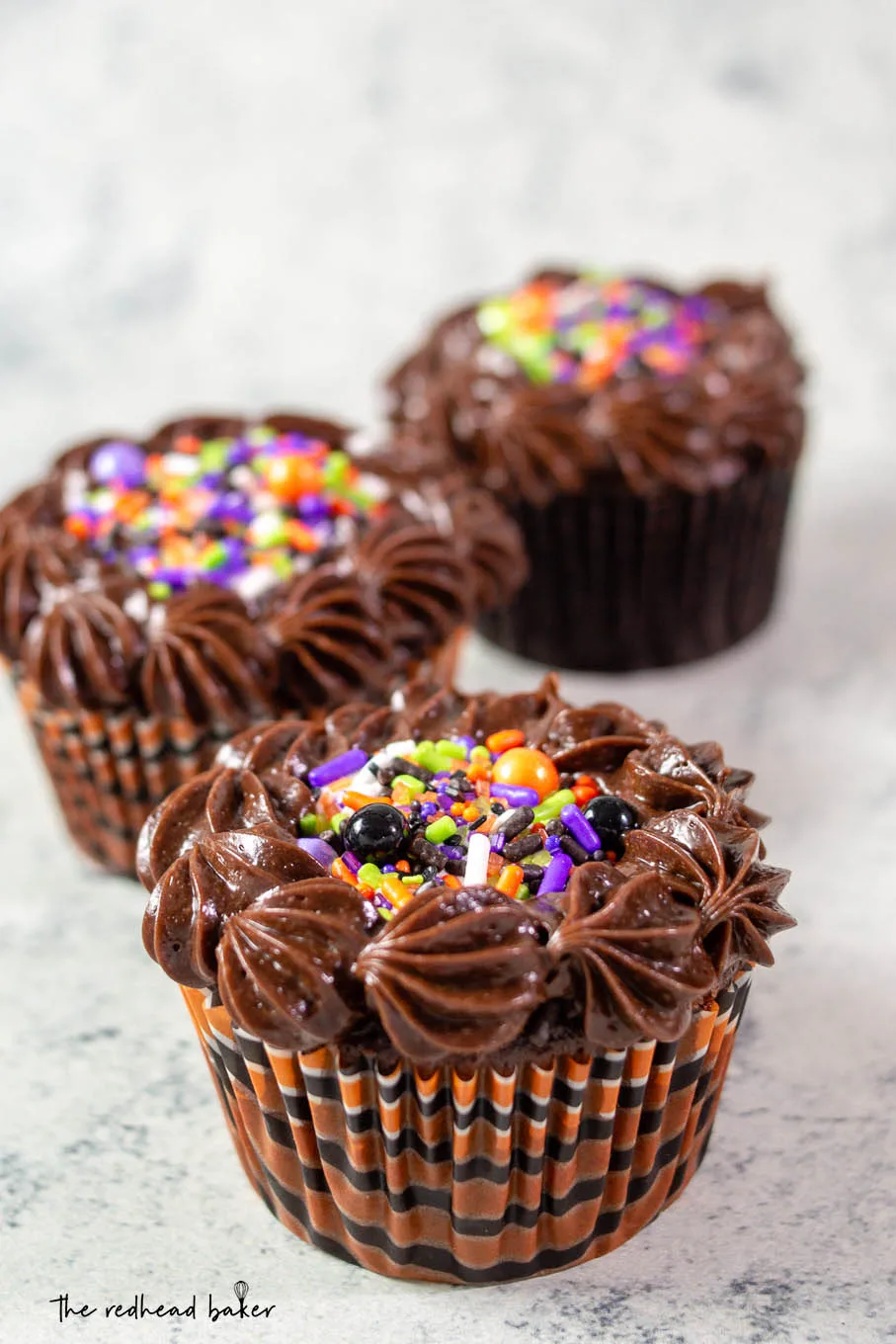 My favorite part of these cauldron cakes the sprinkles bubbling out of the top of the "cauldrons." I love the "Monster Mash" sprinkle mix I got from Sweets & Treats. I've been a fan of theirs for years, and I've used their paper straws and cupcake liners in past posts. Their pre-made sprinkle mixes come in all sorts of creative themes! If you don't see a pre-made mix that works for you, you can even create your own.
They have sprinkle options that are vegetarian, vegan, gluten-free, dairy-free, or nut-free, and they have tags under Allergy Info in their menu, so you can easily find sprinkles that are safe for your dietary needs.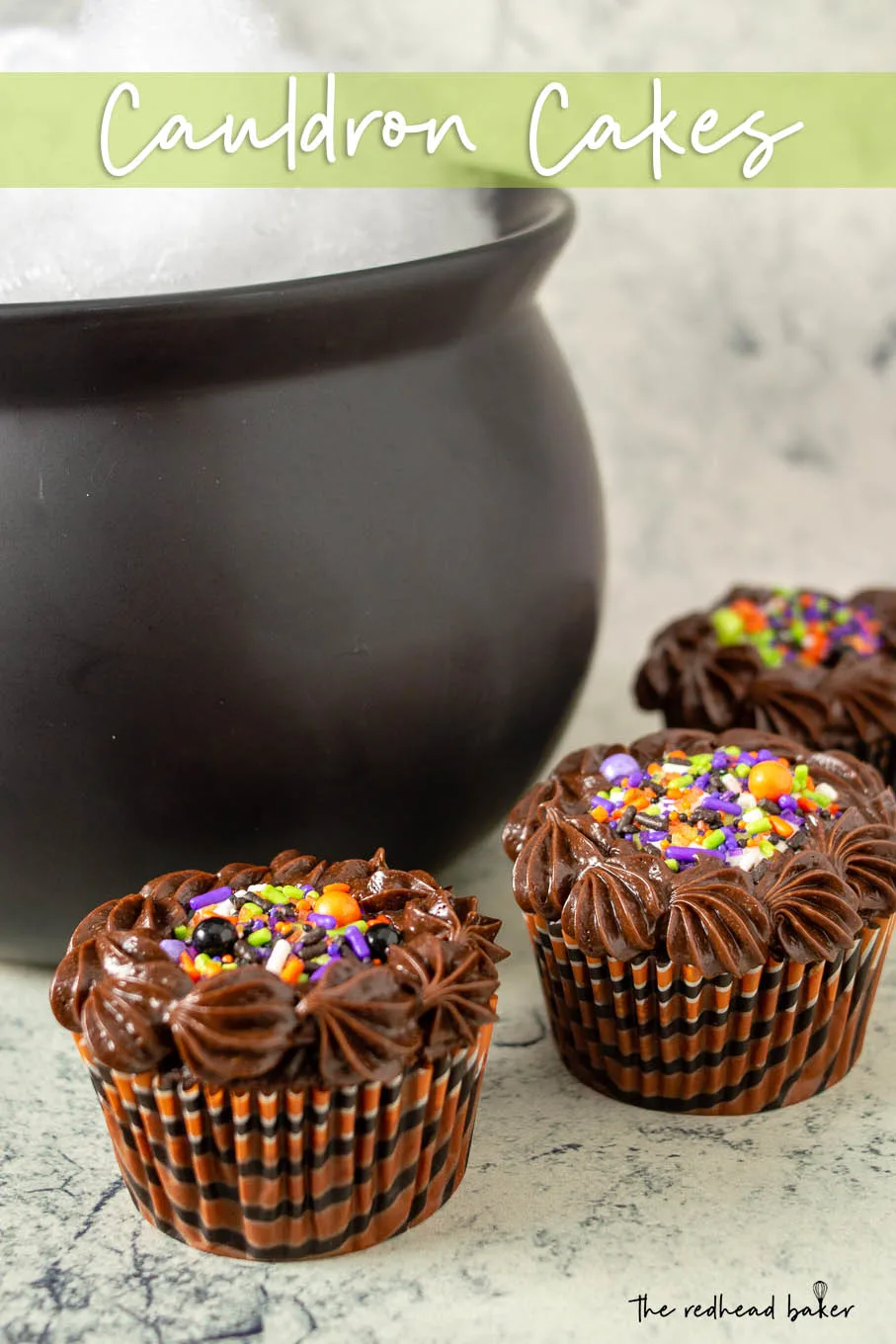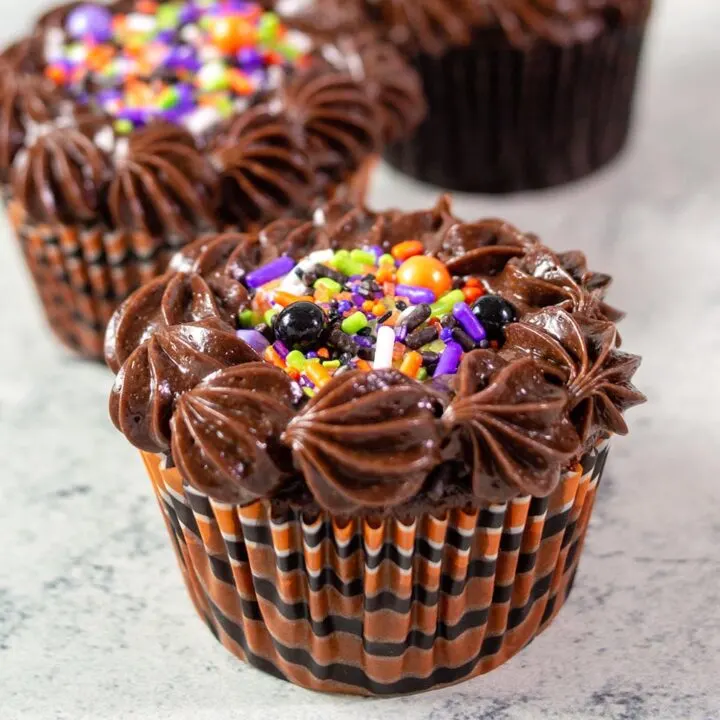 Chocolate Cauldron Cakes
Turn cupcakes into Cauldron Cakes for Halloween! Chocolate cupcakes are the base for a marshmallow potion, and Sweets & Treats sprinkles bubble out the top.
Ingredients
For the chocolate cupcakes
¾ cup all-purpose flour
½ cup unsweetened natural cocoa powder
¾ teaspoon baking powder
½ teaspoon baking soda
¼ teaspoon salt
2 large eggs, at room temperature
½ cup sugar
½ cup packed light brown sugar
⅓ cup canola oil
2 teaspoon Adams vanilla extract
½ cup buttermilk, at room temperature
For the marshmallow filling
1 cup Marshmallow Fluff (or prepared marshmallow cream)
½ cup vegetable shortening
½ cup confectioners sugar
2 teaspoons Adams vanilla extract
For the frosting
7 ounces bittersweet chocolate, finely chopped
4 ½ ounces cream cheese, room temperature
4 ½ tablespoons unsalted butter, room temperature
1 ½ cups confectioners' sugar, sifted
3 tablespoons unsweetened Dutch-process cocoa powder
Pinch of salt
½ cup plus 1 tablespoon sour cream
For assembly
2 oz Sweets & Treats Monsters Mash sprinkle mix
Instructions
Make the cupcakes
Preheat the oven to 350°F (177°C). Line a 12-cup muffin pan with cupcake liners. Set aside.
Whisk the flour, cocoa powder, baking powder, baking soda, and salt together in a large bowl until thoroughly combined. Set aside.
In a medium bowl, whisk the eggs, granulated sugar, brown sugar, oil, and vanilla together until completely smooth. Pour half of the wet ingredients into the dry ingredients. Then half of the buttermilk. Gently whisk for a few seconds. Repeat with the remaining wet ingredients and buttermilk. Stir until *just* combined; do not overmix. The batter will be thin.
Pour or spoon the batter into the liners. Fill only halfway to avoid spilling over the sides or sinking in the middle. Bake for 18-21 minutes, or until a toothpick inserted in the center comes out clean. Remove to a wire rack to cool completely.
Make the marshmallow filling
In a medium bowl, beat together the marshmallow fluff, shortening, sugar, and vanilla extract until light and fluffy, about 3-5 minutes. Transfer to a piping bag and set aside.
Make the frosting
Melt the chocolate in a heat-proof bowl set over a pot of simmering water. Set aside to cool until just barely warm.
In the bowl of a stand mixer fitted with the paddle attachment, beat the cream cheese and butter on medium-high speed until pale and fluffy, about 3-4 minutes. Gradually mix in the confectioners' sugar, cocoa powder and salt. Beat in the melted and cooled chocolate and then the sour cream. Continue beating until the mixture is smooth and well blended.
Transfer to a piping bag fitted with a small open star tip and set aside.
Assemble the cupcakes
Pour the sprinkles into a small bowl. Using a sharp paring knife, cut a cone-shaped portion out of the middle of each cupcake. Do not cut all the way down to the bottom.
Snip off about a quarter inch of the piping bag with the marshmallow cream, and pipe some of the cream into the hole, filling it just above the top of the cupcake. Dunk the top of the cupcake into the sprinkles until some adhere to the marshmallow filling. Set aside.
Repeat with remaining cupcakes.
Once all cupcakes are filled and sprinkled, use the piping bag of chocolate frosting to pipe small dollops around the edges of the cupcakes to make the rim of the cauldron.
Store in airtight containers in the refrigerator until ready to serve.
Nutrition Information:
Yield:

1
Serving Size:

cupcake
Amount Per Serving:
Calories:

575
Saturated Fat:

13g
Cholesterol:

57mg
Sodium:

170mg
Carbohydrates:

69g
Fiber:

3g
Sugar:

55g
Protein:

4g
Check out more amazing #HalloweenTreatsWeek recipes!
Disclaimer: These posts and recipes are part of the week-long event, #HalloweenTreatsWeek but all opinions are 100% mine! We would like to Thank our amazing sponsors: Dixie Crystals, Adam's Extract, Wilton, Sweets and Treats Shop and Treat Street USA ! These wonderful sponsors provided the prize packs for our giveaways and also sent samples and products to the #HalloweenTreatsWeek bloggers to use in their recipes.