Use this tutorial to learn how to make Santa Claus Cupcakes! These easy cupcakes are a festive addition to any Christmas party or dinner.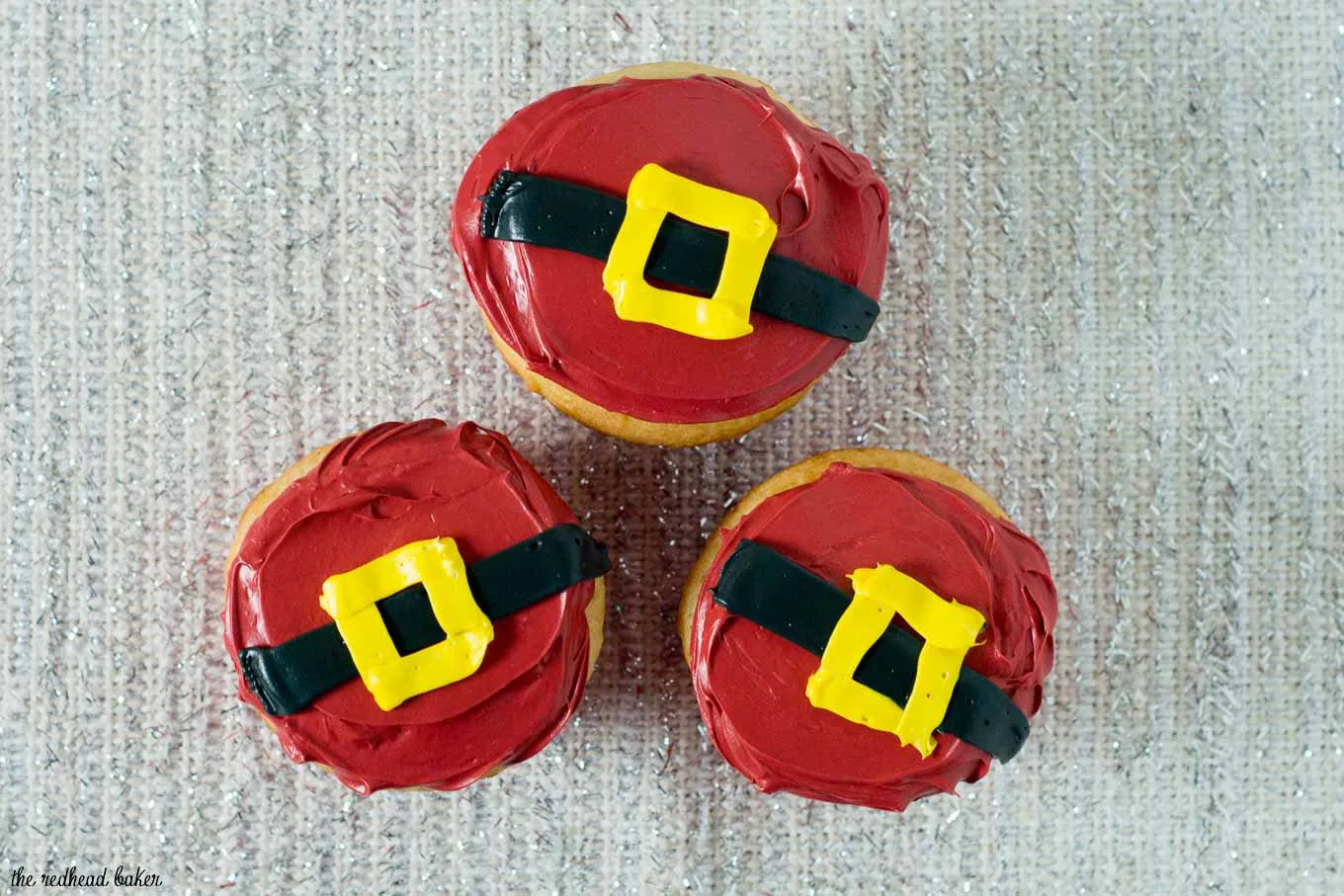 Just two weeks to go until Christmas! Are you ready? I only have a few small things left to buy, and cookies to make. My mail carrier, FedEx and UPS delivery guys have all earned a generous tip this year!
I don't know about you, but as the holidays get closer, things get busier. Holiday parties at work, school, with family and friends. I hate showing up to parties empty-handed, but being so busy, I need something easy to bring.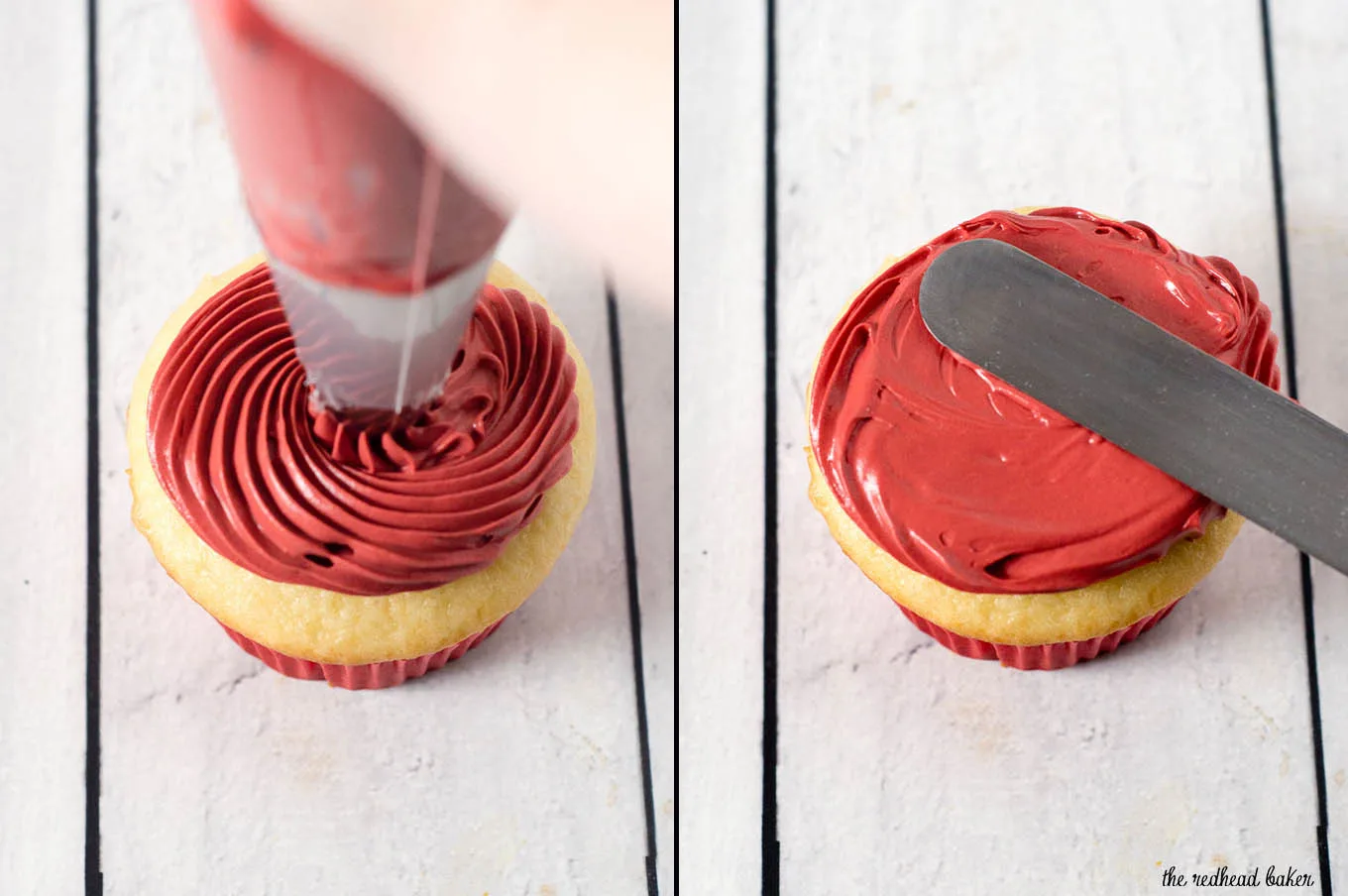 These adorable Santa Claus cupcakes are so festive, yet are so easy! No complicated cake decorating techniques here! With just a few tools, you can make these cupcakes that look like Santa Claus' jolly belly.
I like to put these cupcakes in red greaseproof liners. Greaseproof liners keep their vibrant colors even after baking. You can use any flavor of cupcake you like for these cupcakes.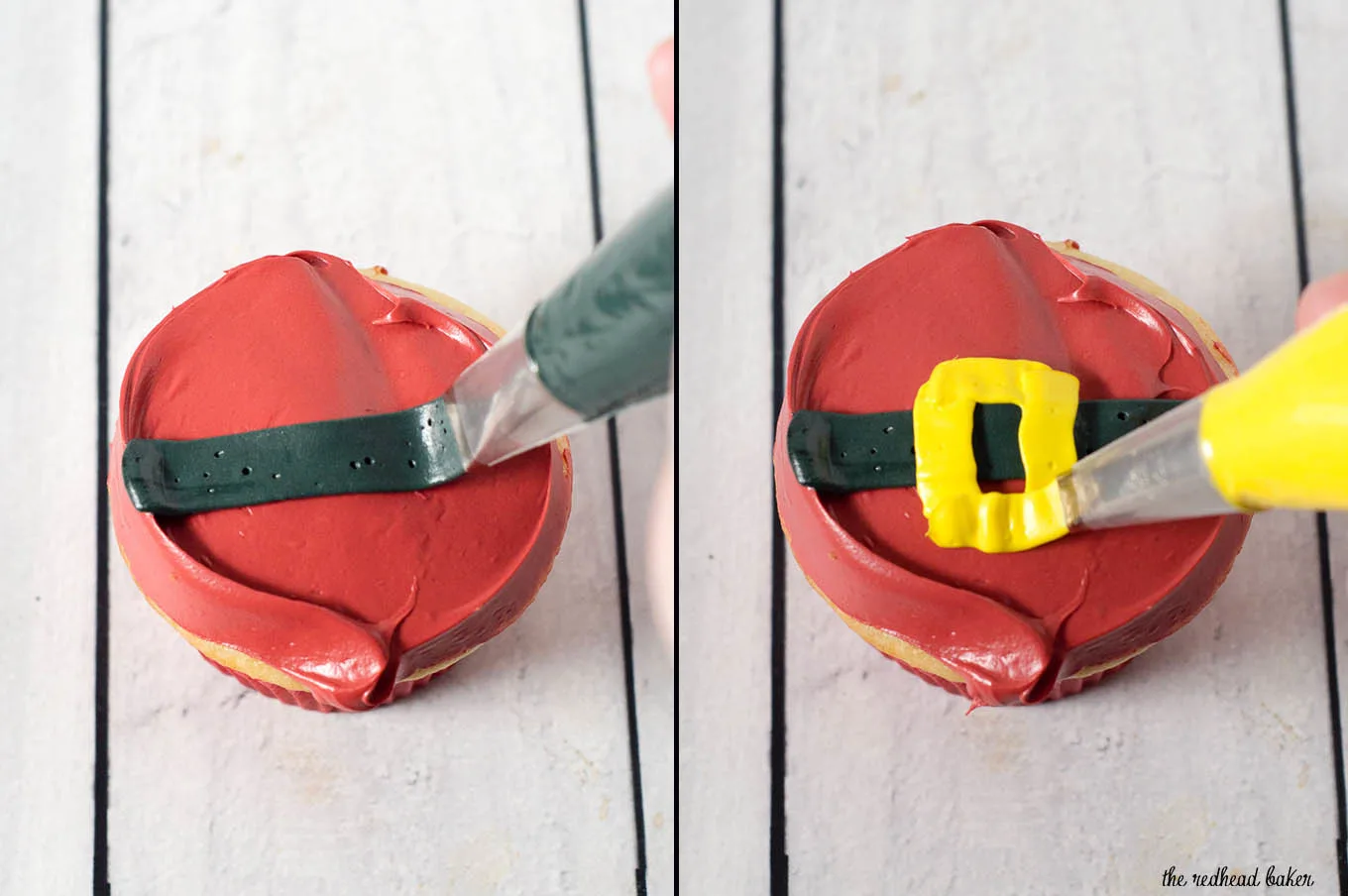 I do recommend making your frosting, however. Store-bought tubs of icing just aren't the right consistency for piping. They're not stiff enough to hold their shape.
If you want to get REALLY fancy, once your cupcakes are completely decorated, let them chill in the fridge for a bit to harden the icing. Then, take some gold luster dust, and a soft clean paint brush. Gently brush the dust onto the yellow buckle to make it sparkle!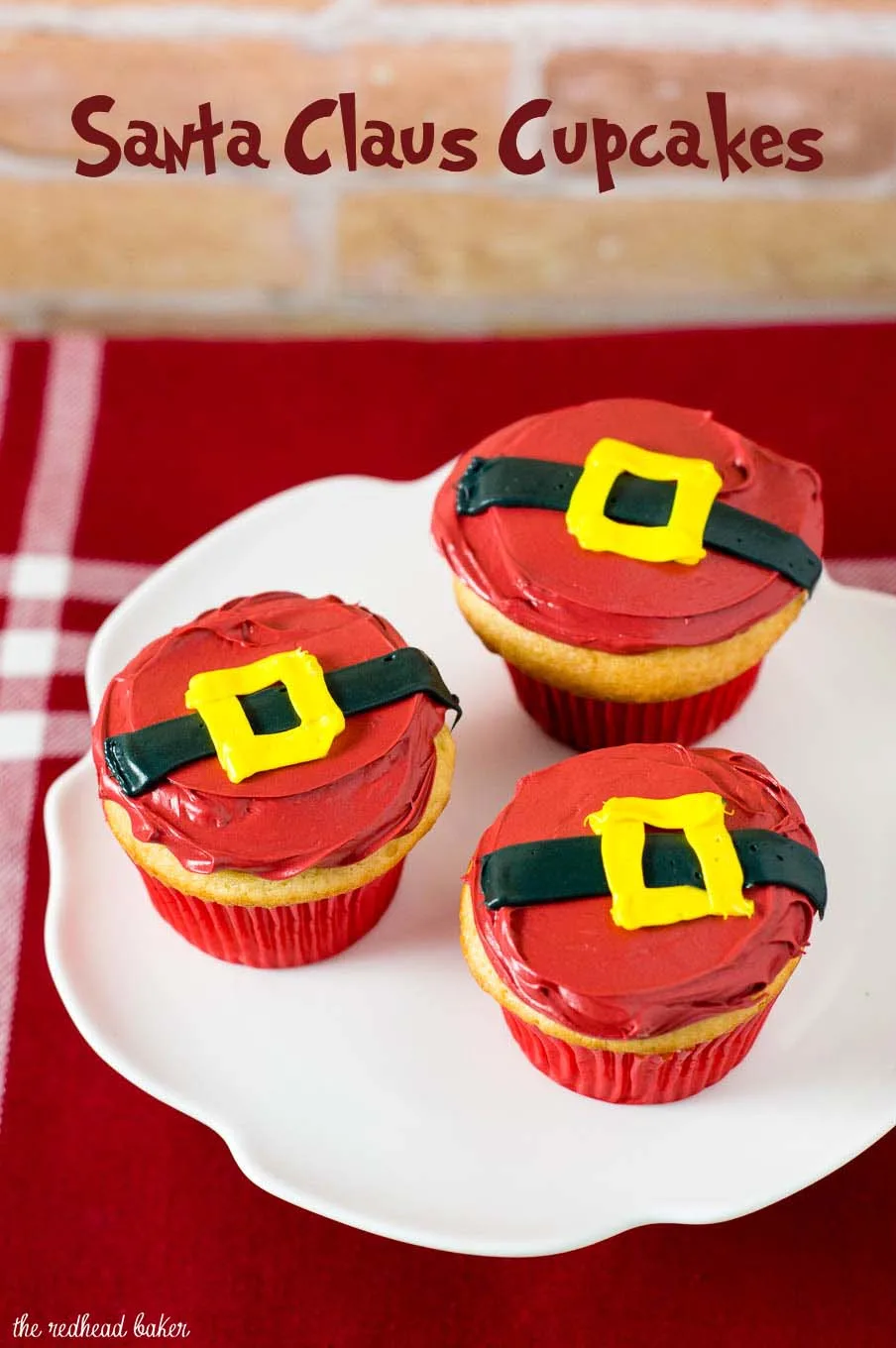 [amazon_link asins='B01DVRN0MI,B00175TFJ4,B0043UJERS,B0000VLEU4,B002JOYR6S,B00DSNTT2Q,B002GZVB8W,B000Q6I5CS,B000MT7YWG,B015CQZR6I' template='ProductCarousel' store='theredheadbak-20' marketplace='US' link_id='a1b55b97-e12b-11e7-be36-f9cf1558eb38']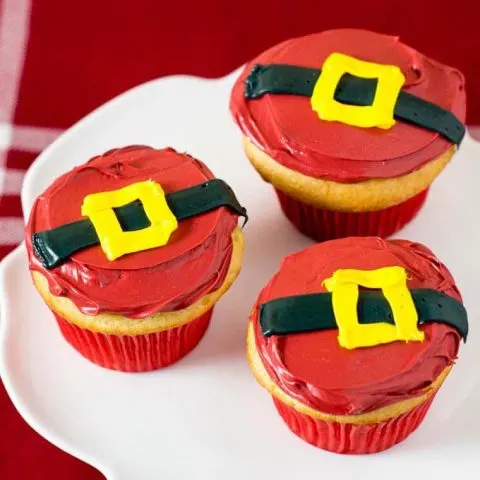 Santa Claus Cupcakes Tutorial
Ingredients
12 standard-size cupcakes, any flavor
1 ½ cups unsalted butter, softened
3 cups confectioners sugar
Pinch of salt
1 tablespoon vanilla extract
2 tablespoon whole milk
Instructions
Place the butter in the bowl of a stand mixer. Cream for several minutes on medium-high speed.
Gradually add the confectioners sugar to the butter and beat on medium-low speed until it is all incorporated. Beat in the salt
Mix in the vanilla extract and whole milk on low speed just until incorporated, then turn the speed to medium-high and beat until fluffy.
If the icing is too stiff, add a teaspoonful more milk. If it's too runny, add more confectioners 2 tablespoonfuls at a time.
Scoop ½ cup of the frosting in a small bowl and tint yellow. Start with just one to two drops, and mix until the color is evenly distributed before adding more. Set aside.
Scoop ½ cup of the frosting into a second small bowl and tint black. Start with just one to two drops, and mix until the color is evenly distributed before adding more. Set aside.
Tint the remaining frosting red, following the same directions as above.
Fit one pastry bag with the #12 tip. Fill halfway with red icing. Fit another pastry bag with the #48 tip. Fill halfway with black frosting. Fill a third pastry bag with the #44 tip. Fill halfway with yellow icing.
Pipe a flat swirl of red frosting onto each cupcake. Spread into a flat layer with the offset spatula.
With the ribbed side facing the cupcake surface, pipe a straight line of black icing across the center of each cupcake.
With the bag of yellow icing, pipe two horizontal lines crossing the black line. Turn the cupcake 90 degrees, and pipe two more horizontal lines to make a yellow square.
Refrigerate the cupcakes if not serving immediately.
See more #NationalCupcakeDay recipes!