Cinnamon vanilla roasted sweet potatoes are a different, delicious way to enjoy the root vegetable. So easy and ready in 30 minutes!
I don't like eating the same meals over and over again. I create meal plans with lots of variety to prevent dinner boredom, but sometimes I forget to defrost the protein, and we have to improvise dinner.
That usually involves a quick trip to the grocery store for some chicken, pork or pasta, and steaming a bag of frozen veggies. I try not to forget to defrost ingredients too often but it still gets old eating meat seasoned with a pre-made blend and plain steamed veggies.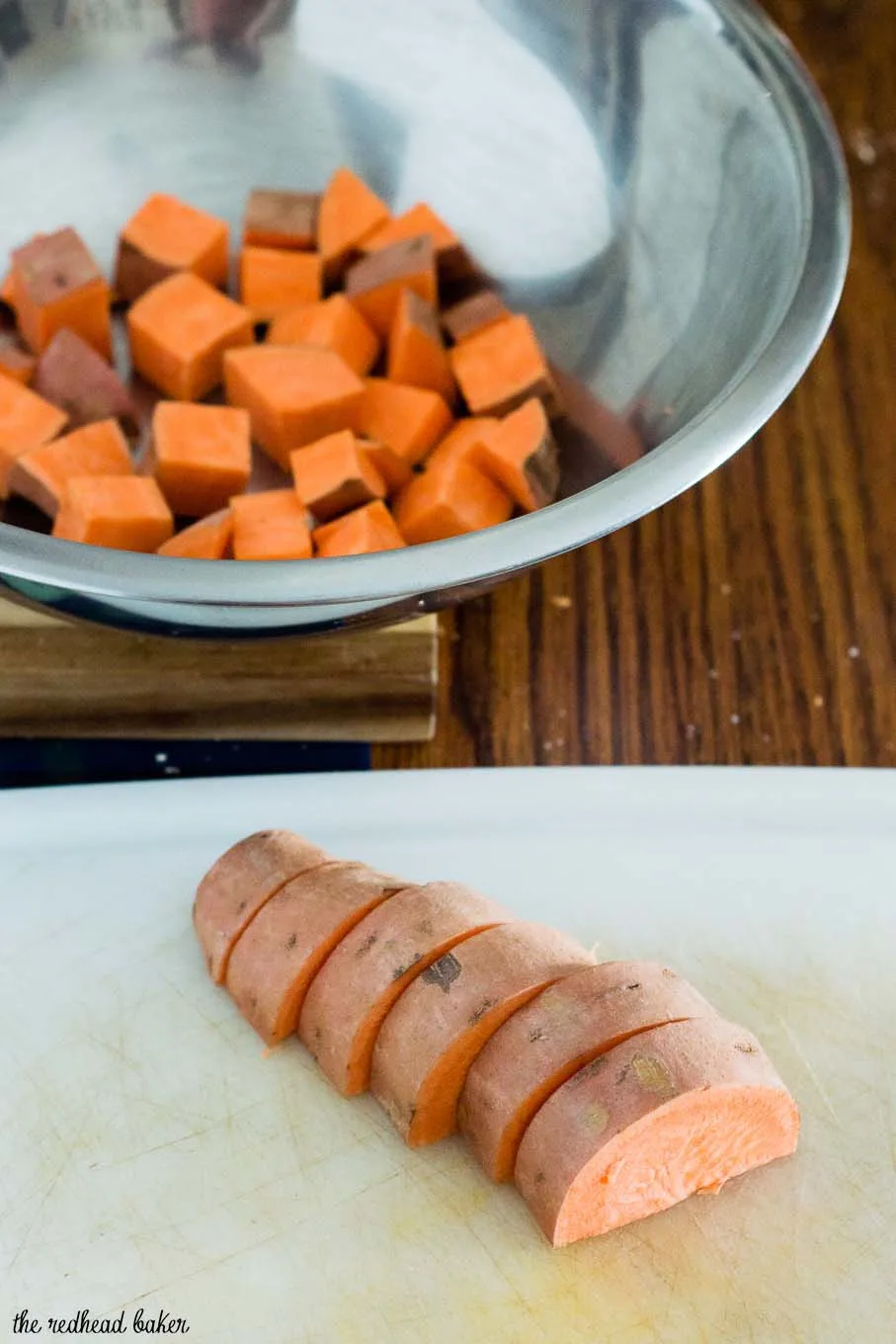 As I was walking through the produce section, looking for inspiration for an improv dinner, I saw that sweet potatoes were on sale. They're in season this time of year, and they are one of my favorite vegetables.
Cut into cubes, sweet potatoes can roast in about 30 minutes, making them a great weeknight meal side dish. Cinnamon and nutmeg are often used to season sweet potatoes, but this recipe gets a twist from an ingredient not typically used in savory dishes: vanilla.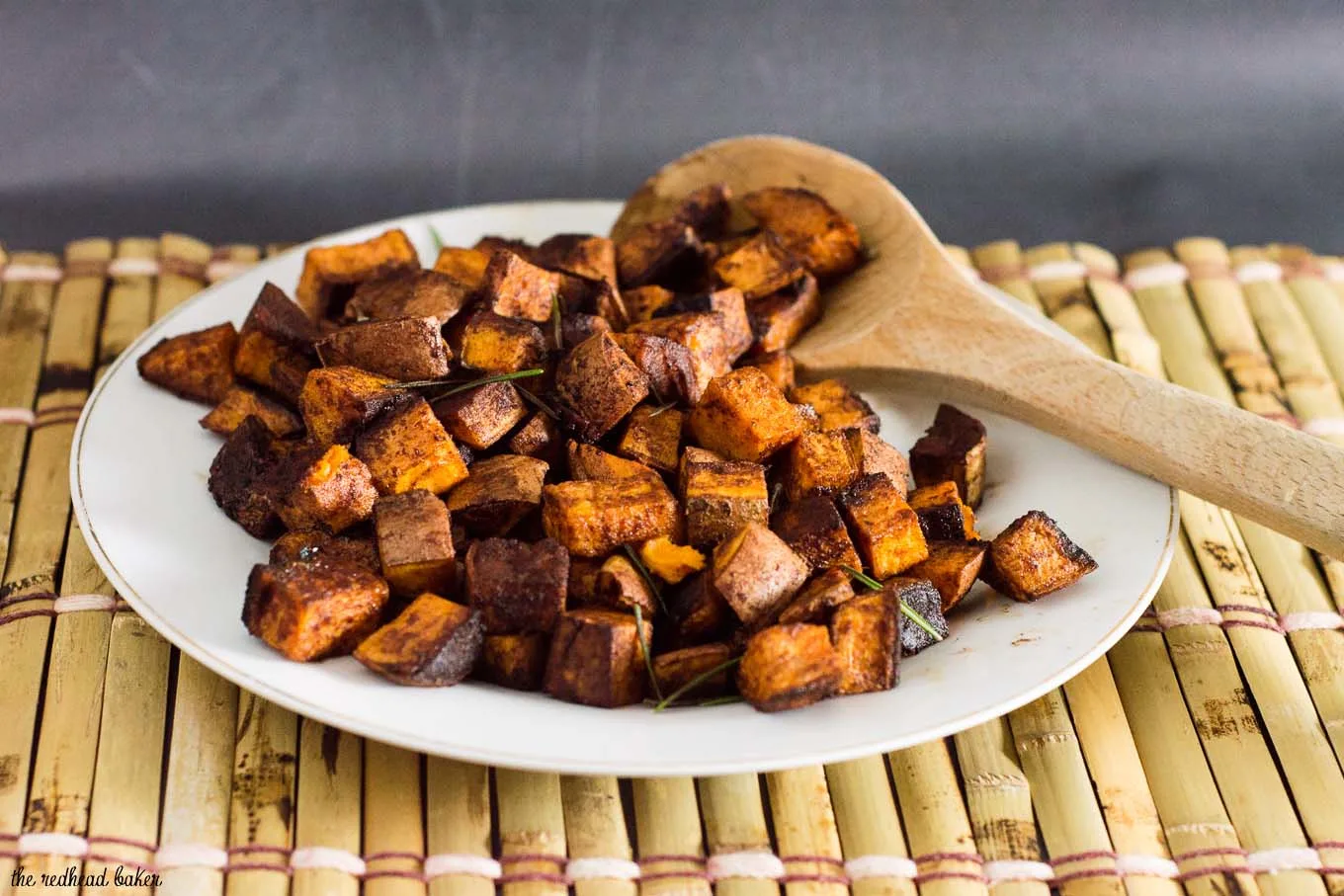 While the sweet potatoes roasted, I pan-seared some seasoned pork chops in a skillet on the stove top. I garnished my roasted sweet potatoes with fresh chopped rosemary because I had it on-hand, but parsley would work well, too, even chopped toasted pecans!
This was such a welcome change from our usual improv dinners. It was so simple, just a few ingredients, and hands-off cooking. The bonus? My son, who normally prefers raw carrot sticks or bell pepper strips to cooked veggies, asked to have a serving of these sweet potatoes!
What's been your favorite improvised weeknight meal?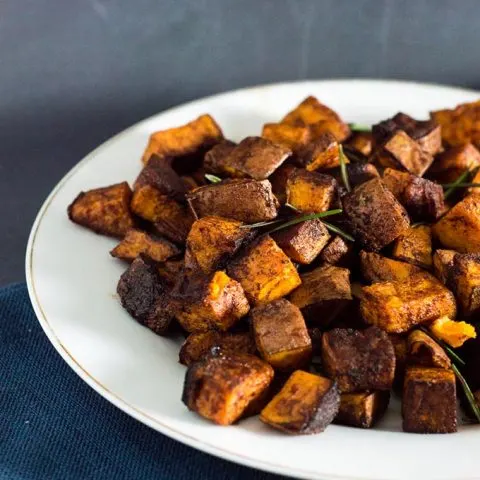 Cinnamon Vanilla Roasted Sweet Potatoes
Ingredients
2 large sweet potatoes, cut into ½-inch cubes
2 tablespoon olive oil
½ tablespoon cinnamon
¼ teaspoon nutmeg
1 teaspoon vanilla paste (or 1 vanilla bean, split and scraped, pod reserved for another use or discarded)
Instructions
Preheat oven to 400 degrees. Line a baking sheet with tinfoil and spray with nonstick spray.
In a large bowl, toss sweet potatoes with olive oil.
Add the cinnamon, nutmeg and vanilla paste (or vanilla bean seeds), and toss to distribute over the sweet potatoes.
Spread the sweet potatoes in a single layer on the baking sheet. Roast for 30 minutes, or until fork-tender.
Recipe by The Redhead Baker