Whether it's a big game-watching party, Cinco de Mayo, or just a few friends getting together, spicy chorizo queso dip will be the hit of the party.
The "Big Game" is one week away, and so are watch parties with lots and lots of food. I'm not a football fan. I don't even know which teams are playing in the game. In fact, I'm going to my friend's Puppy Bowl watch party that day.
Don't get me wrong, if I'm invited to a party to watch the football game, I'll go. I go for the commercials, and for the food. Football watch parties always have delicious, spicy, fattening food.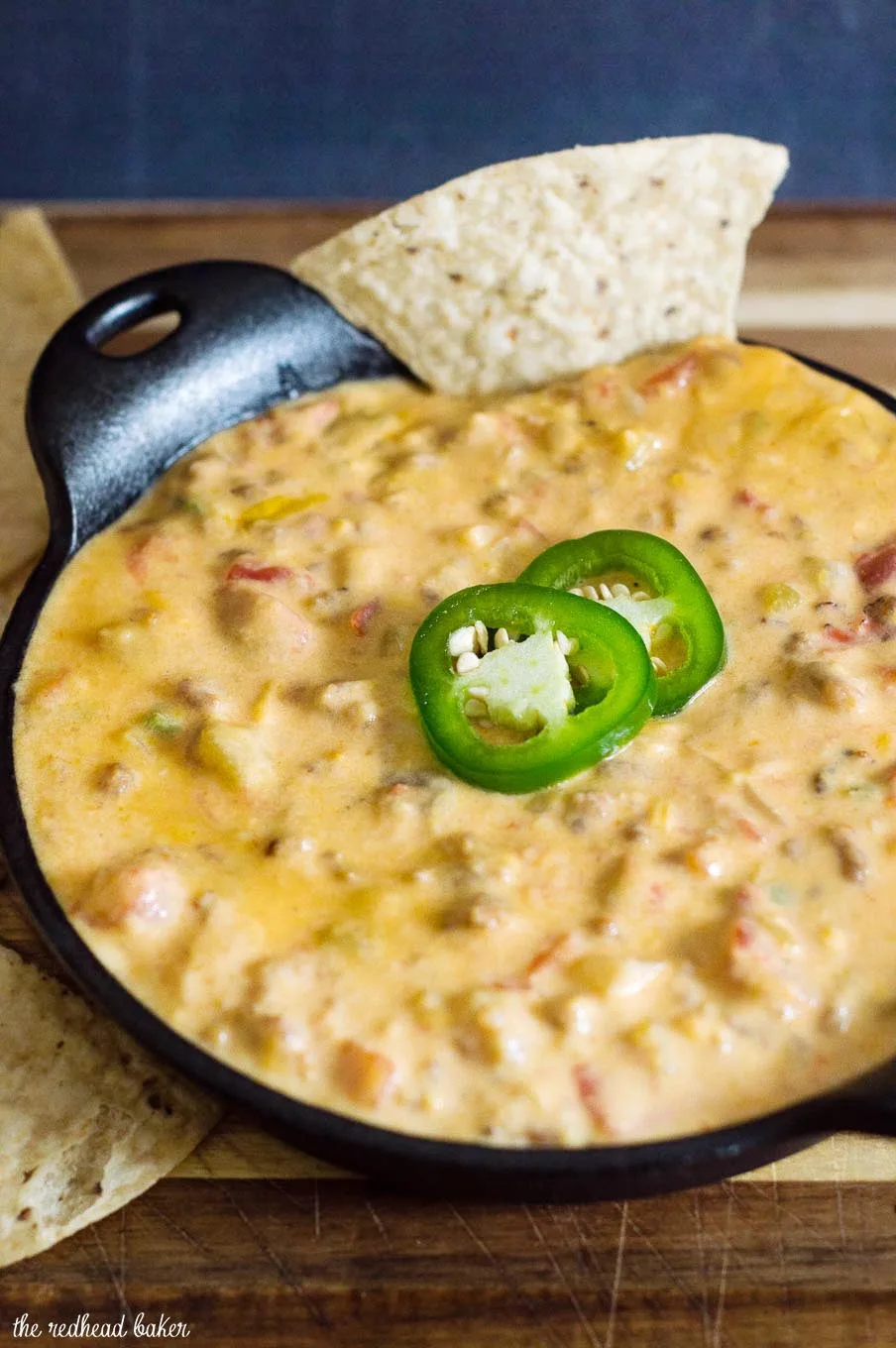 Take, for instance, this chorizo queso dip. Almost a full pound of spicy Mexican sausage. More than a pound of delicious melty cheese — no fake cheese product here. Plus onion, garlic, jalapeno pepper, tomatoes and green chiles.
The key to this dip is to add the cheese S-L-O-W-L-Y. I'm not kidding. You're essentially making a bechamel sauce, one of the mother sauces of French cuisine, which is made from butter, flour and milk. If you've ever made homemade mac and cheese or Alfredo sauce, you've made a bechamel.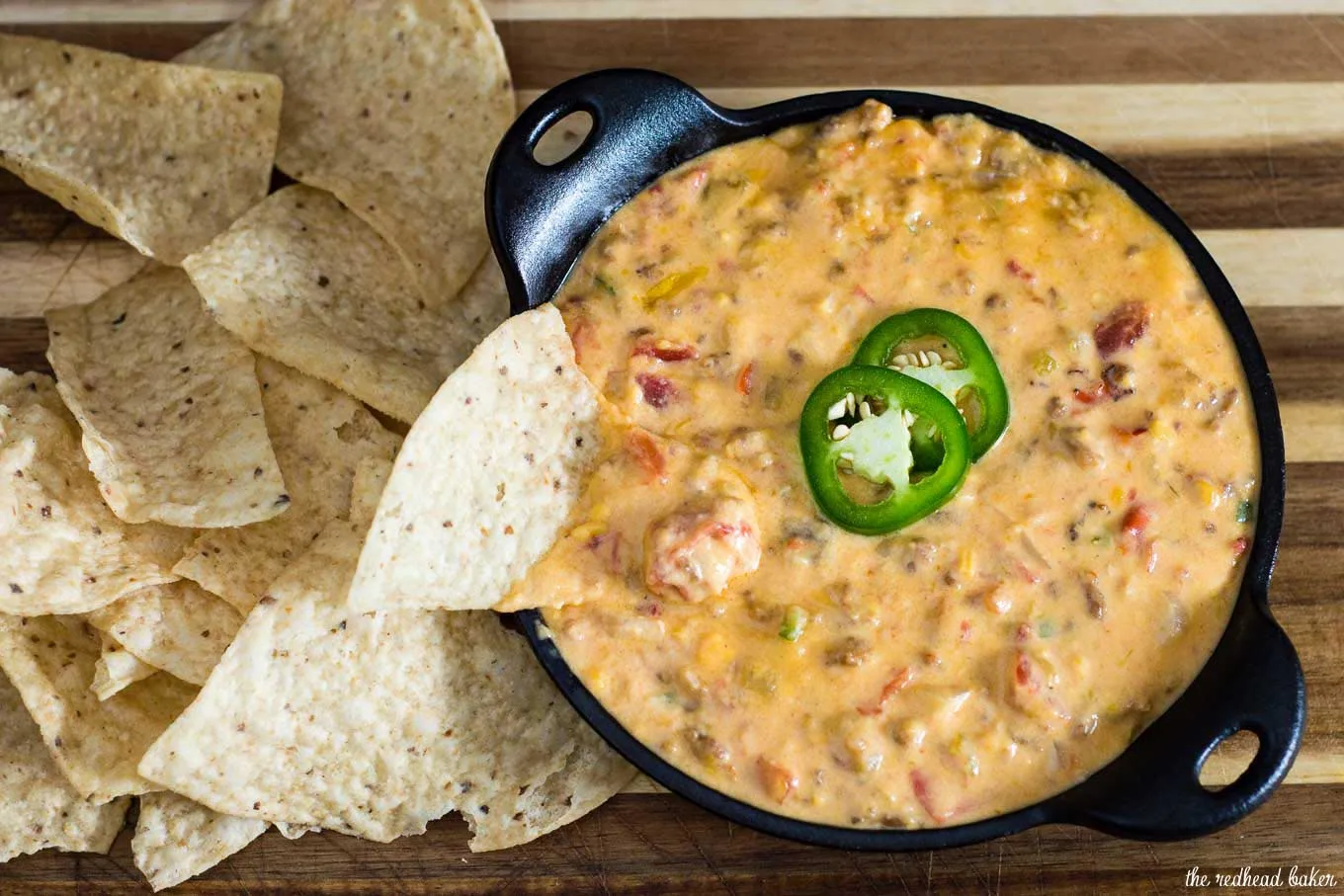 If your milk/flour/butter base is too hot, or you add the cheese too quickly, your sauce will break and look curdled. It still tastes good, but lacks the silky smooth texture that you expect a good queso dip to have. There are tricks to fix it, but your best bet is to go slowly the first time and avoid that altogether.
At a party, you can keep this warm in a chafing dish. Depending on your appetite and other food available, this recipe serves about 6 to 8 people. If you want to make this ahead of time and reheat, place the queso in a bowl over a pot of simmering water, and stir frequently until it reaches the desired texture.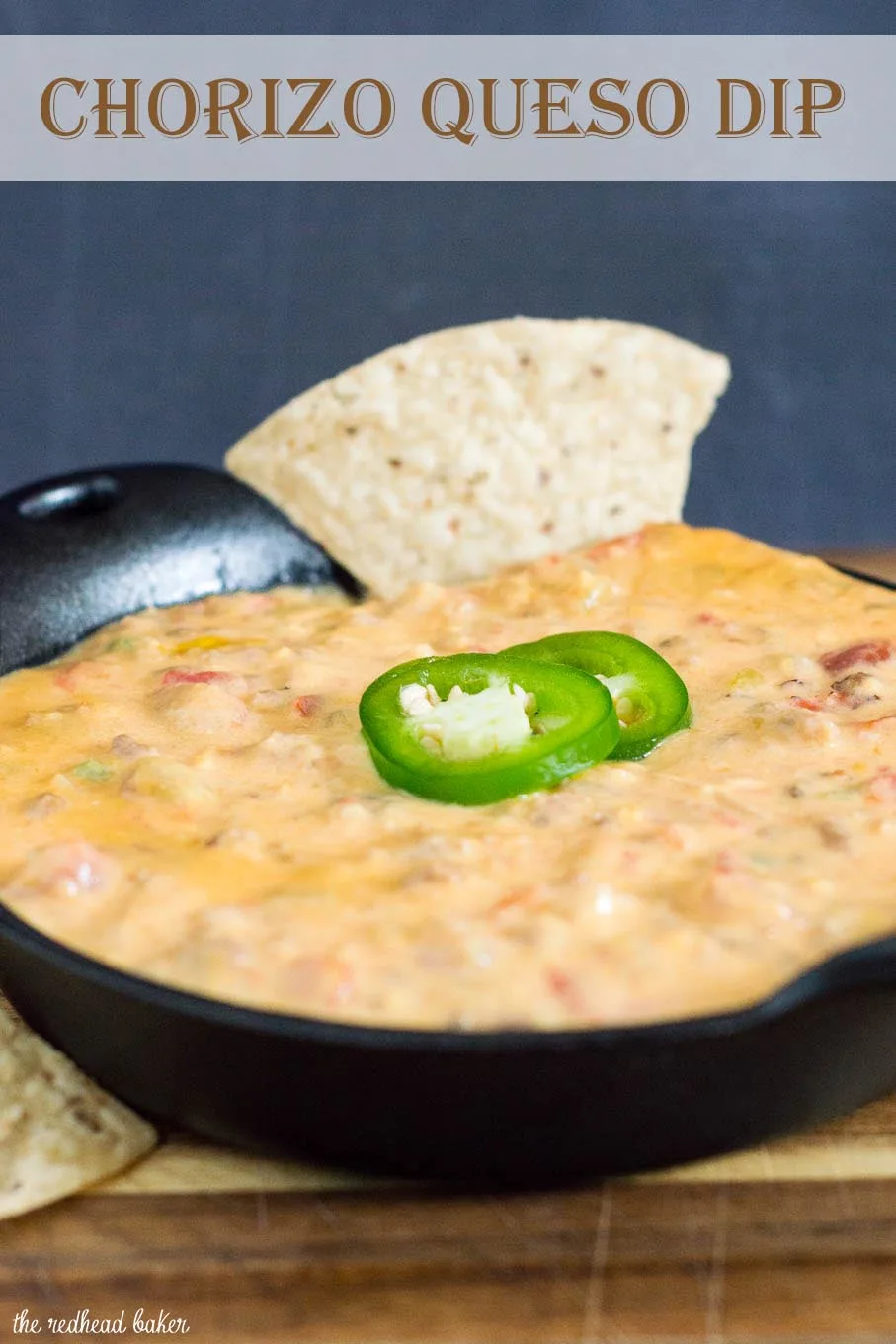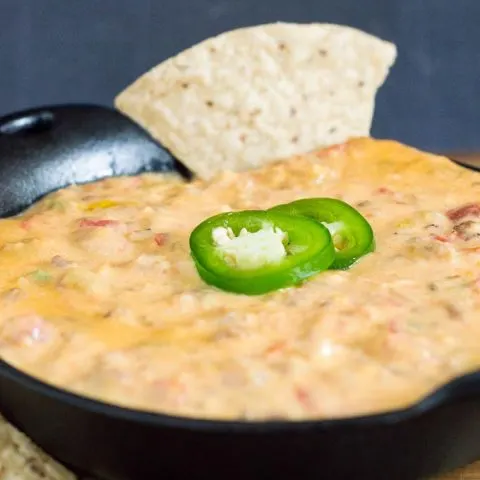 Chorizo Queso Dip
Ingredients
12 oz fresh chorizo sausage, casings removed
2 tablespoon unsalted butter
½ small onion, chopped
1 jalapeno pepper, seeded, chopped
4 cloves garlic, minced or grated
2 tablespoon flour
1 cup whole milk, plus more if needed
1 14-oz can fire-roasted tomatoes with liquid
1 6- to 7-oz can mild green chiles, with liquid
3 cups finely shredded Cheddar cheese
2 cups finely shredded Monterey Jack (or Colby Jack) cheese
½ cup sour cream
Salt to taste
Instructions
In a skillet, cook the sausage until no longer pink. Set aside.
In a large Dutch oven, melt the butter. Add the onion and jalapeno pepper, saute for about 5 minutes, or until onion is translucent.
Add the garlic and cook for 30 seconds. Sprinkle the flour over the vegetables, and cook for 1 minute, stirring constantly.
Very slowly whisk in the milk, breaking up any clumps that form. Simmer for 5 minutes, stirring constantly, until mixture is slightly thickened.
Add the can of tomatoes plus their liquid and the can of green chiles plus their liquid and stir to combine.
Turn the heat off. Combine the shredded cheeses in a bowl. Add a cup of the cheese at a time to the pan, stirring until almost fully incorporated before adding more. If the mixture cools turn the heat on under the pan to very low. Continue adding and stirring until all the cheese is incorporated.
Add the sour cream and chorizo to the queso dip. Stir to incorporate. Taste, and season with salt if needed.
If your mixture is thick and looks lumpy, warm ½ a cup of whole milk and slowly stir it into the queso dip.
Adapted from Homesick Texan
Shop this recipe: