This post is sponsored in conjunction with AppleWeek . I received product samples from sponsor companies to aid in the creation of the AppleWeek recipes. All opinions are mine alone.
Apple cider doughnuts are an autumn essential! These classic doughnuts are fried, then rolled in cinnamon sugar.
It is officially fall as of this past weekend, and this week, we're celebrating an autumn staple: apples! All apple recipes, all week long! Almost 50 bloggers are sharing recipes both sweet and savory using apples, apple juice, apple cider, apple butter, or apple sauce!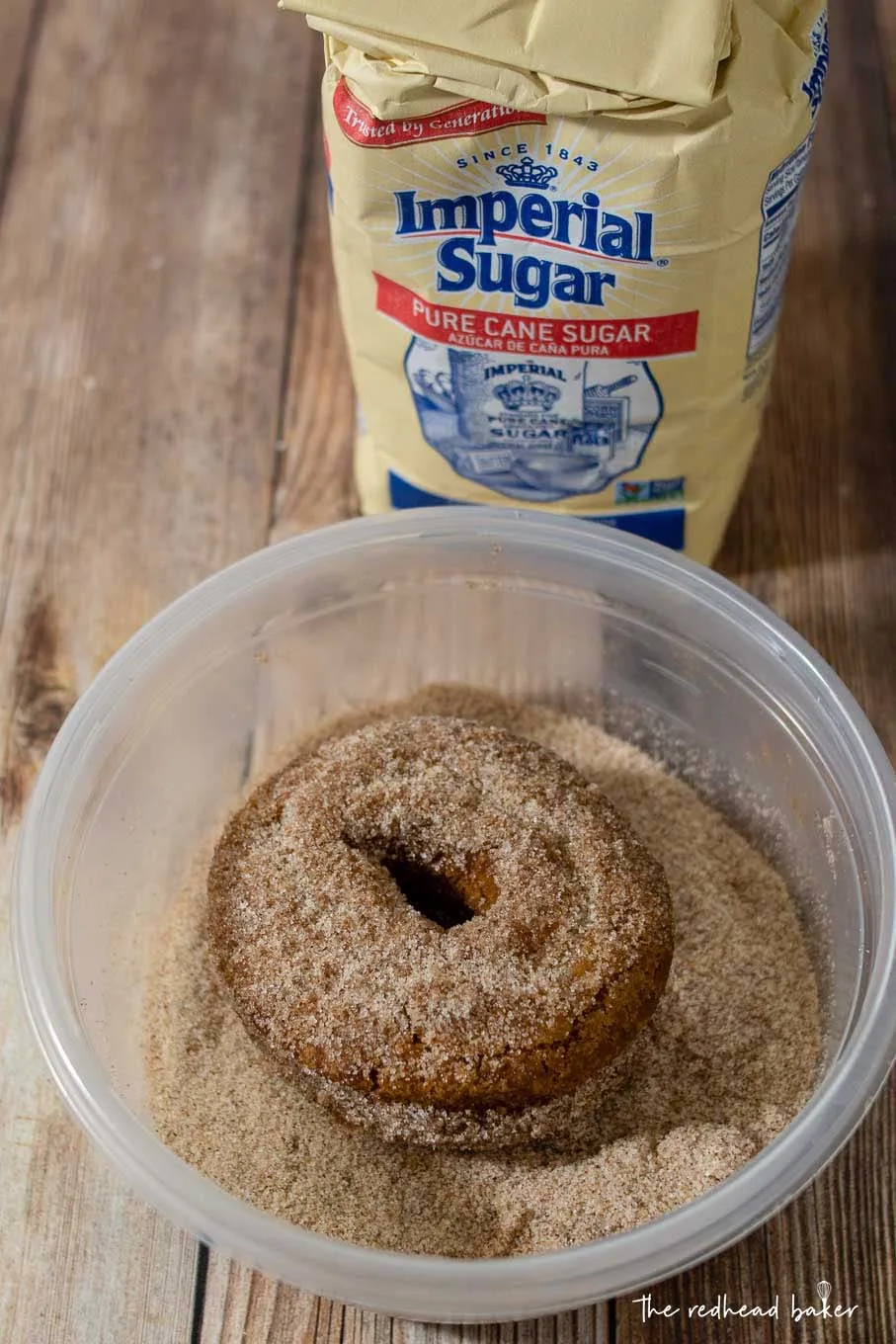 Apple Cider Doughnuts Recipe
Apple cider doughnuts are a relatively recent discovery for me. As a child, we would pick out pumpkins from a local farm that had already been cut from the patch and brought to the front of the farm and arranged on wooden tables where you'd pick out the one you want. There were no hayrides or petting zoos or anything. Pick your pumpkin and go home.
With our son, however, we go over to a farm in New Jersey, with hayrides to the pumpkin patch, corn maze, petting zoo, playground, a live band, and more activities. There is also a farmers market, with pies, fresh pasta, jams and jellies, and best of all, fresh cider doughnuts.
Honestly, I don't know who gets more excited to go pick pumpkins, me or my son. My poor husband just humors us and comes along for the ride. He'll never admit it, but I think he looks forward to the cider doughnuts, too.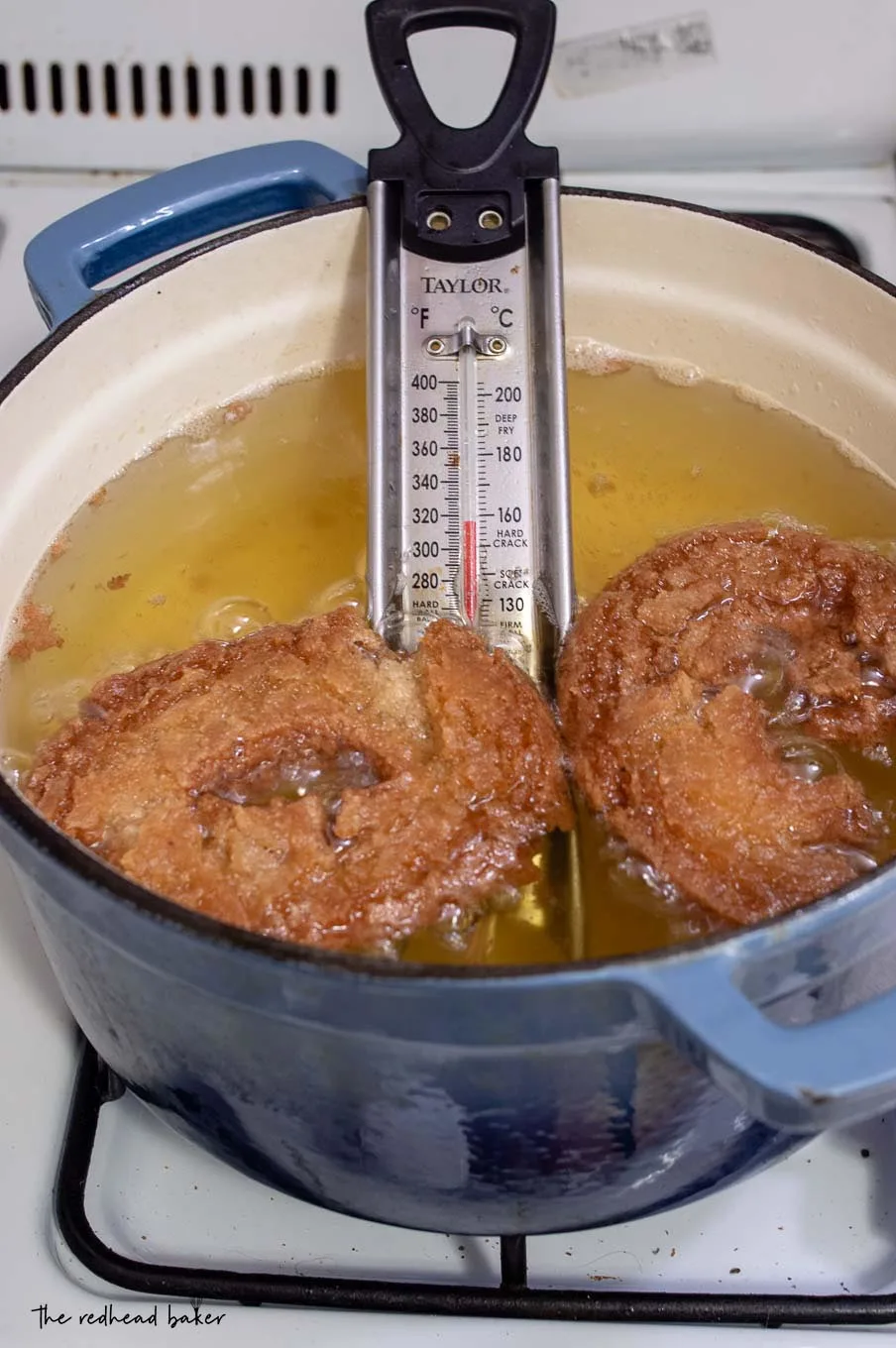 Now that I can make them at home, maybe I won't feel like I have to eat three when we go pick pumpkins, because I know it won't be the ONLY time I get to eat them that season. Maybe I'll still eat three anyway, because they are SO delicious.
Now, this dough is VERY sticky. You might think you haven't added enough flour, but do NOT add more to make it easier to work with. If you do, once the doughnuts are fried, they will become very dense and chewy, not light and fluffy like good cider doughnuts should be.
It is best to work with well-floured hands, and COLD dough. Don't try to use a rolling pin, just pat the dough to a roughly even layer with your hands. Make sure to pop the cut doughnuts and holes into the freezer for 5 minutes before frying, because if the dough is too warm when it hits the oil, the doughnuts will break when you try to flip them.
One final tip: NEVER pour used oil down your sink. You can actually use frying oil at least twice. Filter it through cheesecloth before using a funnel to pour it back into its original container. Once you've used it twice, funnel it back into its original container, tape the lid so it doesn't twist off, and put it out with the trash. Alternatively, you can find out if you have an oil recycling program in your area.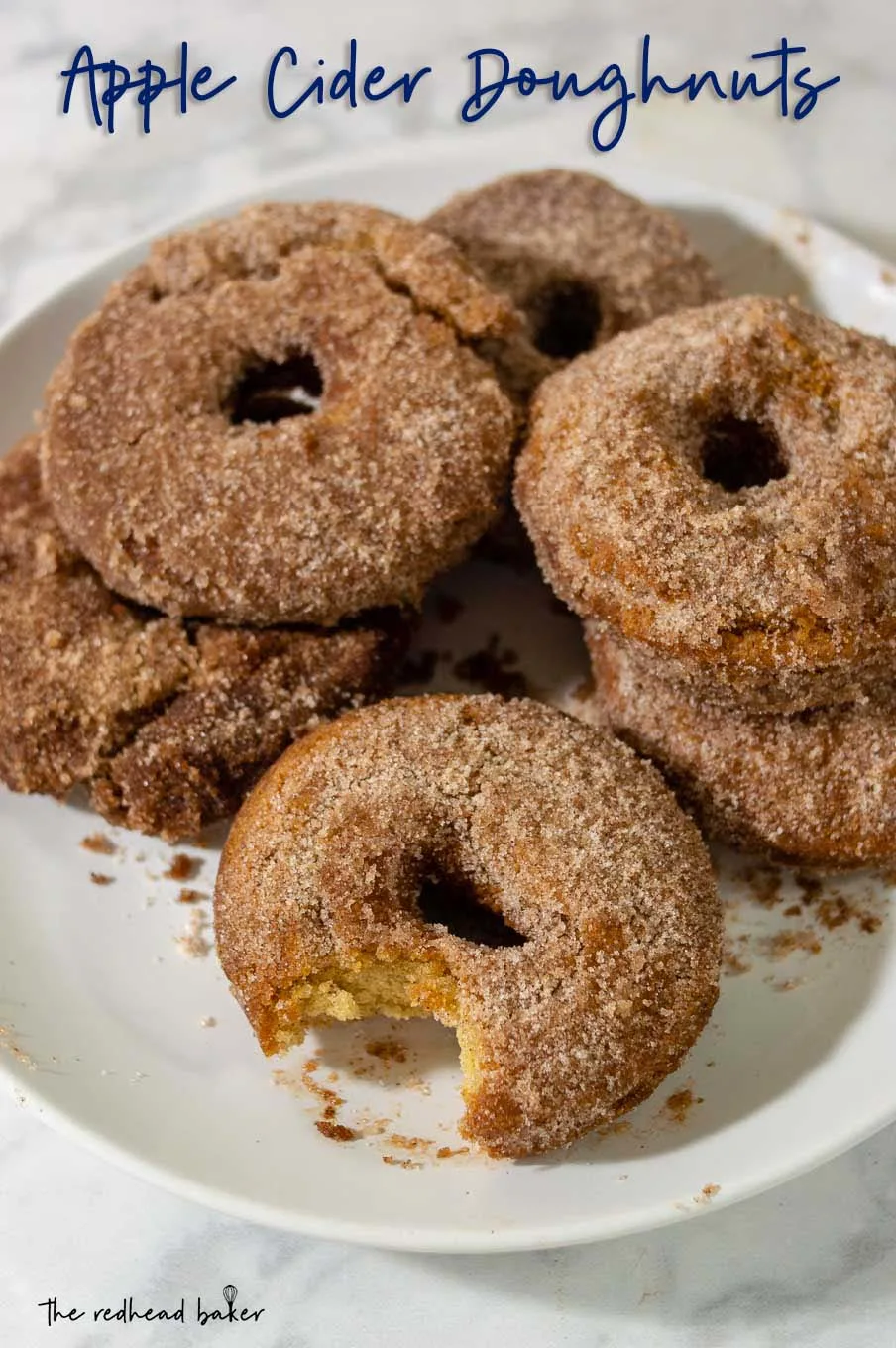 [amazon_link asins='B000N501BK,B001FB6IFY,B073K15QVC,B00OY91N90' template='ProductCarousel' store='theredheadbak-20' marketplace='US' link_id='84ec8b91-bedb-11e8-a83b-c78e155215ac']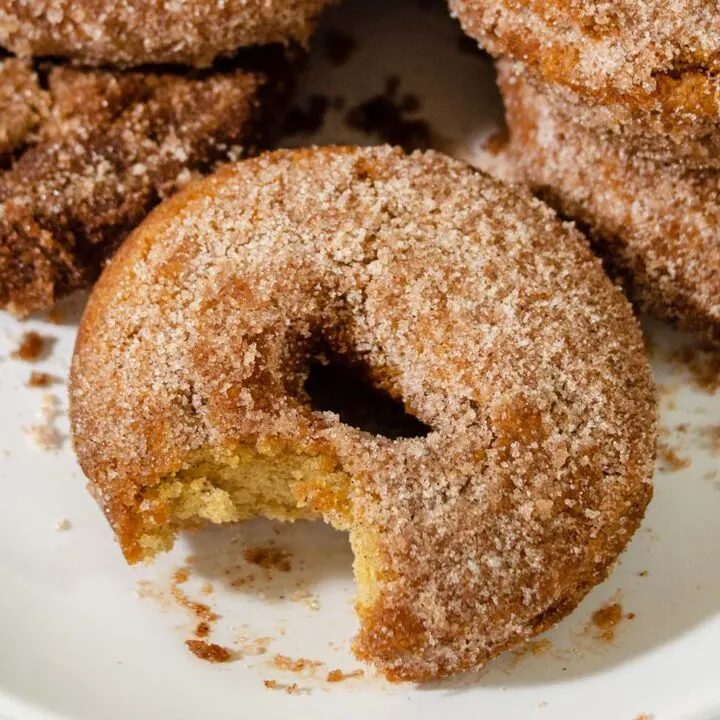 Apple Cider Doughnuts
Prep Time:
1 hour
20 minutes
Total Time:
1 hour
24 minutes
Slightly adapted from New England Today, apple cider doughnuts are an autumn essential! These classic doughnuts are fried, then rolled in cinnamon sugar.
Ingredients
1 ½ cups apple cider
1 cup Imperial sugar
5 tablespoon unsalted butter, at room temperature
2 large eggs, at room temperature
3 ½ cups all-purpose flour, plus extra for work surface
1 ¼ teaspoon salt
2 teaspoon baking powder
1 teaspoon baking soda
1 ½ teaspoon ground cinnamon
½ teaspoon nutmeg
½ cup low-fat buttermilk
1 tablespoon vanilla extract
1 gallon canola oil
1 ½ cups Imperial sugar
3 tablespoon ground cinnamon
Instructions
Pour apple cider into a medium saucepan. Bring to a boil over medium-high heat, and let boil until reduced to ⅓ of a cup, about 12 to 15 minutes. Pour into a heatproof measuring cup, and set aside to cool. Can be made up to a day ahead, covered with plastic wrap and stored in the refrigerator.
In the bowl of a stand mixer fitted with a whisk attachment, beat together the sugar and butter until mixture is pale and fluffy, 4-6 minutes. Add eggs, one at a time, beating a minute after each and scraping down the sides of the bowl.
In a medium-size bowl, whisk together flour, salt, baking powder, baking soda, cinnamon, and nutmeg; set aside.
Combine the buttermilk, boiled cider, and vanilla, then add to the sugar/butter/egg mixture. Mix well, and don't worry if the mixture looks a bit curdled; it'll smooth itself out. Add about one third of the flour mixture and mix in on low speed, then add another third and mix, then add the final third and mix just until combined.
Line two baking sheets with waxed paper or parchment paper and dust generously with flour. Scrape the dough out onto one baking sheet and with floured hands, pat gently into ¾-inch-thickness. Sprinkle dough with additional flour, cover with plastic wrap, and place in the freezer for 10 minutes to firm up.
Meanwhile, pour enough oil into a large Dutch oven to at least 3 inches in depth. Set over medium heat. Add a deep-fry or candy thermometer, and heat the oil to 325 degrees. Once oil approaches 325 degrees, lower the flame under the pot of oil so it doesn't go too far over 325 degrees.
Remove dough from the freezer; use a lightly floured 3-inch round cutter to cut out as many doughnuts as you can. Use a second, smaller cutter about ¾ of an inch wide to cut out the centers. Keep the smaller circles to fry as doughnut holes. Place cut doughnuts on the other baking sheet as you go; then transfer to the freezer for 5 minutes to firm up again.
Line a plate with a few layers of paper towels and set it nearby. Also, in a wide, shallow dish, combine the 1 ½ cups sugar and 3 tablespoon cinnamon. Stir well, and set near the paper-towel-lined plate.
Drop 2 or 3 cold doughnuts into the oil, being careful not to crowd the pan. Cook until browned on one side, about 2 to 3 minutes (1 minute for doughnut holes); then use a slotted spatula to carefully flip and cook until browned on the other side, about 1 to 2 minutes longer (another minute for doughnut holes). Doughnuts that are not cold when you drop them into the oil will be more likely to break apart during flipping. Use the slotted spatula to remove the cooked doughnuts from the oil and slide onto the paper towels.
Repeat with the remaining dough (if you find that it's getting too soft as you work your way through the batches, pop it into the freezer again for 10 minutes). When doughnuts are cool enough to handle but still warm, transer to the dish of cinnamon sugar and toss to coat. Serve immediately.
Nutrition Information:
Yield:

1
Serving Size:

doughnut
Amount Per Serving:
Calories:

2285
Saturated Fat:

19g
Cholesterol:

30mg
Sodium:

279mg
Carbohydrates:

56g
Fiber:

1g
Sugar:

33g
Protein:

3g
More AppleWeek Recipes
Disclaimer: Thank you AppleWeek Sponsors: Swiss Diamond, Nordic Ware, Envy Apples, Imperial Sugar, The Spice House, Rodelle Vanilla, Flahavan's Irish Oats and Nairn's for providing the bloggers with samples and product to use for AppleWeek recipes. All opinions are my own.