This post contains affiliate links. When you make a purchase through an affiliate link, I get a small percentage of the sale.
Smooth-flavored cold brew coffee makes a rich, creamy ice cream. Cold brew coffee ice cream is delicious on its own, or with a sprinkle of shaved chocolate.
I love coffee. Hot coffee, cold-brew coffee, espresso, lattes, cappuccinos, coffee cocktails, coffee desserts, you name it. I need at least one cup of coffee (preferably two) to start my day. I plan my route to work based on which one has a coffee shop on the way.
So, is it any surprise that I would blog about coffee ice cream? I was originally just going to make a classic coffee ice cream. But I wondered, if cold-brew coffee has a smoother flavor, would that make a better coffee ice cream? I can't really answer the "is it better" question, since I didn't end up making the classic recipe, but it certainly is delicious.
It does take longer than other homemade ice cream recipes, because first the coffee/milk mixture needs to steep overnight, then I prefer to let my ice cream base chill overnight before churning. But the end result is so incredibly rich and creamy, it's worth the wait.
Because there are so few ingredients in this ice cream, you should aim to use the best quality you can afford. The fewer the ingredients, the more each one stands out, and a low-quality coffee would really bring the flavor down.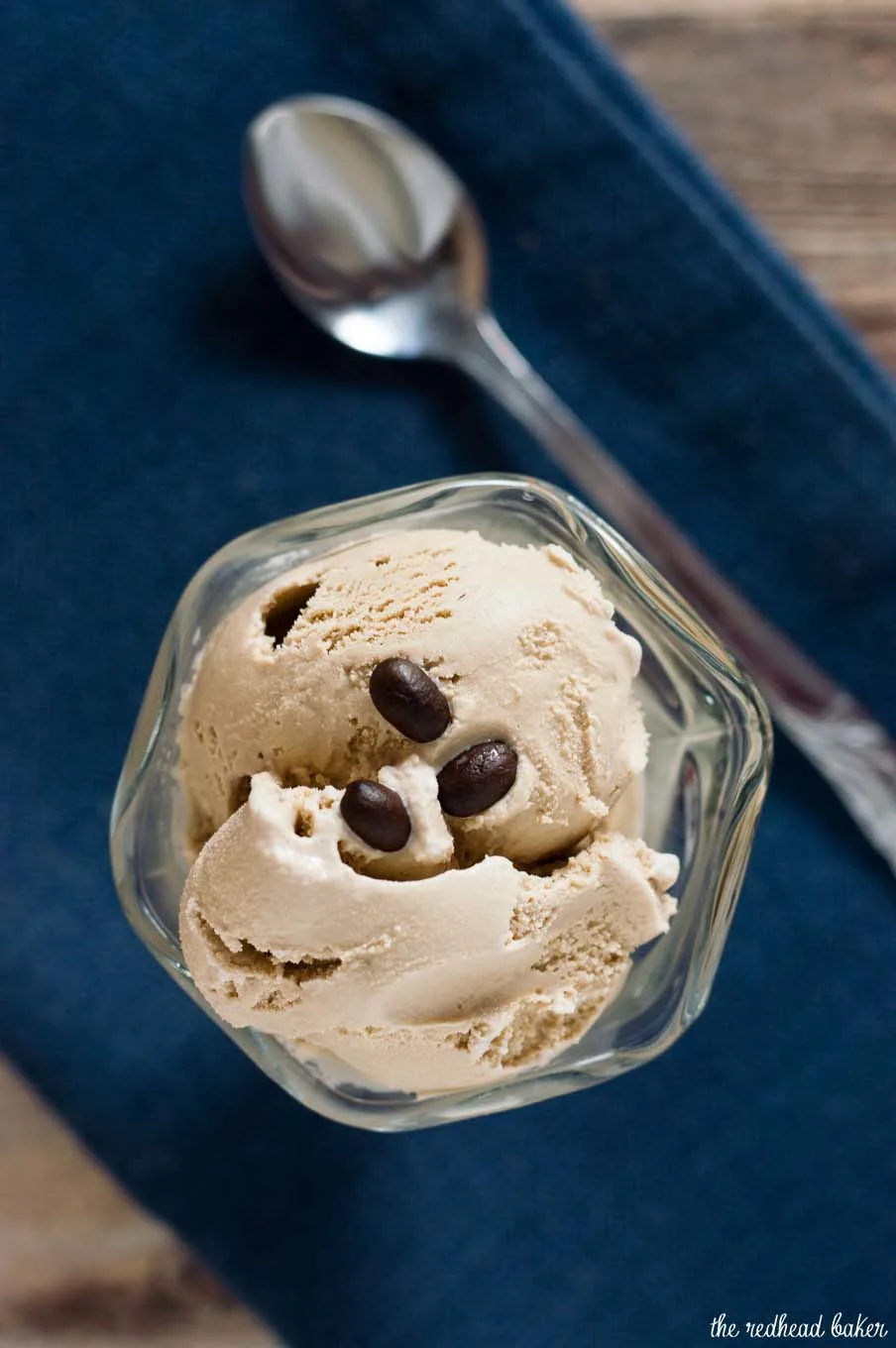 I pack my churned ice cream these plastic reusable containers with silicone lids. You can use any freezer-safe container. Be sure it is freezer-safe, though. Using any old plastic container will result in the container shattering if it falls out of the freezer, and you'll have to dispose of your delicious ice cream. Ask me how I know this, LOL.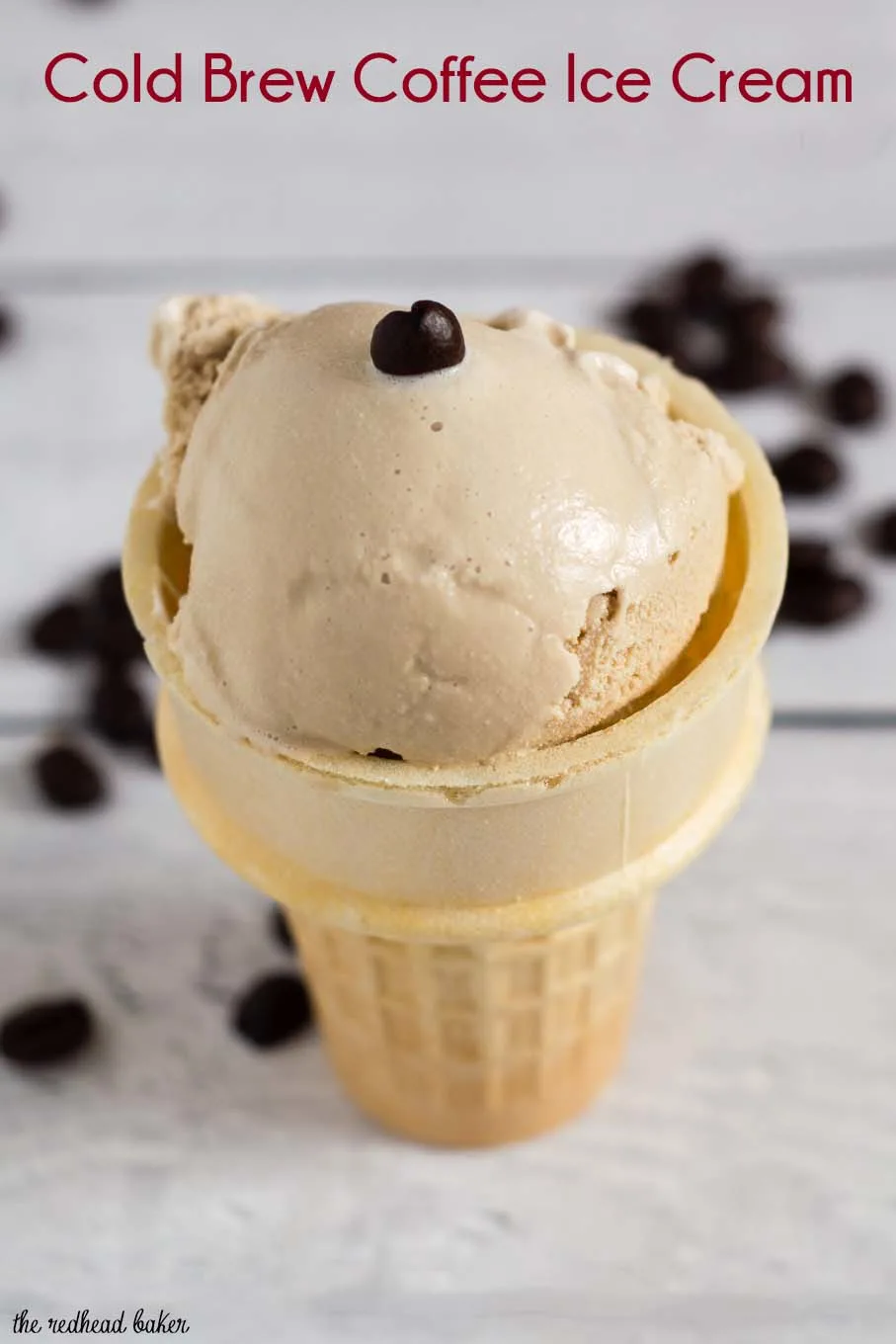 [amazon_link asins='B06ZXRK2Q8,B06XGHP6S9,B01M612PJU,B003KYSLMW,B00381DIR0,B003BEDQL2' template='ProductCarousel' store='theredheadbak-20' marketplace='US' link_id='e921f731-8582-11e8-84e9-8bdc95d9c548']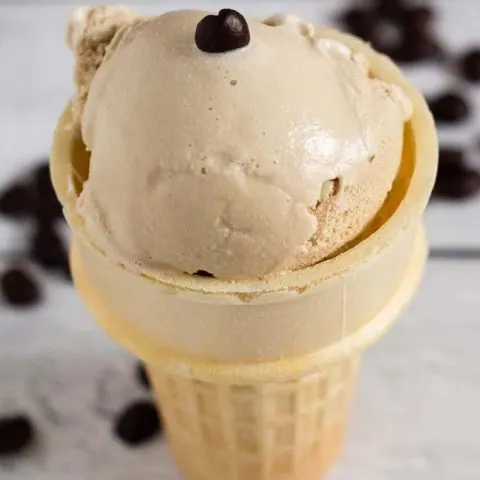 Cold Brew Coffee Ice Cream
Don't forget to freeze the bowl of your ice cream maker at least 24 hours in advance.
Ingredients
For steeping the cream
⅔ cup coarsely ground coffee
1 cup whole milk
For the cornstarch slurry
2 tablespoon cornstarch
2 tablespoon whole milk
For the ice cream
1 cup whole milk
1 cup heavy cream
¾ cup sugar
½ teaspoon vanilla extract
Instructions
Steep the cream: In a medium container with a tightfitting lid, combine the ground coffee and the whole milk. Stir to combine. Seal the container and place in the refrigerator overnight.
In a small bowl, combine the cornstarch and the whole milk. Stir to combine and set aside.
Fill a large bowl with ice water and place a mixing bowl in the ice water.
Remove the steeping mixture from the refrigerator. Add the whole milk and heavy cream to the steeped mixture. Stir to combine. Line a fine-mesh sieve with cheesecloth, place over a medium saucepan, then strain the mixture into a medium saucepan, squeezing the cheesecloth to extract as much liquid as possible. The mixture should resemble a deep caramel color. Discard the cheesecloth and its contents.
Add the sugar and vanilla extract to the saucepan, stir to combine. Over medium heat, bring the mixture to a full simmer, about 3-5 minutes. Be sure to watch it closely so the mixture does not spill over. Gradually whisk in the cornstarch slurry and cook the mixture whisking the entire time until thickened, about 2-3 minutes.
Remove from heat and slowly pour the mixture into the prepared mixing bowl set in ice water. Let stand, adding more ice to the water bath if necessary until cold, about 30 minutes. If not churning immediately, cover the bowl, and store in the refrigerator.
Churn in an ice cream maker according to manufacturer's directions. Scrape the churned ice cream into ice cream containers or a freezer-safe container and freeze at least 4 hours, or until hardened.
Slightly adapted from Mind Over Batter