Conversation heart sugar cookies decorated with royal icing deliver your own personal message to your Valentine sweetheart!
Disclosure: this post contains affiliate links. I only recommend products that I personally use in my kitchen, and I get a small percentage of the sale if you choose to buy them.
As far as icings and frostings go, royal icing (the most common icing used for decorating sugar cookies) is not my favorite, for much the same reason as I don't prefer American buttercream. They're really sweet. Annoyingly sweet. But, there isn't much else out there that does the job as well as royal icing does. It comes together quickly. It's versatile. It takes color beautifully. It dries quickly.
There is another sugar cookie icing made from dried candy fondant (which is not in any way related to cake fondant, except maybe that they both contain powdered sugar), which I think tastes better, and I like that it dries shiny rather than matte the way royal icing does, but it is much harder to find.
Obviously, you'll need piping bags to work with royal icing. You'll see in my photos that I'm using a coupler to attach my tips to my piping bags. I find it's more secure when using smaller tips. It's also helpful when you need to use more than one tip on one color of icing. As for the tips, this is really dependent on personal preference, what design you want to make, and the overall size of the surface you're decorating. Below, I used a size 6 plain round tip for the borders, size 7 plain round tip for flooding, and size 3 plain round tip for piping the letters. The heart sugar cookies photographed are cut using an OXO 5-inch heart-shaped cookie cutter.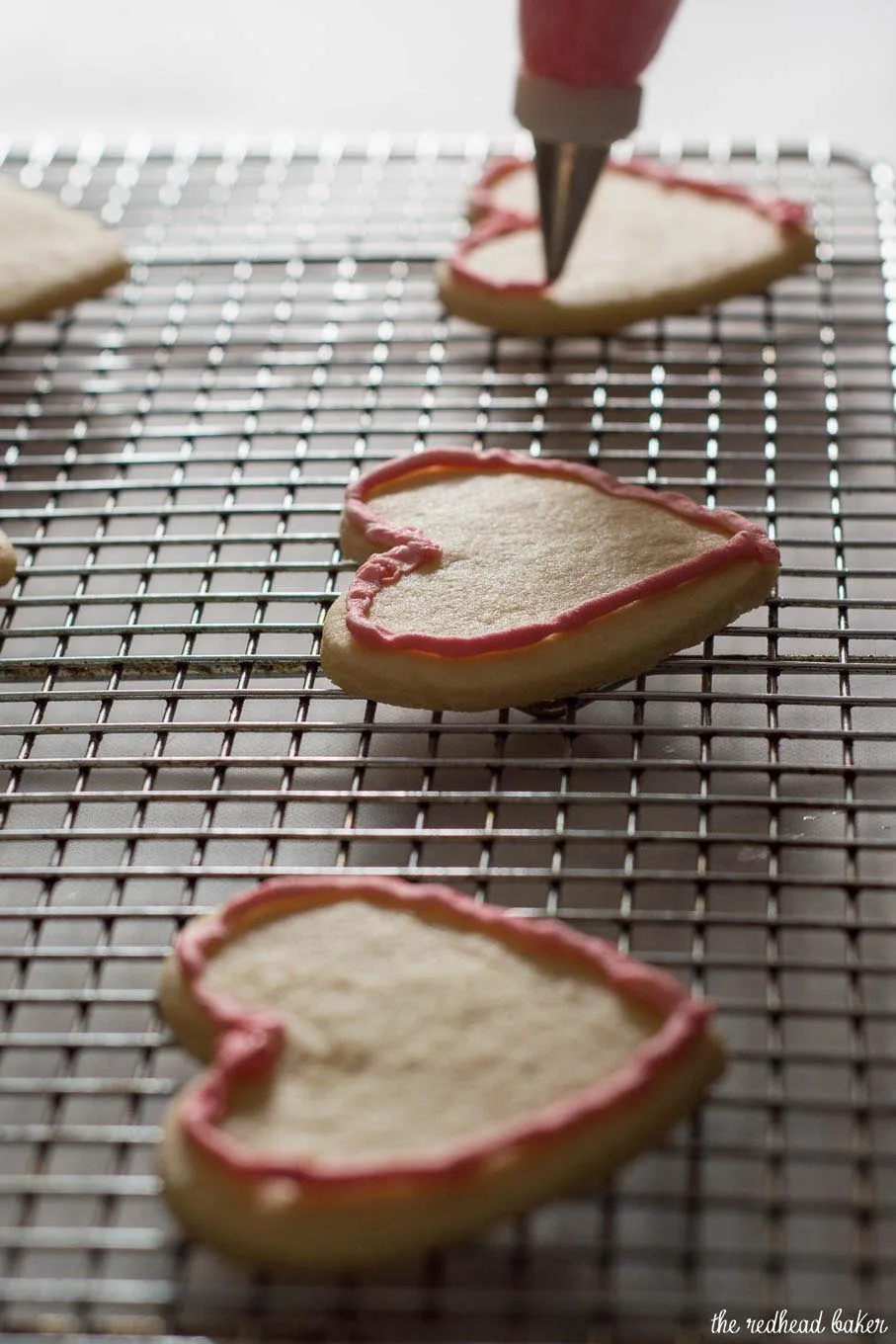 So, royal icing it is. I keep a jar of meringue powder (available at craft stores) handy just for making royal icing. For one thing, it keeps practically forever. Well, manufacturers recommend tossing it after two years. I've never had one around for that long.
But I know that my readers may not use meringue powder as much as I do, so I want to tell you that you can use fresh egg whites in place of the meringue powder. But unless you're using whites from pasteurized eggs, the resulting royal icing is not recommended to be consumed by children, pregnant women, the elderly or the immuno-compromised.
If you want truly white royal icing, I recommend picking up a bottle of clear vanilla extract at the craft store, too. No, it's not true vanilla extract, but as its not the dominant flavor in the icing, it doesn't matter.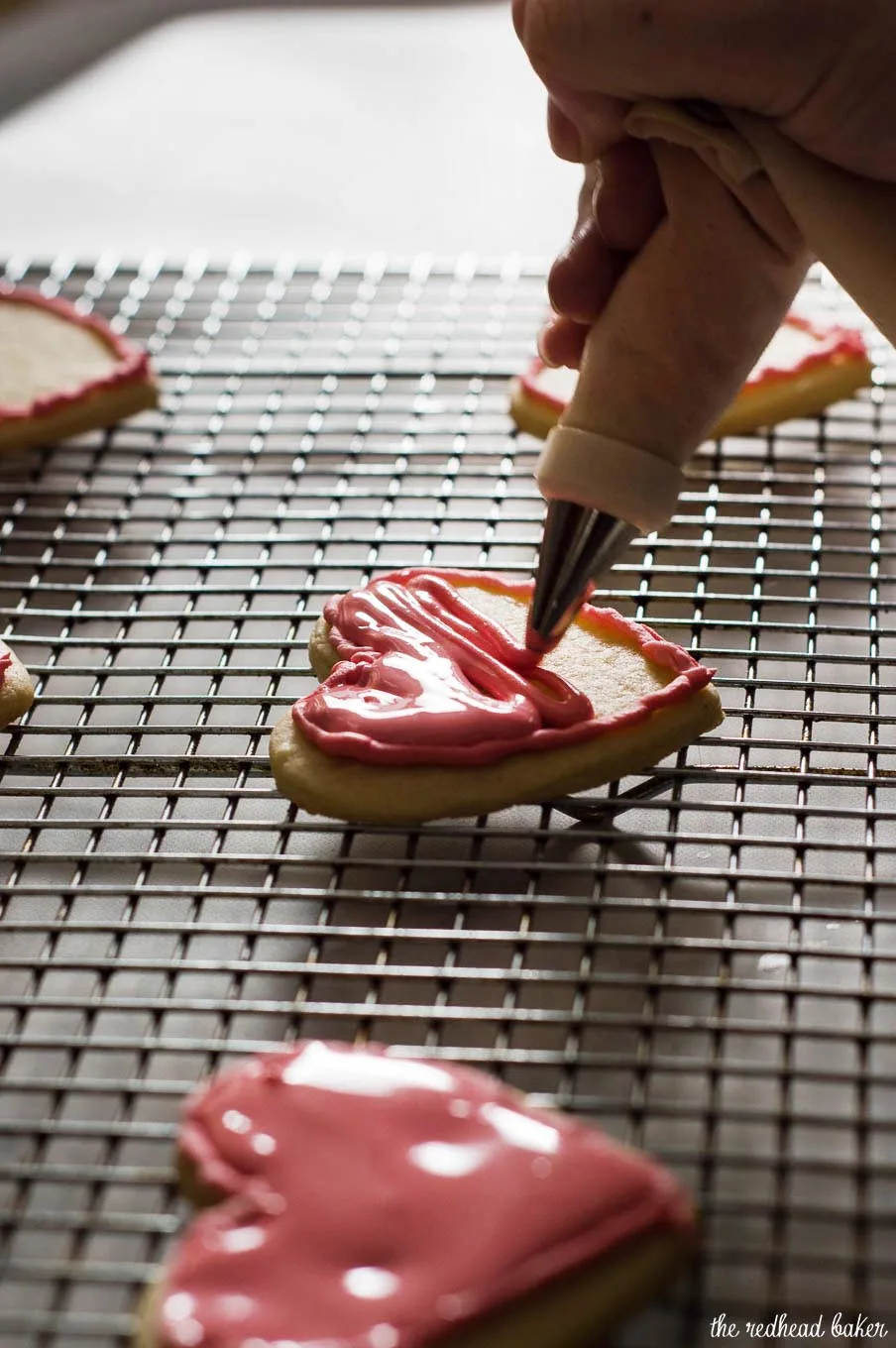 Remember when I said that royal icing dries quickly? I mean, REALLY quickly. If you stir up a batch, scrape half of it into your piping bag, the remaining icing in the bowl will have crusted over by the time you go back for more. If you set down your piping bag while you buy the 50 billionth episode of Paw Patrol for your 5-year-old so he'll leave you in peace for 5 minutes, the icing inside the tip will have hardened. You can prevent this by covering the bowl, and the tip of your piping bag when not in use, with a damp paper towel. That being said, I do recommend leaving the iced cookies out for at least 8 hours to completely harden before stacking and storing them.
So, what is stiff consistency vs. thin? What is too stiff? If the icing is so stiff that your heavy duty stand mixer is having trouble getting through it, it's too stiff. If you're trying to pipe out a border and your hand is shaking from the exertion, it's too stiff. The icing should flow out without Herculean levels of effort in a clean line, but not spread.
It takes very little water to turn royal icing from stiff consistency to thin, so add just a teaspoonful at a time, and mix it in thoroughly before adding more. Unlike stiff icing, thin icing should spread once piped out. You don't want it so thin that it's watery and the color is diluted. It shouldn't immediately run off the cookie if you tilt it to the side. If you didn't make it quite thin enough to spread easily, you can help it along by pushing it around with a toothpick into corners.
To pipe with royal icing, touch the piping tip to the surface of the cookie. Gently squeeze the icing out to adhere to the cookie surface, then lift the tip up and create your design. When your line is done, or at a corner, touch the tip back down, release pressure and remove the tip from the cookie surface. Very stiff icing may still "peak" where you lifted the tip away. Simply dampen your finger very slightly, and gently pat down the peak.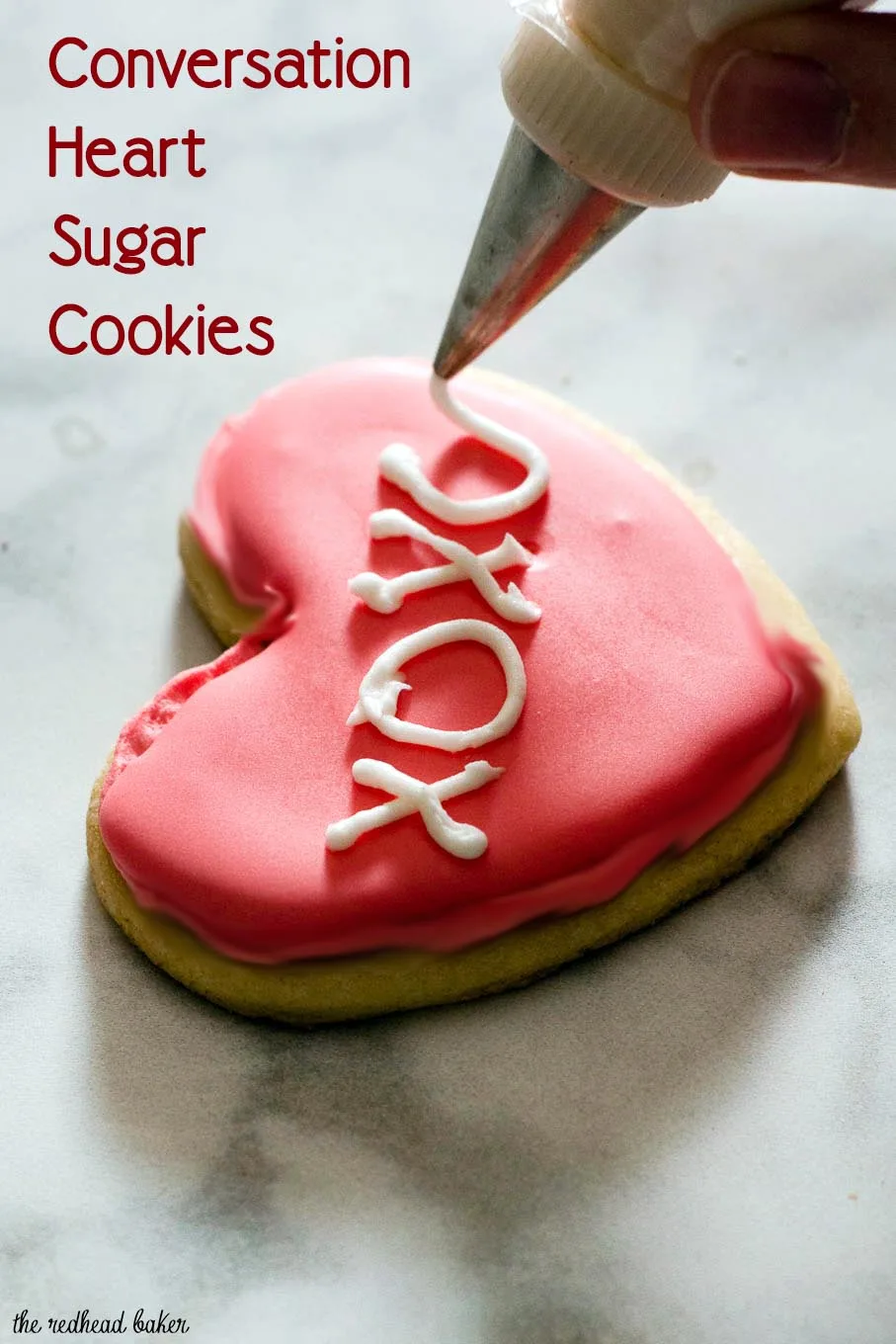 This is a truly simple design as far as piping goes, so I encourage you to challenge yourself if you're a beginner piper, and give them a try. Even if your heart sugar cookies don't come out perfect (mine certainly aren't!), your sweetheart will love you for the effort.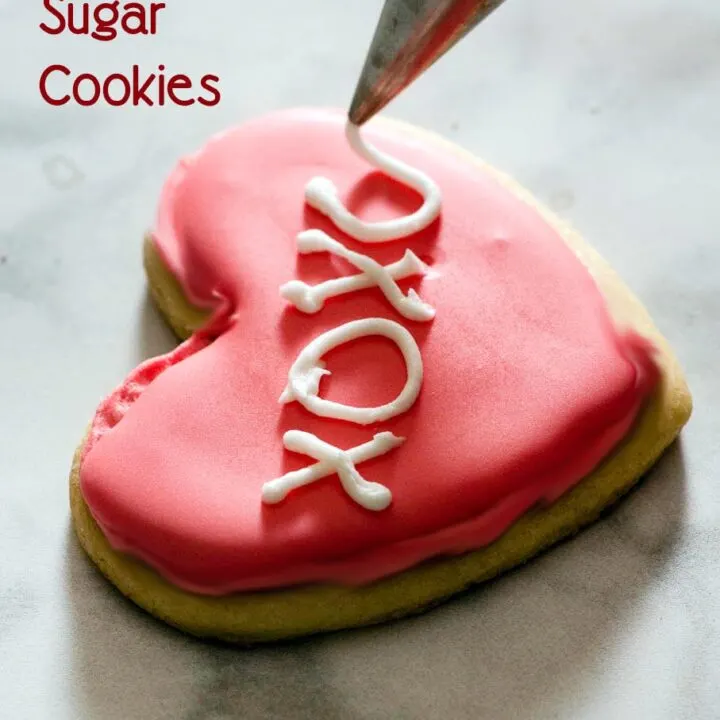 Sugar Cookie Icing
Ingredients
4 cups powdered sugar, (1 pound)
3 tablespoon meringue powder*
4 tablespoon warm water, (plus more as needed)
½ teaspoon vanilla extract, (use clear if you need ultra white icing)
Food coloring, if using.
Instructions
Place all of the ingredients in the bowl of a stand mixer fitted with the beater attachment.
Stir on low speed for 7 to 10 minutes, stopping and scraping down the sides and bottom of the bowl as needed.
After 7 to 10 minutes, add the food coloring, one drop at a time and mixing until thoroughly incorporated before adding more (remember that the color will darken as the icing dries).
If the icing is too stiff, add an additional teaspoonful of water at a time, mixing thoroughly before adding more, until the desired consistency is achieved.
For piping borders, letters and numbers, you want stiff-consistency icing. For "flooding" with color inside of borders, you want a thinner-consistency icing.
Notes
*Meringue powder is available at craft stores and online. If you can't find it, use one large egg white per tablespoonful of meringue powder, and omit the initial 4 tablespoons of water. Once the icing is mixed, add 1 teaspoonful of water at a time to thin the consistency. Unless using pasteurized eggs, this icing is not safe for children, pregnant women, the elderly and the immuno-compromised to eat it. Royal icing can be stored in the refrigerator. Place a sheet of plastic wrap directly on the surface, then seal the container. If the royal icing is out of the refrigerator for use, or inside the piping bag, but not actively being used, cover the bowl or the piping tip with a damp paper towel.
Note: The heart sugar cookies photographed for this recipe were baked using a recipe from In Katrina's Kitchen. They have great flavor, the dough doesn't require chilling, and they keep their shape during baking.