Frozen cherry margaritas are a fun twist on a classic cocktail. Using frozen cherries means you can enjoy this treat any time of the year!
I recently bought myself a new blender. I have a "personal" sized one -- big enough to make one smoothie. But when I wanted to blend something with ice, it couldn't get the job done.
So, I got a basic blender. And what's the first thing I made with it? Frozen margaritas! I'm no margarita purist — I love flavored margaritas. I love seeing what unique flavors local restaurants have on the cocktail menu. I happened to have some tequila, triple sec, lime juice, and a bag of frozen pitted sweet cherries.
In a way, cherries are one of the perfect fruits to use in a margarita, because cherries pair so well with the lime juice that is essential to margaritas. And cherries turn the margaritas the most beautiful shade of deep, deep red.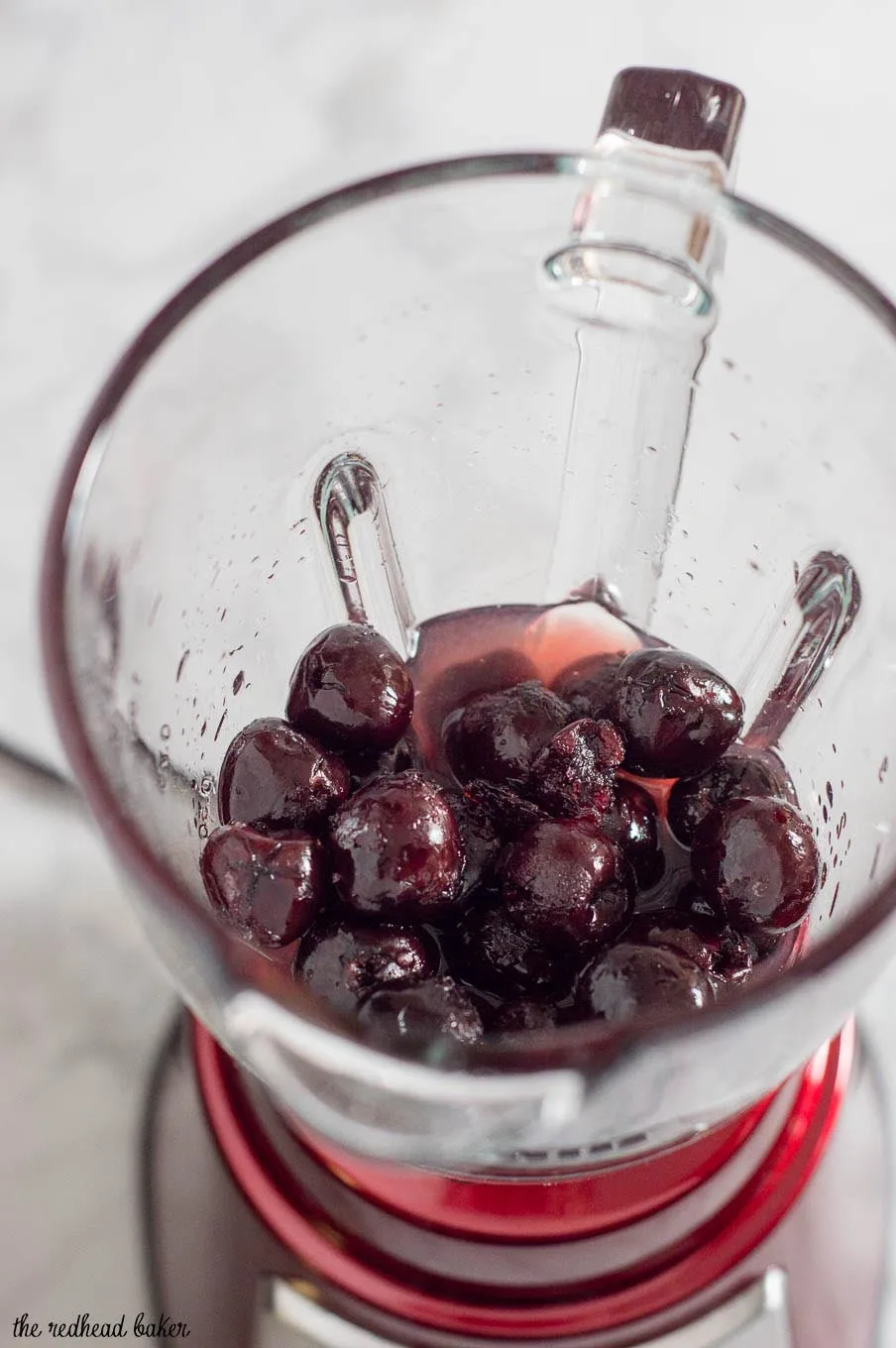 I prefer my margaritas frozen, which is why getting a regular blender was so necessary. I find frozen ones more fun and refreshing. Using frozen cherries has two benefits: 1) it adds to the texture of the drink, and 2) most frozen cherries come pre-pitted, so less work for you!
Most blenders recommend adding the liquid first, then the solids and ice. Check the instructions on your particular make and model for recommended usage. My blender has a setting labeled "Ice Crush," which is the setting I used to blend these margaritas.
Garnish with a strip of lime rind, a lime wedge, a fresh cherry, or a lime-sugar rim.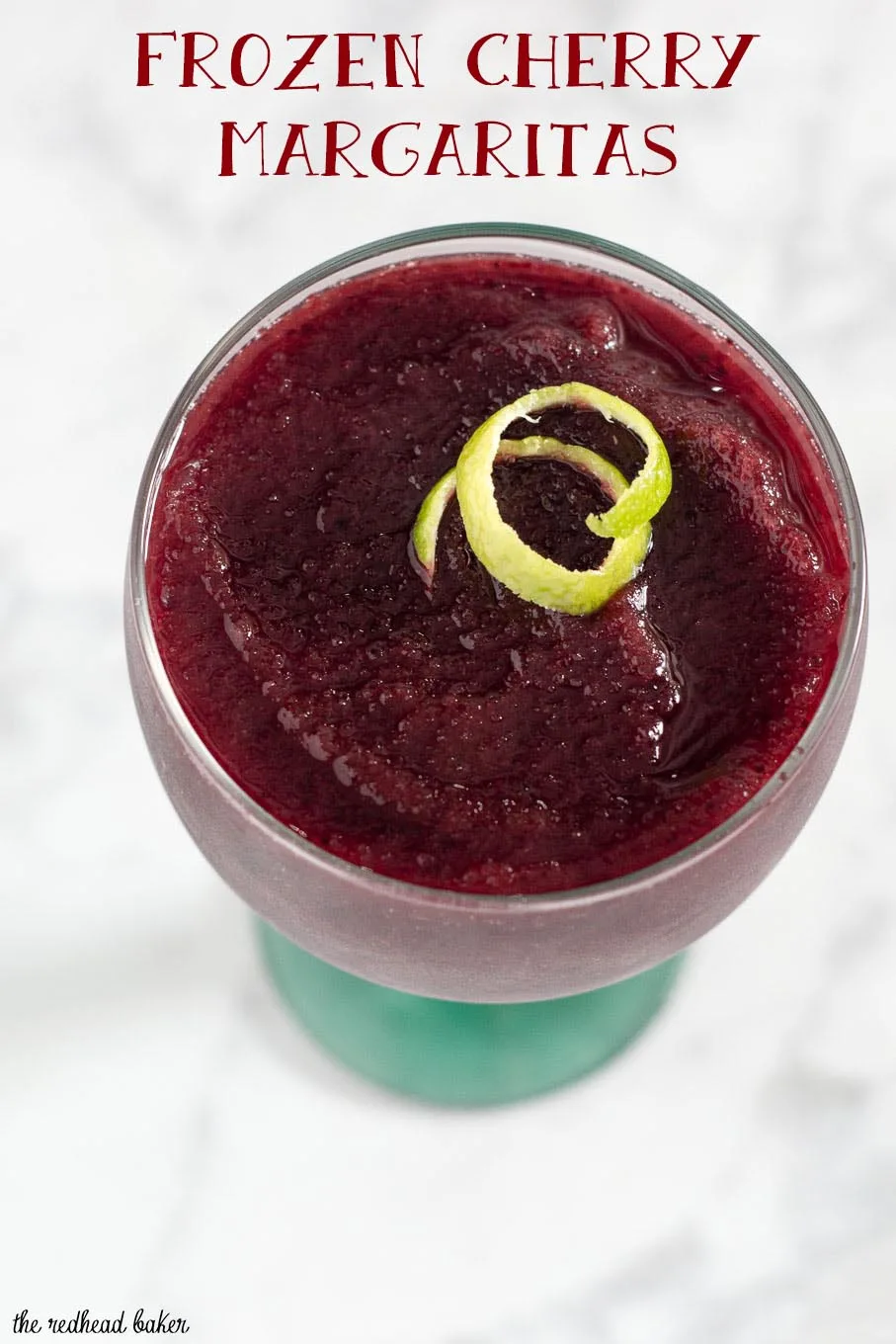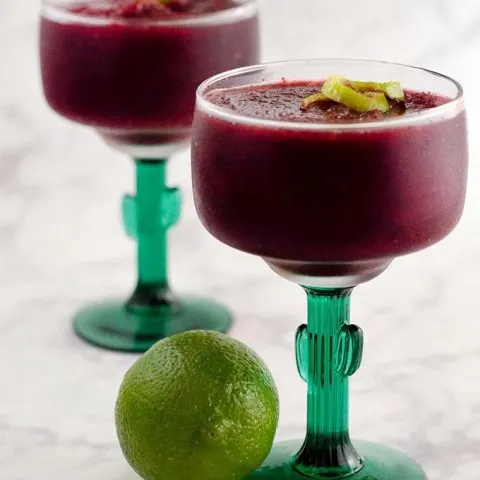 Frozen Cherry Margaritas
Ingredients
3 oz tequila
2 oz triple sec
2 oz agave syrup
1 oz pomegranate juice
1 oz lime juice
8 oz frozen pitted sweet cherries
1 ½ cups ice
Instructions
Place the tequila, triple sec, agave, pomegranate juice, and lime juice in a blender. Add the cherries, then the ice.
Place the cover on the blender, and blend on high speed until all of the ingredients are blended and the mixture is thick and slushy.
Pour the margaritas into two glasses. Garnish with a twisted strip of lime rind.