Cranberry crumb cake combines an orange-flavored cake, sugared cranberries and crumb topping for a delicious holiday breakfast or dessert.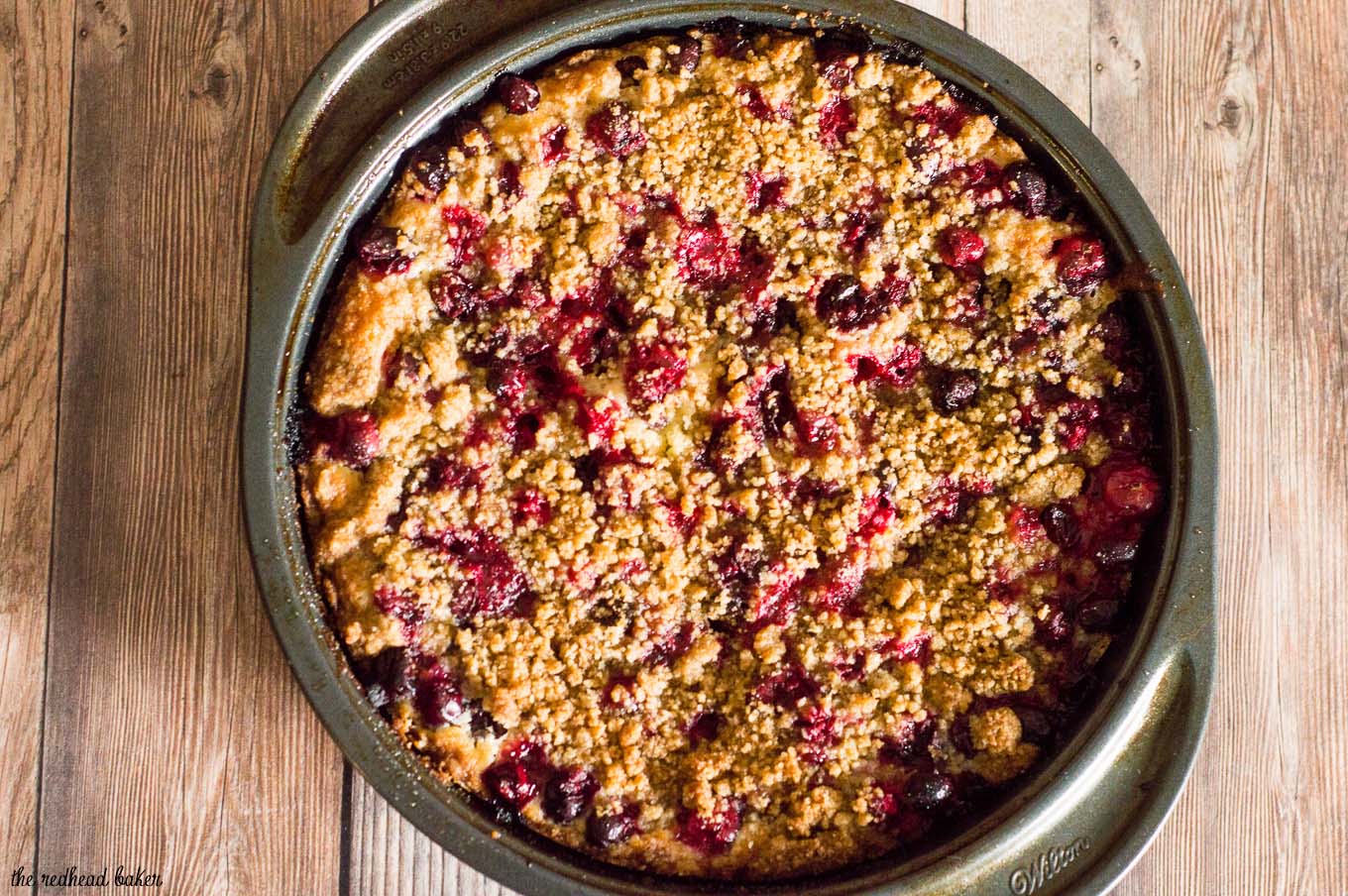 Thanksgiving is almost here, and I'm sure those who are hosting dinners are busily planning their menus. But what about the rest of the day?
In addition to planning Thanksgiving dinner, don't leave out breakfast. Unless you eat Thanksgiving dinner at noon (who does that? and why?), you should have at least a little something in the morning, to at least stave off the hangries — the irritable feeling you get when you're really hungry.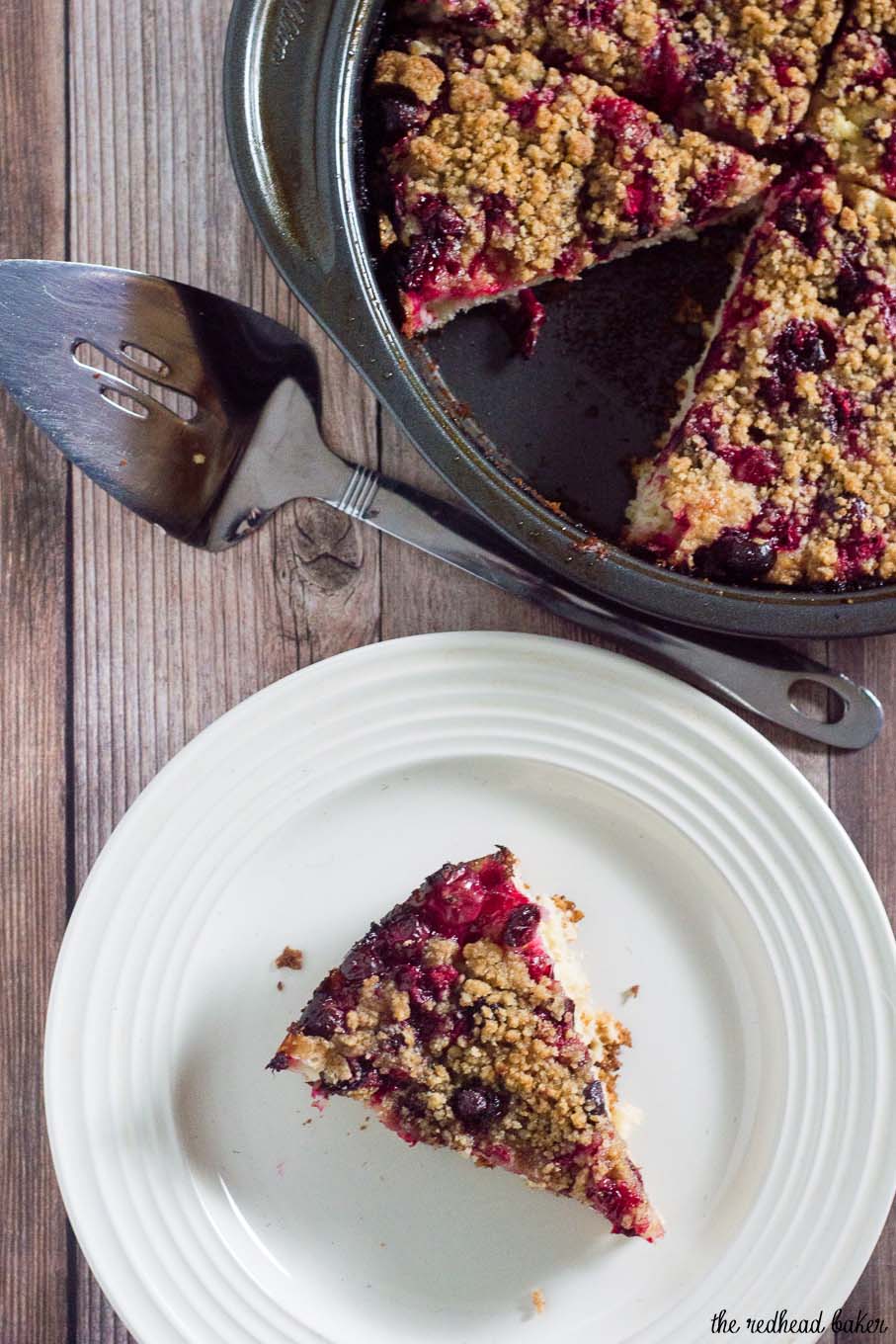 I typically wake up on Thanksgiving morning around 8, feed the dogs and start the coffee. At 9, I always turn on the Philadelphia Thanksgiving Day Parade, the oldest in the country. I've watched it for as long as I can remember. It's not the holidays until Santa arrives at the end of the parade and runs up the Art Museum steps (you may know them as the Rocky steps).
While that's going on, in addition to starting to prep for dinner, I make a special breakfast. One year, it was pumpkin cinnamon rolls, another year it was croissant bread pudding with cranberries, and another year it was pumpkin waffles. We always have something a little more special than a typical weekday morning.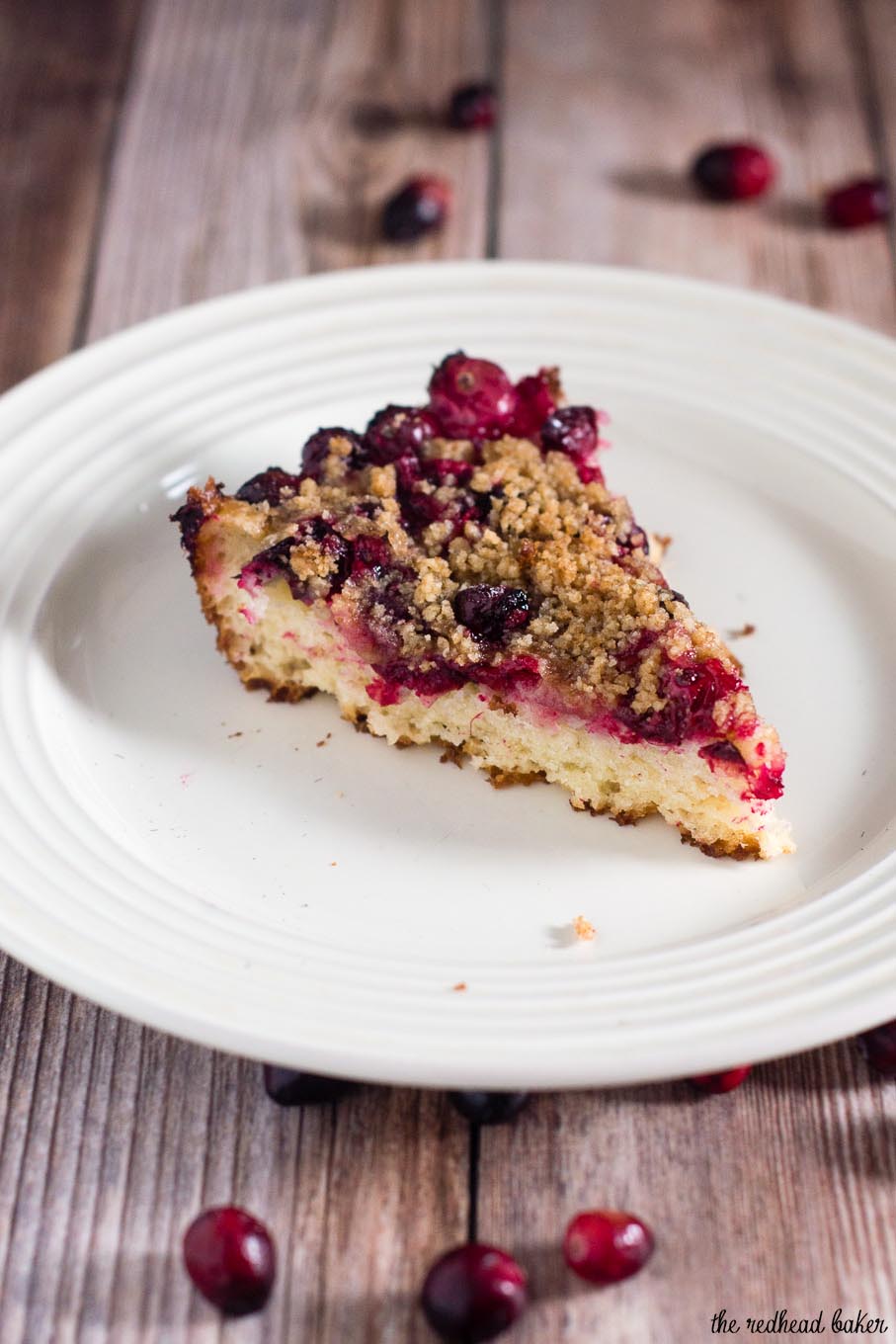 And what's more out of the ordinary than cake for breakfast? And this cranberry crumb cake is incredibly easy to make. It's made with the "muffin method" — mix the dry in one bowl, mix the wet in another bowl, combine, pour into baking pan. Top with sugared cranberries. Add crumb topping, and bake! About half an hour later, delicious cake.
Orange and almond extracts adds a hint of flavor to the cake itself, both delicious compliments to the tart cranberries. Orange extract is available at most supermarkets, but it can be ordered online if you can't find it. Or you can substitute fresh orange zest, ½ to 1 teaspoon of it depending on how strong an orange flavor you prefer, mixed in with the wet ingredients.
And if there's any left over (leftover cake, what's that?), you can have a slice for dessert, too!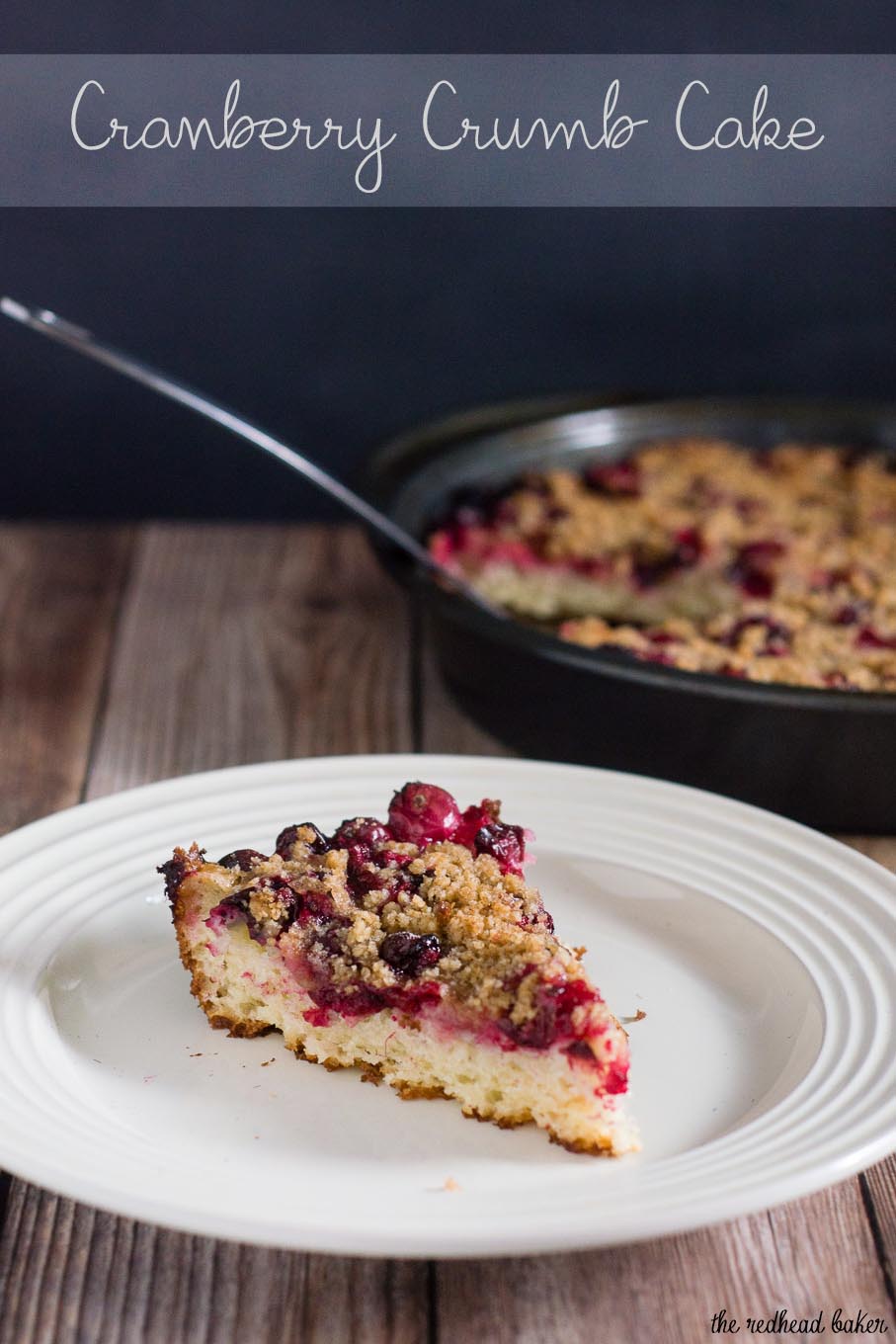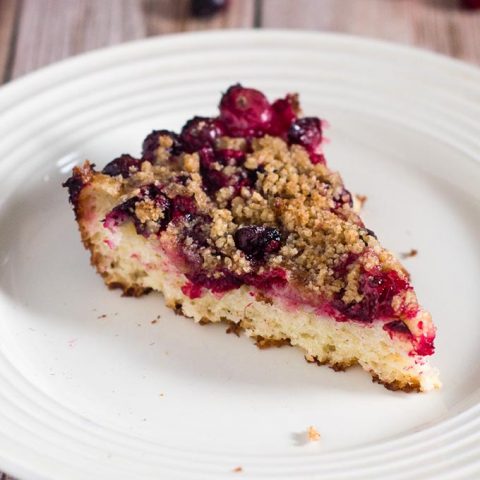 Cranberry Crumb Cake
Ingredients
For the cake:
1 cup all-purpose flour, 4 ¼ oz
½ cup sugar, 3 ½ oz
2 teaspoon baking powder
½ teaspoon salt
1 egg, lightly beaten
½ cup milk
1 tablespoon canola or vegetable oil
¼ teaspoon almond extract
¼ teaspoon orange extract, or ½ to 1 teaspoon fresh orange zest
For the cranberry layer:
2 cups fresh or frozen cranberries
⅓ cup sugar
For the topping:
¼ cup all-purpose flour
3 tablespoon brown sugar
2 tablespoon cold butter, cut into small cubes
Instructions
Preheat oven to 375 degrees. Spray an 8-inch square or 9-inch round cake pan with nonstick spray. Set aside.
Make the cake batter: In a large bowl, stir together the flour, sugar, baking powder and salt.
In a separate bowl, combine the egg, milk, oil, almond and orange extracts.
Pour the wet ingredients over the dry; beat on low speed with a hand or stand mixer just until combined.
Scrape the batter into the prepared pan.
Combine the cranberries and sugar; toss to coat, then distribute evenly over the cake batter.
For topping, in a small food processor, pulse together the flour and brown sugar; add the butter cubes and pulse a few more times until the mixture looks crumbly. Sprinkle over cranberries.
Bake at 375° for 35-45 minutes or until a knife inserted in the center of the pan comes out clean. Cool to room temperature before serving. Store the cake in the refrigerator if not serving immediately or if there is any leftover.
Adapted from Taste of Home
Disclosure: this post contains affiliate links