Pumpkin cream pie has all the flavor of classic pumpkin pie with a slightly different texture. It's topped with decadent salted caramel whipped cream.
Guys. This pie. You need to make it. I made it a few years ago for Thanksgiving dessert, but wasn't able to get photos of it to share with you before serving it. But I still think of that pie, so I decided to make it again.
See, I'm sure it's no surprise that I love all things pumpkin. I mean, I have a whole Pinterest board dedicated to pumpkin. I like pumpkin pie, I do. I like the flavor, but there's something about the texture that turns me off.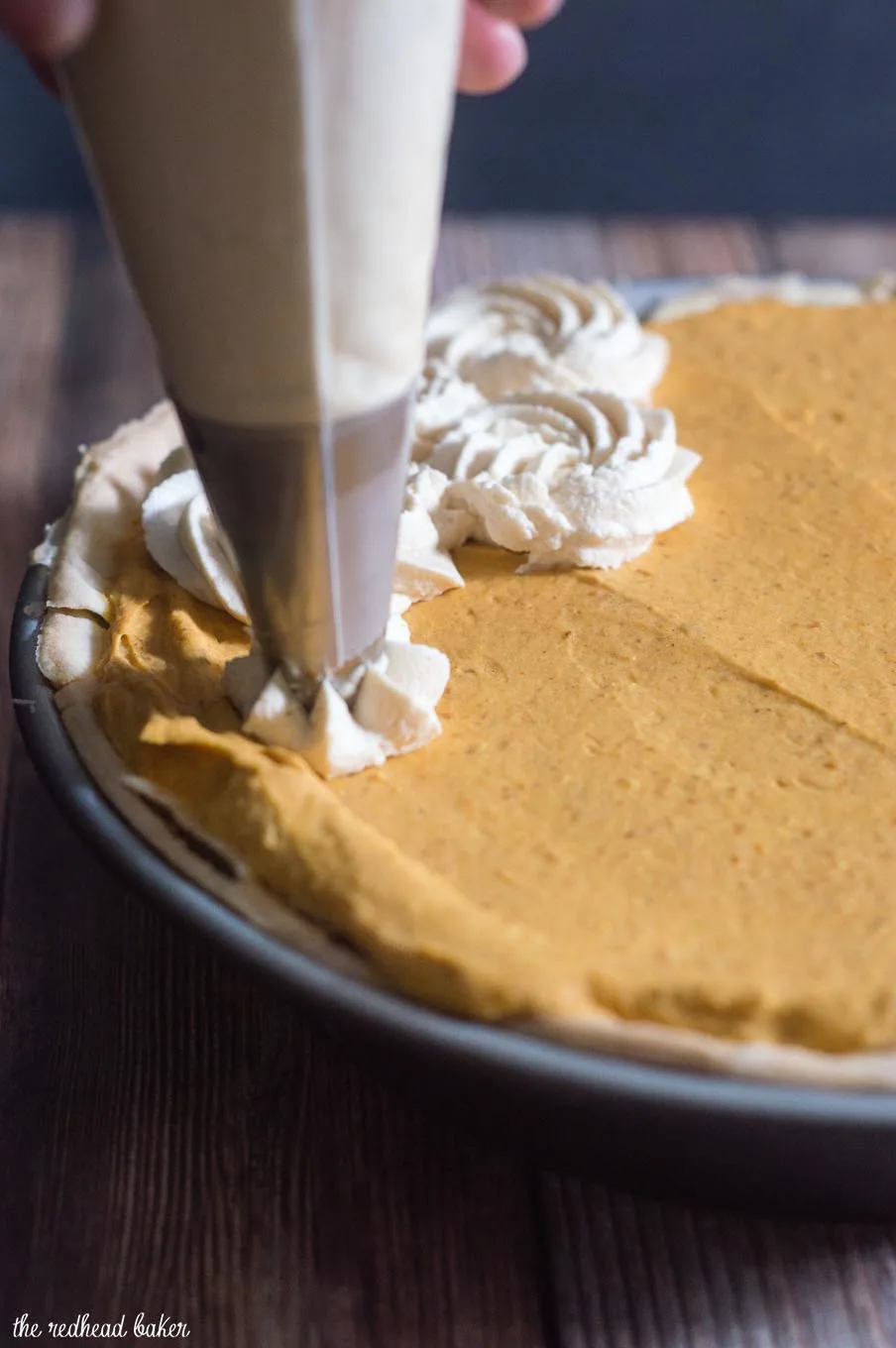 This pie has all the flavor of pumpkin pie (and then some), and it's even easier to make. Okay, yes, there are more steps than in classic pumpkin pie. But it's still not hard to make. I promise, it's worth the extra steps.
Also, I hope you own a BIG PIE PLATE. Like, a BIG DEEP DISH PIE PLATE. I made the mistake of using my standard pie plate, so I filled my pie level, planning to top it with whipped cream, and I had at least another cup of filling left over. Not that I'm complaining. I mean, pie filling. Spoon. A cozy blanket. Night made!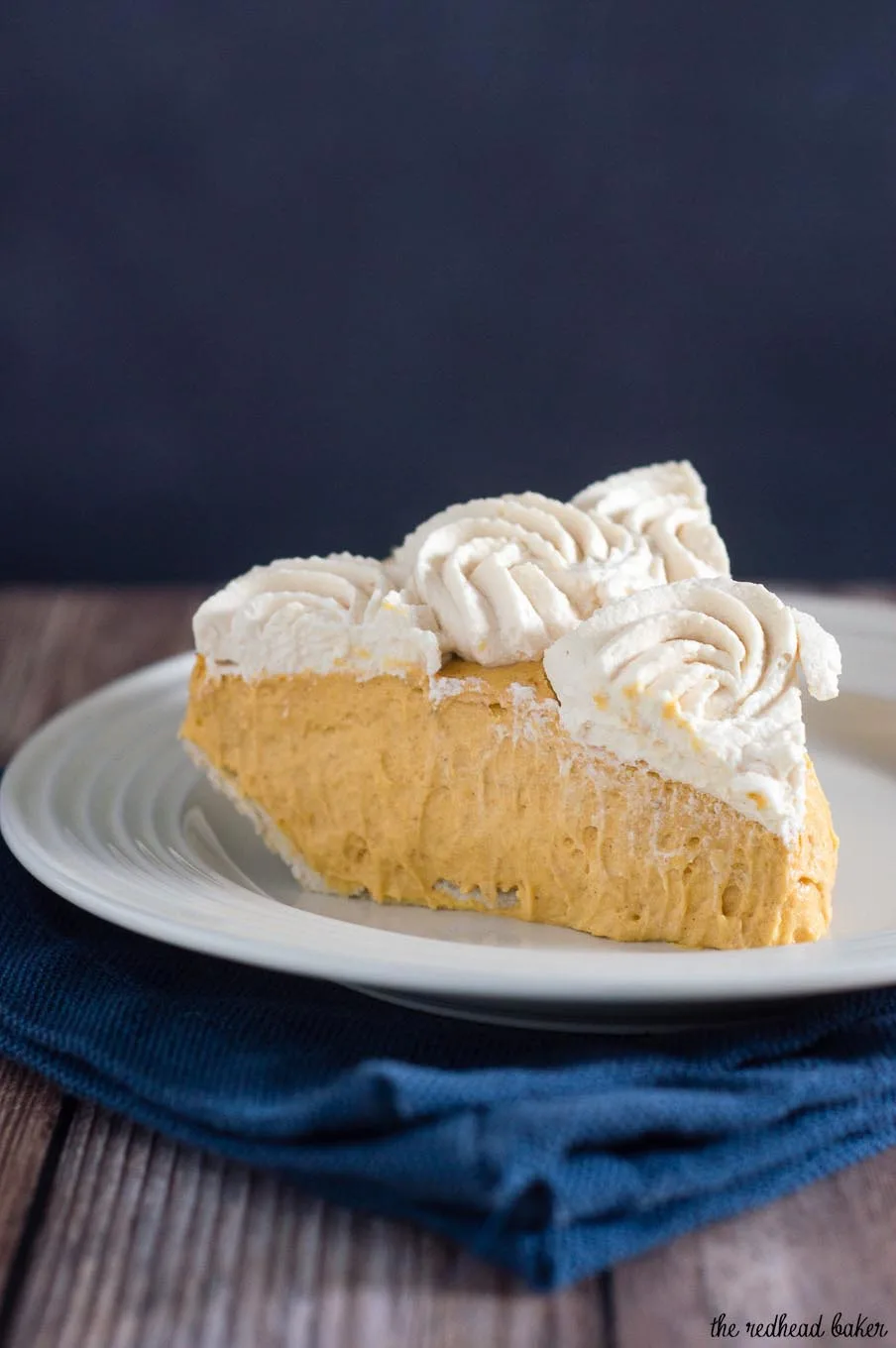 You could pile all that filling into your standard pie plate and still top it with whipped cream. I won't judge. You can call it diner-style mile-high pumpkin cream pie. Whatever you do, though, do NOT skip the salted caramel whipped cream. Words don't exist to describe this whipped cream. I'm glad I made it after my son went to bed so I didn't have to share licking the beaters.
You can use homemade caramel sauce, or store-bought. If you go the store-bought route, splurge and get real caramel sauce, not caramel-flavored sundae topping. Finally, sea salt flakes. Not table salt. Not kosher salt. I have a small tin of it, and reserve it for uses like this.
If you want to mix things up with your holiday desserts, but your family refuses to stray from the classics, add this pumpkin cream pie to your holiday table!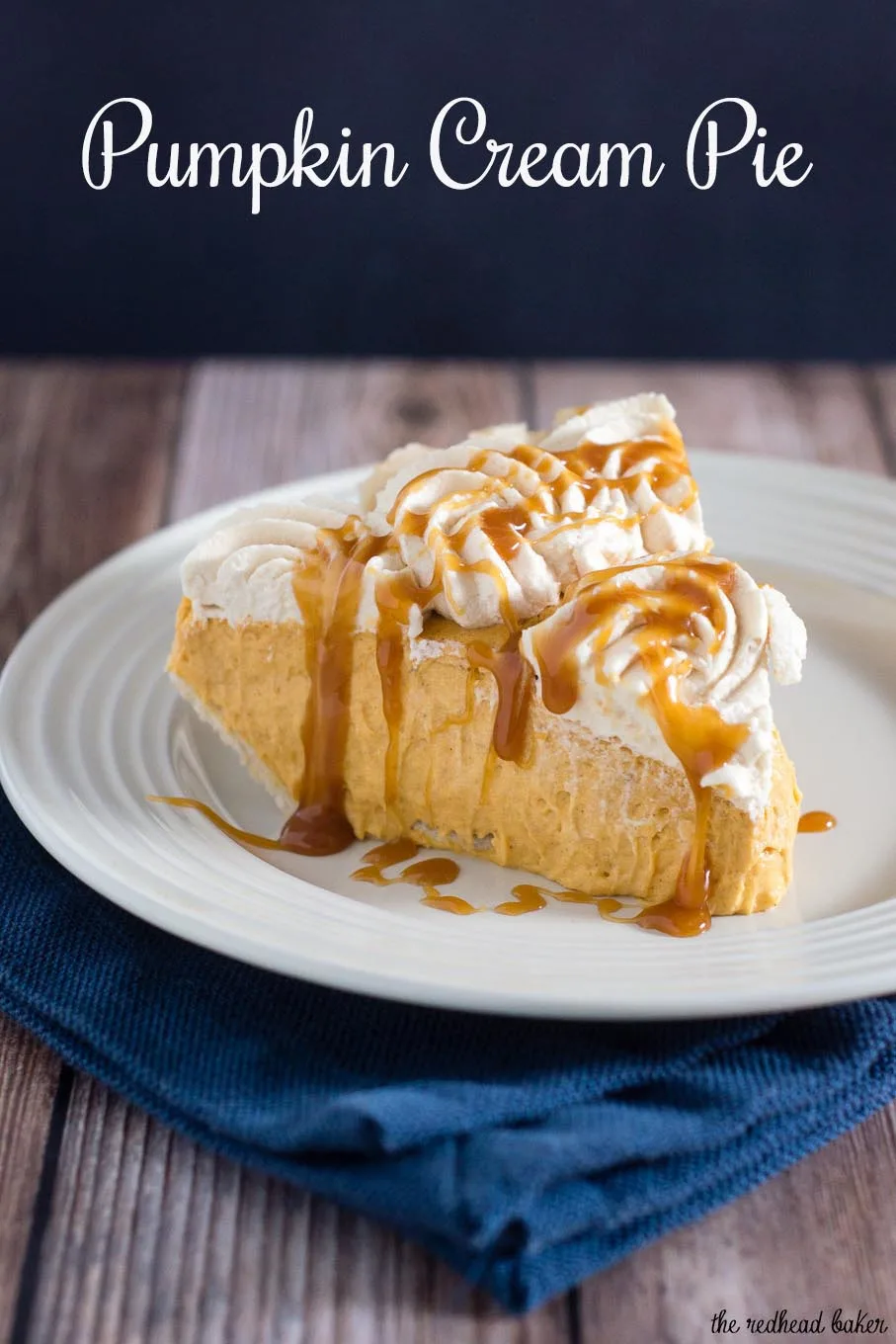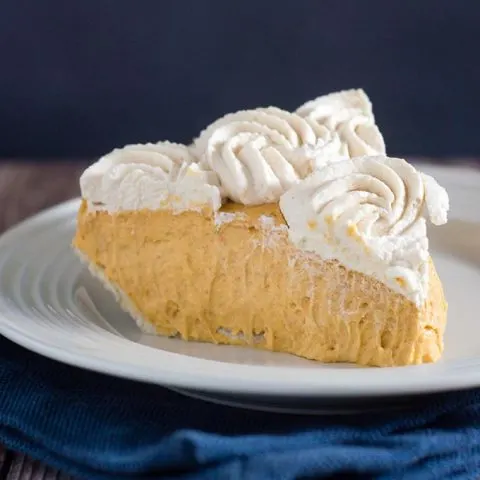 Pumpkin Cream Pie with Salted Caramel Whipped Cream
Ingredients
For the pie:
1 store-bought or homemade pie crust
1 ½ cups heavy whipping cream
1 ¼ cups powdered sugar, divided
½ teaspoon . vanilla extract
8 oz cream cheese, softened
15 oz pumpkin puree
5.1 oz box instant vanilla pudding powder
1 cup evaporated milk
1 teaspoon ground cinnamon
½ teaspoon ground ginger
¼ teaspoon ground nutmeg
¼ teaspoon ground cloves
For the whipped cream:
1 cup heavy whipped cream
¼ cup caramel sauce, storebought or homemade
¼ teaspoon sea salt flakes
For garnish:
Extra caramel sauce and sea salt flakes
Instructions
Preheat oven to 375 degrees. Roll the pie crust on a lightly floured surface out to 12 inches. Gently transfer it to a 9- or 10-inch pie plate. You can decoratively trim the edges, or simply roll your rolling pin along the top of the pie plate to trim the excess off.
Place the pie plate on a baking sheet. Lay a sheet of tin foil on top of the pie crust, and fill it with dried beans or pie weights. Bake for 18 to 20 minutes, until golden brown and the tin foil doesn't stick to the crust. Remove from the oven and transfer the pie plate to a wire cooling rack to cool the pie crust completely.
Whip the heavy cream with ¼ cup of the powdered sugar and the vanilla extract to stiff peaks. Refrigerate the whipped cream while you continue with the recipe.
Beat the cream cheese until smooth. Gradually beat in the pumpkin puree, stopping and scraping the bowl occasionally.
Add the pudding powder, evaporated milk, remaining powdered sugar, and spices, and beat until incorporated.
Retrieve the whipped cream from the refrigerator and fold it into the pumpkin mixture.
Spoon the mixture into the cooled pie crust and refrigerate for at least 4 hours, preferably overnight.
After the pie has chilled, make the whipped cream beat the heavy whipping cream just until stiff peaks begin to form. Add the caramel sauce and sea salt flakes and beat until incorporated. Taste, and add more caramel and/or sea salt as desired. Spread or pie onto the pumpkin cream pie. Refrigerate if not serving immediately.
Slightly adapted from A Spicy Perspective