If you like lemon meringue pie, you'll love this holiday cranberry meringue pie, which uses cranberry curd filling instead of lemon, topped with sweetened whipped egg whites.
If you bake frequently at home, you probably have a stand mixer. I have a pro series heavy duty stand mixer that I bought refurbished over ten years ago, and it's still going strong. But I still only have one bowl and one set of attachments. Some recipes involve mixing parts of the ingredients separately, so I have to mix one set of ingredients, transfer to a mixing bowl, wash the stand mixer bowl, mix the second set of ingredients, then combine. It's a pain, and lot of extra washing.
Having such a big mixer is also a disadvantage when I want to mix a small amount of whipped cream, or one egg white into a small amount of meringue. The whisk just barely reaches into the liquid. It's always been in the back of my mind to buy a hand mixer, but I could never find one I liked.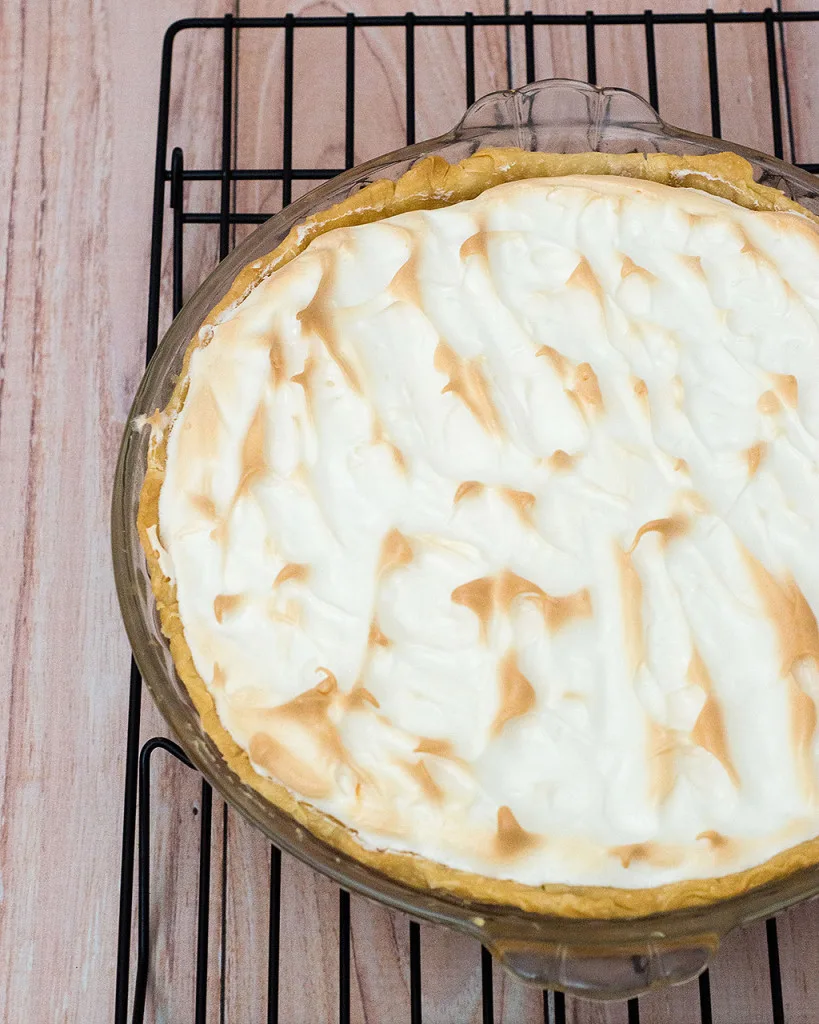 Then my favorite kitchen tool company, OXO, introduced its new line of small kitchen electrics. It includes the OXO On Illuminating Digital Hand Mixer (now discontinued)! I received one to test out, and I am thrilled with it. My favorite feature is that it is lightweight, which is essential when I'm mixing things like royal icing for cookies, which has to mix for 7 minutes. That's a long time to hold up a heavy hand mixer! The mixer comes with two sets of attachments: whisks and dough hooks. The mixer also has an LED headlight to illuminate whatever you're mixing, so you can ensure batter consistency is perfect.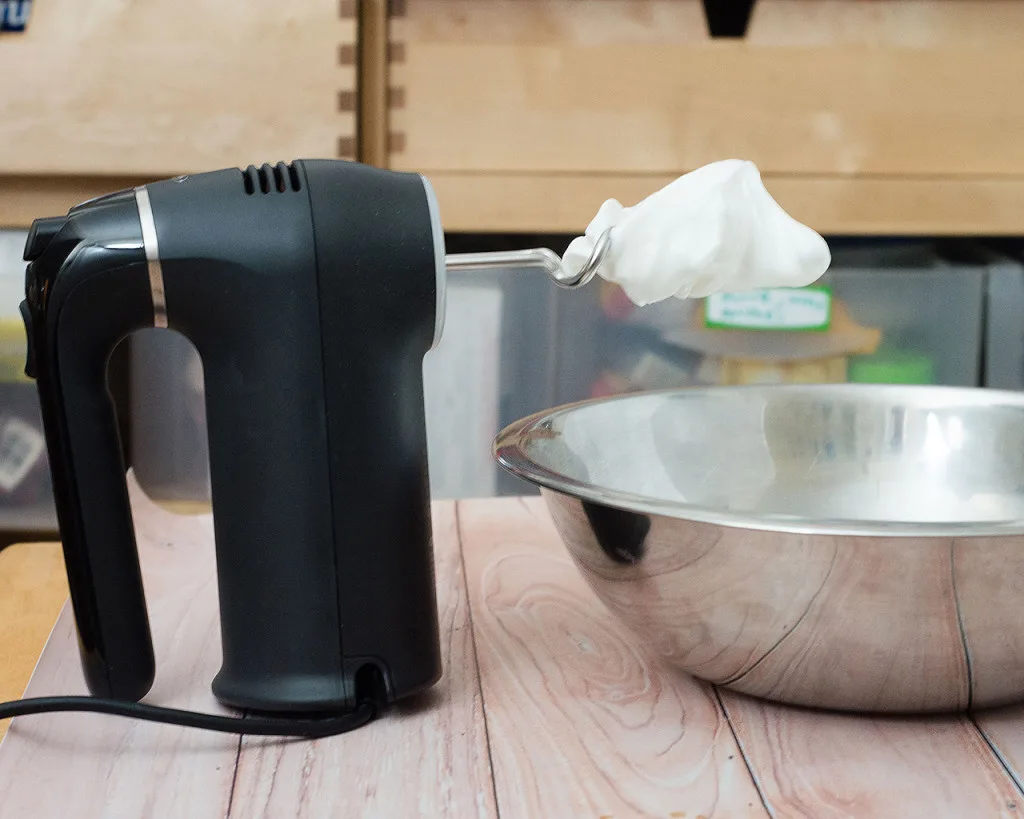 The stand mixer comes in very handy making this festive Christmas cranberry meringue pie. Intuitive speed controls transition gradually from medium to high speed (preventing meringue from flying everywhere). When you're done baking the pie, the beaters attach right to the mixer body, and the cord wraps around the bottom. Stored upright, it takes up hardly any room at all. There's still time to add it to your Christmas shopping list for the foodie in your life!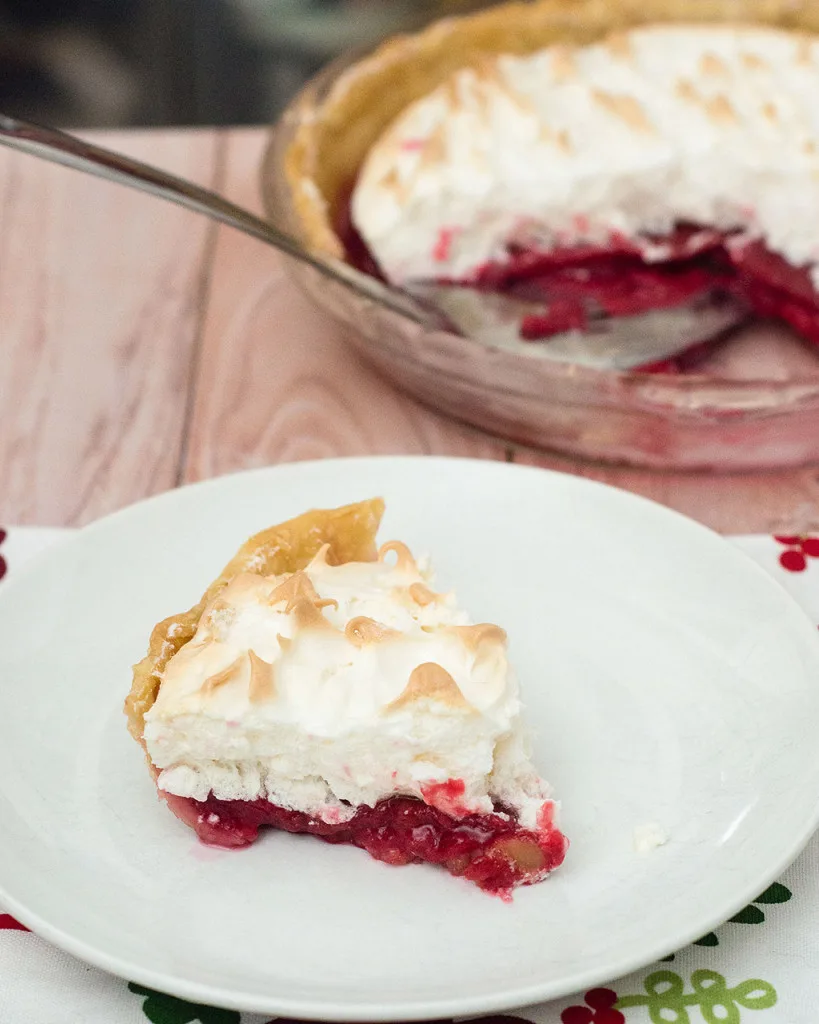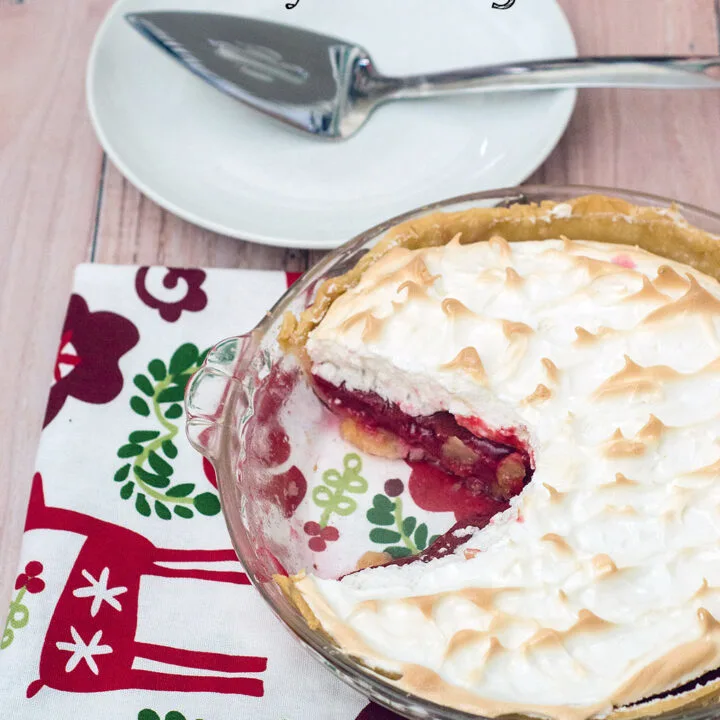 Cranberry Meringue Pie
Ingredients
1 inch pie crust for a 9- pie plate, store-bought or homemade
For the filling:
12 oz cranberries, fresh or frozen (thawed if frozen)
1 cup orange juice
¾ cup sugar, divided
1 large egg
3 large eggs, separated, whites reserved
For the meringue topping:
¼ teaspoon cream of tartar
Pinch of salt
⅓ cup sugar
1 teaspoon vanilla extract
Instructions
Preheat oven to 350 degrees.
Place the pie crust in a 9-inch pie plate. Prick all over with the tines of a fork, gently lay a sheet of foil over top, cover with pie weights or a mixture of dried beans and rice. Place the pie plate on a baking sheet, and bake the crust for 20 minutes.
Remove to a wire rack and remove the tin foil with the weights.
While the pie crust is baking, place the cranberries and orange juice in a medium saucepan set over high heat. Bring to a boil, stirring frequently. Reduce heat to medium-high, and cook, stirring frequently, for 5 to 6 minutes. Remove from the heat and pour the mixture into a fine-mesh strainer, pressing on the solids to extract all of the juices. The mixture should be very thick. Stir ½ cup of the sugar into the cranberry juice mixture. Pour back into the saucepan.
Place the egg, and three egg yolks in a medium mixing bowl. Add the remaining ¼ cup of sugar, and whisk vigorously until lightened in color.
While stirring, pour about ¼ of the cranberry mixture into the egg mixture. Pour the egg mixture back into the saucepan with the rest of the cranberry mixture. Cook over medium heat for about 5 minutes, until thickened and just starting to bubble. Pour into the pie crust and set aside.
With a hand mixer or stand mixer, beat the reserved egg whites on medium speed until frothy. Add the cream of tartar and salt and whisk on high speed until soft peaks form.
Gradually add the sugar, and beat on high speed until stiff peaks form. Beat in the vanilla.
Spread the meringue over the cranberry filling. Use a butter knife or offset spatula to create peaks by pressing the flat of the blade on the surface of the meringue and pulling straight up.
Bake the pie for 15 minutes, until the tips of the peaks start to brown.
Cool the pie on a wire rack to room temperature before serving. Store covered loosely with tinfoil in the refrigerator.
Adapted from Betty Crocker