Bright, colorful Easter candy cookies are sure to bring a smile to anyone's face. White chocolate cookies are loaded with pastel-colored chocolate candies.
Easter ranks pretty high on my list of favorite holidays. Not for the traditions; for the candy. You see, Cadbury Caramel Eggs are one of the BEST THINGS EVER. And they're only available around Easter. See also: chocolate bunnies. The solid kind. (Though I recently read about filling hollow bunnies with chocolate liqueur — I can get behind that idea!)
Easter also has pretty candy. Look at those beautiful pastel colors! How can you NOT want to bake something beautiful with those colors?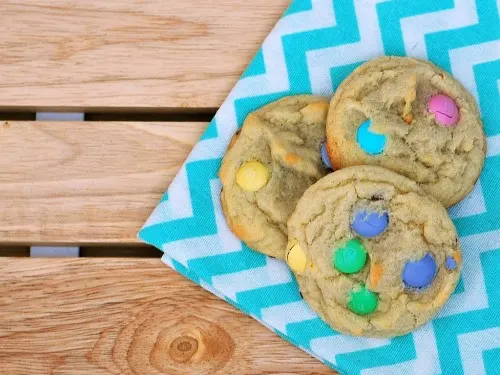 Now, sure, you could take those candies and fold them into standard chocolate chip cookie dough, or sugar cookies, or blondies. The cookie base here has melted white chocolate, which just brings these to a whole new level of addictiveness.
Keep a close eye on the white chocolate while melting it. White chocolate has a lower melting temperature than regular chocolate. Move it off and on the heat so it doesn't scorch. Keep a close eye on these cookies, too. They will go from juuuust golden around the edges to burnt very quickly. But they are worth it!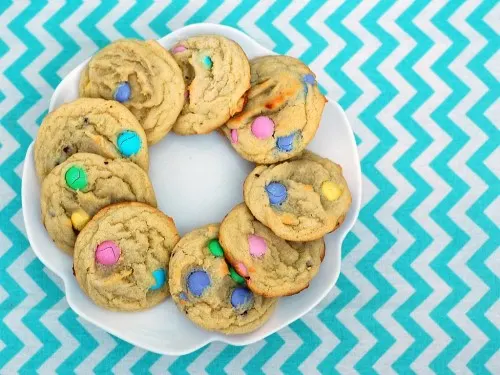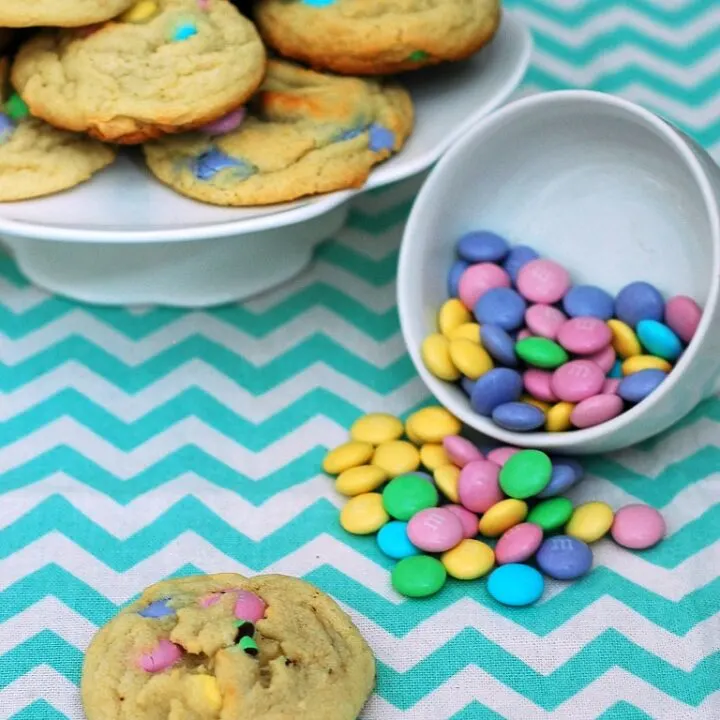 Easter Candy Cookies
Ingredients
4 oz white chocolate, chopped fine
½ cup unsalted butter at room temperature
1 cup sugar
1 teaspoon baking soda
¼ teaspoon salt
2 large eggs
2 ¾ cups all-purpose flour
1 cup pastel candy-coated chocolates
Instructions
Preheat oven to 375 degrees, and line two baking sheets with parchment paper.
Melt the white chocolate over low heat, stirring constantly, until melted. Set aside to cool.
In the bowl of a stand mixer fitted with the paddle attachment, cream the butter for about 30 seconds.
Add the sugar, baking soda and salt, and beat together for about a minute.
Add the eggs and the melted white chocolate, beat until combined. Scrape down the sides of the bowl.
Add the flour, and beat just until all of the flour is incorporated. Add the candies, and stir on low until incorporated.
Scoop the dough onto the prepared baking sheets with a medium cookie scoop, spacing cookies at least two inches apart. Bake for 7 to 8 minutes, until just beginning to brown around the edges.
Let cookies cool about a minute on the baking sheet, then transfer to a wire rack to cool completely. Store in an airtight container at room temperature.
Adapted from Better Homes & Gardens