Warmly-spiced gingerbread layer cake is covered with brown sugar Swiss buttercream and topped with mini gingerbread men. A festive cake for Christmas dessert!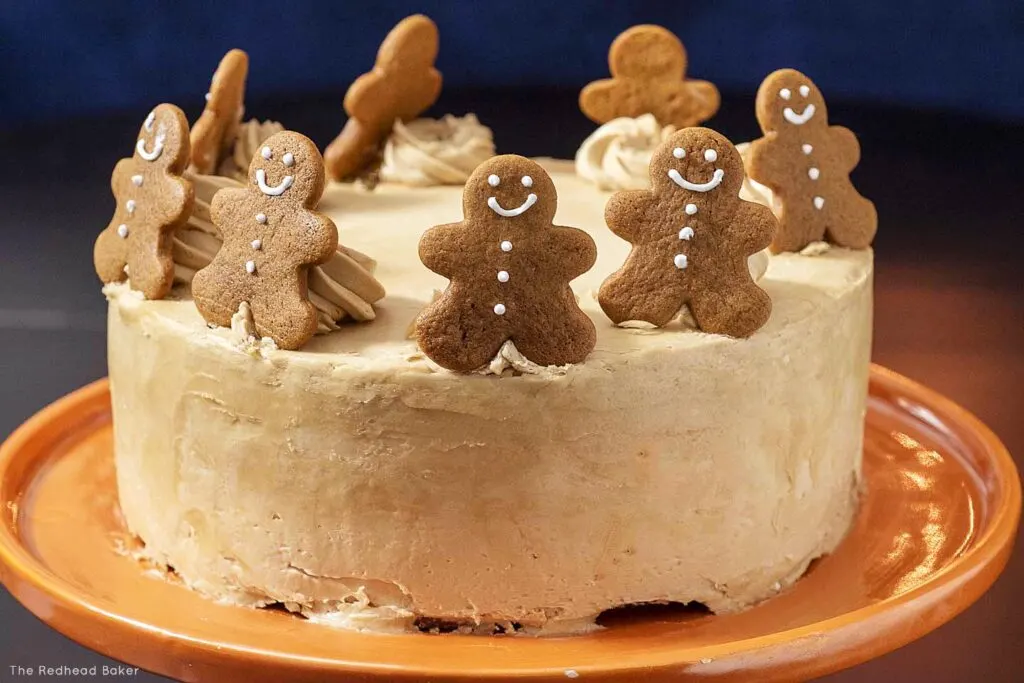 While eggnog is my favorite Christmas flavor, gingerbread comes in a close second. The warm spices are the perfect flavor on a chilly winter day.
The flavor of gingerbread also happens to work really well in all kinds of desserts, from cookies to donuts, from bread to cake.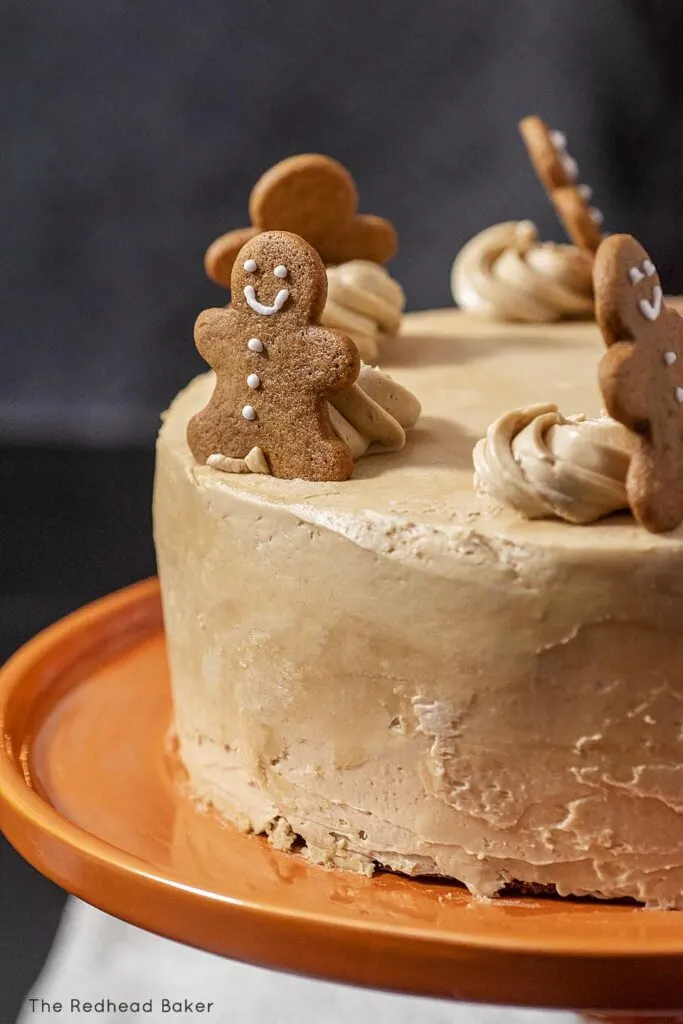 How to Make a Gingerbread Layer Cake
Gingerbread layer cake is a pretty simple cake to make. In fact, I find it somewhat easier, since the butter is melted before adding it to the cake, so you don't need to hope that it's not too hard.
This cake also uses applesauce in place of the some of the fat, which helps keep the cake moist. If you don't typically keep applesauce on hand, you can omit it and increase the melted butter to 1 cup.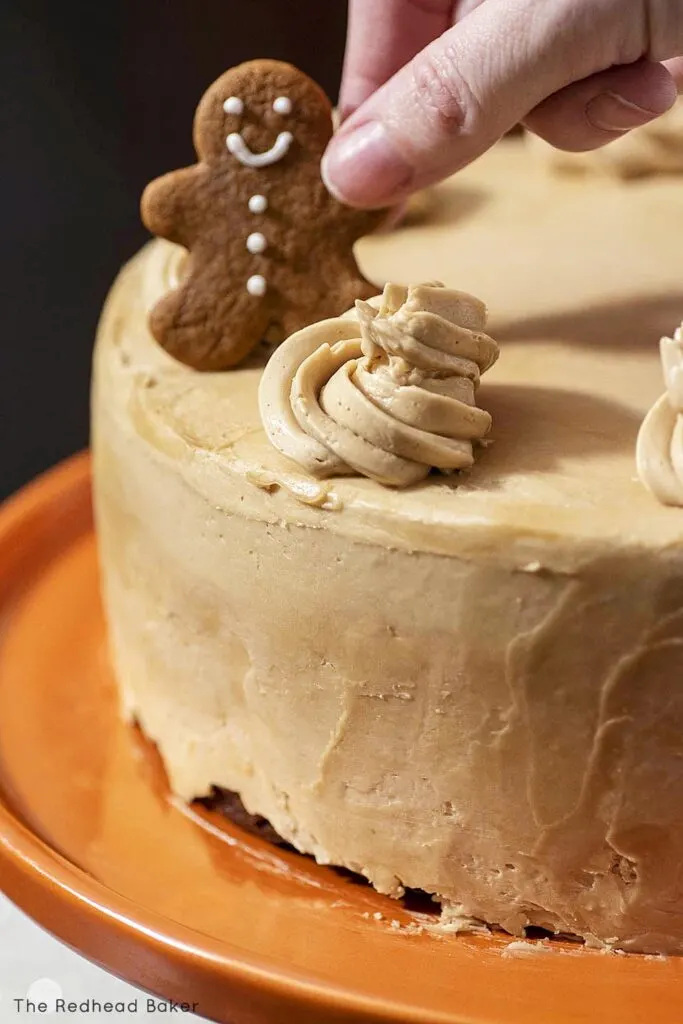 How to Frost a Layer Cake
For this recipe, I used a Swiss meringue buttercream made with brown sugar instead of white sugar. It gives the buttercream a flavor similar to caramel. It's delicious!
I hope you'll give this buttercream a try (it's the easiest of the meringue-based buttercreams), but cream cheese buttercream would also be delicious on this cake. But to help, I've created this step-by-step video on how to make Swiss buttercream.
If you find American buttercream too cloying, I really think you'll like Swiss buttercream because it's very creamy, but not too buttery and not too sweet.
If made with white sugar, it's nearly white, so it takes gel food coloring very well. I made this one with brown sugar, which gives it a beautiful light brown color.
FAQs
Q: Can I make the cake and/or the frosting ahead of time?
A: Yes, both can be made ahead of time. In fact, I almost always make frosted layer cakes over two to three days. I'll make the cake on Day 1, the frosting on Day 2, and frost on Day 3.
The cakes can be baked, wrapped in plastic wrap and stored at room temperature for up to 3 days.
The frosting can be made ahead and stored in a tightly sealed container in the refrigerator. Let the frosting come to room temperature on the counter for an hour, then give it a brief re-whip in the mixer to smooth it out before frosting your cake.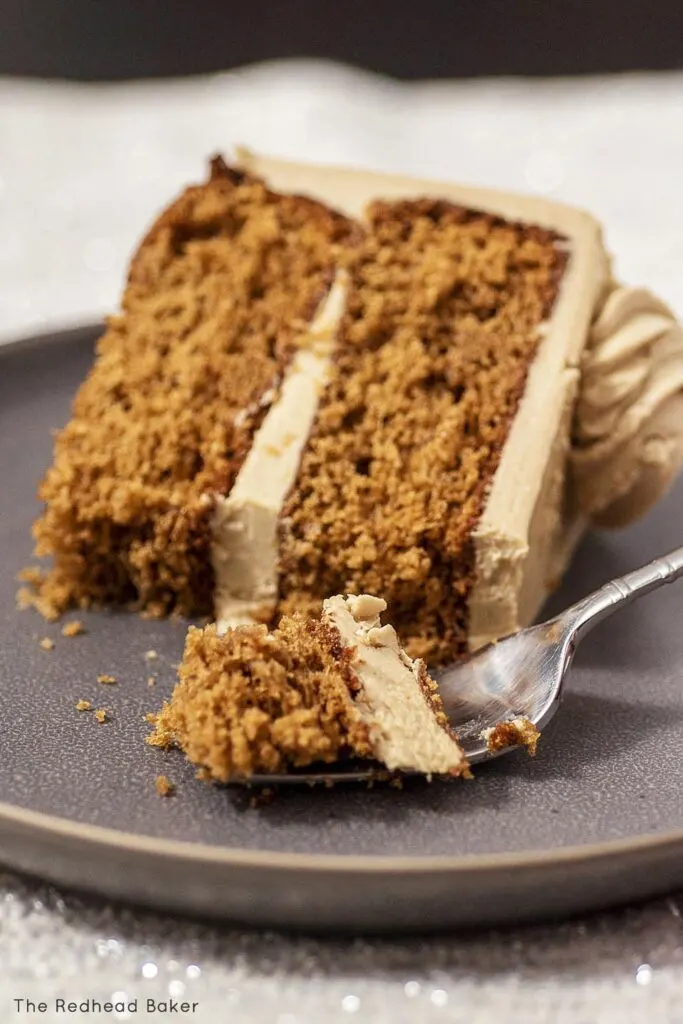 Q: How do I store leftover cake?
A: Once you cut a cake, it will start to dry out. Part of the reason we frost cakes is to trap the moisture! Refrigerators accelerate the drying process in cakes. Press a piece of plastic wrap directly on the cut part of the cake, then place it in the refrigerator, and try to finish it within two to three days.
Q: How do I get smooth frosting on my cake?
A: A lot of patience! It also helps to have a cake turntable (affiliate link). First, make sure your buttercream is very smooth. No lumps of butter!
Cover your cake with a crumb coat: a very thin layer of icing that traps crumbs. Chill your cake for about 20 minutes. Then add a thicker layer of frosting, and use an offset spatula to get the coat as smooth as possible. Wiping the spatula frequently will help smooth the icing. Then chill your cake again.
Finally, run the spatula under very hot water and wipe it dry, then hold the spatula to the cake, and rotate the cake as the hot spatula smooths the icing.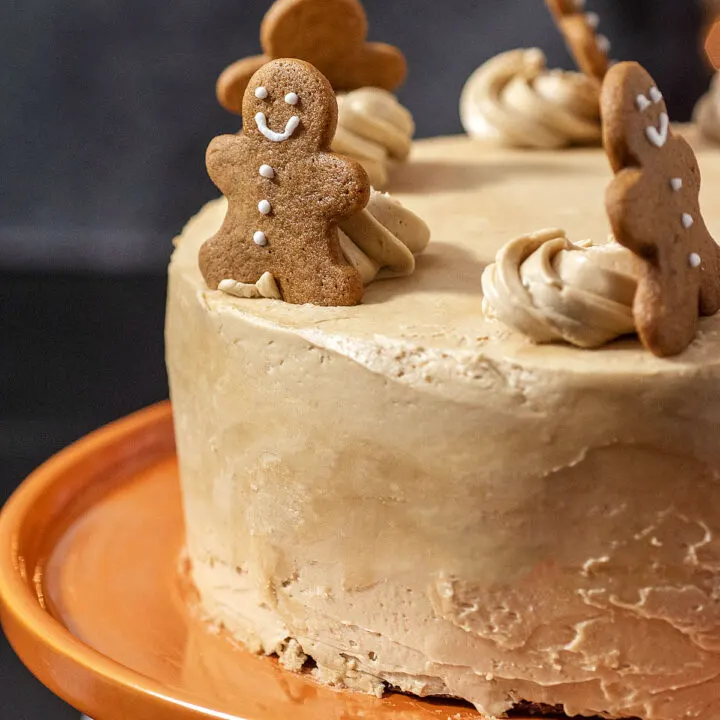 Gingerbread Layer Cake
This festive gingerbread layer cake is covered with brown sugar Swiss buttercream and topped with mini gingerbread men.
Ingredients
For the cake
2 ½ cups all-purpose flour
1 ½ teaspoon baking soda
2 teaspoon ground cinnamon
2 teaspoon ground ginger
½ teaspoon nutmeg
¼ teaspoon ground cloves
½ teaspoon salt
1 cup molasses
½ cup unsalted butter, melted and cooled
⅔ cup sugar
½ cup applesauce
1 large egg
2 teaspoon vanilla extract
½ cup canola or vegetable oil
½ cup whole milk
For the buttercream
1 ½ cups dark brown sugar
6 large egg whites
2 cups unsalted butter, softened but still cool
1 teaspoon vanilla
Instructions
Preheat oven to 350 degrees F. Spray two 8-inch cake pans with nonstick spray and set aside.
In a large bowl, whisk together the flour, baking soda, cinnamon, ginger, nutmeg, cloves, and salt. Set aside. In a measuring cup or small bowl, combine oil and milk. Set aside.
In a large bowl, combine the molasses, melted butter, and sugar. Add applesauce, egg, and vanilla extract; beat until well combined.
Stir one-third of the flour mixture into the batter just until incorporated. Pour in half of the milk/oil mixture, stirring until combined. Add another third of the flour, stirring until combined. Add the remaining milk/oil mixture, stirring until combined, then beat in the remaining flour mixture. Divide the batter evenly into the prepared pans.
Bake for 25-30 minutes in the oven, until an inserted toothpick comes out clean. Leave the cakes in the pan on a wire rack to cool to room temperature. Once cooled, wrap in plastic wrap if not frosting immediately.
Bring an inch of water in a small saucepan to a boil. Lower the heat until the water is simmering.
In the bowl of a stand mixer, combine the egg whites and brown sugar. Place the bowl over the simmering water and whisk continuously until the sugar melts.
Once the sugar melts, turn off the heat. Place the mixing bowl on the stand mixer, and fit with the whip attachment. Beat on high speed until the mixture forms a meringue, and the bowl feels neutral (not warm) to the touch. If the meringue reaches stiff peaks before the bowl cools down, turn the speed to low.
Once the bowl cools down, switch to the paddle attachment. With the mixer running on medium-low speed, start adding butter, 1 to 2 tablespoonfuls at a time, waiting until they are no longer visible before adding more. Continue until all the butter is incorporated. Turn the speed to medium-high and whip the buttercream until it is fluffy. If the buttercream looks separated, chill the bowl for 10 minutes, then continue beating.
Once the buttercream is fluffy, beat in the vanilla.
Level the cakes by using a serrated knife to cut off any domed parts. Place one cake layer on a cake stand and spread ½ cup of the buttercream on top. Place the second cake layer on top.
Spread a thin layer of buttercream on the top and sides of the cake to trap any crumbs. Refrigerate for 20 minutes.
Spread a thicker layer of buttercream on the top and sides of the cake. Transfer some of the buttercream to a piping bag fitted with an open star tip and pipe a few swirls of buttercream on the top of the cake.
Garnish with sprinkles or mini gingerbread man cookies, if desired, or drizzle caramel on the top and down the sides of the cake.
Cover and refrigerate any leftover cake.
Recommended Products
As an Amazon Associate and member of other affiliate programs, I earn a small percentage from qualifying purchases.
Nutrition Information:
Yield:

12
Serving Size:

1
Amount Per Serving:
Calories:

793
Total Fat:

52g
Saturated Fat:

27g
Trans Fat:

0g
Unsaturated Fat:

22g
Cholesterol:

128mg
Sodium:

316mg
Carbohydrates:

78g
Fiber:

1g
Sugar:

57g
Protein:

6g
I am not a certified nutritionist. This nutrition information is automatically calculated by third party software and is meant as a guideline only.
Welcome to #ChristmasSweetsWeek 2020! Co-hosted by Terri from Love and Confections and Christie from A Kitchen Hoor's Adventures! What better way to celebrate the holidays than with food and fun? 21 bloggers from around the country have come together to share some of their favorite sweet Christmas recipes!! Deck the halls and get ready for very merry sweet treats, like fudge, cookies, Christmas morning breakfasts, layer cakes, cocoa, and more! Follow along on social media with our #ChristmasSweetsWeek hashtag. Happy Holidays!
Enjoy these #ChristmasSweetsWeek recipes from our bloggers:
Breakfast and Baked Goods Recipes
Cranberry Orange Quick Bread by Simply Inspired Meals
Eggnog Cream Cheese Danish by A Kitchen Hoor's Adventures
Gingerbread Baked Oatmeal by Making Miracles
Candy and Fudge Recipes
Chocolate Cherry Brownie Bites by A Day in the Life on the Farm
Hard Cinnamon Candy by Blogghetti
Oreo Balls by The Mandatory Mooch
Papaya Halwa by Palatable Pastime
White Chocolate Peppermint Fudge by An Affair from the Heart
Pastry and Dessert Recipes
Chewy Ginger Molasses Cookies by Kathryn's Kitchen Blog
Chocolate Saltine Toffee by For the Love of Food
Christmas Snack Board by Love & Confections
Christmas Tree Krispie Treats by Sweet Beginnings
Hot Chocolate cookies by Christmas Tree Lane
Lemon Olive Oil Sugar Cookies by The Spiffy Cookie
Lemon Rosemary Shortbread Cookies [Vegan & Allergy-Friendly] by Bear & Bug Eats
Gingerbread House by House of Nash Eats
Gingerbread Layer Cake by The Redhead Baker (recipe above)
Peppermint Candy Cane Ice Cream Pie by A Little Fish in the Kitchen