Having recently entered a gingerbread house competition (check out this coming Monday's post for pictures and competition results!), I felt compelled to make something with gingerbread for this week's Christmas treat. After all, along with peppermint, gingerbread is one of the most popular holiday flavors.
But decorated gingerbread men felt too . . . obvious. Not to mention labor-intensive. After tackling an entire house, I wanted something a little easier. These cookies are a perfect balance. They are crisp on the outside, chewy on the inside, with a smear of sweet maple-flavored cream in the middle. They make a delicious addition to any holiday cookie plate.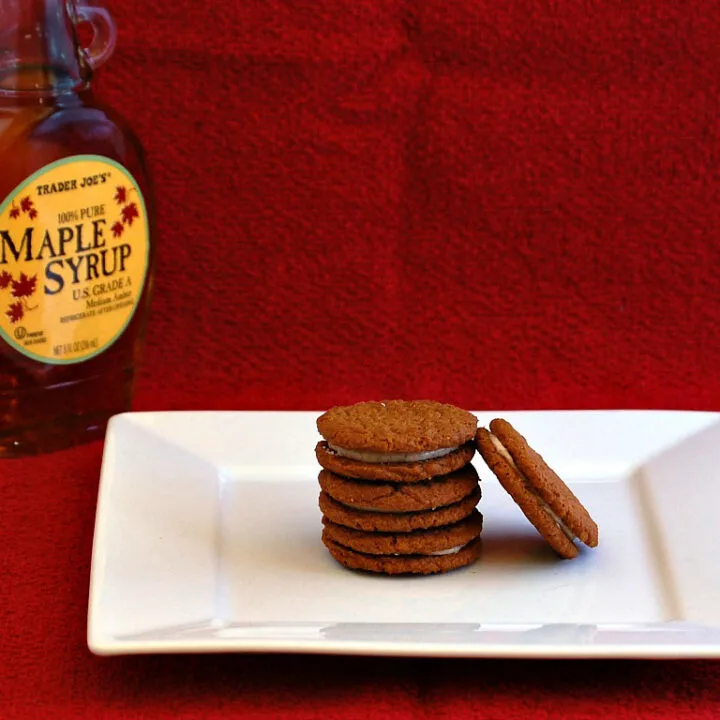 Gingerbread Sandwich Cookies with Maple Cream Filling
Yield:
64 sandwich cookies
Ingredients
For the cookies
2 ¼ cup all-purpose flour
1 ½ teaspoon baking powder
1 teaspoon ground ginger
1 teaspoon ground cinnamon
¼ teaspoon ground nutmeg
¼ teaspoon salt
½ cup dark brown sugar, packed
½ cup unsalted butter, softened
3 tablespoon molasses
1 large egg
For the filling
4 tablespoon unsalted butter, softened
1 cup confectioners sugar
2 tablespoon pure maple syrup
Instructions
In a medium mixing bowl, stir together the flour, baking soda ginger, cinnamon, nutmeg, and salt. Set aside.
In the bowl of a stand mixer, cream together the brown sugar, butter and molasses on medium speed for 2 minutes. Add the egg and beat well.
Add the flour mixture to the bowl, and stir on low speed just until fully incorporated. The dough should still be sticky.
Lay two 10-inch long sheets of plastic wrap on a flat surface. Scrape half the dough onto each piece of plastic wrap. Using damp hands, shape each half of the dough into a log 8 inches long. Tightly wrap each roll with the plastic wrap and refrigerate for 90 minutes.
Preheat the oven to 350 degrees. Working with one log while keep the other refrigerated, cut the dough into ⅛-inch thick slices. Place on cookie sheets lined with parchment paper, and bake just until set and golden, about 8 minutes. Let cool on the pan for a minute, then remove to a wire rack to cool completely.
While cookies are cooling, make the filling. Cream the butter in a medium mixing bowl. Add the confectioners sugar and maple syrup, and beat until smooth.
Use a small knife or offset spatula to spread about ½ teaspoon of the filling onto the underside of half the cookies. Top with a second cookie.
Adapted from Cooking Light