Chances are, if you're not living under a rock, you see Irish soda bread popping up after Valentine's Day.
What is soda bread? No, it's not made with a carbonated beverage. It's a quick bread, and uses baking soda as a leavener. Yes, just about all quick breads you see these days use baking soda, but when baking soda was introduced in Ireland in the mid 1800s, it was the first bread to use it.
You might think of muffins or pumpkin bread when you hear "quick bread," but soda bread is much dryer than either of those, which is why I thought it would be perfect to transform traditional soda bread into breakfast scones!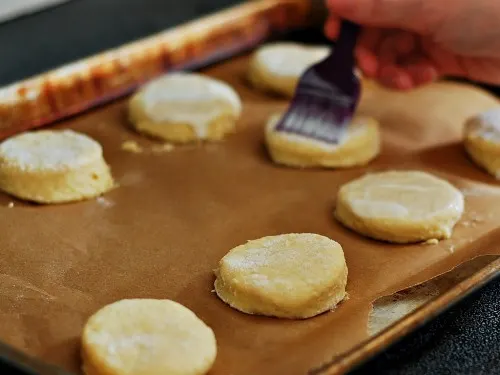 These soda bread scones an adaptation of "Americanized" Irish soda bread rather than traditional soda bread. Some purists believe that what we call Irish soda bread is actually a purely American invention with no roots in Ireland at all (much like the "traditional" St. Patrick's Day meal of corned beef and cabbage). Anyway, many recipes for Irish soda bread include caraway seeds and/or raisins. I haven't included them here (mainly because (1) I don't like caraway seeds and (2) I didn't have any raisins), but feel free to add up to two teaspoons of caraway seeds and/or a cup of raisins if you like them. Knead them into the dough during Step X.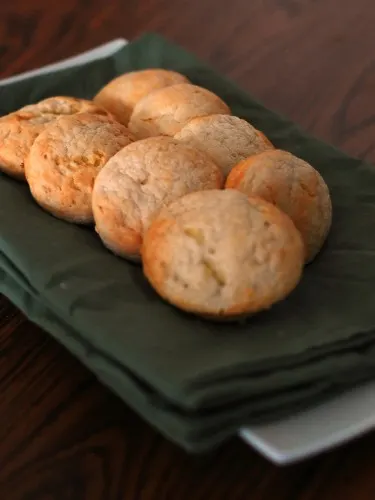 Irish Soda Bread Scones
Adapted from Rose Levy Berenbaum's The Bread Bible
Ingredients
1 cup all-purpose flour
1 cup cake flour (or a second cup of all-purpose flour)
2 tablespoon sugar
1 teaspoon baking soda
¾ teaspoon salt
4 tablespoon unsalted butter, chilled, cut into cubes
½ cup buttermilk, plus more as needed and for brushing
1 large egg yolk
Directions
Preheat oven to 375 degrees. Line a baking sheet with parchment paper; set aside.
Place the flours, sugar, baking soda and salt in the bowl of a food processor. Pulse a few times to combine.
Add the cubes of butter to the food processor, and pulse 10 to 20 times, until the mixture looks mealy.
In a liquid measuring cup, whisk the buttermilk and the egg yolk with a fork. While pulsing the food processor, slowly stream the buttermilk/egg mixture into the dough. Pulse two or three more times until the dough comes together in large clumps. If it does not, add up to an additional ¼ cup of buttermilk, one tablespoonful at a time, until the dough comes together.
Scrape the dough onto a lightly floured surface and knead a few times with floured hands until smooth but not sticky. Gently pat into a disk, then roll out to a circle 8 inches in diameter and ½-inch thick.
Use a floured 2 ½-inch circle cutter to cut out scones — press the cutter straight down, do not twist. Place the scones on the baking sheet. Gather the scraps, re-roll into a ½-inch thick circle, and cut more scones. Repeat until you only a few scraps remain. (NOTE: If you don't have a circle cutter, roll the dough into a circle 8 to 9 inches in diameter, then cut that circle into 8 wedges, and continue with the next step.)
Brush the tops of each scones with buttermilk and bake in the preheated oven for 15 to 18 minutes, until dry-looking and golden brown (wedges may take a few minutes longer).
Cool on a wire rack. Store in an airtight container at room temperature.
Number of servings (yield): 8 to 10 scones