This "Stocking Your Kitchen" post all about baking staples. I know that not everyone is into baking. And I get it. Some people are much more comfortable tossing in a palmful of this, a pinch of that. Others are very "by the book," measuring every single ingredient. Cooking is better suited to former; baking to the latter.
Shelf-life will vary by product. Most flours will last a long time (whole wheat is the exception), as will sugars and chocolate. Baking soda and baking powder do lose potency over time (about 18 months after opening). To preserve my whole wheat flour, I buy it in smaller packages, and keep it in the freezer. I also bought a 16-ounce package of instant yeast. I keep it in an airtight container in the freezer, and it's going on five years old and still going strong.
As with a cooking pantry, the basics will vary depending on your preferences, though not nearly as widely. But here's what I think almost all bakers need:
Flours: all-purpose flour, bread flour (nice-to-have: whole wheat flour, cake flour)
Sugars: granulated, confectioners, light and dark brown sugar (nice-to-have: vanilla sugar)
Flavorings: Vanilla extract, vanilla beans, almond extract (nice-to-have: mint extract, lemon extract)
Leavening: Baking powder, baking soda, instant yeast
Cocoa powder (nice-to-have: Dutch process cocoa powder)
Corn meal
Cornstarch
Rolled oats
Light corn syrup
Cream of tartar
Mix-ins: semisweet chocolate chips; white chocolate chips; semisweet and white chocolate in bar form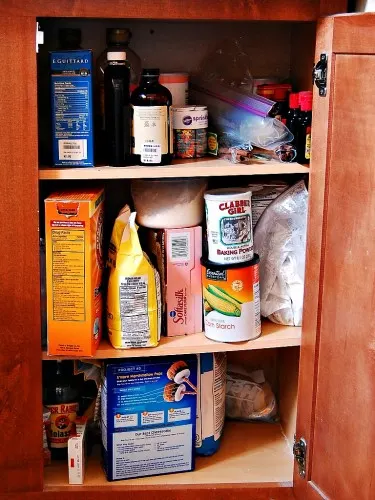 I keep nearly all of my baking ingredients together, in a cabinet under the breakfast bar. This is the right-hand side of the cabinet. On the top shelf are the flavorings (extracts, vanilla beans, cinnamon sticks), light and dark corn syrup, meringue powder, and sprinkles.
On the middle shelf are my lesser-used flours, corn meal, baking soda, and baking powder.
On the bottom shelf are my often-used flours, molasses, gelatin, and a box of graham crumbs.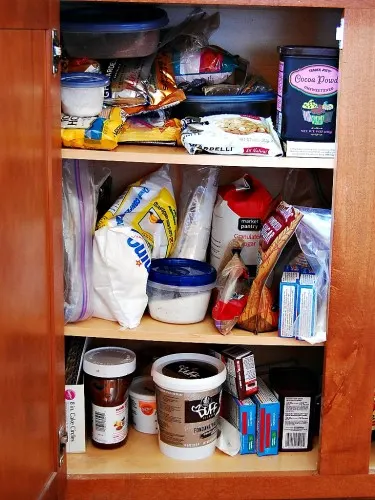 On the left side, top shelf are my chocolates: cocoa powder, bar chocolate (semisweet, white), chocolate chips (semisweet, milk, white).
On the middle shelf are my sugars: granulated, light brown, dark brown, powdered sugar, and vanilla sugar).
On the bottom shelf is a hodge-podge of stuff: cake circles, Nutella, fondant, pudding mixes, flavored gelatins, etc.
Because of my nut intolerance, I don't cook or bake with them. If you do, you'll want to keep those in the freezer, because nuts are high in fat and will spoil quickly.
Next week, we'll talk about cookware and bakeware!