King Bundt Cake is a twist on the traditional Mardi Gras pastry. This moist bundt cake has swirls of cinnamon and fun sugared frosting.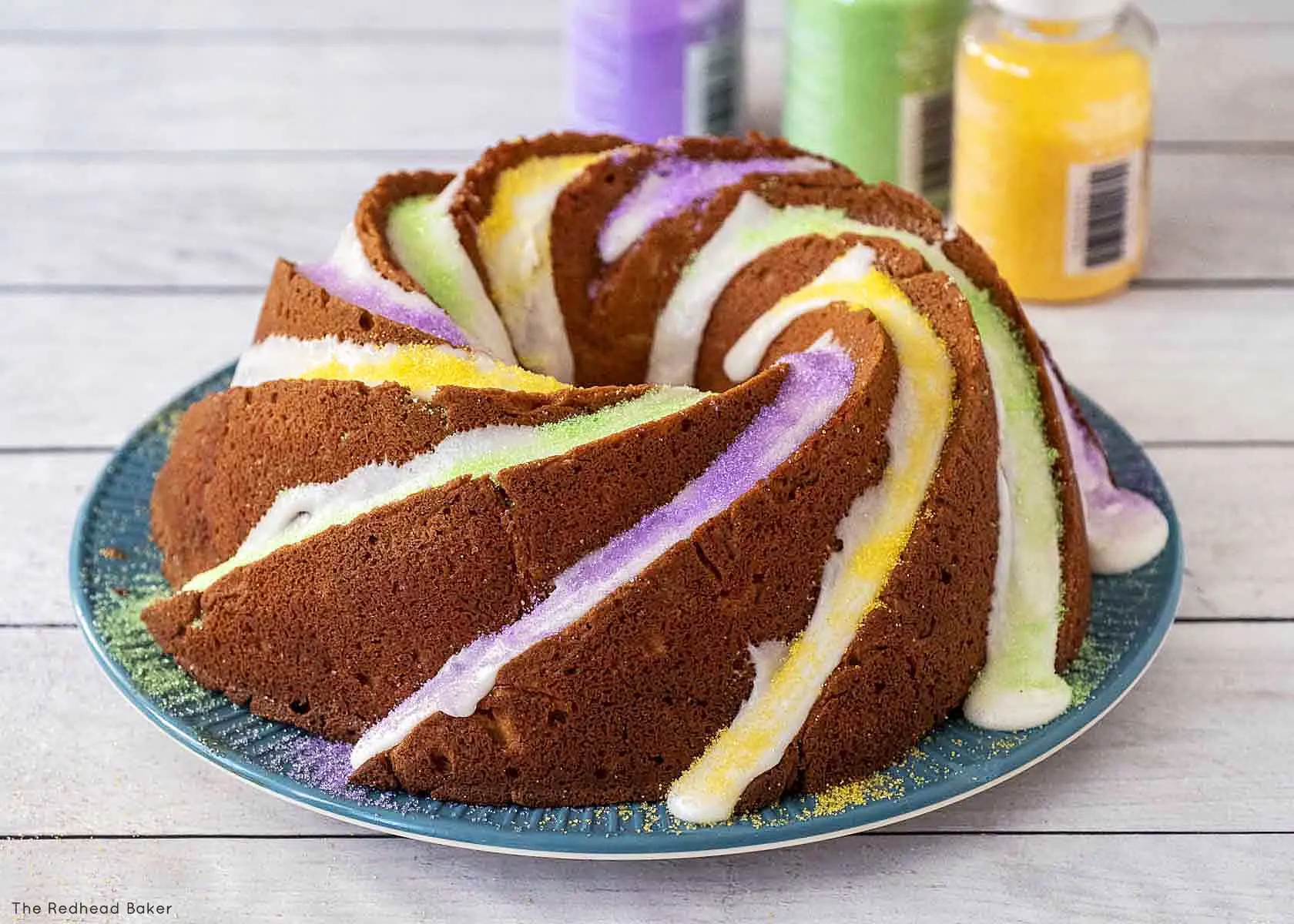 Mardi Gras is almost here! Laissez les bon temps rouler! (French for "Let the good times roll!") If you're not familiar, Mardi Gras (literally, "Fat Tuesday" in French) occurs the day before Ash Wednesday in Christian theology. Ash Wednesday is the first day of Lent, a period of abstinence.
The day before Ash Wednesday, Christians would take the opportunity to have one last day of indulging in foods that would be avoided during the Lenten period.
As I'm not a member of the Christian religion, Mardi Gras has never been a huge, must-celebrate day in my life. However, I will never pass up the chance to indulge in some beignets, shrimp and grits, or King Cake.
Traditional King Cake is not actually cake at all, but a braided ring of frosted, enriched yeast bread. This bundt cake version mimics the ring shape, but is much easier to make.
Jump to:
Ingredients
This is basically a sour cream bundt cake with a ripple of cinnamon sugar inside, topped with a simple frosting and sugar sprinkles in Mardi Gras colors.
Butter: unsalted, and at room temperature.
Sugar.
Eggs: large.
Vanilla extract: I always prefer real over imitation.
All-purpose flour.
Cornstarch.
Baking powder.
Kosher salt.
Sour cream: this is the key to a moist bundt cake, full-fat preferred.
Cinnamon sugar: usually available to buy in the spice aisle at your grocery store, but so easy to make at home.
The frosting is a simple one, made by combining confectioners sugar, cream and vanilla extract. If you like, you can divide the frosting in three bowls, and color them green, purple and yellow-gold with gel food coloring.
The colored sanding sugar gives the cake an extra bit of sparkle. You can either buy them already colored, or color them yourself by combining plain white sanding sugar with either a drop of gel or powdered food coloring.
Instructions
After mixing the cake, spread half the batter in the prepared pan, sprinkle in the cinnamon-sugar mix, then add the remaining batter.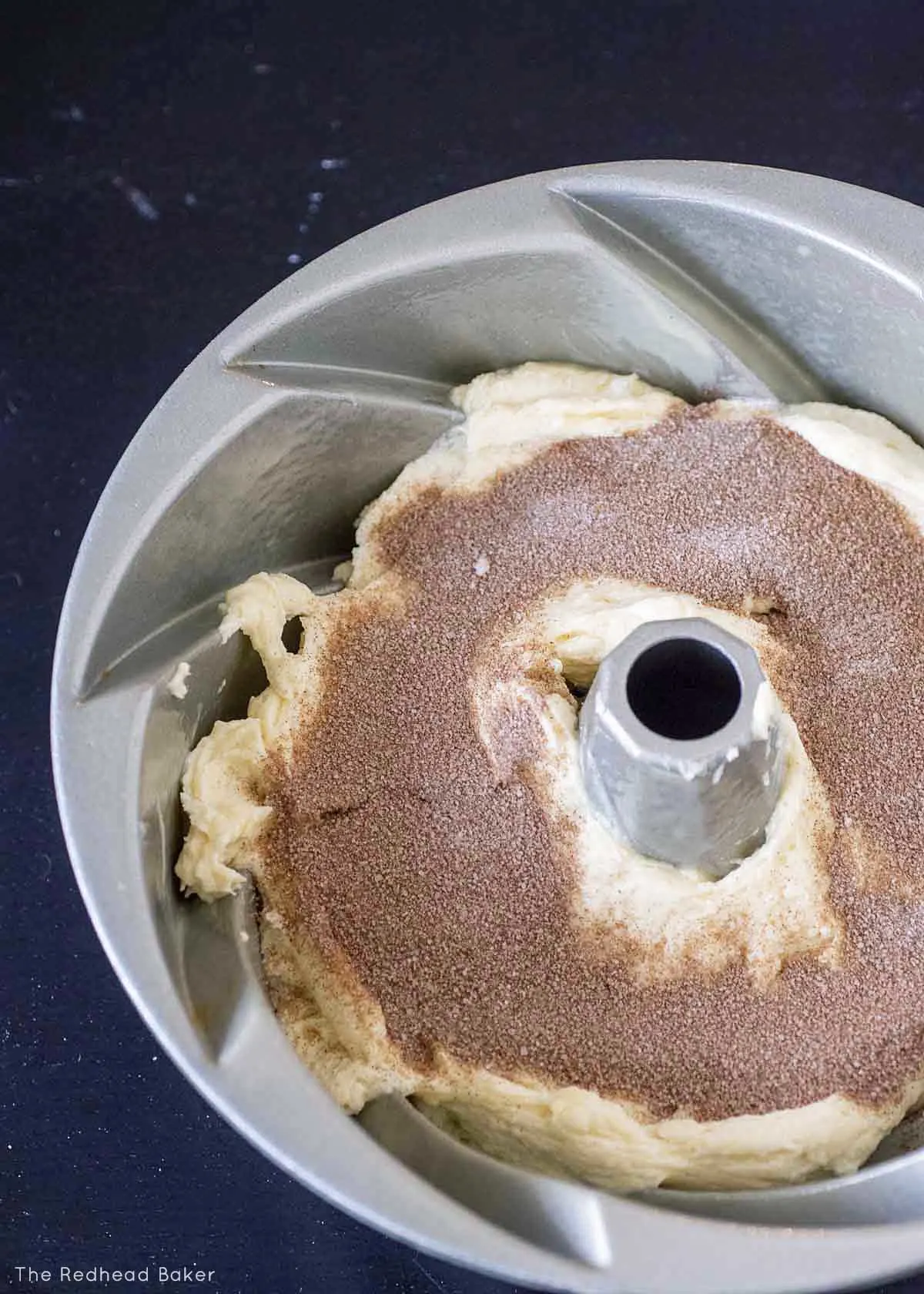 Bake as directed, then cool completely. PIpe frosting in the grooves made by the swirls of the pan.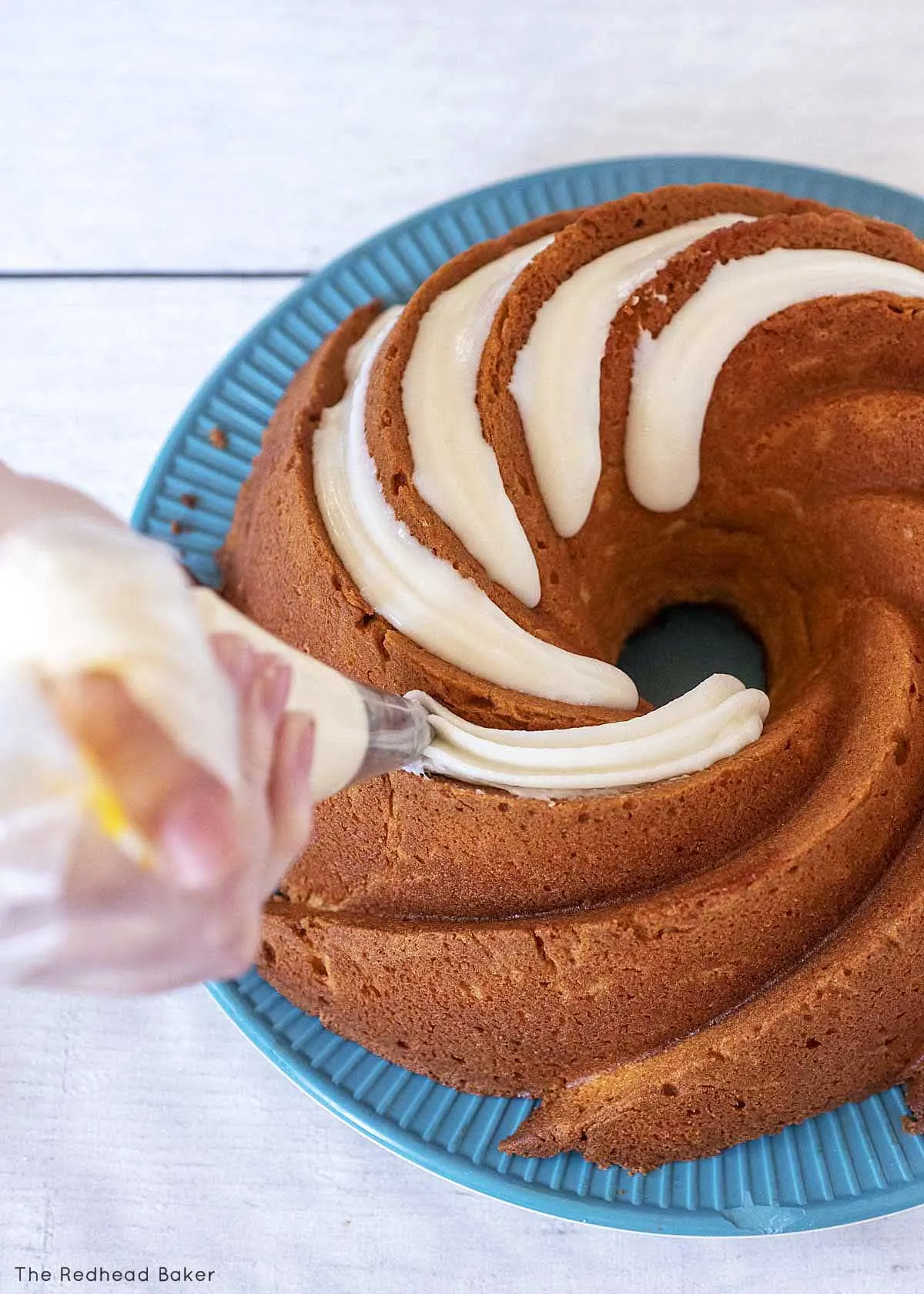 Immediately sprinkle the colored sugar onto the icing. Work quickly, because the icing "crusts" or hardens quickly and the sugar won't stick to hardened frosting.
Equipment
I baked my bundt in a Heritage bundt pan to get those grooves that I filled with icing. If you only have a traditional bundt pan, you could thin your simple icing with another teaspoon or two of cream and pour it over your cake, and sprinkle on the colored sugars while the frosting is still wet.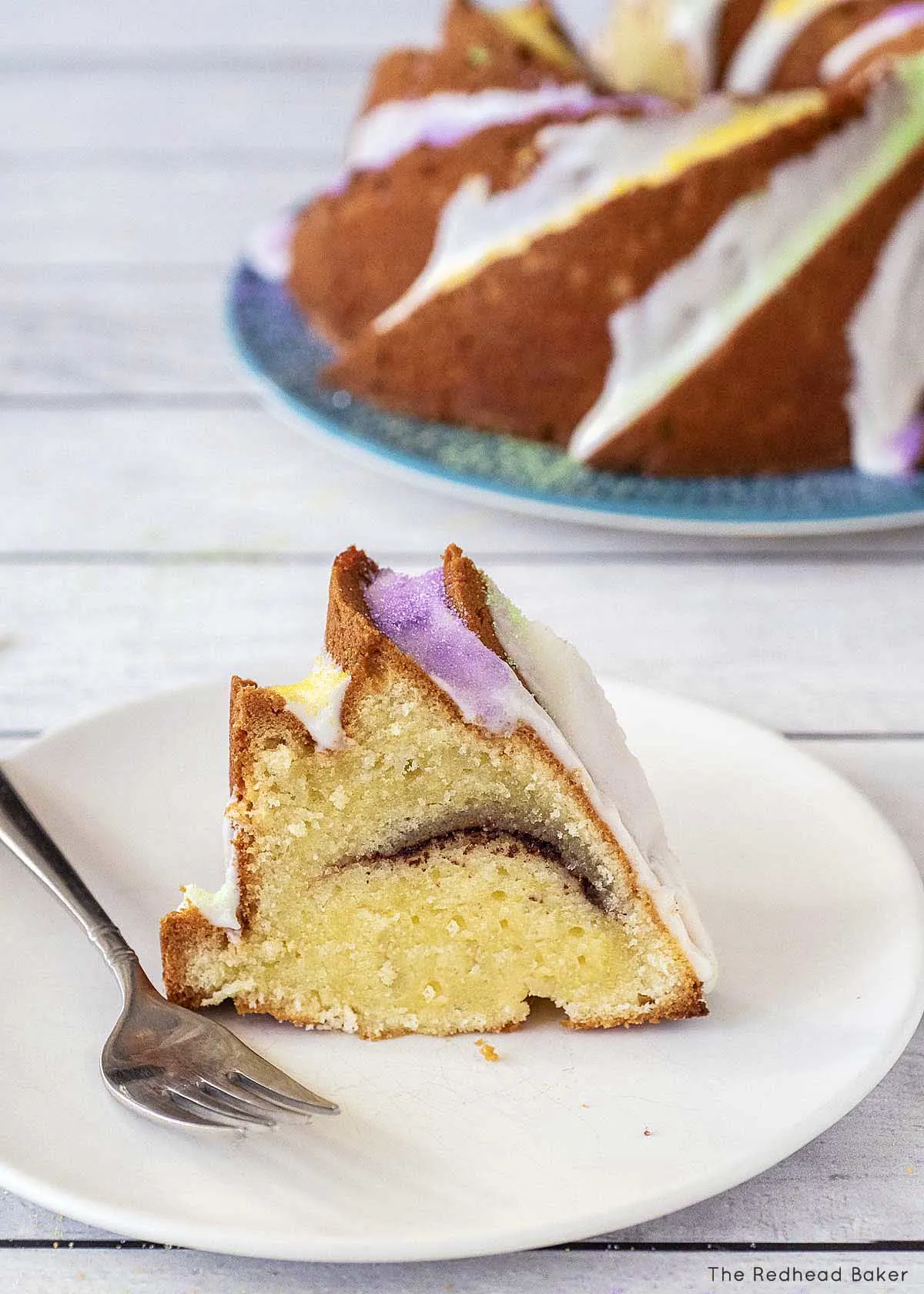 Storage
Store the frosted bundt cake loosely covered with plastic wrap in the refrigerator until ready to serve. Store any leftover cake in the refrigerator, with a piece of plastic wrap pressed against the cut sides.
Bundt cakes also stand up very well to freezing! If possible, freeze the cooled bundt unfrosted, wrapped in two layers of plastic wrap, then wrapped in tin foil. Store for 3 to 4 months. Thaw by placing in the refrigerator overnight.
If you want to freeze frosted leftover cake, chill the cake for a few hours to set the frosting. If desired, cut the leftovers into individual slices. Wrap the slices or the whole cake tightly in two layers of plastic wrap, then a layer of tin foil. Store for 3 to 4 months. Thaw by placing in the refrigerator overnight.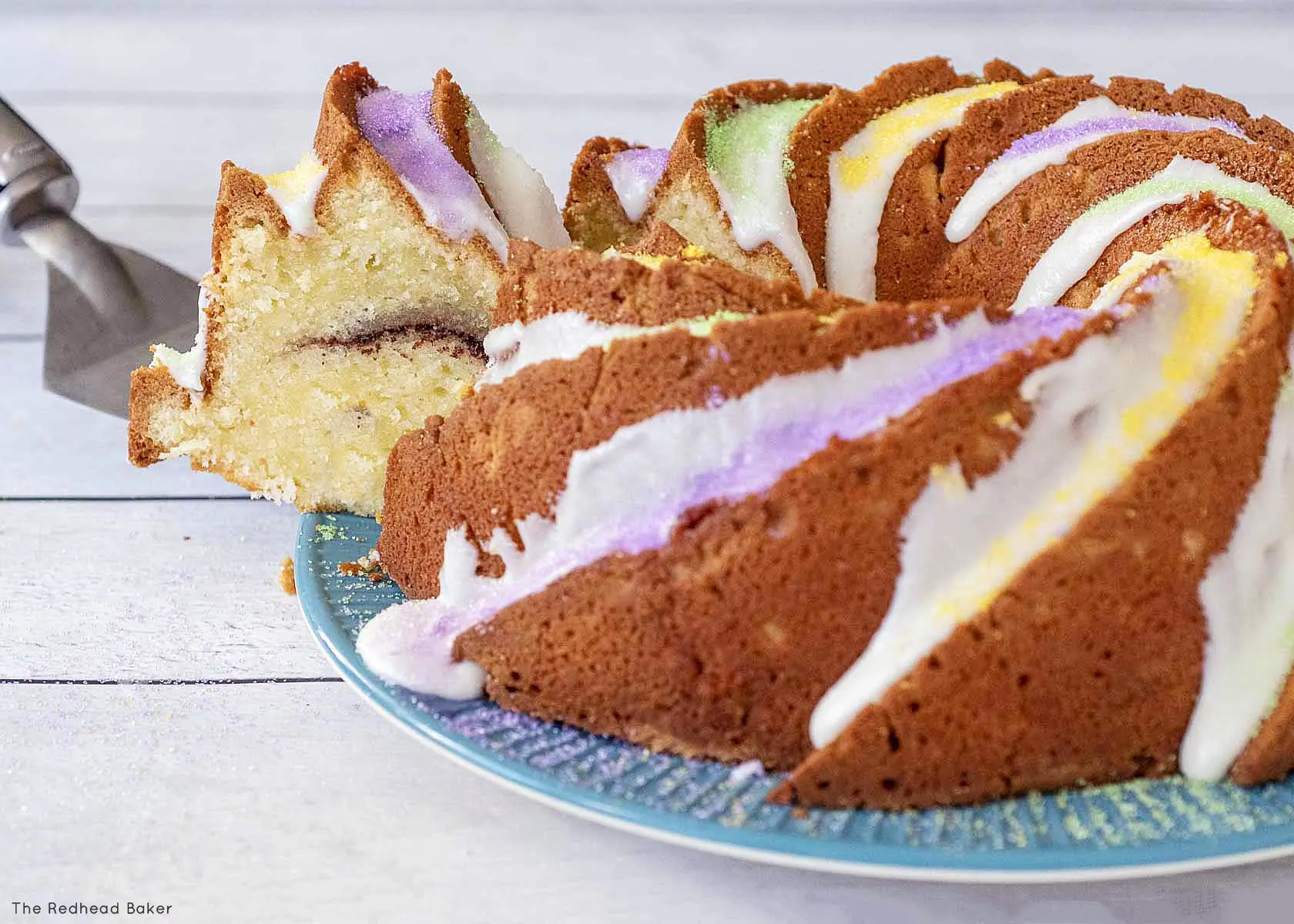 Top tip
Want to add the traditional surprise to your king bundt cake? You can always use the typical plastic baby figurine (pressed into the bottom of the cake after it's been baked). If allergies aren't a consideration, you could use an almond or pecan (again, pressed in after the cake has been baked). If allergies prohibit a nut, you could always use a dried bean.
What's the purpose of the plastic baby? Whoever gets the slice with the baby is the Mardi Gras King, and supplies next year's Mardi Gras King Cake.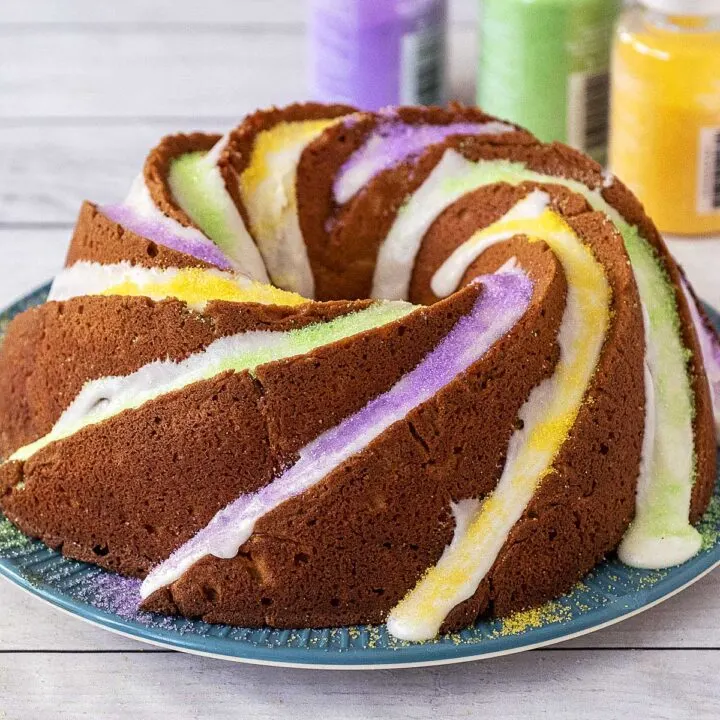 King Bundt Cake
Total Time:
1 hour
15 minutes
King Bundt Cake is a twist on the traditional Mardi Gras pastry. This moist bundt cake has swirls of cinnamon and fun sugared frosting.
Ingredients
Cinnamon Sugar Layer
¼ cup (1.75 oz/50 g) sugar
1 tablespoon cinnamon
Bundt Cake
1 lb (452 g) unsalted butter, room temperature
2 cups (14 oz/ 296 g) sugar
5 large eggs, room temperature
1 teaspoon vanilla extract
2 ½ cups (10.5 oz/298 g) all-purpose flour
1 tablespoon cornstarch
1 teaspoon baking powder
½ teaspoon kosher salt
1 cup (8 oz/227 g) sour cream
Frosting
1 ⅓ cup (5.333 oz150 g) powdered sugar
2 tablespoons heavy cream
1 teaspoon vanilla extract
Purple, yellow, and green sugar sprinkles
Instructions
Preheat oven to 350 degrees. Spray every nook and cranny of a bundt pan with nonstick spray, then dust with flour (if you use a nonstick spray specifically for baking with flour included, you can skip flouring the pan). Set aside.
In the bowl of a stand mixer, cream together the butter and sugar until light and fluffy.
Add the eggs one at a time, beating and scraping down the sides of the bowl after each addition. Beat in the vanilla.
In a small bowl, stir together the flour, cornstarch, baking powder and salt.
Add one third of the dry ingredients and stir until just barely combined. Add in half of the sour cream, and stir until combined.
Repeat with another third of the dry ingredients, the remaining half of the sour cream, and finally the last third of the dry ingredients.
In another small bowl, stir together the sugar and cinnamon.
Pour half of the cake batter into the prepared pan. Sprinkle the cinnamon sugar over the cake batter. Layer on the other half of the cake batter (try not to blend it with the layer of cinnamon sugar).
Bake for 60 to 70 minutes, or until a toothpick inserted in the center of the cake comes out clean.
Cool on a wire rack for 10 minutes, then invert the cake pan to remove the cake, and let it cool on the wire rack completely.
Transfer the cooled cake to a serving plate.
In a medium bowl, combine the powdered sugar, cream and vanilla. Stir until the frosting is smooth. It should be thick; stirrable, but not runny. Scrape into a piping bag. Snip a quarter-inch opening at the tip. Pipe the icing into the spirals of the cake.
Sprinkle purple, yellow-gold, and green sprinkles on alternating rows. Work quickly because the frosting will "crust" quickly and the sugar won't stick to hardened frosting.
Recommended Products
As an Amazon Associate and member of other affiliate programs, I earn a small percentage from qualifying purchases.
Nutrition Information:
Yield:

12 servings
Serving Size:

1 slice
Amount Per Serving:
Calories:

527
Total Fat:

22g
Saturated Fat:

13g
Trans Fat:

0g
Unsaturated Fat:

8g
Cholesterol:

132mg
Sodium:

177mg
Carbohydrates:

77g
Fiber:

1g
Sugar:

55g
Protein:

6g
I am not a certified nutritionist. This nutrition information is automatically calculated by third party software and is meant as a guideline only.
More delicious Mardi Gras recipes