Mardi Gras is just around the corner, which means it's time for beignets! This is a classic New Orleans recipe, deep-fried then coated in powdered sugar, and served with raspberry jam.
Mardi Gras is just around the corner. I'm sure you're aware of what people do on Mardi Gras: indulge in fattening foods and/or alcohol. But do you know why? Mardi Gras literally means "Fat Tuesday" in French. It's the day before the first day of Lent, a solemn time in some Christian denominations where followers practice self-denial for a variety of reasons. Mardi Gras came to a be a sort of "last hurrah" before the long period of Lent.
If there's one dish that says "Mardi Gras" more than any other, it's probably beignets. Though fried pastry dates back to ancient Rome, beignets come from the French. Some traditional recipes use fried choux pastry, and others, like the one below, use a fried yeast dough. Using a yeast dough results in beignets without pockets in the center, so if you want jelly-filled beignets, you want to use a choux-pastry beignet recipe.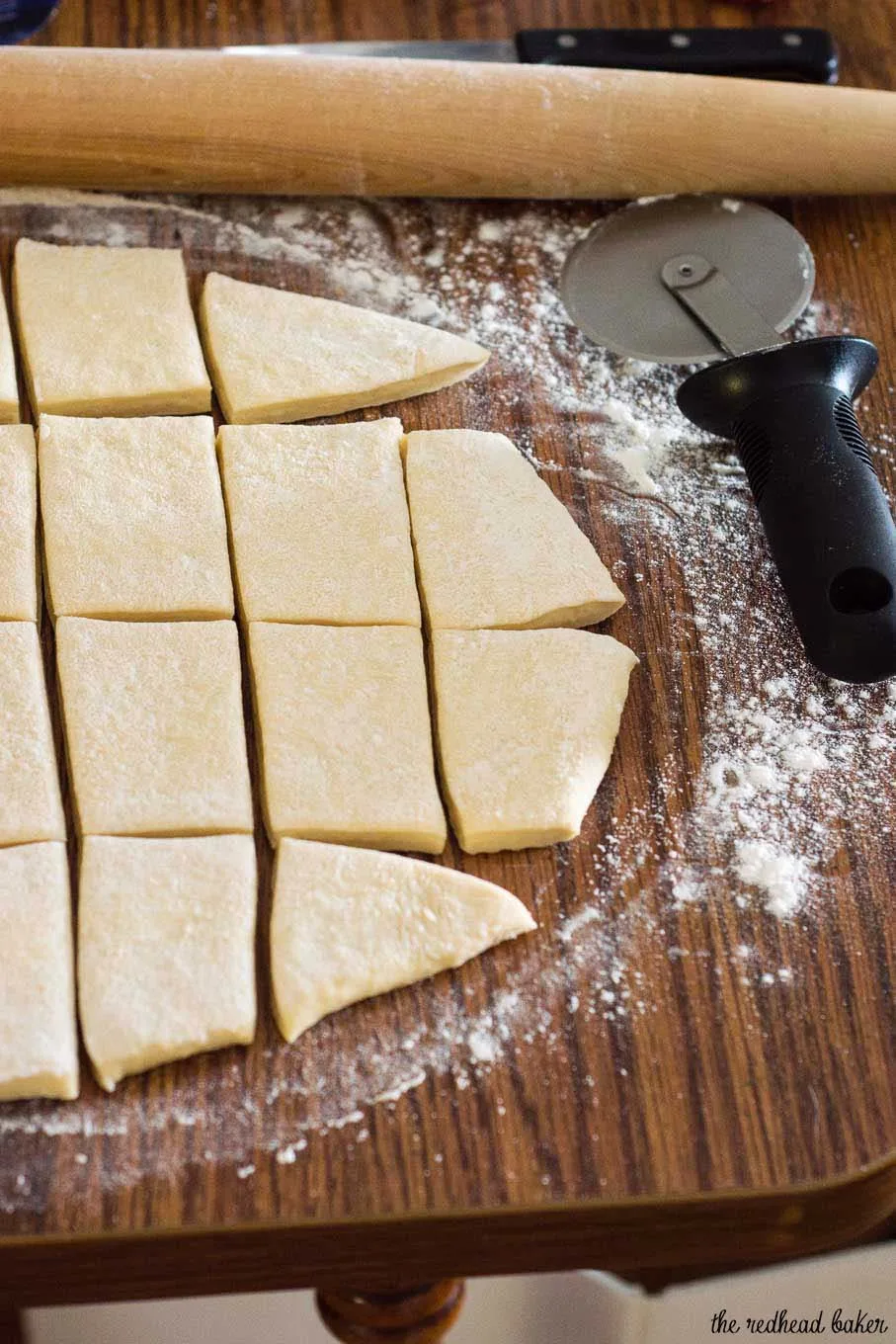 This is a really easy dough to mix, and if you use a thermometer to measure your water temperature for mixing with the yeast, it's really foolproof. If you've never kneaded dough by hand before, I have a video tutorial here. The video is for pizza dough, but the same technique applies.
You also don't need to break out a ruler to measure out the cut squares of dough. Fried dough puffs out when it cooks, so rough cuts are just fine. No need for perfectly straight lines and square corners. They're supposed to look rustic!
Beignets really need to be made as close as possible to the time that they will be served. The longer they sit, the more the texture changes, and not for the better. The dough can be made ahead of time and frozen, but it should be fried just before serving.
Traditionally, beignets are dusted with powdered sugar. As I mentioned above, some beignets are filled with jelly, but since yeast-dough-based beignets don't have a pocket for filling, I served the jelly on the side. Chocolate or caramel sauce would also be delicious as dips for beignets.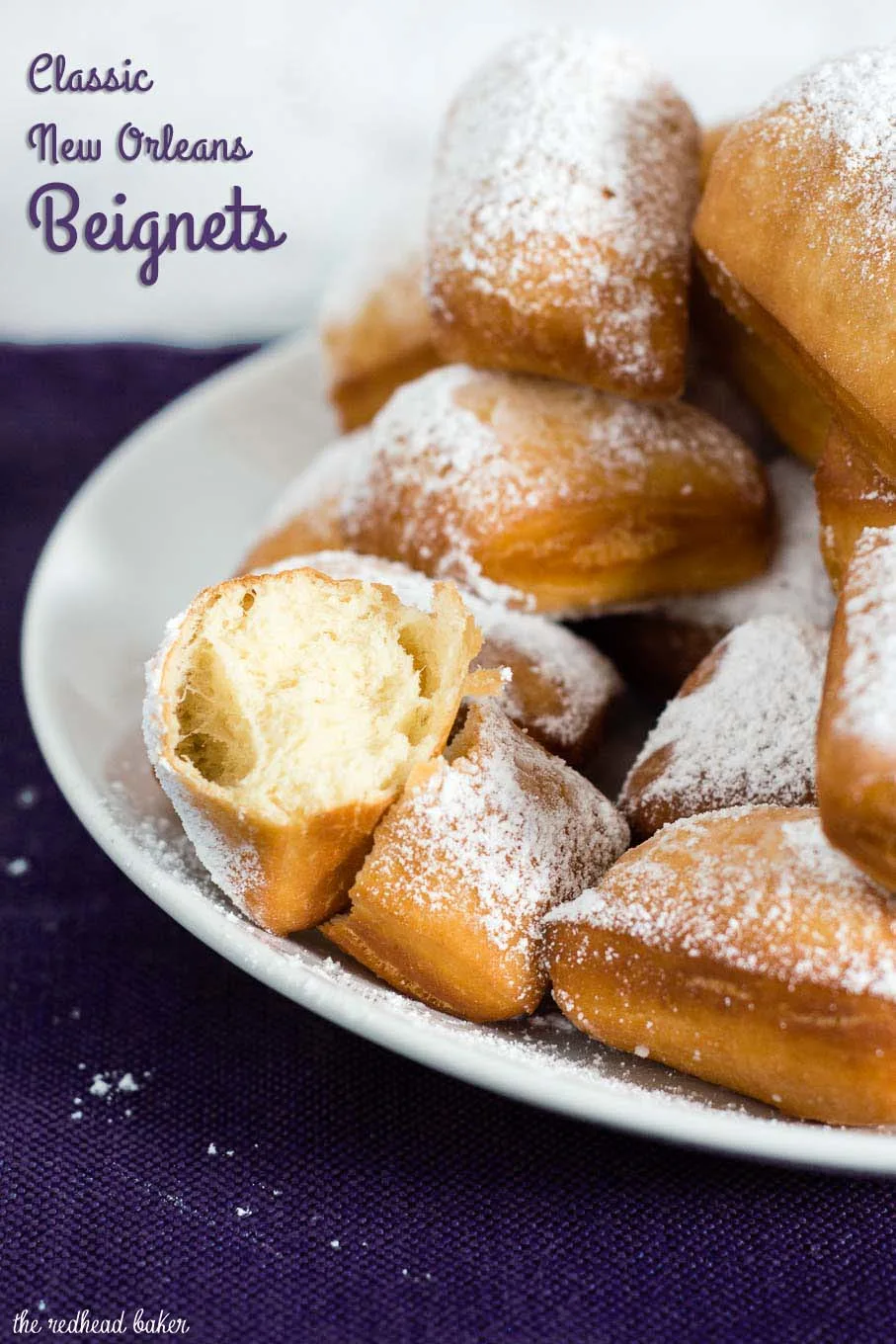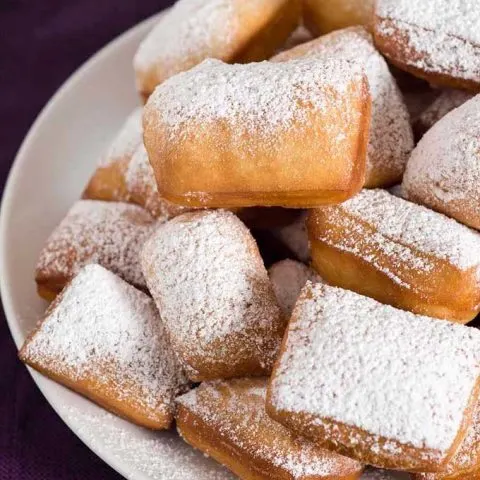 Classic New Orleans Beignets
Never pour used frying oil down your drain. Frying oil used once can be filtered through a double layer of cheesecloth and used again. Once oil turns dark, it can be poured into a sealable container and recycled or discarded in the trash.
Ingredients
For the starter
¼ cup warm water, 105-110 degrees F
1 teaspoon active dry yeast
1 teaspoon sugar
Remaining dough ingredients
2 tablespoon vegetable shortening
3 tablespoon sugar
½ teaspoon salt
½ cup boiling water
½ cup evaporated milk
1 large egg
4 to 5 cups all-purpose flour
1 gallon canola oil, for frying
Confectioners sugar, for garnish
Raspberry jam, for dipping
Instructions
In a measuring cup, combine the warm water, the yeast, and the teaspoon of sugar. Stir to combine, and set aside for 5 minutes, until foamy.
In the bowl of a stand mixer fitted with the paddle attachment, beat together the shortening, 3 tablespoon of sugar and the salt at medium speed. Add the boiling water and evaporated milk, and beat until incorporated. Beat in the egg, then beat in the yeast mixture.
Gradually add 3 cups of the flour while mixing on low speed. After the 3 cups are added, gradually add just enough of the remaining 2 cups of flour to make a soft dough.
Scrape the dough onto a lightly floured work surface, and knead for 6 to 8 minutes. Place the dough in a bowl sprayed with nonstick spray and cover with plastic wrap. Refrigerate for at least 30 minutes, and up to 2 hours 30 minutes.
On a lightly floured surface, roll the dough to ¼-inch thickness. Cut into 24 squares approximately 1 ½-inches by 1 ½ inches.
Place 3 inches of canola oil in a large Dutch oven. Heat to 350 degrees.
Fry two or three pieces of dough at a time for about 2 minutes per side, or until light golden brown all over. Remove with a slotted spoon to a baking sheet lined with paper towels. Dust the beignets with powdered sugar while still warm. Serve immediately with raspberry jam, if desired.
Recipe by Louisiana Cookin'
Want more Mardi Gras recipes? Check out these: