Not a true pasta carbonara, this dish uses pureed butternut squash instead of egg to thicken the sauce that coats the fettuccine.
Hi, I'm Coleen, and I think I'm addicted to butternut squash. If there is a recipe that features it, there's a high probability that I'll make it. If there's sage in it, too, that chance becomes something like 99.9%. I ate so much butternut squash ravioli during my pregnancy, my husband joked our son might come out orange.
I've had this recipe from Bon Appetit pinned for quite some time. They call it winter squash carbonara, because they commend using kabocha or butternut squash. I don't know that I've ever seen kabocha squash in my local supermarket, but there's always butternut squash.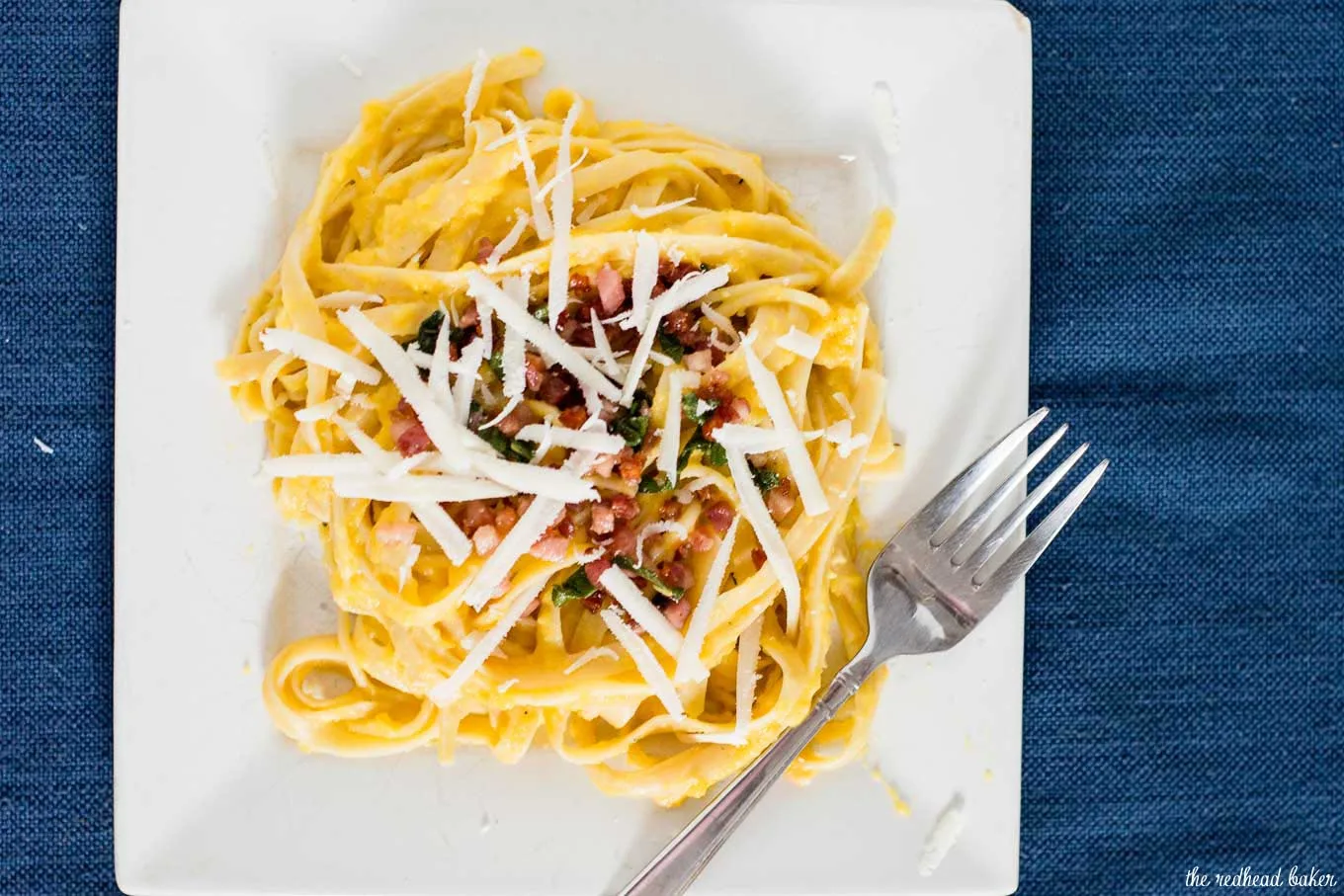 Now, this isn't actually a true carbonara. Carbonara is an Italian pasta dish made with eggs, cheese, bacon and pepper, served over spaghetti, fettuccine, or other long pasta. This dish doesn't actually have any eggs in it, but the concept is the same.
The first time I made this dish, I thought it was rather bland. I knew something featuring pancetta, butternut squash and sage had so much more potential, so I made it again recently, and liked it so much more that I had to share it with you.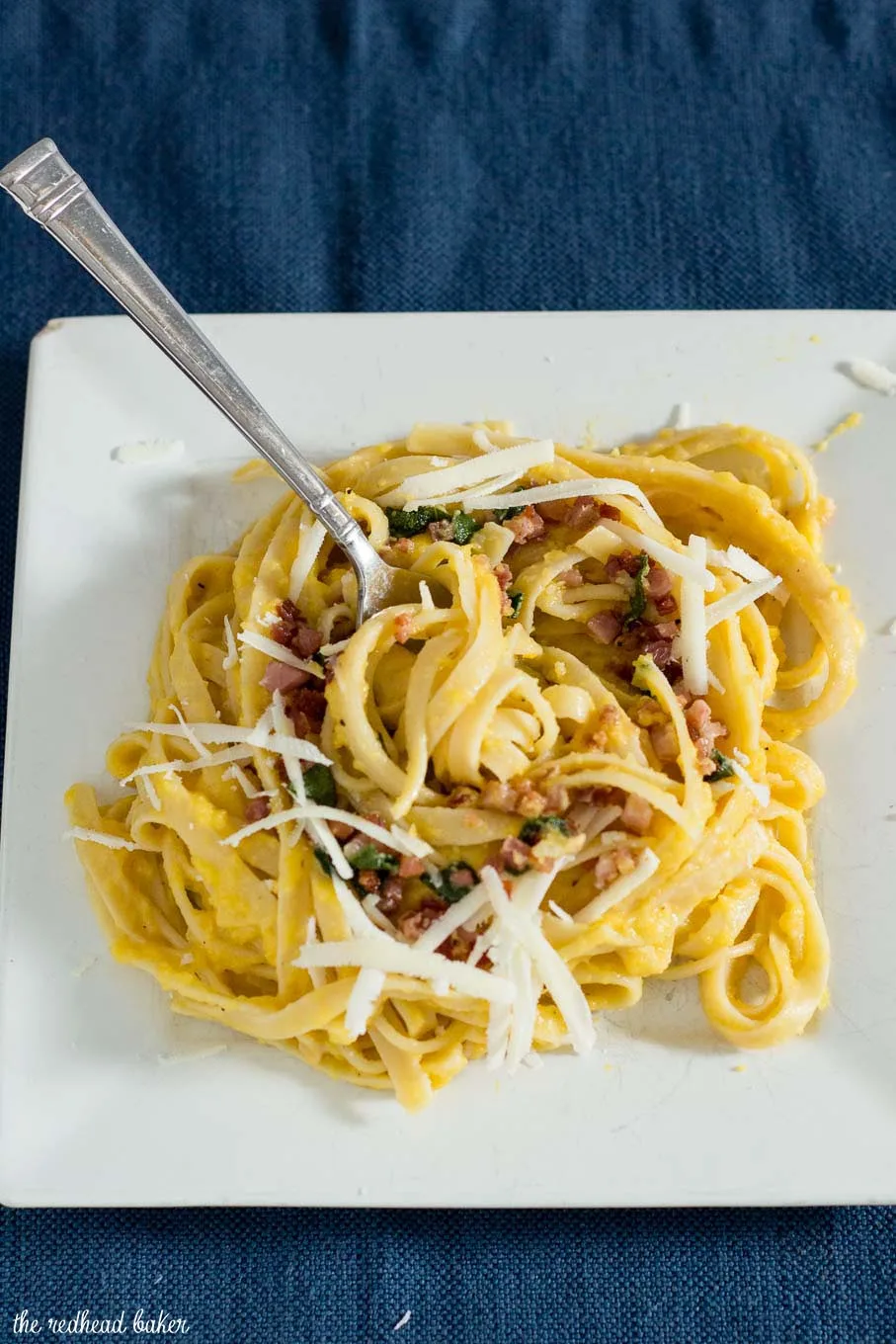 The dish mostly just needed more aromatics to balance out the butternut squash. More sage, more onion, more garlic. I was liberal with the salt, too. A little too liberal, actually -- if you do the same thing, you can add a splash of heavy cream to reduce the saltiness.
From start to finish, this dish takes about an hour, so it's not really a weeknight meal. However, the original recipe says the recipe can be made through the step of pureeing the butternut squash (skip the part about cooking the pasta until the night you plan to serve it), cooled to room temperature and refrigerated for up to 3 days (refrigerate the pancetta and sage in a separate dish). On the night you plan to serve, cook the pasta, reheat the puree, then proceed with Step 6.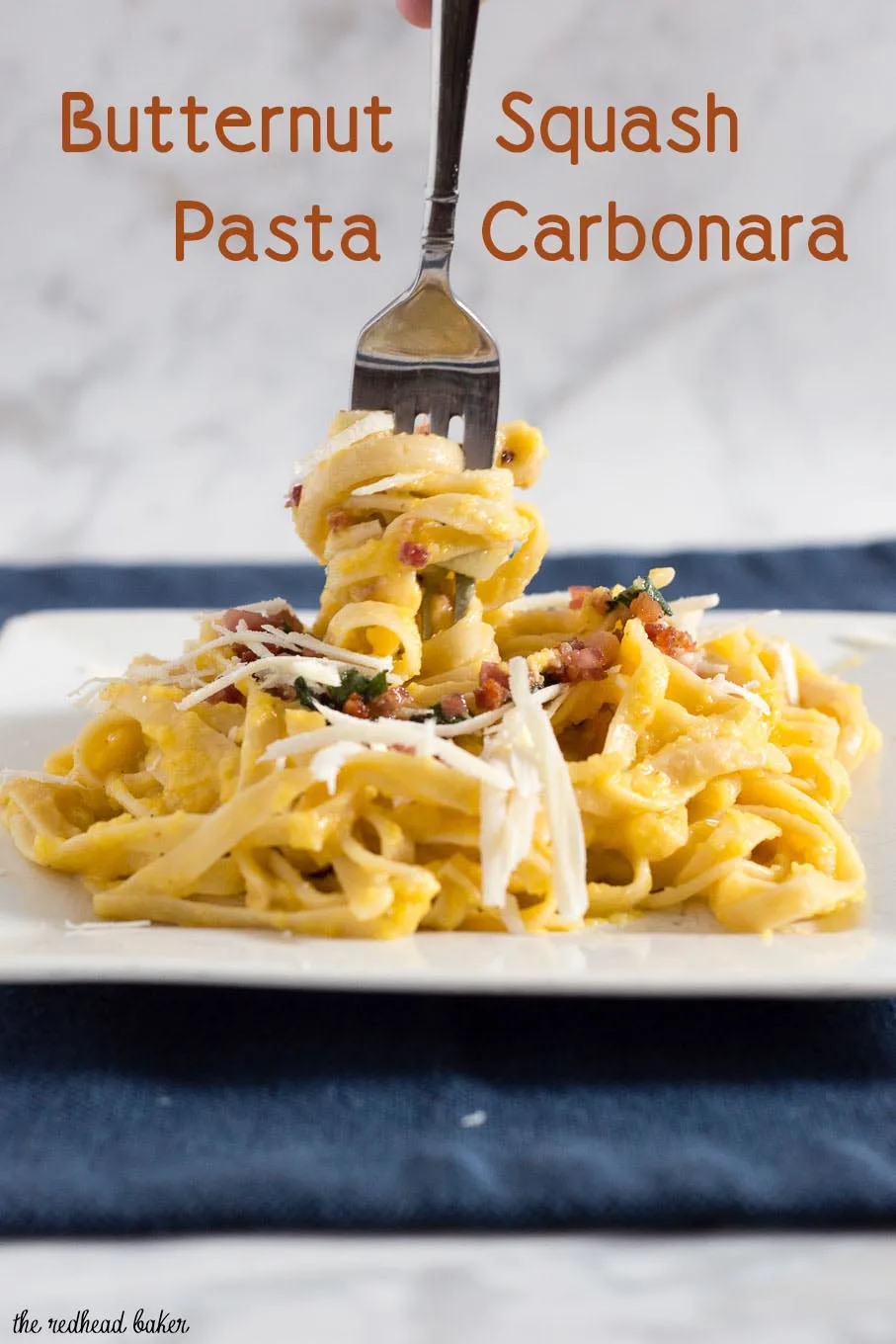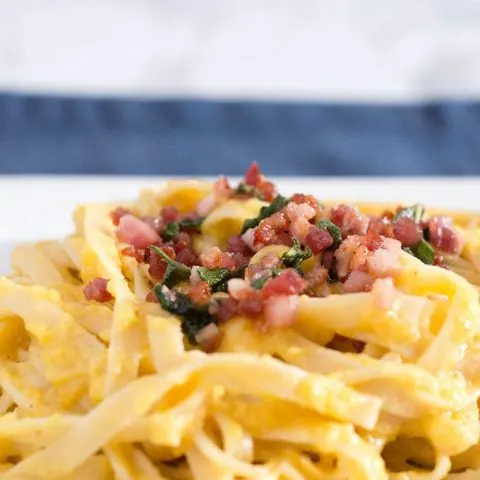 Butternut Squash Pasta Carbonara
Total Time:
1 hour
5 minutes
Ingredients
2 tablespoon olive oil
4 oz pancetta or chopped bacon
2 tablespoon chopped fresh sage
2 lb butternut sqash, peeled, seeded and cut into ½-inch cubes
1 large yellow onion, diced
4 cloves garlic, minced or grated
Kosher salt and freshly ground black pepper
2 cups low-sodium chicken broth
12 oz fettuccine or linguine
¼ cup grated pecorino romano cheese, plus more for garnish
Instructions
Fill a large pot with salted water and set over high heat to boil.
In a Dutch oven, heat olive oil over medium heat. Add the pancetta and saute for 8 to 10 minutes, until crispy. Add the sage, cook for 30 seconds. Use a slotted spoon to remove the pancetta and sage to a plate lined with paper towels.
Add the squash, onion and garlic to the pancetta drippings in the saucepot, season with salt and pepper, and cook for 8 to 10 minutes or until the onions are translucent.
The pot of salted water should be boiling by now, so add the fettuccine to the pot and cook to al dente. Once cooked, reserve 1 cup of pasta cooking liquid before draining.
Add the chicken broth to the pot. Bring to a boil, then reduce the heat and simmer for 15 to 20 minutes, until the squash is soft. Remove the pot from the heat and puree with an immersion blender (or, cool the liquid to room temperature and place the liquid and vegetables in a blender and puree, then return to the pot and warm to a simmer).
Add the pasta and ¼ cup of pasta water to the pot of squash puree. Stir to combine the water and puree, and cook for about 2 minutes, or until the puree looks smooth and coats the pasta. Stir in the ¼ cup of grated pecorino cheese. Taste, and season with salt and pepper if needed.
Divide the pasta carbonara among 4 plates, garnish with the pancetta and sage, and garnish with extra grated cheese.
Adapted from Bon Appetit
You might also enjoy these recipes: