Philly cheesesteak chili has all the flavors of a traditional cheesesteak sandwich, topped with cheese and served in a hollowed-out bread bowl.
Philadelphia is not only my home, but also the home of the cheesesteak sandwich. If you're not familiar, a cheesesteak sandwich consists of thinly-sliced beef (usually ribeye) cooked in oil on a hot griddle, topped with cheese and served on a long club roll. My preferred cheese is provolone, though some prefer a processed cheese sauce, or American cheese. If you prefer, you can get your cheesesteak with fried onions, peppers and/or mushrooms.
In the past, I've made a Philly Cheesesteak Pizza and Philly Cheesesteak Sliders, and one of my favorite dishes at a local restaurant is Philly Cheesesteak Spring Rolls. It was during a recent chili cookoff at a work conference that I thought up the idea of Philly Cheesesteak Chili. Our chili didn't win the cookoff, but our team really enjoyed it, and I decided to make it again at home. I used a small round boule of French bread for a bread bowl, but Italian, sourdough or any round crusty bread would work, too.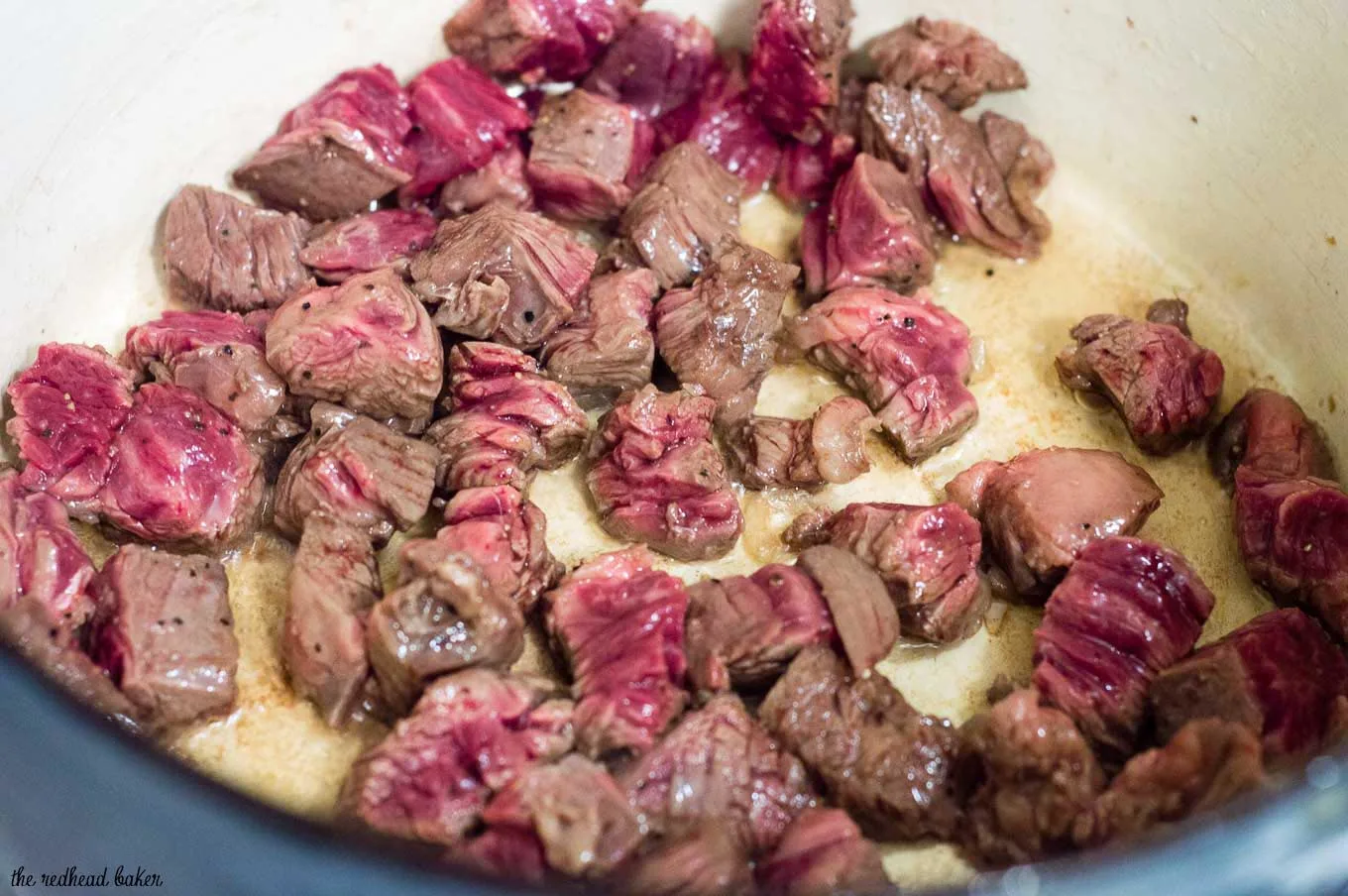 If you're a chili purist, this recipe might not be for you. Classic chili is made with ground beef, and this recipe uses skirt steak cut into cubes. I know I just mentioned above that cheesesteaks are usually made with ribeye, but that cut of meat does best with fast, hot cooking. While skirt steak can be cooked fast and hot, it also does well with low and slow, so I used that cut instead.
This chili also contains all of the usual toppings that you can order on top of your cheesesteak: onions, peppers and mushrooms. You can leave the mushrooms out if you don't like them, but I wouldn't recommend leaving out the peppers, and definitely don't leave out the onions.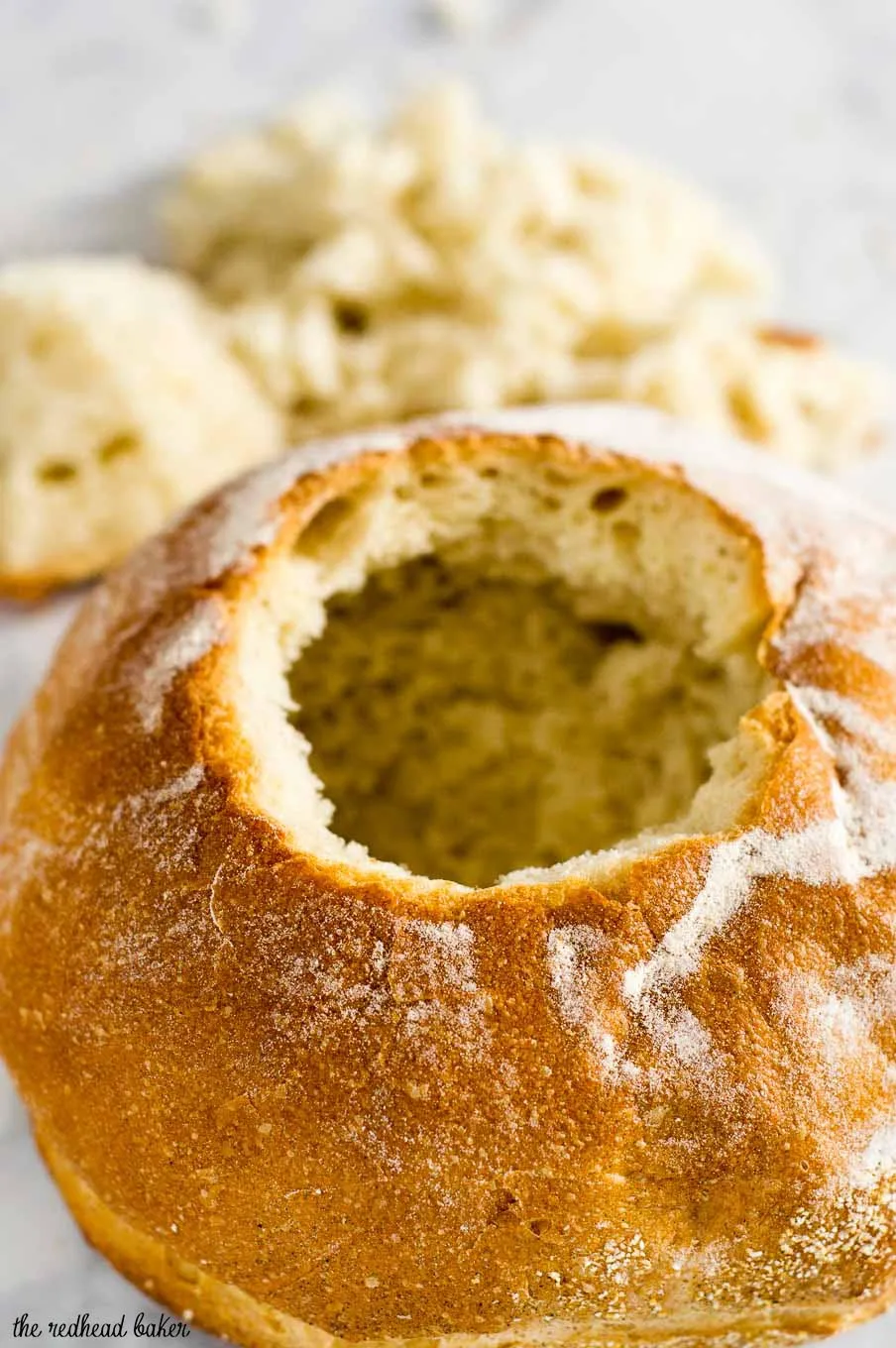 I love soups and stews served in bread bowls, but you can go the easy route and serve these in soup bowls, with bread on the side for sopping up the liquid. But if you do make the bread bowl, make sure you choose a crusty bread that can withstand the liquid and not immediately turn to mush.
And finally, don't forget that last sprinkle of cheese, otherwise it's not Philly cheesesteak chili! I love a good sharp cheddar, but provolone is another cheese commonly served on Philly cheesesteaks. The cheese will melt as it sits on top of the hot chili.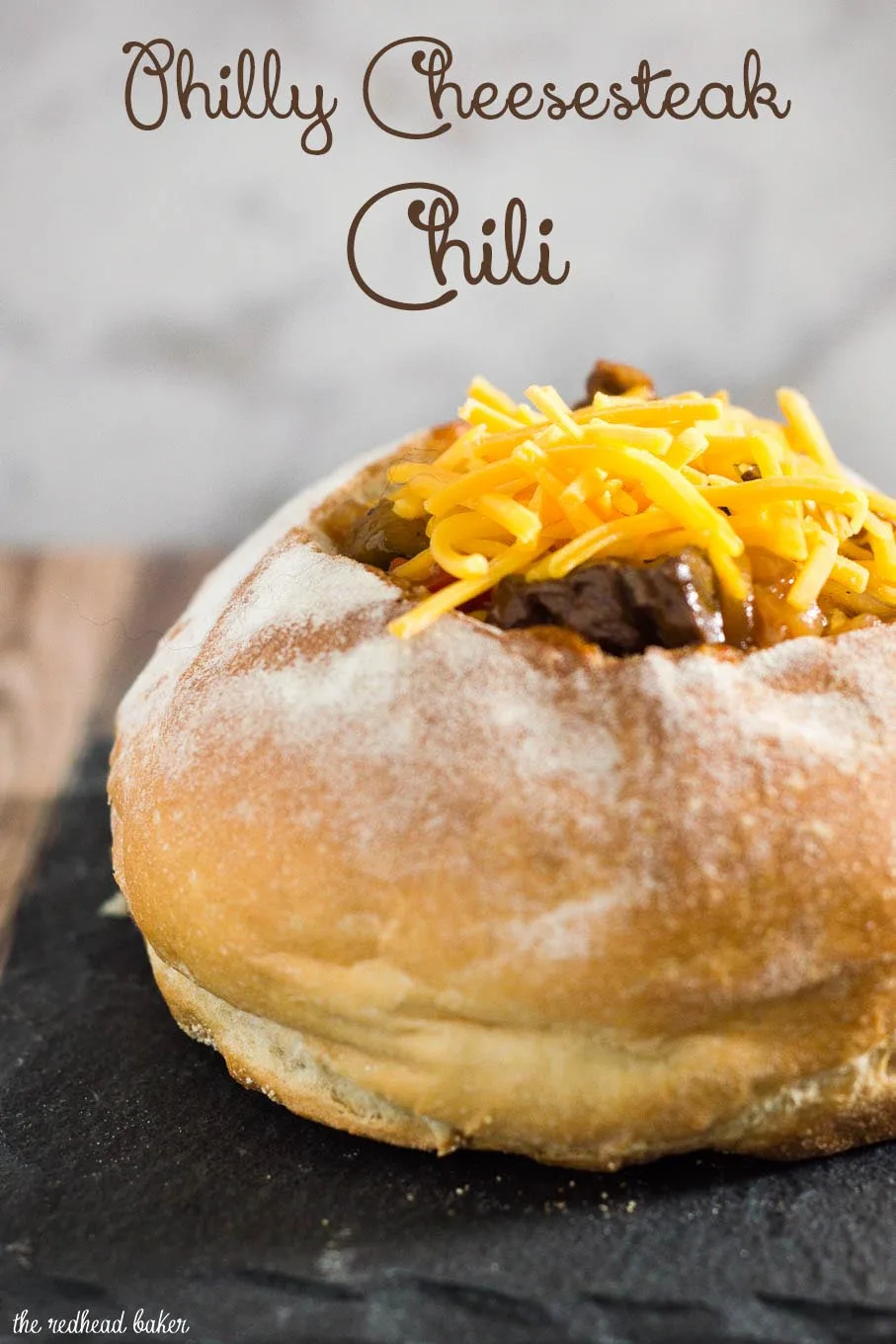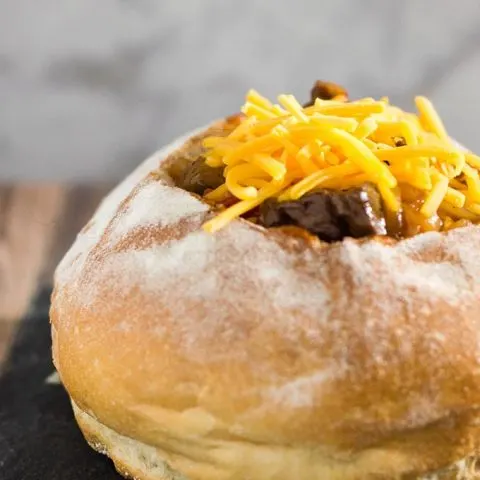 Philly Cheesesteak Chili in a Bread Bowl
Ingredients
1 tablespoon canola oil
1 lb skirt steak
Salt and pepper
2 small yellow onion, cut into large dice
1 green bell pepper, cut into large dice
1 red bell pepper, cut into large dice
8 oz sliced cremini mushrooms
4 cloves garlic, minced
3 oz tomato paste
2 cups beef stock
½ teaspoon chili powder
4 sourdough or Italian boules
4 oz shredded sharp provolone or Cheddar cheese
Instructions
Heat the oil in a large Dutch oven over medium-high heat. Season the skirt steak with salt and pepper, then sear for one minute on each side. Place on a cutting board to rest for 10 minutes.
While the steak is resting, saute the onions, bell peppers and garlic over medium-low heat for 10 minutes.
Remove the vegetables to a bowl. Slice the steak into bite-size pieces, and add to the Dutch oven (adding more oil to the pan if needed to prevent sticking) and cook just until no longer pink. Add the vegetables back to the pan.
Add the chili powder to the meat and vegetables, and season with salt and pepper. Stir to coat everything with the spices.
Add the beef stock and tomato paste to the saucepan. Stir to combine, bring to a boil. Reduce the heat to a simmer, and cook for 15 minutes.
While the chili is simmering, cut the top off each bread bowl and scoop out the inside, leaving about a ½-inch edge all around and on the bottom.
Ladle the chili into each bowl, and top each with an ounce of shredded cheddar cheese.
You might also like: