Monday morning again, huh? Are you as "thrilled" about it as I am?
The past weekend was BEAUTIFUL, in every way. The weather, the food, taking Liam out for a fun adventure ... After nearly a month of temperatures in the high 90s plus humidity, the mid-80s over the weekend was just gorgeous.
The food? Dave made fantastic tomato, basil, mozzarella and prosciutto sandwiches with balsamic-dijon dressing on sourdough bread for dinner on Saturday, and on Sunday, we had chicken with kiwi salsa and a spinach salad with warm bacon vinaigrette for dinner on Sunday (recipe coming later this week). For Sunday "lunch," we snacked on a mini Trader Joe's buffet: baby carrots with cheddar-bacon-ranch dip, pita chips with three-layer hummus, and Brie cheese on sourdough bread.
For Liam's adventure, we took him a local arboretum. They have a garden with miniature trains that run throughout the plants and trees. This weekend, they replaced those trains with engines from Thomas the Tank Engine. Liam was in awe to see the trains from his books come to "life." We weren't sure he was old enough to appreciate what he was seeing, but when we saw him bouncing up and down when the trains went past, we knew he was having the time of his life.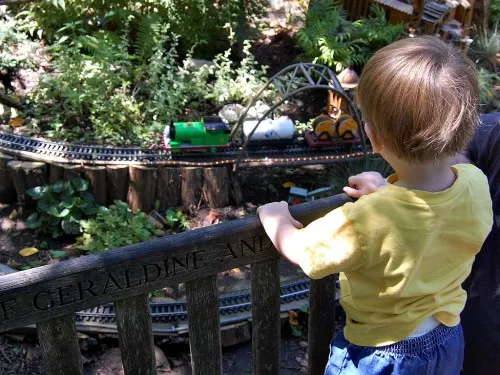 So, as you can imagine, it was a weekend that I was sad to see end. Saying goodbye as Liam goes off to daycare, an hour-long commute, and bad office coffee just don't compare, you know?
I figured one thing that might brighten my morning is a delicious breakfast? One thing that IS good at the cafe at work is the blueberry muffins. However, it gets expensive buying breakfast every morning.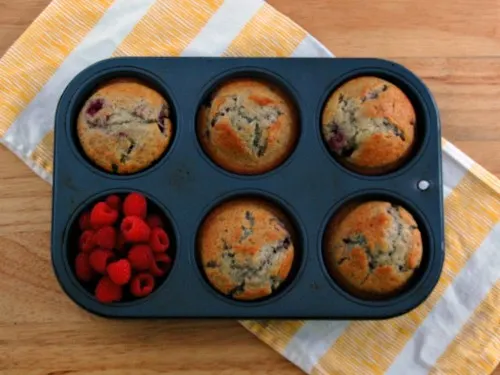 Another plus to making muffins at home is that I control the flavor. Lemon-raspberry muffins this time, lemon-poppyseed next time, chocolate chip another time. I could make this recipe again, and leave out the lemon. Or replace the raspberries with blueberries.
The last thing that I love about these muffins is that when I decide I want them, I can just make them. The fat in this recipe comes from canola oil, so I don't have to wait around for butter to soften. I also sprayed my muffin tins REALLY well with nonstick spray, didn't even use paper liners, and these muffins popped right out. I made my muffins in "jumbo" tins, but you can just easily make these standard size. Just shorten the baking time by about five minutes.
These muffins bake up with big fluffy tops. They are moist, and crumbly, and DELICIOUS. The original recipe called for lemon extract, but that's not something I typically keep in my pantry, so I substituted fresh lemon zest instead. But if you have the extract, go ahead and use it.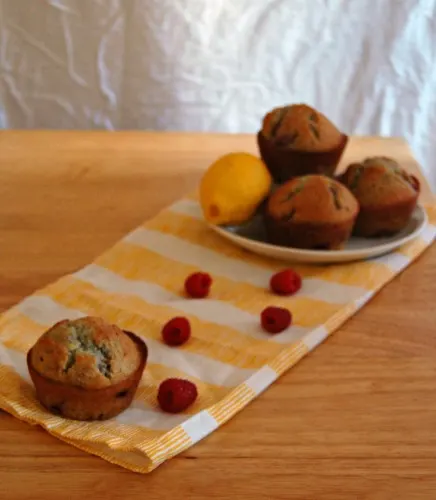 Lemon-Raspberry Muffins
Slightly adapted from Taste of Home
Ingredients
2 cups (8 ½ ounces) all-purpose flour
1 cup (7 ounces) sugar
3 teaspoon baking powder
½ teaspoon salt
2 eggs
1 cup half-and-half
½ cup canola or vegetable oil
1 tablespoon lemon zest
1 cup fresh or frozen unsweetened raspberries
Directions
Preheat your oven to 400 degrees. Grease a jumbo muffin tin with nonstick cooking spray, or line with paper liners.
In a large mixing bowl, whisk together the flour, sugar, baking powder and salt.
In a medium mixing bowl, whisk together the eggs, half-and-half, oil and lemon zest.
Pour the wet ingredients into the dry ingredients, and stir just until moistened. Fold in the raspberries.
Fill each well two-thirds full with batter. Bake for 22 to 25 minutes or until a toothpick comes out clean. Cool in the baking pan for 5 minutes, then remove muffins to a wire rack to cool completely.
Number of servings (yield): 6