Twenty months. My baby will be two in less than four months. I'm starting to plan his party (Very Hungry Caterpillar-themed).
So, what does a typical 20-month-old eat? Well, I have no idea if my 20-month-old is "typical," but here's an average weekday in our home:
Between 5:30 a.m. and 6 a.m.: Wake up, change diaper, get dressed
About 30 minutes later, have a cup of whole milk, and a toasted multigrain or blueberry waffle, often accompanied by fruit (blueberries, raspberries, strawberries, banana, peach, plum, whatever we have on hand)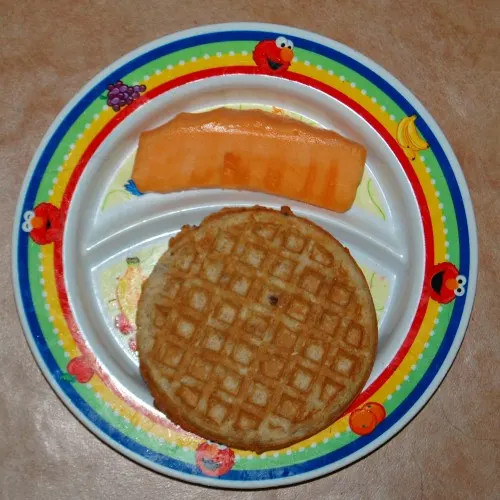 Around 7:00 a.m., leave for daycare.
Around 9:00 a.m., daycare serves morning snack. Morning snack varies day-to-day. Some recent offerings include: fruit medley; oranges and crackers; apple slices; cantaloupe slices.
Around noon, daycare serves lunch. Again, varies day-to-day. Recent offerings include: Pasta salad with mixed vegetables; turkey burgers with fresh corn; chicken alfredo with broccoli; chicken caesar salad on pita bread.
On a weekend, Liam will eat Annie's Mac and Cheese, baked chicken nuggets or fish sticks, or a peanut butter sandwich. Some days, he refuses to use his high chair, and instead wants to sit on the couch with a tray, like Mommy and Daddy (we don't have the space in our apartment for a dining table).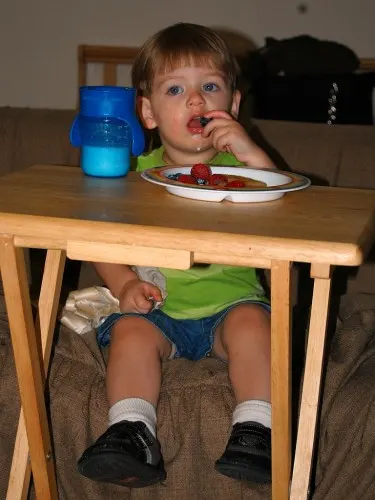 Around 3:00 p.m., daycare serves afternoon snack. Recent offerings: ants on a log (peanut butter on celery sticks, topped with raisins); graham crackers and yogurt; granola; mixed fruit salad.
Liam gets picked up between 5 and 6 p.m. He often eats some cheese as a snack while one of us prepares dinner. Recent dinners that Liam has enjoyed: butternut squash risotto; pan-sauteed turkey cutlets with mixed veggies; Philly cheesesteak pizza; and broccoli chicken mac and cheese.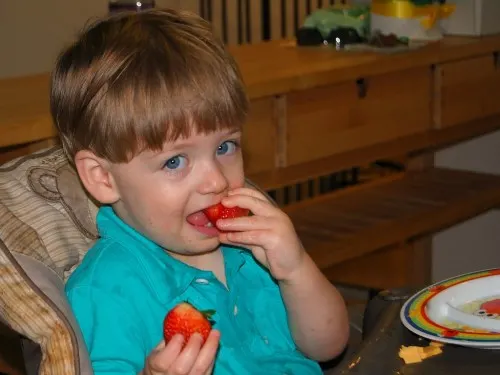 He has also started to drink his milk out of an open-top cup, though we still very closely supervise him, because he will occasionally pour the milk into his own lap. Yes, on purpose.
One other semi-food-related update is that Liam is really starting to get into imaginative play. He loves his play kitchen now, and pretends to cook right along with us. Soon, he'll be cooking alongside us for real!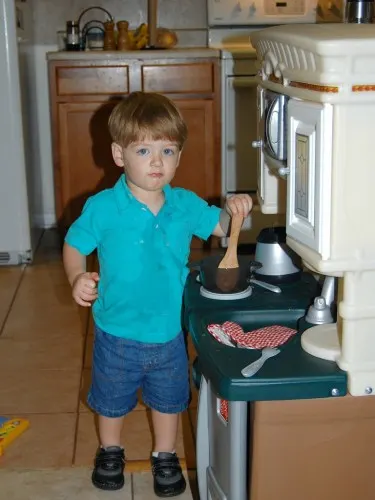 Don't forget to click on over to A Healthy Slice of Life to see other Munchkin Meals ideas!