Reminiscing as my son turns 3 years old.
Three years old. About 40 inches tall! And just over 37 pounds. At birth, he was 19 inches long, and just under 6 pounds.
Three favorite snacks: cheese, dried cranberries, yogurt
Three favorite meals: mac and cheese; chicken nuggets; quesadillas
Three favorite books: Berenstain Bears Trick or Treat; Curious George and the Puppies; Mr. Brown Can Moo, Can You?
Three favorite TV shows: Thomas the Tank Engine; Sesame Street; Berenstain Bears
Three favorite toys: Thomas the Tank Engine Take and Play sets; Melissa and Doug jigsaw puzzles; Matchbox cars
Three accomplishments: Just about potty trained!; Can count to 10 in Spanish; Can complete a 20-piece jigsaw puzzle by himself
We celebrated his birthday with a Sesame Street-themed friends-and-family party.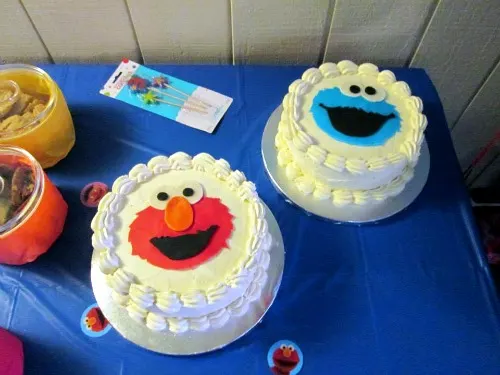 The Elmo cake is Annie's Eats Spiced Pumpkin Layer cake, frosted and filled with Sweetapolita's Swiss meringue buttercream. The Cookie Monster cake is Confections of a Foodie Bride's Vanilla Bean cake, frosted and filled with Cooks' Illustrated Easy Vanilla Buttercream, as seen on The Way the Cookie Crumbles.
I made the character faces by printing out line drawings on cardstock and cutting them out. Then I rolled out fondant (red for Elmo's face; blue for Cookie's face; white for the eyes, black for the pupils and mouths, and orange for Elmo's nose), and traced around the cardstock with a paring knife. Super easy, and Liam loved it.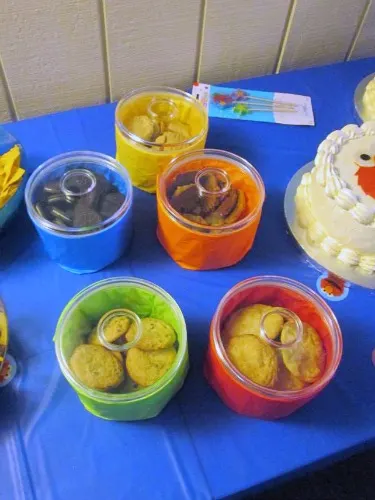 We also had a little "Cookie Monster Buffet" with five different kinds of cookies:
I also made Oscar's Trashcan Dirt Pudding cups (chocolate pudding topped with chocolate graham cracker crumbs) that were a huge hit with kids and adults alike!
He received lots of fun gifts, and was still talking about his birthday party days later! Thanks to all our family and friends who celebrated with us!