Being a Philadelphia native, my favorite thing about November is the Wawa Gobbler hot turkey sandwich. I re-created these cranberry and turkey sandwiches -- a regional staple -- at home for #SundaySupper's Thanksgiving leftovers theme!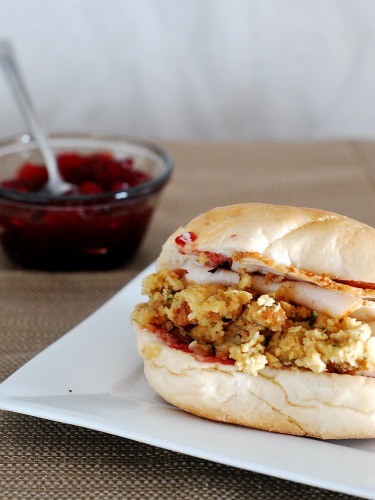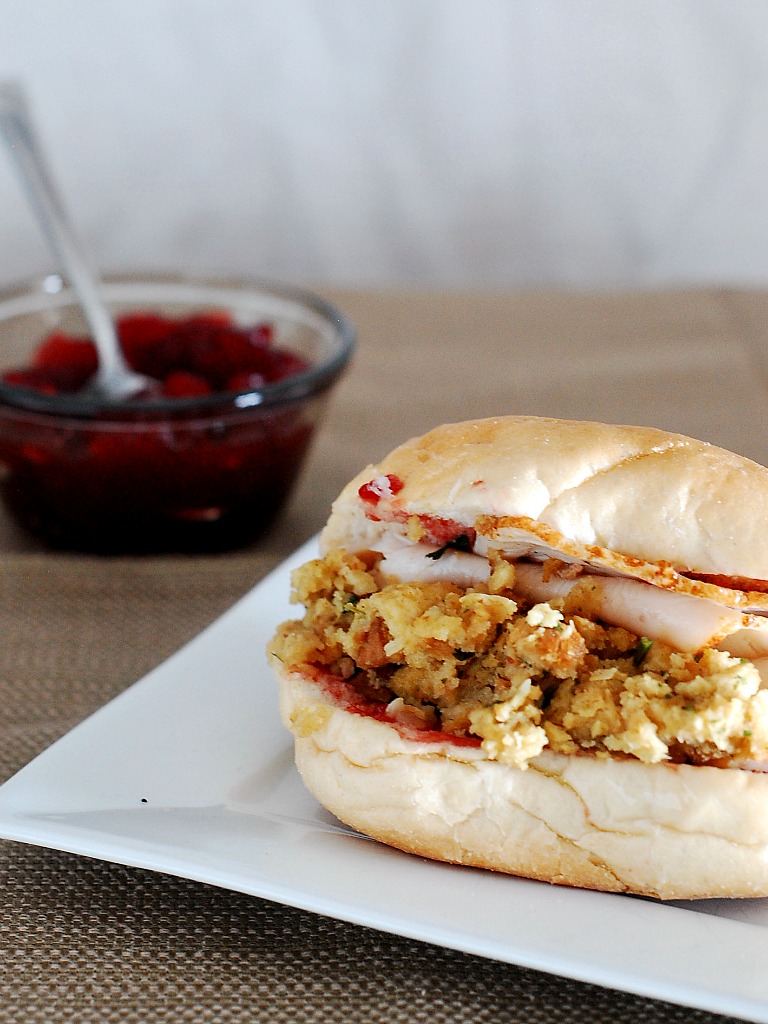 In the days after Halloween, usually after bingeing on leftover candy, I need something savory to balance all that sweet. If you're on the mid- to northern-East Coast, you've likely heard of the popular local convenience store called Wawa. I head there for a hot Gobbler sandwich.
The Gobbler is a hoagie sandwich (also known as a sub sandwich or a hero), with cranberry sauce as the condiment, and stuffed with hot turkey meat dripping with gravy, and stuffing. It's like having Thanksgiving leftovers before Thanksgiving even gets here.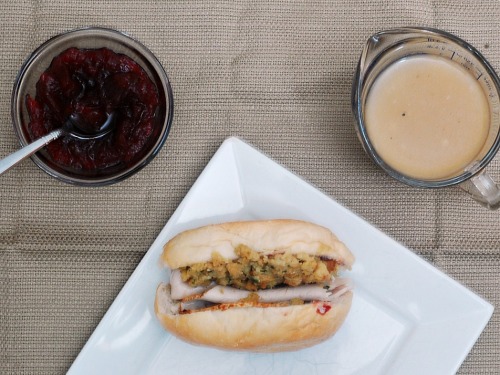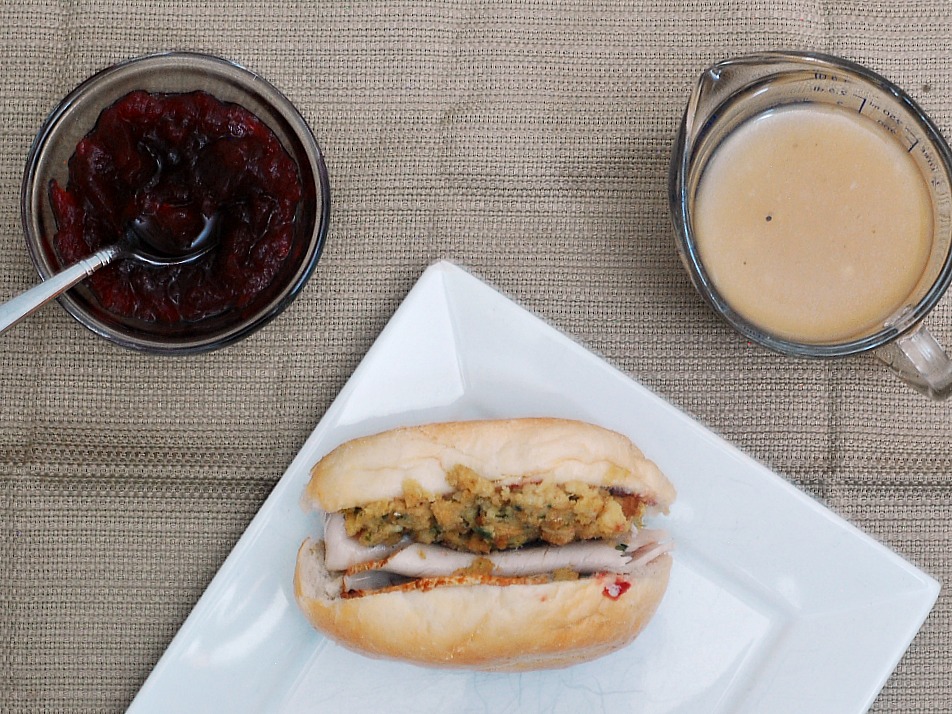 You can make cranberry and turkey sandwiches at home with your Thanksgiving leftovers. You'll need club sandwich rolls (I used 4-inch long rolls, also called "catering" rolls, but you can use any size you want, though for longer rolls, you'll need extra filling ingredients); turkey meat (light or dark), sliced about ¼ of an inch, or thinner. You'll need gravy, and stuffing (the moister, the better), and jellied cranberry sauce. You could also serve these on leftover buttermilk biscuits.
Want to make these at home, but you're not hosting Thanksgiving (or otherwise somehow used up all of your leftovers)? Grab some roasted turkey deli meat, and ask them to slice it thick. Then either make some stuffing, or get the stuff in the box at the grocery store. Voila!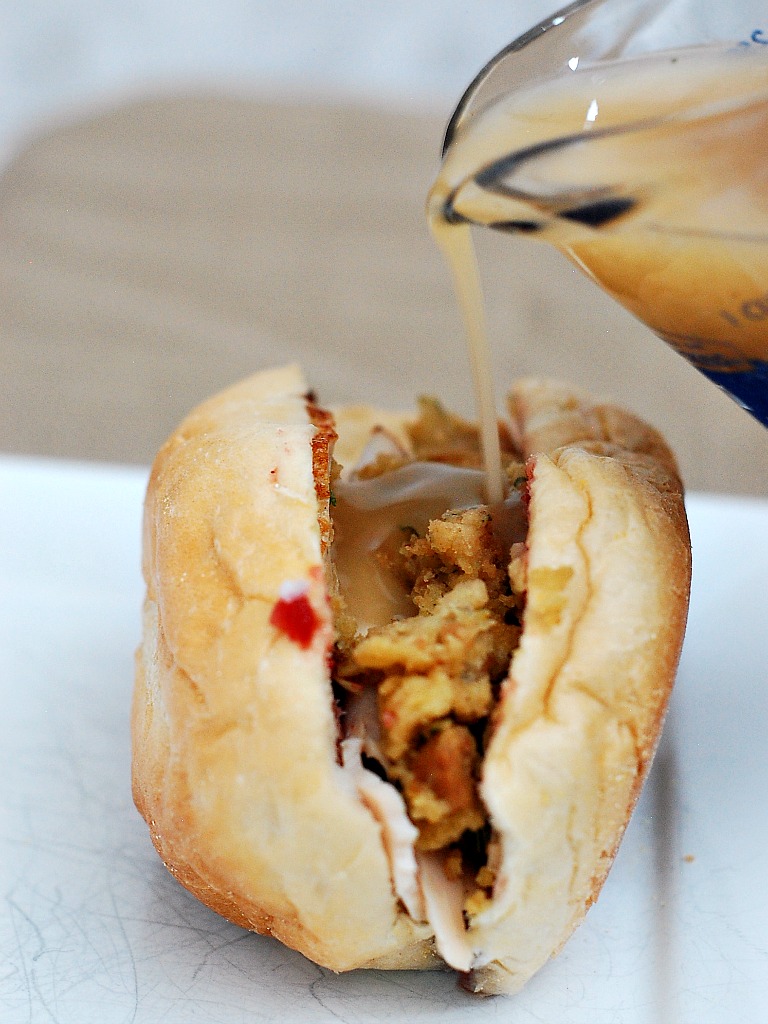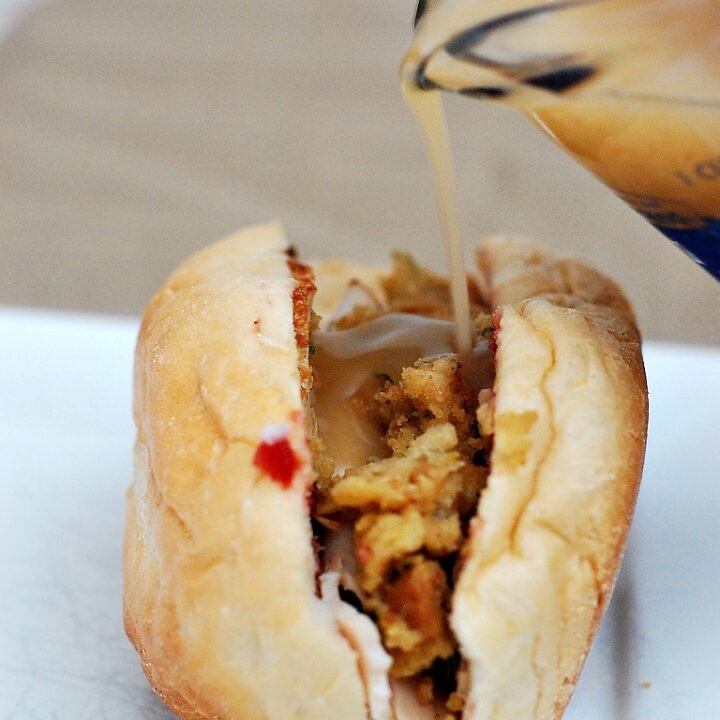 Cranberry and Turkey Sandwiches
Ingredients
1 cup leftover turkey gravy
8 ounces leftover turkey, thinly sliced
2 club sandwich rolls
2 tablespoon leftover jellied cranberry sauce
½ cup leftover stuffing
Instructions
Warm the gravy in a medium saucepan over medium heat. When just starting to simmer, add the turkey meat, and heat just until the turkey meat is warmed through.
Split the club sandwich rolls, and spread 1 tablespoon of cranberry sauce on both sides of each roll.
Arrange 4 ounces of turkey meat and ¼ cup of the stuffing on each sandwich roll. Spoon more gravy over top, if desired.
Serve warm.
Inspired by the Wawa Gobbler
Don't forget to check out the other #SundaySupper Thanksgiving leftovers recipes!
Breakfast:
Main Dish:
Side Dishes:
Sandwiches:
Condiments & Sauces:
Dessert:
Cocktails & Drinks: