Warmly spiced gingerbread cookies get fancy for the holidays with a dip in white chocolate. Santa will love getting these cookies on Christmas Eve!
I hope all of my U.S. readers had a great Thanksgiving! We had delicious appetizers, a delicious meal (of which my 5-year-old ate ... none), followed by decadent dessert. I was still full the next day!
Now that Thanksgiving is over, Christmas season is in full swing, with holiday music on the radio, Christmas ads everywhere, and Christmas cookie baking in kitchens everywhere. I get a giant 10-pound bag of all-purpose flour from my mom's warehouse club this time each year to accommodate my cookie baking marathon.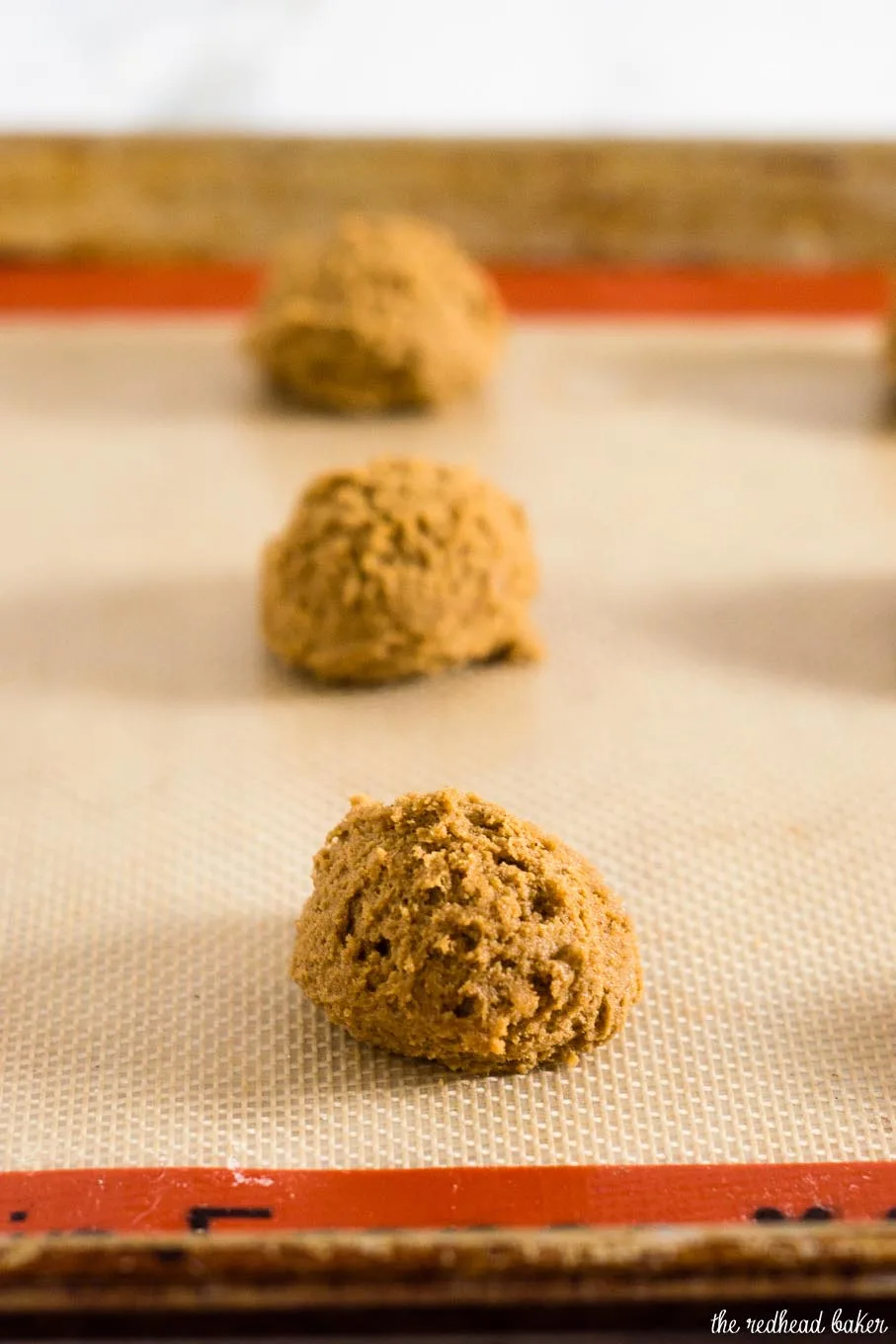 Gingerbread cookies are a "must-make" on my list every year. After working in a wholesale bakery during Christmas season, I never want to see another gingerbread man cookie (pan after pan, rack after rack, all decorated the exact same way!), but I could never give up gingerbread flavor. It's such a classic Christmas flavor.
This cookie is always the first one I bake, because just the aroma wafting from the oven puts me in the Christmas mood. They usually disappear quite quickly, which gives me an excuse to make them again before Christmas gets here.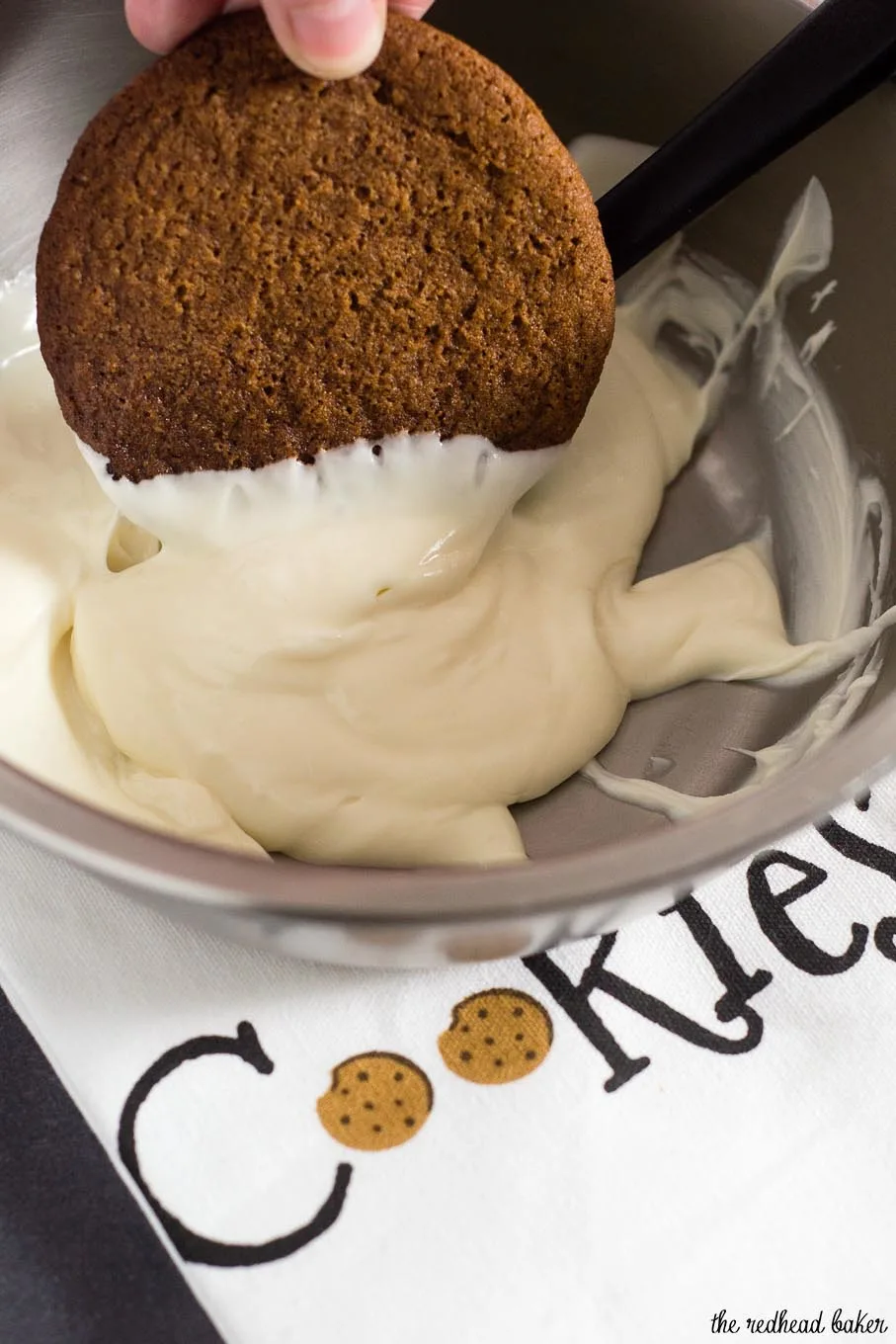 These cookies are also so much easier than gingerbread men — no rolling and cutting necessary! Just portion with a cookie scoop and bake, then dip in melted white chocolate. It's such a simple addition, but makes the cookie seem so much fancier, so it makes a delicious addition to a Christmas party cookie tray.
If the cookies don't disappear as soon as the chocolate dip hardens, you can store any leftovers stacked between sheets of wax or parchment paper in an airtight container.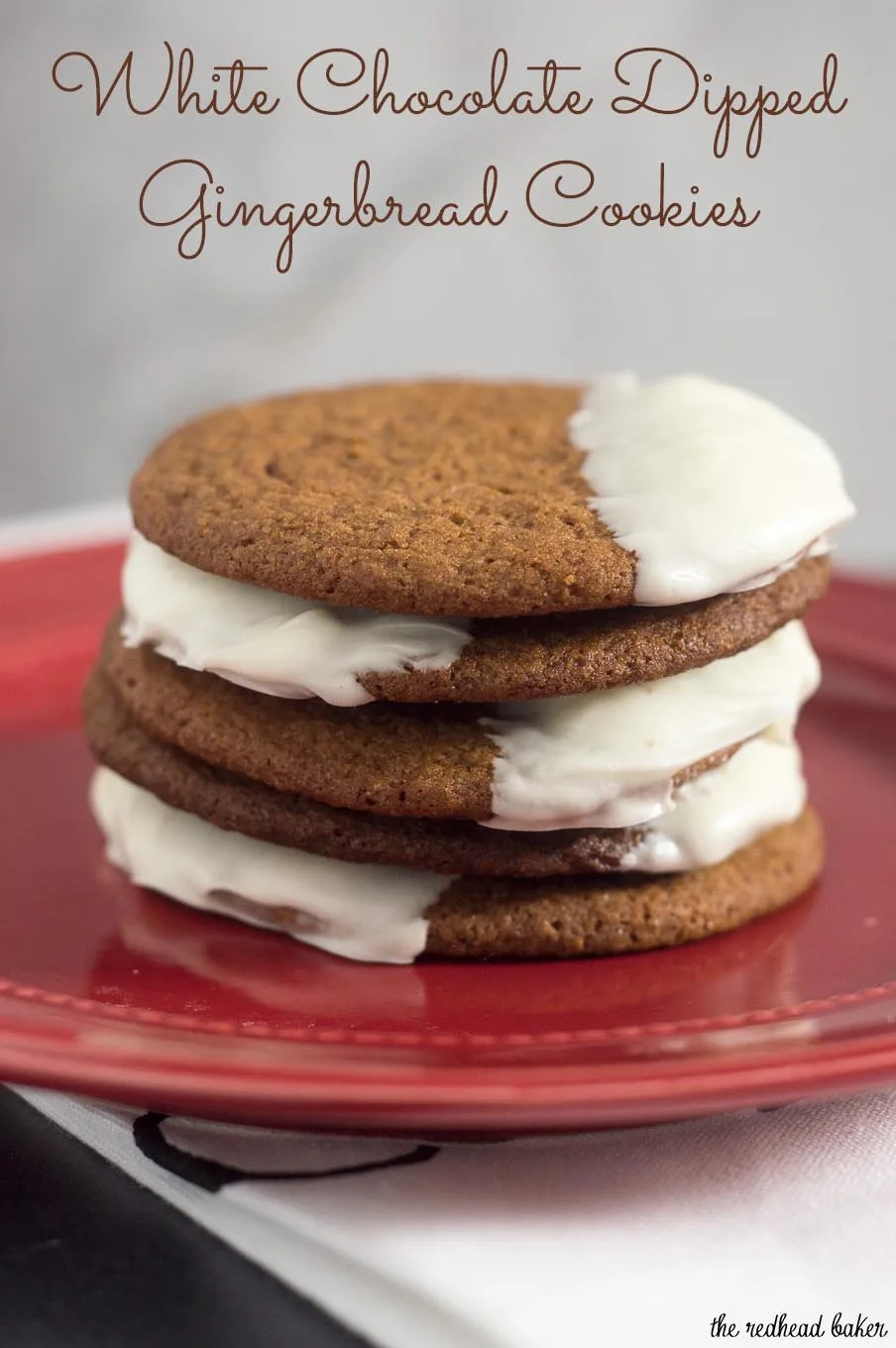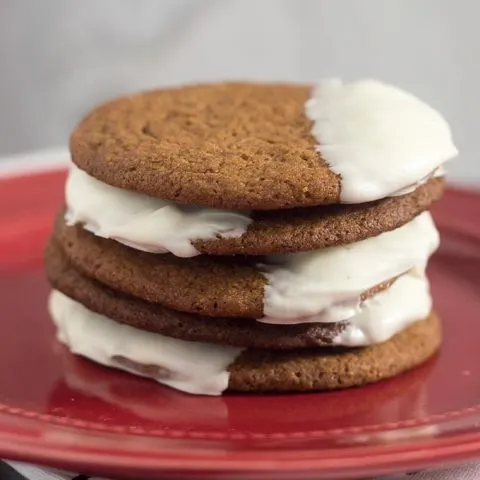 White Chocolate Dipped Gingerbread Cookies
Ingredients
2 cups all-purpose flour, 8 ½ oz
2 teaspoon baking soda
½ teaspoon salt
2 teaspoon ground ginger
1 teaspoon ground cinnamon
½ teaspoon ground cloves
12 tablespoon unsalted butter, softened, 1 ½ sticks or 6 oz
1 cup sugar, 7 oz
1 large egg
¼ cup molasses
12 oz white chocolate chips, melted and cooled slightly
Instructions
Preheat your oven to 350 degrees. Line two baking sheets with parchment paper or silicon baking mats.
In a small mixing bowl, combine the flour, baking soda, salt, ginger, cinnamon and cloves.
In the bowl of a stand mixer, cream together the butter and sugar until light and fluffy. Beat in the egg; scrape down the sides of the bowl.
Add half of the dry ingredients, and mix in on low speed. Beat in the molasses, then add the remaining dry ingredients and mix on low just until fully incorporated.
Use a medium cookie scoop to portion the dough 3 inches apart from each other on the baking sheets -- these cookies spread a lot.
Bake for 15 to 18 minutes, until they are dark golden brown all over and firm to the touch.
Cool on the baking sheet for 5 minutes, then transfer to a cooling rack to cool completely.
Once the cookies are completely cooled, dip one side of each cookie into the melted white chocolate. Place on a sheet of wax or parchment paper and let sit until the chocolate hardens.
Store cookies between sheets of wax or parchment paper in an airtight container at room temperature for up to 2 weeks.
Adapted from Food Network