Pomegranate green tea mojitos are a Moroccan twist on a Cuban cocktail. The classic mint-and-lime drink gets an extra flavor twist from pomegranate and green tea.
Welcome to Progressive Eats, where each participating blogger makes a dish for a different course of the meal. Today's meal is inspired by the cuisine of Morocco. Thanks to our host, Susan, of The Wimpy Vegetarian!
This theme was a learning experience for me. Morocco is a country on the northernwestern coast Africa, and it's separated from Spain by only 9 miles. Its official languages are Arabic and Tamazight, but French is also widely spoken. The primary religion is Islam.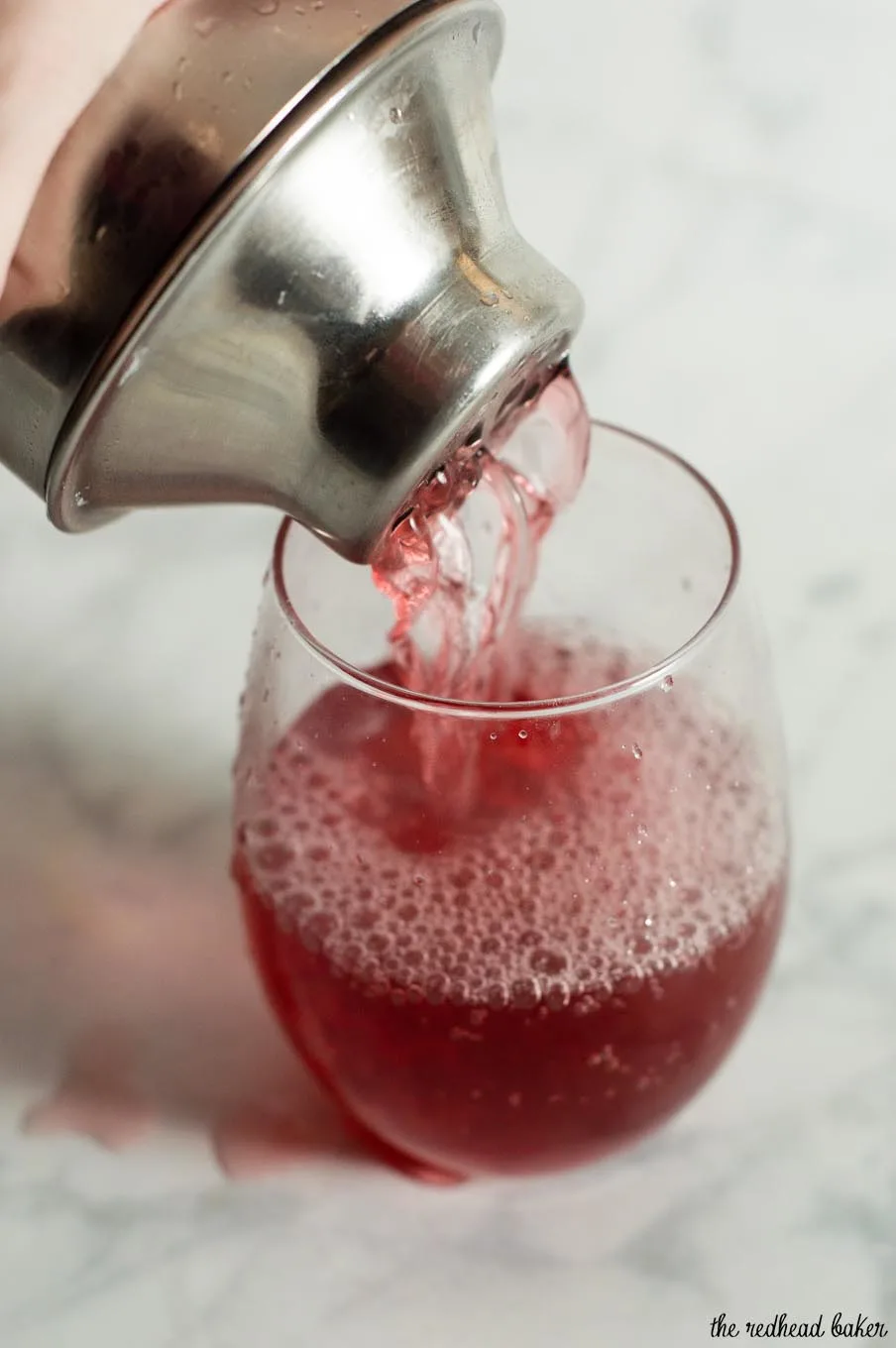 It almost seems disrespectful to create a cocktail based on the cuisine of a country that is primarily Muslim (a religion that forbids the consumption of alcohol). However, this drink can easily be made nonalcoholic by simply omitting the rum.
While mojitos are a Cuban drink, pomegranate green tea mojitos take their flavors from the cuisine of Morocco. Pomegranates, lime and green tea are all ingredients that are frequently found in Moroccan cuisine. The plants of all three thrive in the climate of Morocco, which is similar to southern California -- moderately hot in the summer and generally mild in the winter.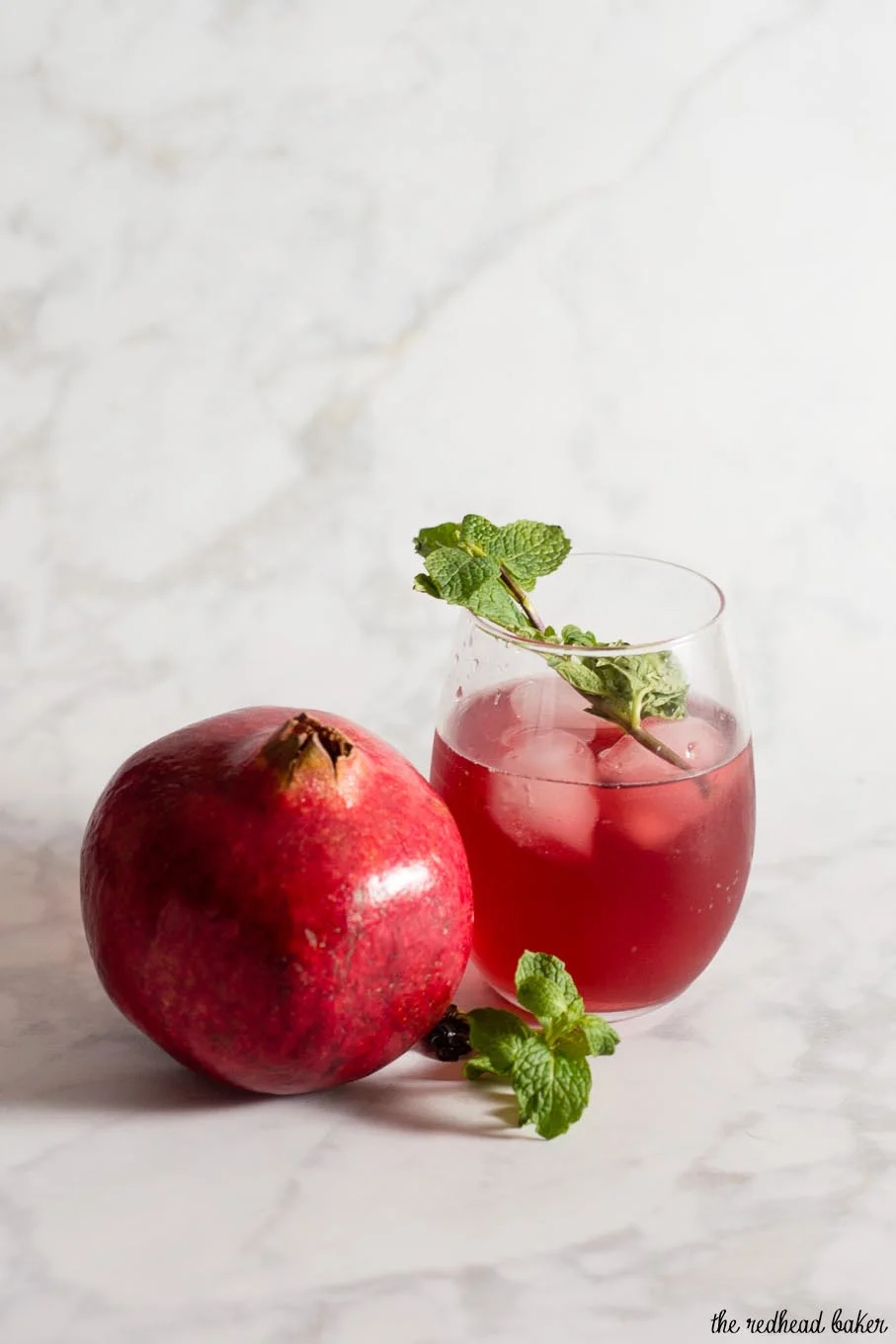 Even without the rum, pomegranate green tea mojitos are really refreshing. It makes a nice change from plain water or iced tea. No one flavor overpowers the other, and all the flavors blend together well. If you prefer a less-sweet drink, skip the simple syrup, and simply add ¼ cup of pomegranate juice.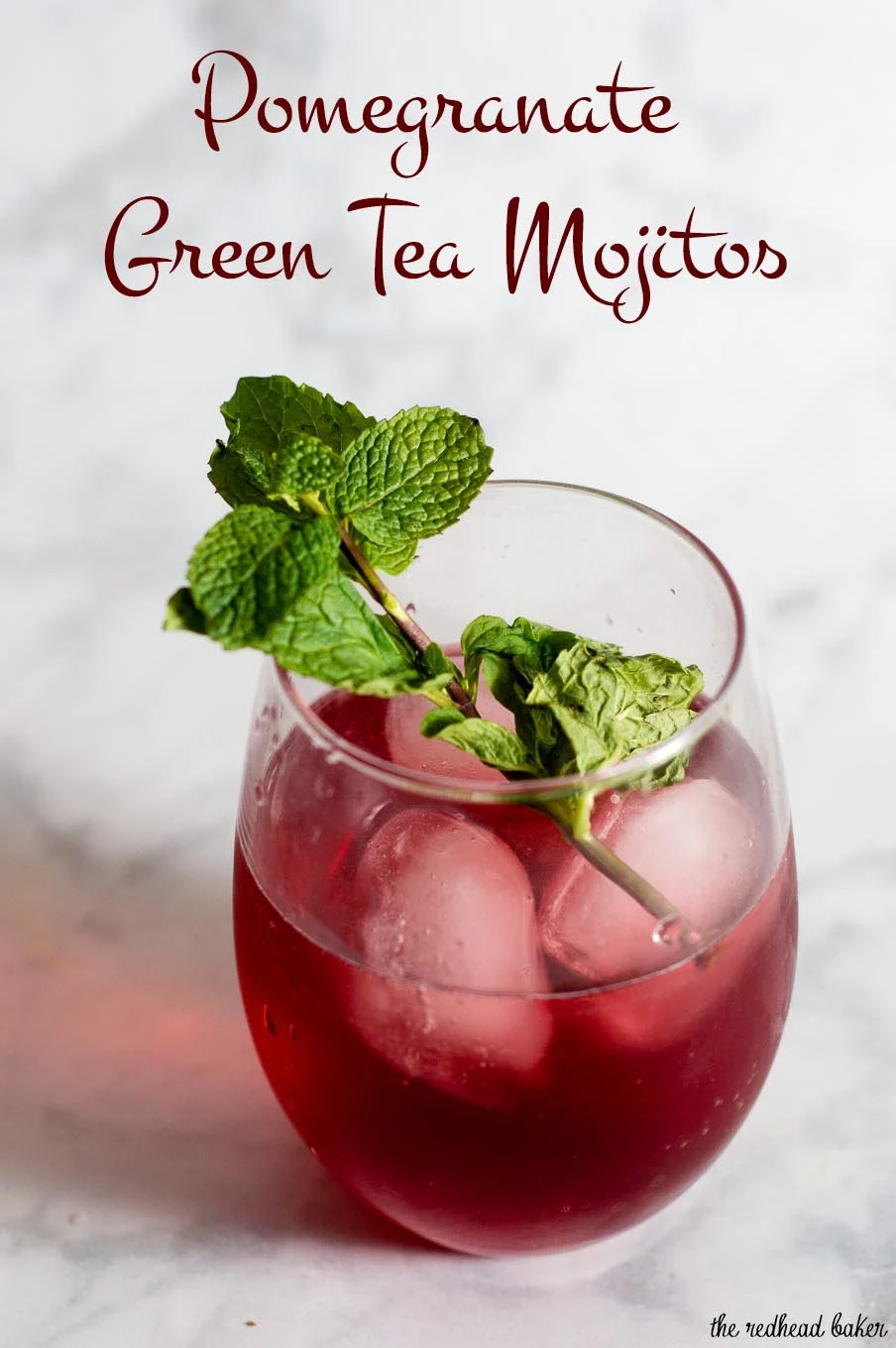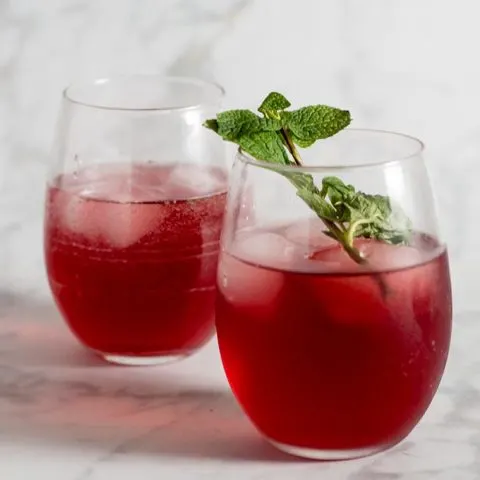 Pomegranate Green Tea Mojitos
Ingredients
For the pomegranate simple syrup:
1 cup fresh pomegranate seeds
½ cup water
½ cup sugar
For the mojitos:
16 leaves fresh mint, plus more for garnish
2 cups crushed ice, plus more for serving
6 oz fl iced green tea, homemade or storebought
3 oz fl light rum
6 tablespoon freshly squeezed lime juice
2 oz fl club soda
Instructions
Place the pomegranate seeds, sugar and water in a saucepan and bring to a boil. Reduce the heat and simmer the mixture for about 8 minutes. Strain the liquid into a bowl, discard the seeds. Allow the liquid to cool to room temperature. Can be made up to 24 hours ahead and stored in the refrigerator.
To make the mojitos: muddle the mint with the ice in the bottom of a cocktail shaker with the end of a wooden spoon. Add the iced green tea, rum, lime juice and pomegranate simple syrup into the shaker and shake well.
Add fresh ice to two tumblers. Divide the mojito mixture between the two glasses and garnish with additional mint.
Recipe by The Redhead Baker
Welcome to Progressive Eats, our virtual version of a Progressive Dinner Party. This month we're sharing a Middle Eastern/Moroccan Menu, and our event is hosted by Susan, who blogs at The Wimpy Vegetarian. We have a full menu of ideas to tempt you into the kitchen and release your inner-Ottolenghi. If you're looking for something new to try, check out these wonderfully creative dishes!
Progressive Eats Middle Eastern/Moroccan Menu
Cocktail
Pomegranate Green Tea Mojito from The Redhead Baker (recipe above)
Appetizer
Main Dishes
Bread
Side Dish
Desserts
If you're unfamiliar with the concept, a progressive dinner involves going from house to house, enjoying a different course at each location. With Progressive Eats, a theme is chosen each month, members share recipes suitable for a delicious meal or party, and you can hop from blog to blog to check them out.