Haute cuisine in half an hour? Yes! Serve these delicious Normandy-style mussels in cider sauce with lots of crusty bread for dipping.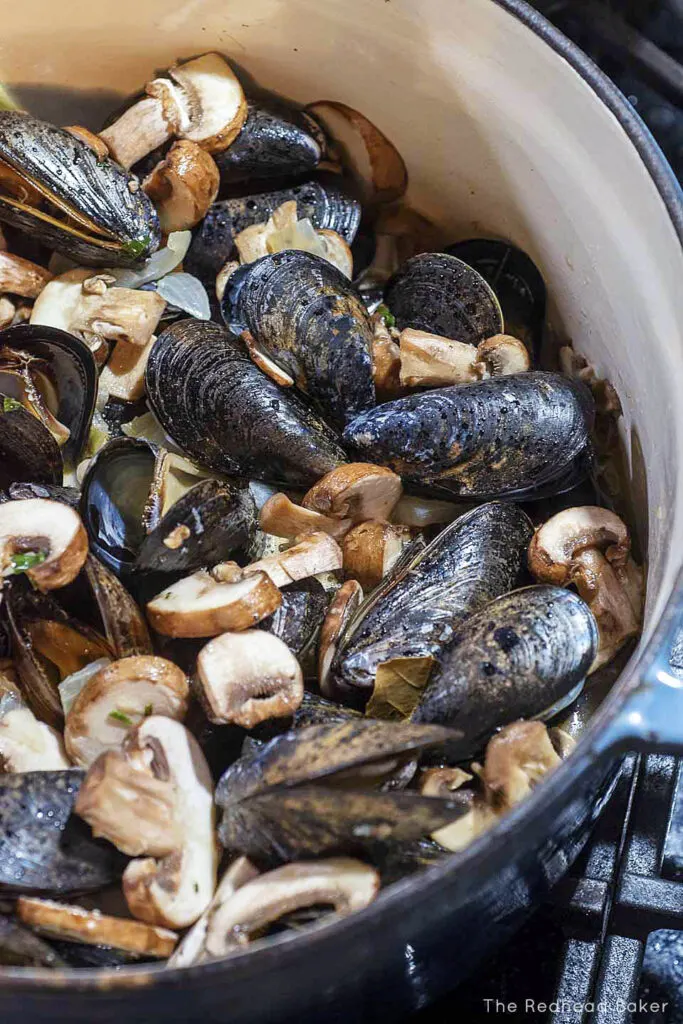 Welcome to our September Progressive Eats French Feast! I'm hosting this month. I chose French cuisine for our theme partly because I was trained in French cooking and baking in culinary school and partly because I just love French culture!
I studied the French language in high school and college, and still speak some. I'm even teaching my son the language. I got to visit France as part of my culinary school curriculum, and I look forward to going back as soon as I can.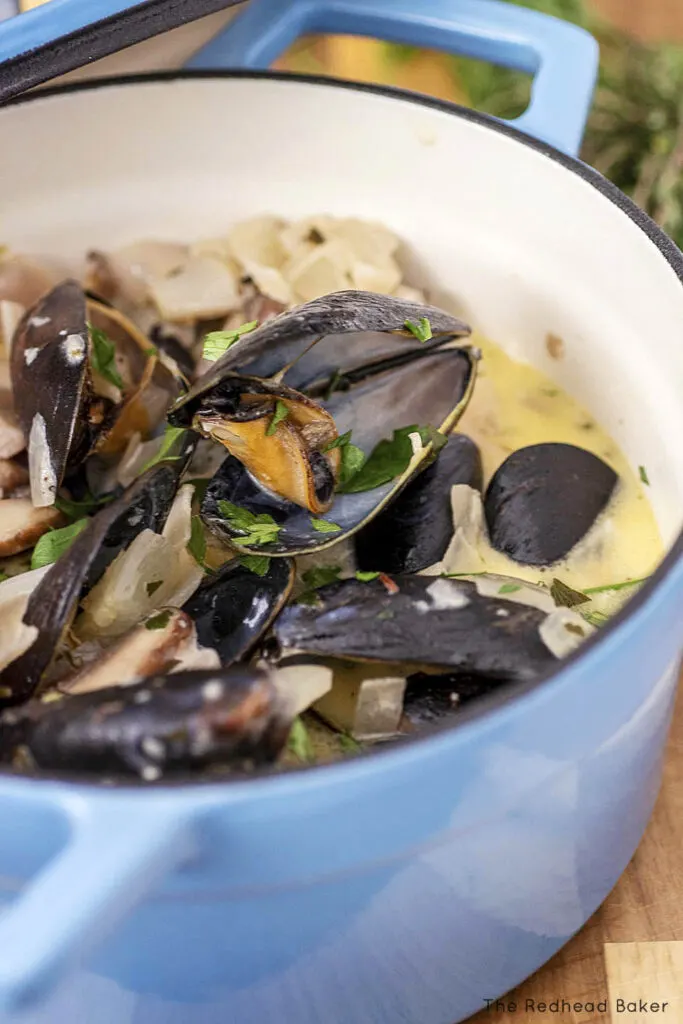 I've always been really intimidated by the idea of cooking mussels at home. There's so much to remember for storing them, preparing them, making sure you don't kill people with food poisoning. I read up on that last part, and the rules are pretty simple: discard any that don't close before cooking or are cracked; and discard any that don't open during cooking.
Mussels are a common ingredient in French cuisine. In fact, France is almost always in the top three of lists that name the countries that consume the most mussels per capita! Mussels are farmed on the Atlantic and Mediterranean coasts of France, and are a relatively low-cost source of protein.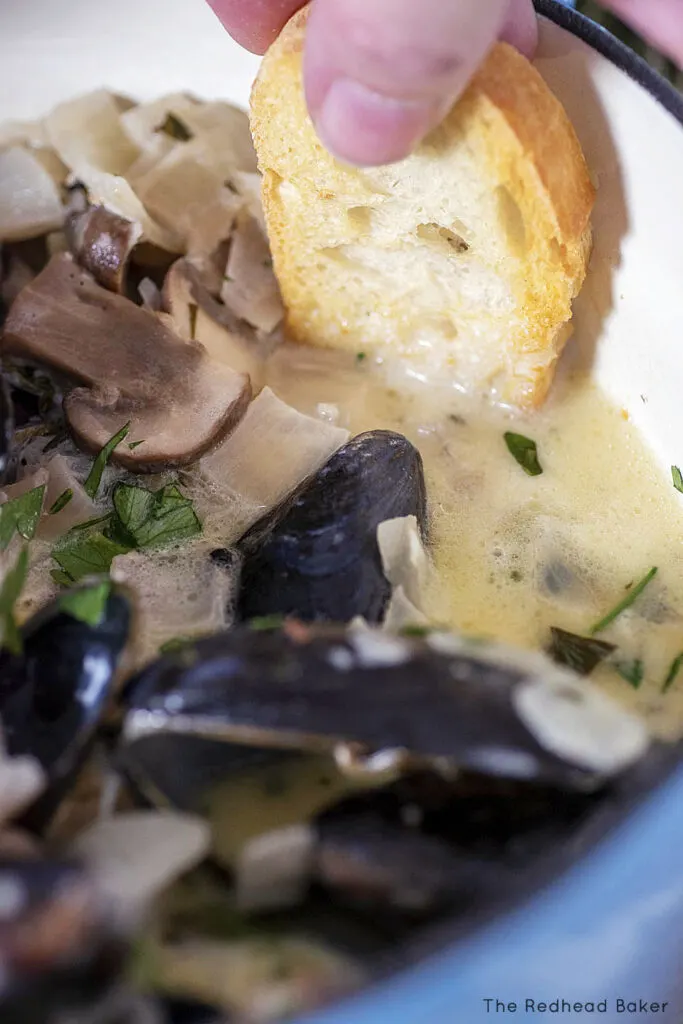 As is indicated by the name, this particular recipe comes from the Normandy region of France, one of the 18 regions of France, on the northern coast. Normandy is the primary mussel-farming region of France, and also a major cider-producing area. It's no wonder that both of those ingredients are in this dish.
It's also a quick dish! I had this on the table in 20 minutes, not including time spent scrubbing the mussels and checking them for beards, which didn't take long at all.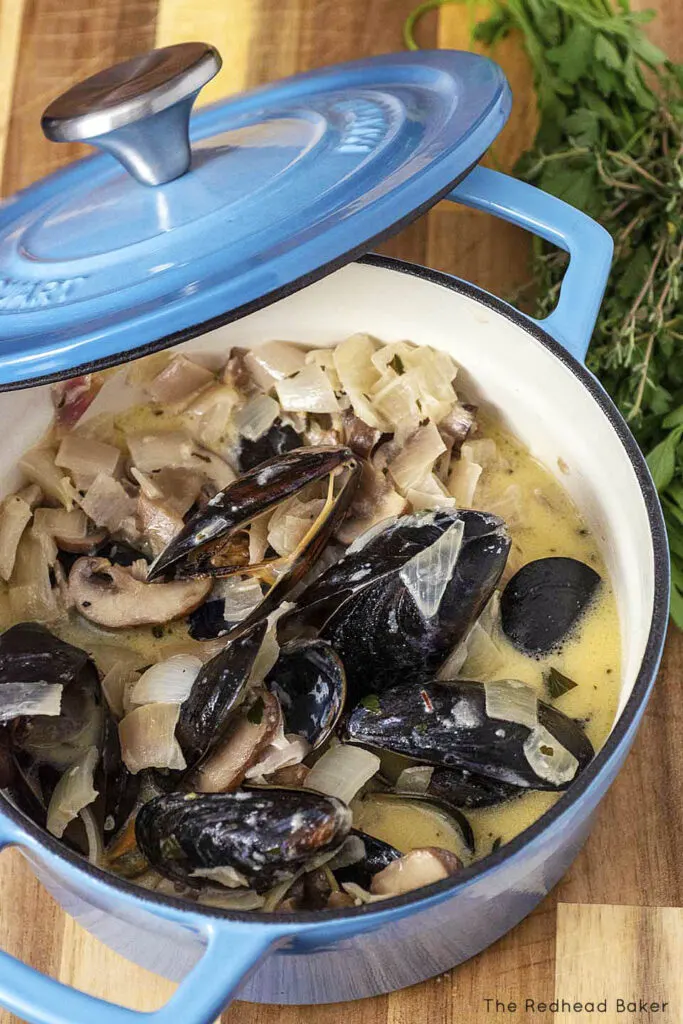 I served this dish with a frisée salad with a Dijon vinaigrette. I also prepared a basket of toasted baguette slices for sopping up the extra sauce after the mussels were gone. Honestly, I could have eaten a meal of just the bread slices dipped in sauce!
Now that my husband knows that mussels are pretty affordable, and quick to cook, he's going to be expecting them a lot more often!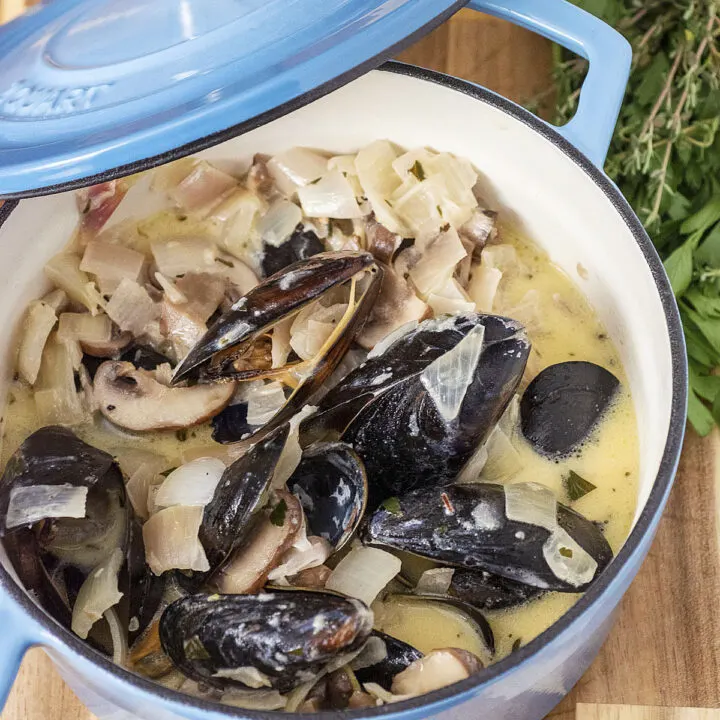 Moules à la Normande (Normandy-Style Mussels)
Haute cuisine in half an hour? Yes! Serve these delicious Normandy-style mussels in cider sauce with lots of crusty bread for dipping.
Ingredients
3 lbs (1.3 kg) mussels, scrubbed and debearded
6 tablespoon (3 oz/85 g) unsalted butter
3 cloves garlic, minced
2 tablespoon parsley (1 oz/25 g), chopped, plus more for garnish
1 small yellow onion, chopped
2 shallots, chopped
2 sprigs fresh thyme, leaves removed and chopped
2 bay leaves
8 fl oz (230 mL) apple cider
4 fl oz (115 mL) apple brandy (or regular brandy)
8 oz (225 g) sliced white mushrooms
4 oz (110 g) crème fraîche
Salt and pepper
Instructions
Look over your mussels to ensure they are all tightly closed. Discard any that do not close after tapping them on the counter, or if the shells are broken.
In a large Dutch oven, melt the butter over medium heat. Add the garlic and parsley, cook for 30 seconds.
Add the onion, shallot, thyme and bay leaves. Cook for 5 to 7 minutes, until the vegetables are softened.
Remove the pot from the heat and add the brandy. Return to the stovetop and cook for a minute.
Add the cider, mussels and mushrooms. Turn the heat to high, cover the pot and cook for 5 to 7 minutes, until the mussels are fully opened.
Ues a slotted spoon to transfer the mussels to a bowl. Discard any that did not open. Cover and keep warm.
Bring the liquid that remains in the Dutch oven to a boil. Cook at a boil for 5 to 7 minutes, until reduced by a third.
Remove from the heat and whisk in the crème fraîche. Season the sauce to taste with salt and pepper.
Divide mussels into serving bowls, and ladle some of the sauce over each bowl. Garnish with additional parsley.
Notes
Serve with pommes frites (French fries) or a frisée salad, and crusty bread for sopping up the sauce.
Recommended Products
As an Amazon Associate and member of other affiliate programs, I earn a small percentage from qualifying purchases.
Nutrition Information:
Yield:

4
Serving Size:

1
Amount Per Serving:
Calories:

762
Total Fat:

41g
Saturated Fat:

24g
Trans Fat:

0g
Unsaturated Fat:

14g
Cholesterol:

163mg
Sodium:

1301mg
Carbohydrates:

30g
Fiber:

1g
Sugar:

13g
Protein:

45g
I am not a certified nutritionist. This nutrition information is automatically calculated by third party software and is meant as a guideline only.
Welcome to Progressive Eats, our virtual version of a Progressive Dinner Party. This month's theme is A French Feast, and our host is Coleen who blogs at The Redhead Baker.
If you're unfamiliar with the concept, a progressive dinner involves going from house to house, enjoying a different course at each location. With Progressive Eats it's a virtual party. A theme is chosen each month, members share recipes suitable for a delicious meal or party, and you can hop from blog to blog to check them out. Bon appetit!
La boisson (Drink)
L'entrée (Appetizer)
Le pain (Bread)
Le plat principal (Main Dish)
Les plat d'accompagnements (Side Dishes)
Le dessert (Dessert)