Pumpkin gnocchi are like little pillowy bites of autumn. Use these in almost any dish that calls for traditional potato gnocchi.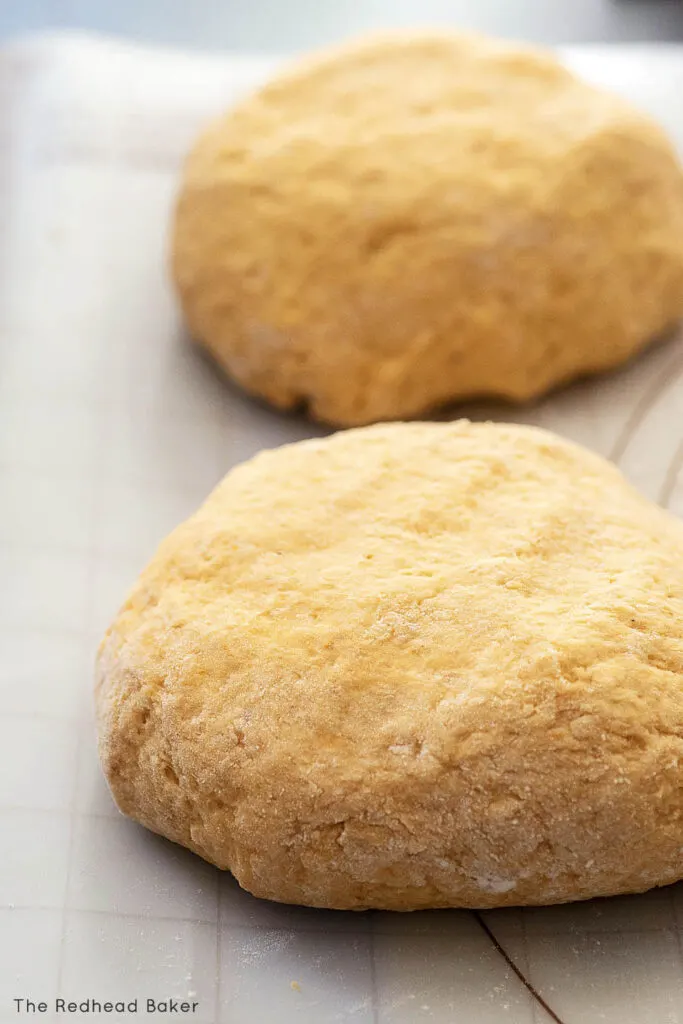 On nights when I haven't defrosted anything for dinner, and I'm sick of having pasta, gnocchi is a delicious alternative. Whether boiled or pan-sauteed, there are many ways to enjoy gnocchi.
And while store-bought gnocchi is good and convenient, homemade gnocchi is on another level of delicious. Time consuming? Well, yes. But so worth it if you have the time. Basic potato gnocchi is simply potato, flour, salt and egg. This recipe goes a step further and adds pumpkin and spices.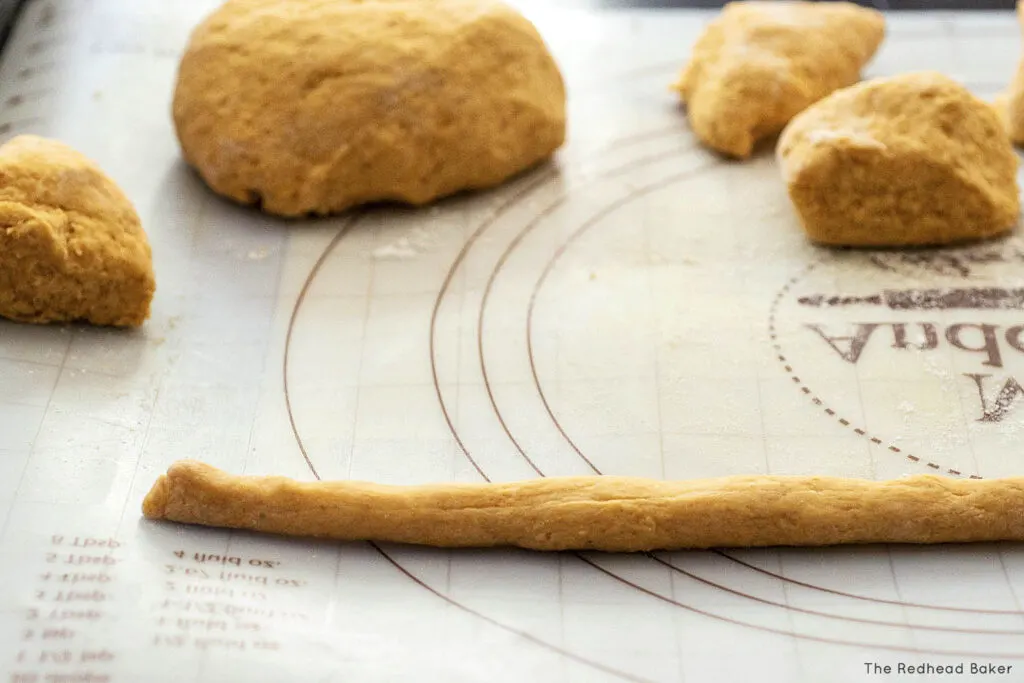 The Best Potatoes for Gnocchi
The best potatoes for gnocchi are floury potatoes, such as russets and Yukon Gold. The potatoes need to be cooked to be tender enough to mash. Most recipes I've seen (and the ones I've made) instruct you to boil the potatoes, although James Beard award-winning chef Paula Wolfert believes baking them to be a better option.
After cooking them, the potatoes need to be broken down. I strongly recommend passing the potatoes through a fine-mesh ricer (affiliate link) rather than mashing them, because mashing them compresses the potato, and compression leads to denser, less pillowy, gnocchi.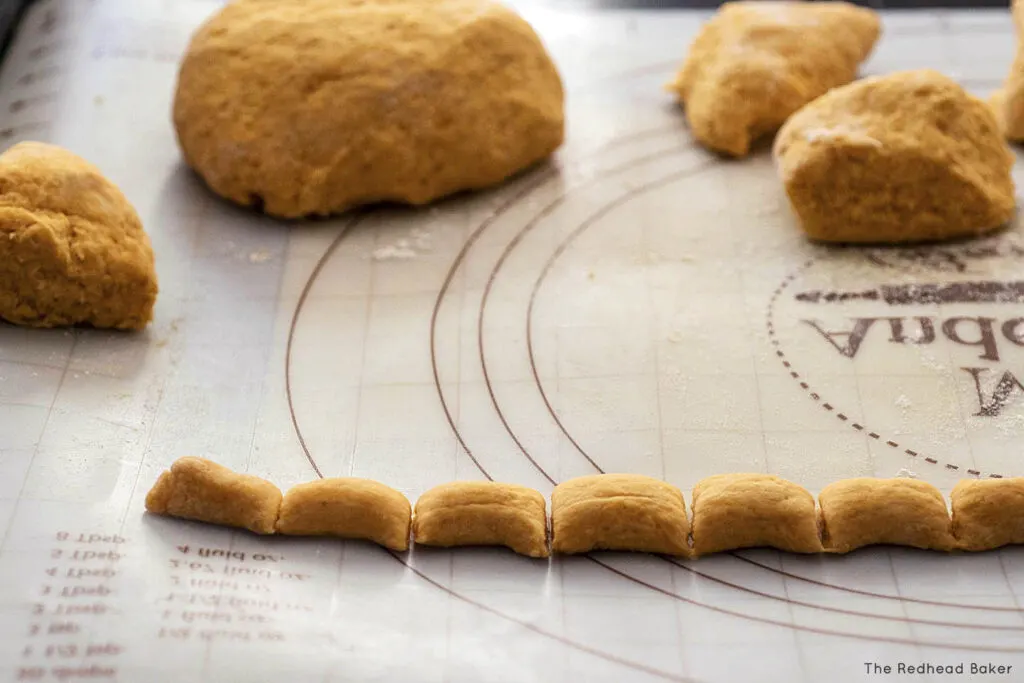 Ingredients in Gnocchi
Because these gnocchi contain pumpkin, there's no need to add any egg. In basic gnocchi dough, the egg provides moisture, and the pumpkin also provides moisture.
The flour is basic all-purpose flour. Try to use as light a hand as possible with gnocchi, because too much flour leads to rubbery, dense gnocchi.
The pumpkin puree can be canned, or home-made. Making homemade pumpkin puree is really easy! Start with a sugar pumpkin, cube, bake, and puree.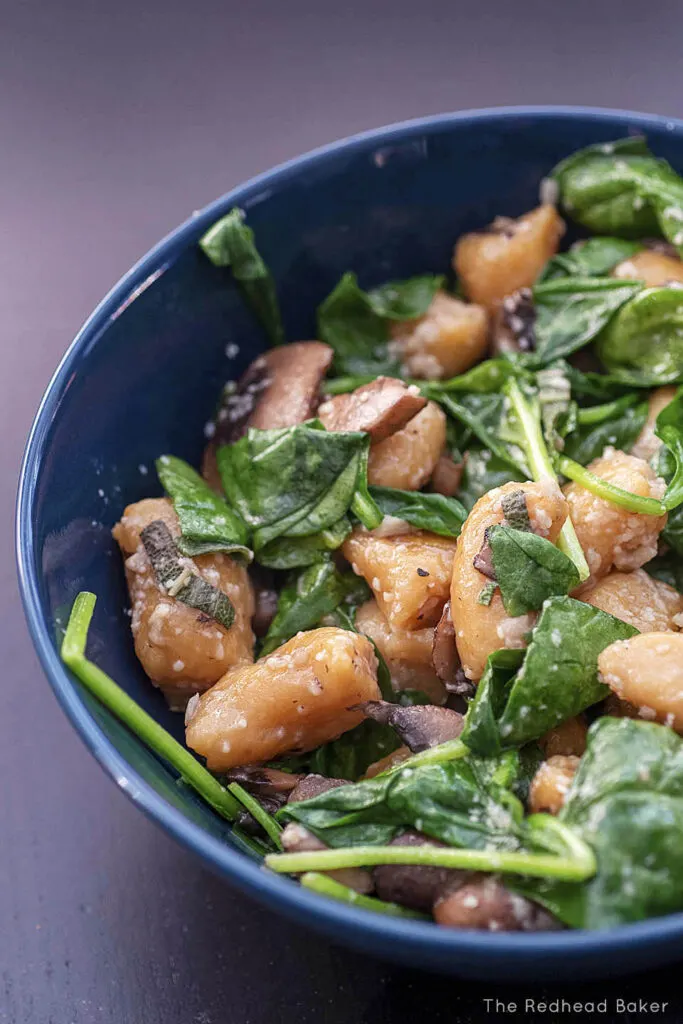 Where are the classic gnocchi ridges?
As you'll see, my pumpkin gnocchi don't have the classic ridges. I don't have a ridged gnocchi paddle (affiliate link). Gnocchi are shaped on these boards in order to create a shape to better hold the sauce.
You can attempt to duplicate the effect with a fork, and I tried it on a few of my homemade pumpkin gnocchi, but they weren't really turning out well, so I gave up on that and just made ridge-less gnocchi.
What to Do with Homemade Pumpkin Gnocchi
You can substitute pumpkin gnocchi in most recipes that call for classic potato gnocchi, as long as the other flavors would go well with the pumpkin. You can also search for sweet potato gnocchi dishes, and use pumpkin gnocchi instead.
But just in case, I've included the recipe I used for my gnocchi, which includes baby spinach, sauteed mushrooms, sage, and parmesan cheese.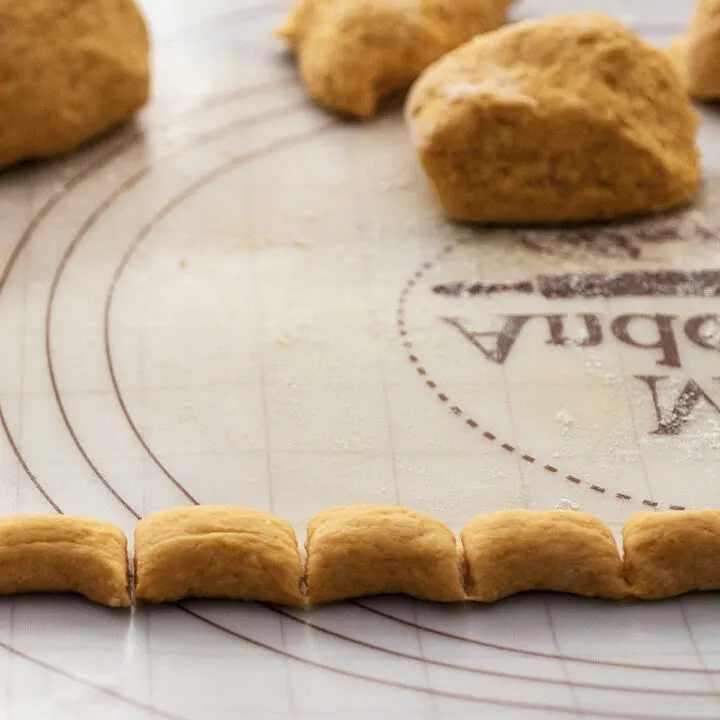 Pumpkin Gnocchi from Scratch
Total Time:
1 hour
15 minutes
Pumpkin gnocchi are like little pillowy bites of autumn. Use these in almost any dish that calls for traditional potato gnocchi.
Ingredients
For the gnocchi
1 lb. all-purpose potatoes, peeled and cut into 1-inch cubes
8 oz pumpkin puree
1 teaspoon salt
½ teaspoon nutmeg
1 ¾ cups all-purpose flour
For the spinach/mushroom mixture
2 tablespoon olive oil
8 oz sliced baby bella mushrooms
4 oz baby spinach
2 tablespoon fresh sage, minced
¼ cup grated Parmesan cheese
Salt and pepper to taste
Instructions
Place the diced potatoes in a large saucepan. Add enough water to cover the potatoes. Bring the water to a boil.
Once boiling, reduce the heat to a simmer and cook the potatoes for 15 to 20 minutes, or until fork-tender.
Drain the potatoes very well. Pass the chunks through a ricer, or mash very well with a potato masher.
Add the pumpkin puree, salt and nutmeg, and stir to combine.
Add the flour, and use a wooden spoon to work the flour into the pumpkin/potato mixture.
Once nearly all of the flour is incorporated, use floured hands to shape the dough into a ball and transfer to a well-floured flat surface. Knead the dough until it forms a soft, smooth dough.
Divide the dough in half. Divide each half into 6 pieces. Roll each piece into a rope about ¾-inch thick. Cut the rope into 1-inch sections. Place the sections on a well-floured baking sheet. Continue with remaining dough.
At this point, if needed, you can freeze the gnocchi. Arrange the pieces on a wax paper-lined baking sheet so that they are not touching. Freeze the gnocchi. Transfer the frozen gnocchi to a freezer-grade zip-top bag, and use within 6 weeks.
When ready to cook, bring 4 quarts of salted water to a boil. Add a third of the gnocchi. They will initially sink to the bottom. Once they float to the top, you can remove them with a slotted spoon, and cook another third of the gnocchi, and then the final third.
In a non-stick skillet, heat the olive oil. Add the miushrooms, and cook for 10 minutes, until the mushrooms start to soften. Add the spinach and sage, and cook until the spinach wilts.
Add the parmesan cheese and the gnocchi and toss to coat.
Recommended Products
As an Amazon Associate and member of other affiliate programs, I earn a small percentage from qualifying purchases.
Nutrition Information:
Yield:

6
Serving Size:

1
Amount Per Serving:
Calories:

289
Total Fat:

7g
Saturated Fat:

1g
Trans Fat:

0g
Unsaturated Fat:

4g
Cholesterol:

4mg
Sodium:

538mg
Carbohydrates:

50g
Fiber:

5g
Sugar:

3g
Protein:

9g
I am not a certified nutritionist. This nutrition information is automatically calculated by third party software and is meant as a guideline only.
Savory Recipes
Dessert Recipes