Pumpkin marshmallows taste like pumpkin pie! Eat these candies on their own for a quick snack, or melt them in a cup of hot cocoa for a subtle spiced pumpkin flavor.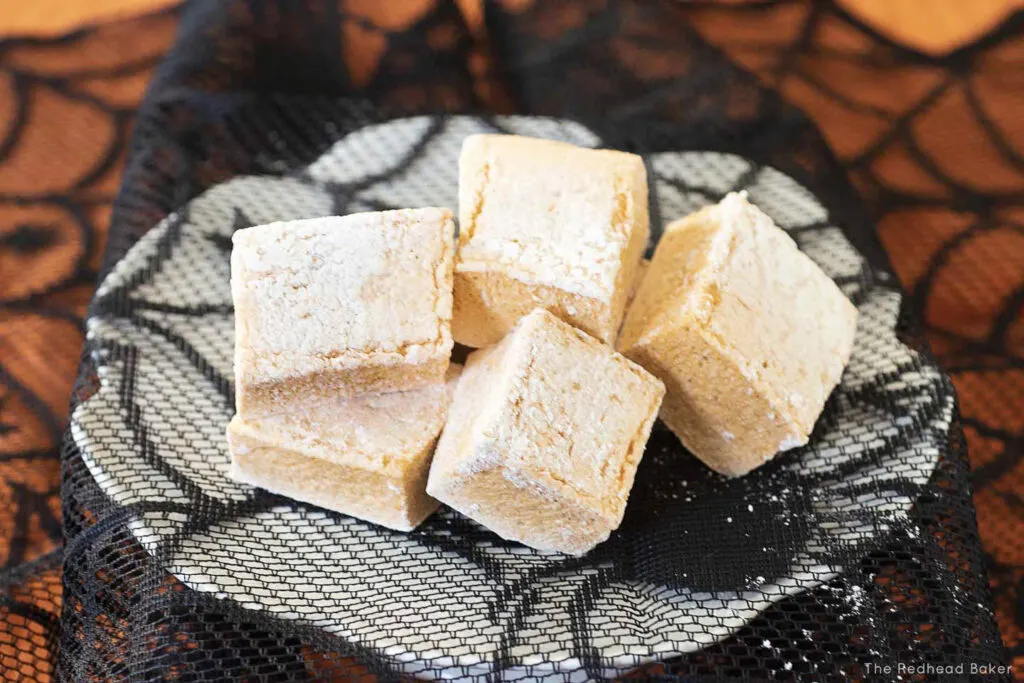 I am really happy to finally be sharing this recipe. I attempted to make pumpkin marshmallows for PumpkinWeek two years ago (or maybe it was three years ago?) but they were a gross, soggy failure. Have you ever had homemade marshmallows? They are miles above store-bought marshmallows in texture and flavor.
I finally got around to fixing what went wrong with the recipe, and look at these fluffy babies! Pumpkin puree is often very wet, and it's critical to squeeze out as much excess moisture as possible before using it in this marshmallow recipe.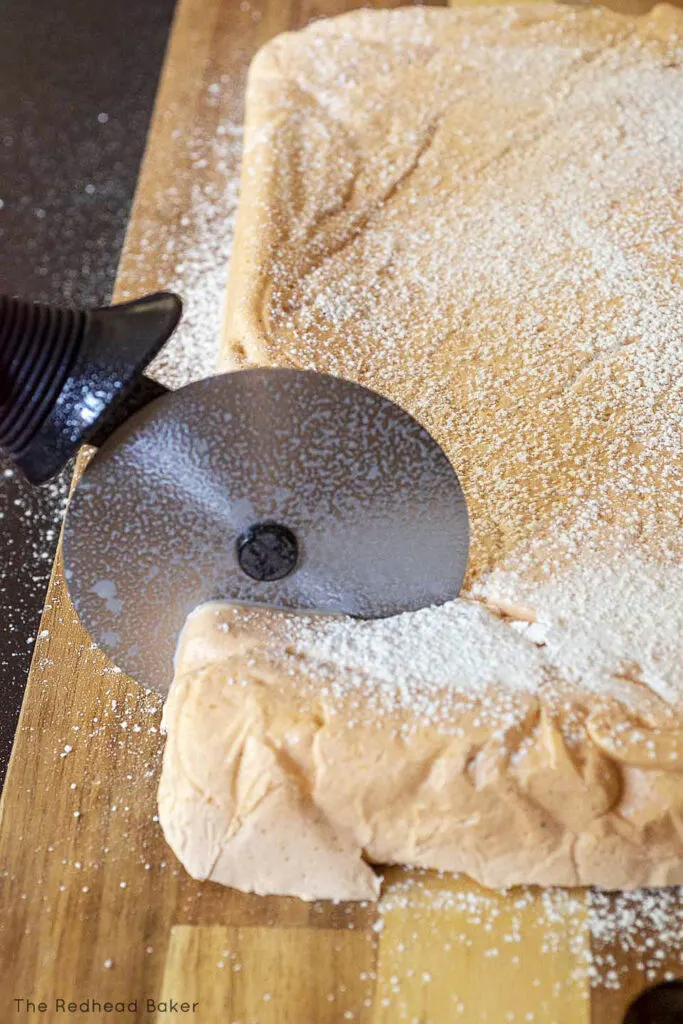 What are marshmallows made of?
The three main ingredients in marshmallows are sugar, water and gelatin. Many, many candies begin with sugar and water, and candy-makers have identified seven stages of cooking sugar that will determine what type of candy you'll end up with.
The stages describe how the sugar/water mixture will act, and they correspond to a temperature range. For marshmallow, you want "soft ball" stage, meaning if you dropped a bit of sugar/water syrup in cold water, you'd be able to form a soft, flexible ball.
It's important to be careful when working with hot sugar syrup. If you get it on your bare skin, it can cause severe burns, so please be aware!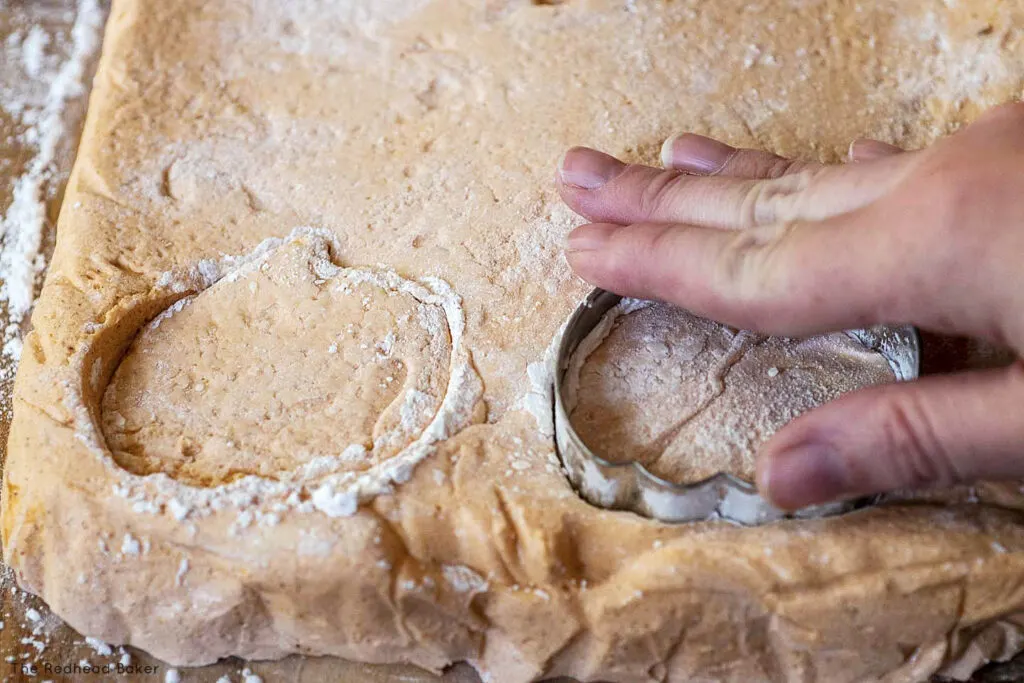 Most marshmallows are vanilla-flavored, but you can change the flavor with different extracts or zest, or even with the addition of other ingredients, as I did with these pumpkin marshmallows.
Why sugar and corn syrup?
Making candy is as much science as art. As I said above, the sugar/water mixture is cooked to "soft ball" stage, and while that describes how the mixture acts, it also is correlate with a specific sugar/water concentration. You need an 85% sugar concentration to make marshmallows. In a syrup with a high ratio of sugar to water, there's a high chance that the sugar molecules will stick together and form crystals as the water boils away. The corn syrup prevents those crystals from forming.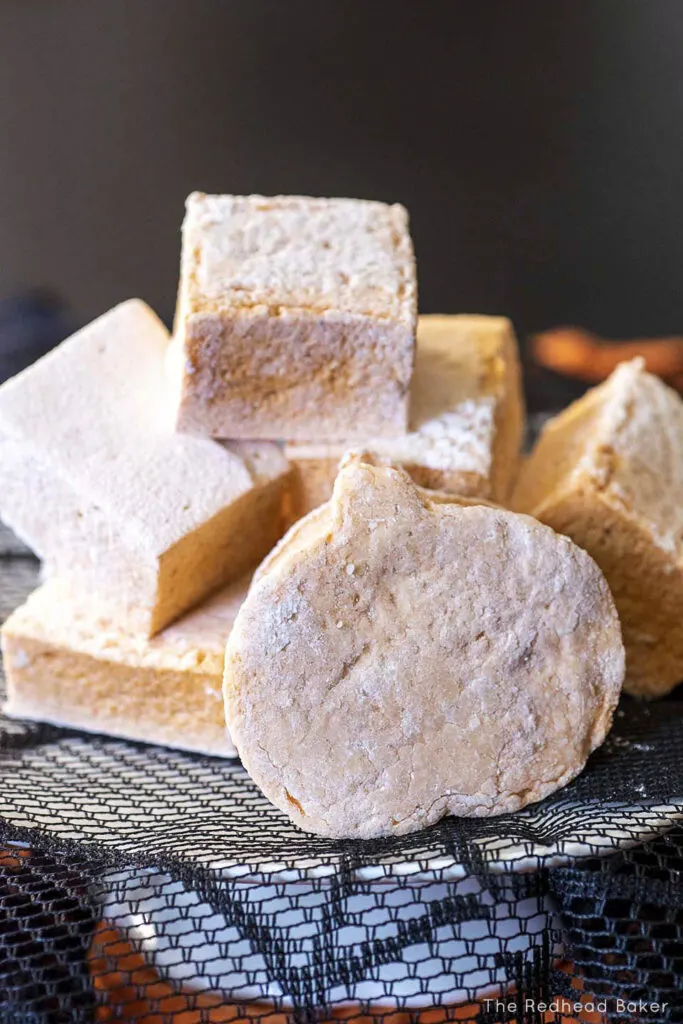 Because we're working with gelatin here, if the mixture stops moving, the gelatin will start to set up. That's why it's important to have everything prepared, measured and in place before you begin. French cooks and bakers call this "mise en place."
But once you get started, the process is really fun! Once the sugar syrup is whipped and fluffy, it's very sticky, and if you're someone who normally takes care to scrape every last bit of cake batter into a pan, know that it's not possible for marshmallow! Once you get to the last bits, it will start sticking and making strings, and soon you'll look like you got caught in a spiderweb. But since marshmallow is mostly water and sugar, a bit of hot water will melt it away.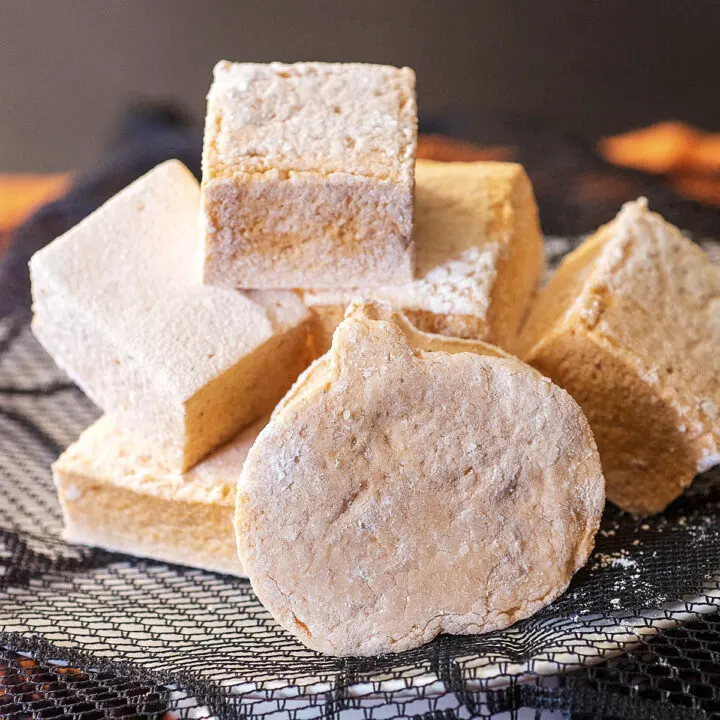 Pumpkin Marshmallows
Total Time:
4 hours
30 minutes
Pumpkin marshmallows taste like pumpkin pie! Eat these candies on their own for a quick snack, or melt them in a cup of hot cocoa for a subtle spiced pumpkin flavor.
Ingredients
For the marshmallows
3 packages unflavored gelatin
½ cup cold water
1 ½ cups sugar
½ cup water
1 cup light corn syrup
Orange food coloring (if desired)
½ cup pumpkin puree
1 teaspoon cinnamon
½ teaspoon ginger
¼ teaspoon nutmeg
¼ teaspoon allspice
For dusting the marshmallows
¼ cup confectioners sugar
¼ cup cornstarch
Instructions
Line a small bowl with paper towels. Place the pumpkin puree in the bowl, and fold the paper towel around it to absorb as much moisture as possible.
Line a 9x13 baking pan with tinfoil. Spray well with nonstick spray. Combine the confectioners sugar and cornstarch. Sift about a quarter of the mixture over the pan. Set aside. Spray an offset spatula with nonstick spray and set near the pan.
In the bowl of a stand mixer, combine the cold water and the gelatin. Whisk briefly to combine. Set the mixing bowl on a stand mixer fitted with a whip attachment and let stand for 5 minutes.
In a large saucepan, combine the sugar, water, and corn syrup. Whisk over medium-high heat until the sugar is dissolved.
Insert a candy thermometer into the sugar mixture. Cook the sugar mixture over medium-high heat without stirring until it reaches 240 degrees F ("soft ball" stage).
While the sugar is cooking, remove the pumpkin puree from th paper towel, and combine with the spices.
As soon as the mixture reaches 240 degrees, immediately remove from the heat. Turn the mixer on to low, and carefully start drizzling the hot sugar mixture over the gelatin. Once all of the sugar mixture is in the mixing bowl, turn the mixing speed to high, and whip until the mixture is thick and fluffy, about 10 minutes.
During the last minute of whipping, add the food coloring one drop at a time, waiting until the color is even before adding more, until the desired color is achieved (keeping in mind we haven't added the pumpkin yet).
Add the pumpkin and spice mixture to the mixing bowl and beat until combined.
Quickly, using a spatula sprayed with nonstick spray, scrape the marshmallow into the prepared pan and spread it in an even layer. Dust with more of the confectioners sugar/cornstarch mixture. Let sit at room temperature for at least 4 hours, or overnight.
Use a sharp chef's knife to cut the marshmallows into squares, or use a cookie cutter dipped in the sugar/cornstarch mixture to cut shapes.
Store in an airtight jar at room temperature.
Recommended Products
As an Amazon Associate and member of other affiliate programs, I earn a small percentage from qualifying purchases.
Nutrition Information:
Yield:

48
Serving Size:

1
Amount Per Serving:
Calories:

57
Total Fat:

0g
Saturated Fat:

0g
Trans Fat:

0g
Unsaturated Fat:

0g
Cholesterol:

0mg
Sodium:

8mg
Carbohydrates:

13g
Fiber:

0g
Sugar:

13g
Protein:

2g
I am not a certified nutritionist. This nutrition information is automatically calculated by third party software and is meant as a guideline only.
Drink Recipes
Breakfast and Baked Goods
Savory Recipes
Dessert Recipes