It's time for another Munchkin Meals, hosted by A Healthy Slice of Life!
There have been lots of changes the The Redhead Baker household lately. I have been working part-time from home since Liam was about 5 months old. I was able to work during his naps and after he went to bed, so Liam has never been in a daycare setting.
However, our combined income wasn't allowing us to maintain the lifestyle we wanted, nor was it ever in my plans to be a stay-at-home mom. We want to be able to put money in a college savings account for Liam, to take him on vacations, and have the money for him to participate in enrichment activities, like sports, if he chooses. That wouldn't be possible with me only working part-time. And I don't feel I know enough about early childhood development to challenge him and teach him developmentally-appropriate skills.
So, I have a job offer for a long-term contract position with full-time hours, which meant finding childcare. We were very lucky that a new daycare in our area had space for him. They have a fantastic curriculum, with a mixed approach including both child- and teacher-directed learning. They have an indoor playroom with play structures to climb and slide down, and once the weather is warmer, they will have outdoor playtime.
They also provide lunch and two snacks for the children each day, consisting of whole, fresh, organic foods. I get a copy of the menu each month and was really impressed! Veggie soup with a whole wheat roll, eggplant lasagna with roasted carrots, tuna melt with celery and ranch dip, spinach black bean burgers and corn on the cob . . . And since I know that he's getting a grilled chicken wrap and roasted sweet potatoes for lunch one day, I won't plan a chicken dish for dinner that night. Snacks include fresh fruit, yogurt, whole wheat muffins, cheese, etc. They serve whole milk with lunch and juice with snack.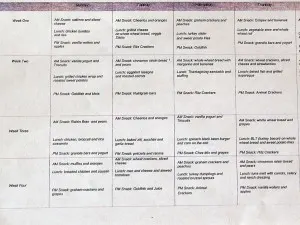 He's transitioning this week, so we won't have a "full day" until next week. I will supply his breakfast, and they will serve it to him at daycare. I anticipate sending the typical things he gets at home: fresh fruit with a waffle, an English muffin, half a bagel, a pancake or two, or oatmeal.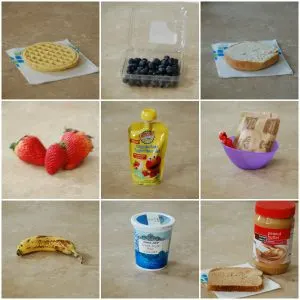 Making this transition to daycare is hard on both of us. Liam is used to having one adult all to himself. He hasn't spent a great deal of time with other family members, let alone strangers. The daycare offers two things that help ease my mind: the first is a web cam that parents can access from home or work. The second is a detailed report of Liam's day, including what activities they did, how often his diaper was changed, what he ate, and how long he napped.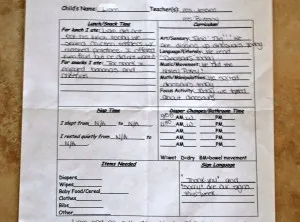 Dinner continues to be hit or miss with Liam. He will refuse things that I expect he will like, and will eat things I expect him to refuse. Given his love of quesadillas, for example, I thought he would love the tacos we had for my birthday dinner last month. He wouldn't touch them. He also wouldn't eat a cheeseburger when The Mister made them a week or so ago.
So, that's a (new) typical day for Liam! Check back tomorrow to hear about more changes in The Redhead Baker household!