These buttery, fluffy Parker House rolls were made famous by a hotel in Boston, and are a treat at holiday dinner tables.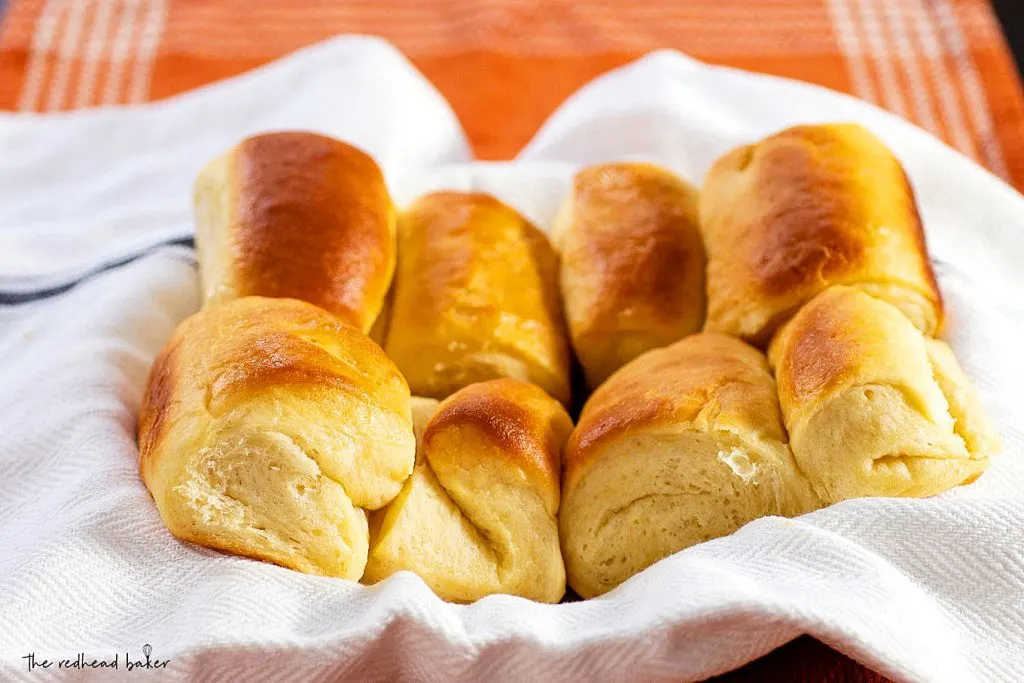 Welcome to Progressive Eats, our virtual version of a Progressive Dinner Party. This month's theme is A New England Feast. From lobster and blueberries to Vermont cheddar and pizza, New England cuisine encompasses a lot. Our host this month is Sarah Walker Caron who blogs at Sarah's Cucina Bella.
I'm making a classic dinner roll from a hotel in Boston, Massachusetts, the Parker House Roll. These buttery rolls are a special treat at holiday dinner tables.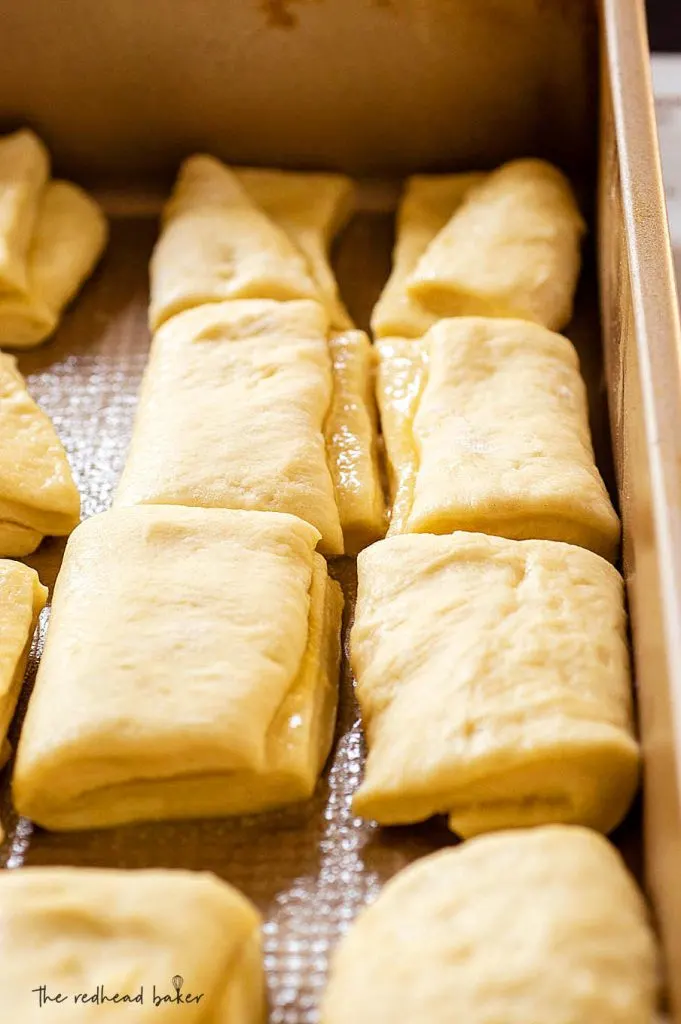 This is a very easy dough to make. All of the ingredients are combined at the same time, then kneaded. The dough rises, then is shaped (a simple, single fold), rises again, and is baked.
I like using instant yeast rather than active dry yeast, because it takes the guesswork out of heating liquid for the dough. Active dry yeast requires a warm liquid to "wake up" the yeast. Liquid that's too cold won't wake the yeast up; liquid that's too hot will kill it. Instant yeast doesn't require warm liquid (though I prefer to use room temperature liquid rather than cold, so that the first rise isn't stunted).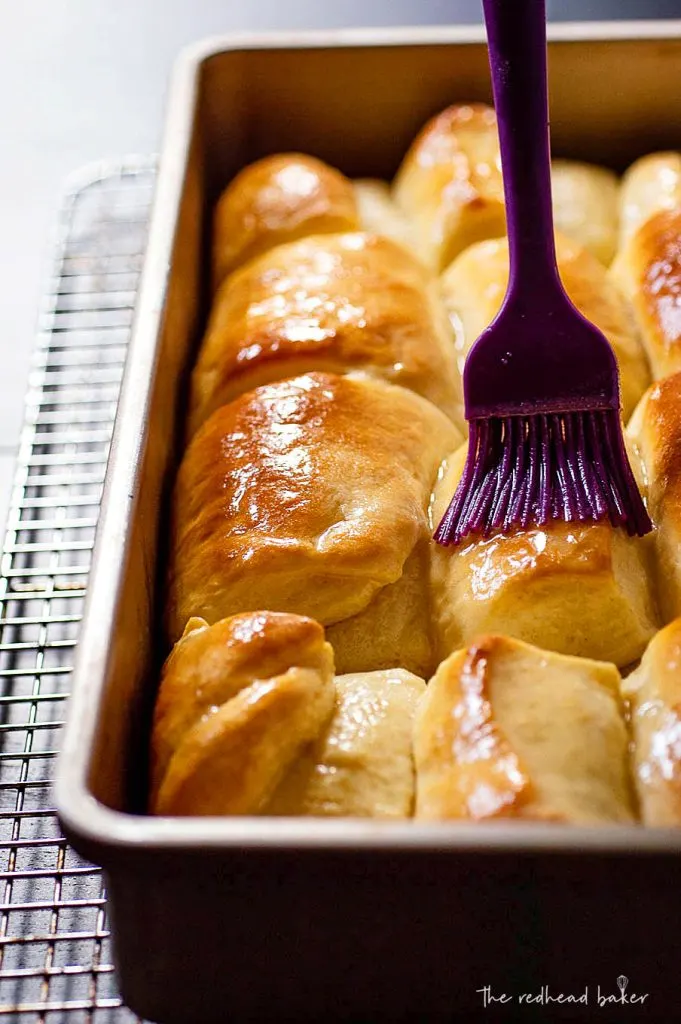 The original Parker House rolls didn't contain any potato, but really, what makes Parker House rolls distinctive is their shape. The pocket created by the fold stays soft and fluffy, while the outside gets crisp and buttery.
I made King Arthur Flour's version, which adds instant potato flakes, because the additional of potato keeps the bread soft and moist.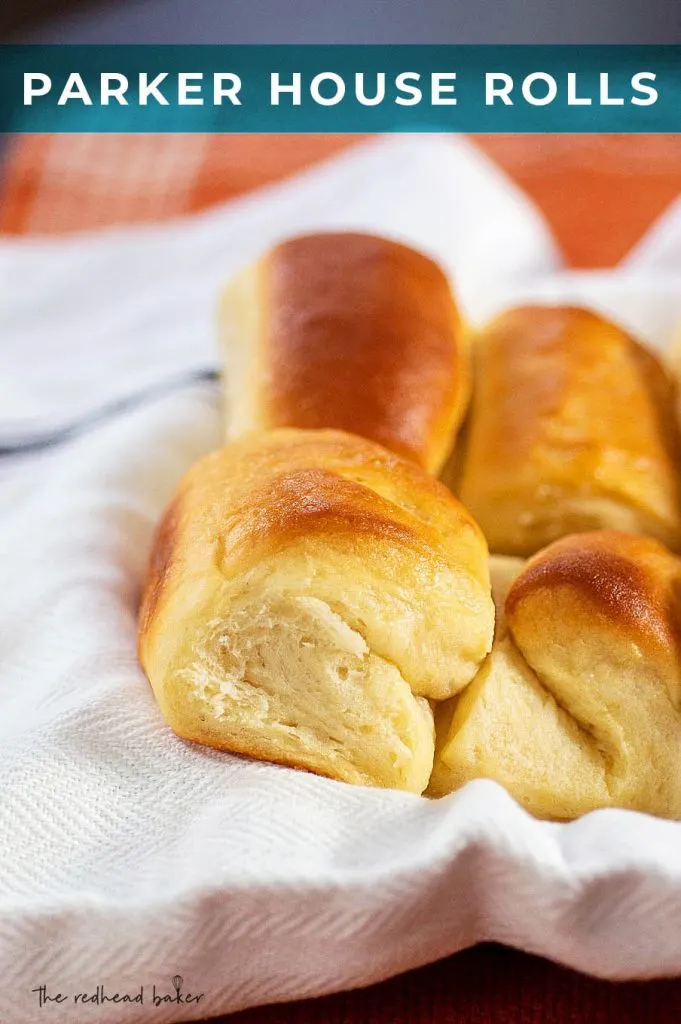 If you want to make these in advance, follow the recipe up to and including the shaping recipe. After placing the rolls in the baking pan, wrap the pan tightly in two layers of plastic wrap and place in the freezer. No need to thaw before baking! Place the frozen rolls in a 325 degree oven for 25 minutes, then increase the heat to 375 degrees for 10 more minutes. Brush with butter and serve!
These are so easy, so delicious, and decadently buttery. I'll definitely be making these for my Thanksgiving feast this year!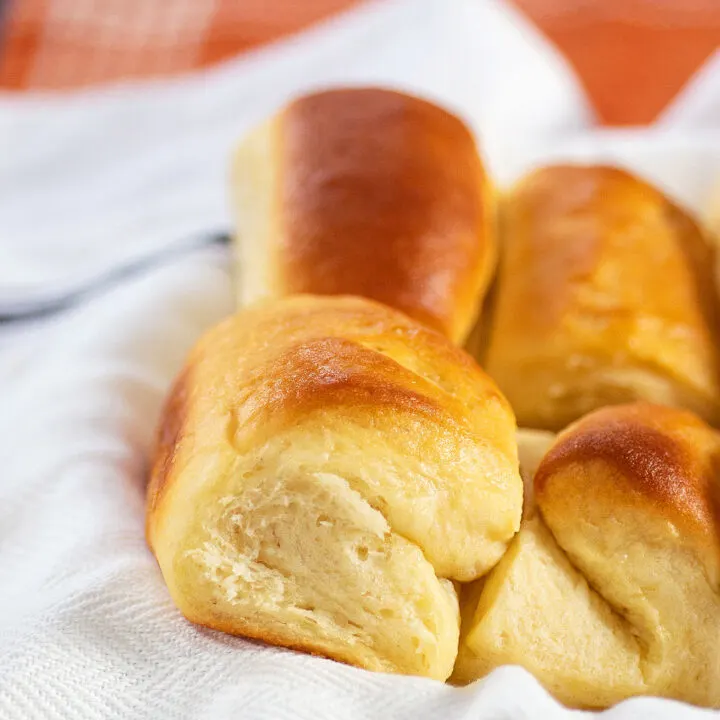 Parker House Rolls
Rising Time:
2 hours
30 minutes
Total Time:
3 hours
15 minutes
These buttery, fluffy Parker House rolls were made famous by a hotel in Boston, and are a treat at holiday dinner tables.
Ingredients
3 cups (12.75 oz/361g) all-purpose flour
2 ¼ teaspoon (0.25 oz/7g) instant yeast
3 tablespoon (1.3oz/39g) sugar
1 ¼ teaspoon table salt
¾ cup (1.75 oz/50g) instant potato flakes
3 tablespoon (1.5 oz/43g) unsalted butter, softened
1 cup (8 fl oz/227g) milk, at room temperature
1 large egg, at room temperature
4 tablespoon (2 oz/57g) butter, melted; for brushing on rolls
Instructions
Place the first eight ingredients (up to and including the egg) in the mixing bowl of a stand mixer. Stir with a wooden spoon until a wet, sticky dough forms.
Fit the dough hook paddle onto the stand mixer. Knead at medium speed for 7 to 8 minutes, until the dough is smooth and cleans the sides of the bowl.
Spray a large mixing bowl with nonstick spray. Gently form the dough into a ball, and place the dough in the bowl. Spray the top lightly with nonstick spray, cover the bowl with plastic wrap and let sit for 90 minutes in a draft-free place.
Press the air out of the dough. Divide the dough in half. Wrap one half in plastic while you work with the other half.
On a lightly floured work surface, roll or pat the dough into an 8x12-inch rectangle. Brush all over with some of the 4 tablespoon of melted butter (you shoudn't use all of it).
Use a pizza cutter to cut the dough in half lengthwise (parallel to the long edge), so you have two 4x12-inch rectangles.
Fold each rectangle lengthwise, not quite in half, leaving about ¼-inch of the bottom half sticking out, so you have two 2.25x12-inch rectangles.
Use the pizza cutter to first cut those long rectangles in half (into two 2.25x6-inch rectangles), and those halves in half (so you end up with eight 2.25x3-inch rectangles).
Repeat with the second dough half. You should still have melted butter left over for brushing onto the rolls after baking.
Lay the dough rectangles in a lightly greased 9x13 baking pan, in four rows of four rectangles, wit the longer edge of the dough parallel to the longer edge of the baking pan.
Cover the pan with plastic wrap and let sit for 45 minutes to 1 hour, until the rolls are puffed up but not quite doubled in size. During the last 20 minutes of proofing, preheat your oven to 350 degrees.
Bake the rolls for 25 minutes, or until light golden brown on top.
Brush the rolls with the remaining melted butter. Pull apart and serve.
Recommended Products
As an Amazon Associate and member of other affiliate programs, I earn a small percentage from qualifying purchases.
Nutrition Information:
Yield:

16
Serving Size:

1
Amount Per Serving:
Calories:

123
Total Fat:

3g
Saturated Fat:

2g
Trans Fat:

0g
Unsaturated Fat:

1g
Cholesterol:

17mg
Sodium:

214mg
Carbohydrates:

21g
Fiber:

1g
Sugar:

0g
Protein:

3g
I am not a certified nutritionist. This nutrition information is automatically calculated by third party software and is meant as a guideline only.
Recipe from King Arthur Flour
If you're unfamiliar with the concept, a progressive dinner involves going from house to house, enjoying a different course at each location. With Progressive Eats it's a virtual party. A theme is chosen each month, members share recipes suitable for a delicious meal or party, and you can hop from blog to blog to check them out. Come along and see all of the deliciousness we've put together for our celebration inspired dishes!
A New England Feast
Cocktails
Appetizers
Bread
Main Courses
Sides
Desserts