Peanut butter mousse parfaits are decadent yet light, fancy yet approachable. Creamy peanut butter mousse is layered with chocolate cookie crumbs for textural interest.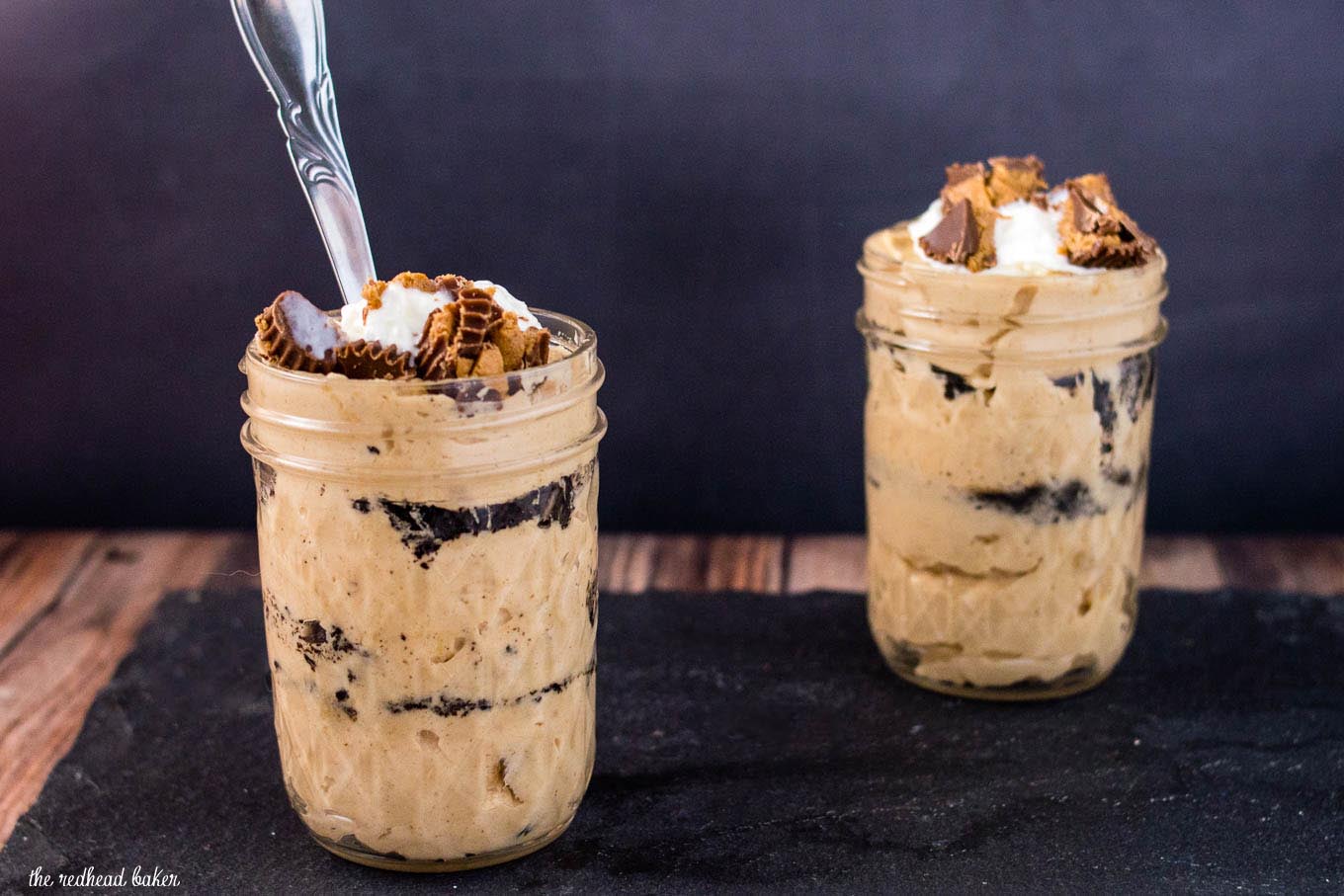 Happy National Peanut Butter Day! To celebrate, I teamed up with some fellow bloggers to bring you some delicious peanut butter recipes. Once you're done checking out these peanut butter mousse parfaits, don't forget to scroll down to the bottom of the post for links to more peanut butter recipes.
Years ago, I used to work as an assistant pastry chef at a fine dining restaurant in the suburbs of Philadelphia. We had a few "standard" dessert items, and then a few more that changed every few weeks. Peanut butter parfaits were one of our temporary desserts.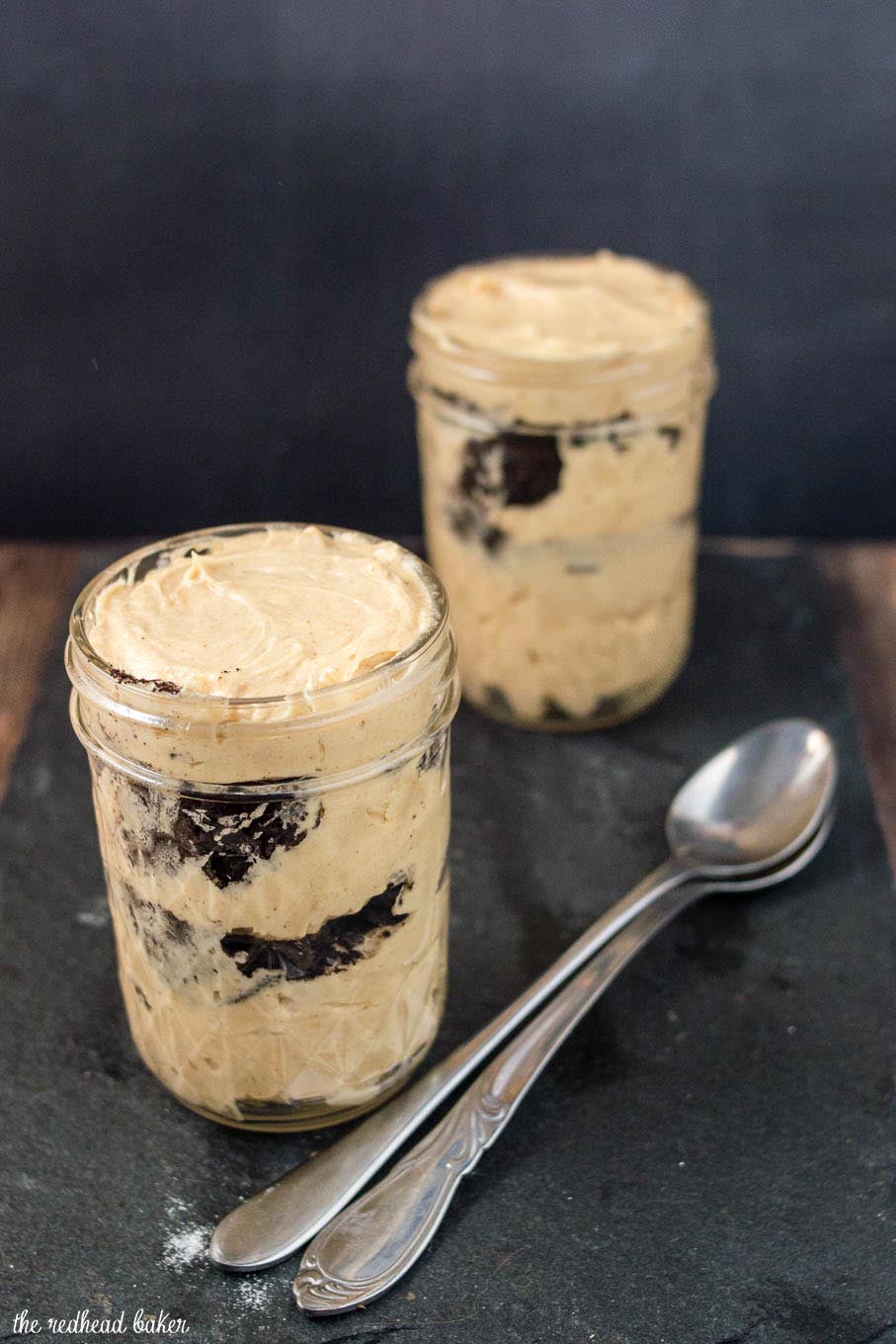 I don't even exactly remember what went in the layer between the peanut butter mousse at that restaurant. I think it might have been topped with crumbled up peanut brittle, which I'm not a fan of eating. So, I made up my own version.
The peanut butter mousse is a blend of peanut butter, cream cheese, sugar and vanilla, lightened with whipped cream. I chose to layer my mousse with chocolate wafer cookie crumbs, but you could also use brownie bits, crumbled chocolate cake, chocolate custard, etc.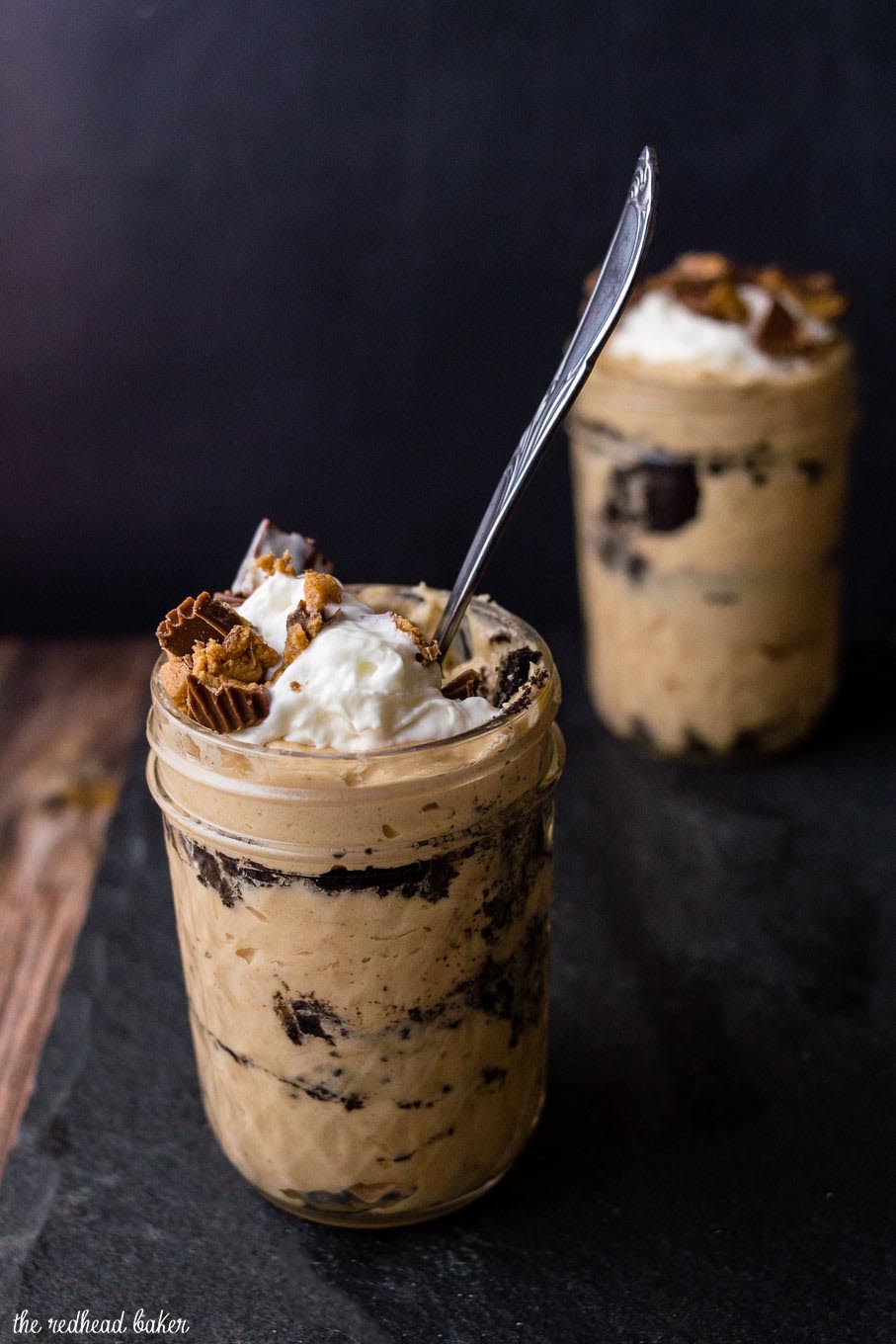 Top with more sweetened whipped cream, and more crumbs (cookie, brownie, cake, whatever) or chopped Reese's peanut butter cup minis. Here's a tip: the easiest way to chop these is when they are partially frozen. Pop a few in the freezer for about an hour, then chop with a sharp chef's knife.
These parfaits look fancy, and since it makes two servings, it would be perfect for Valentine's Day dessert. The flavor is decadent, but the whipped cream makes the texture light. But at the same time, the flavors are familiar, so it doesn't "feel" fancy.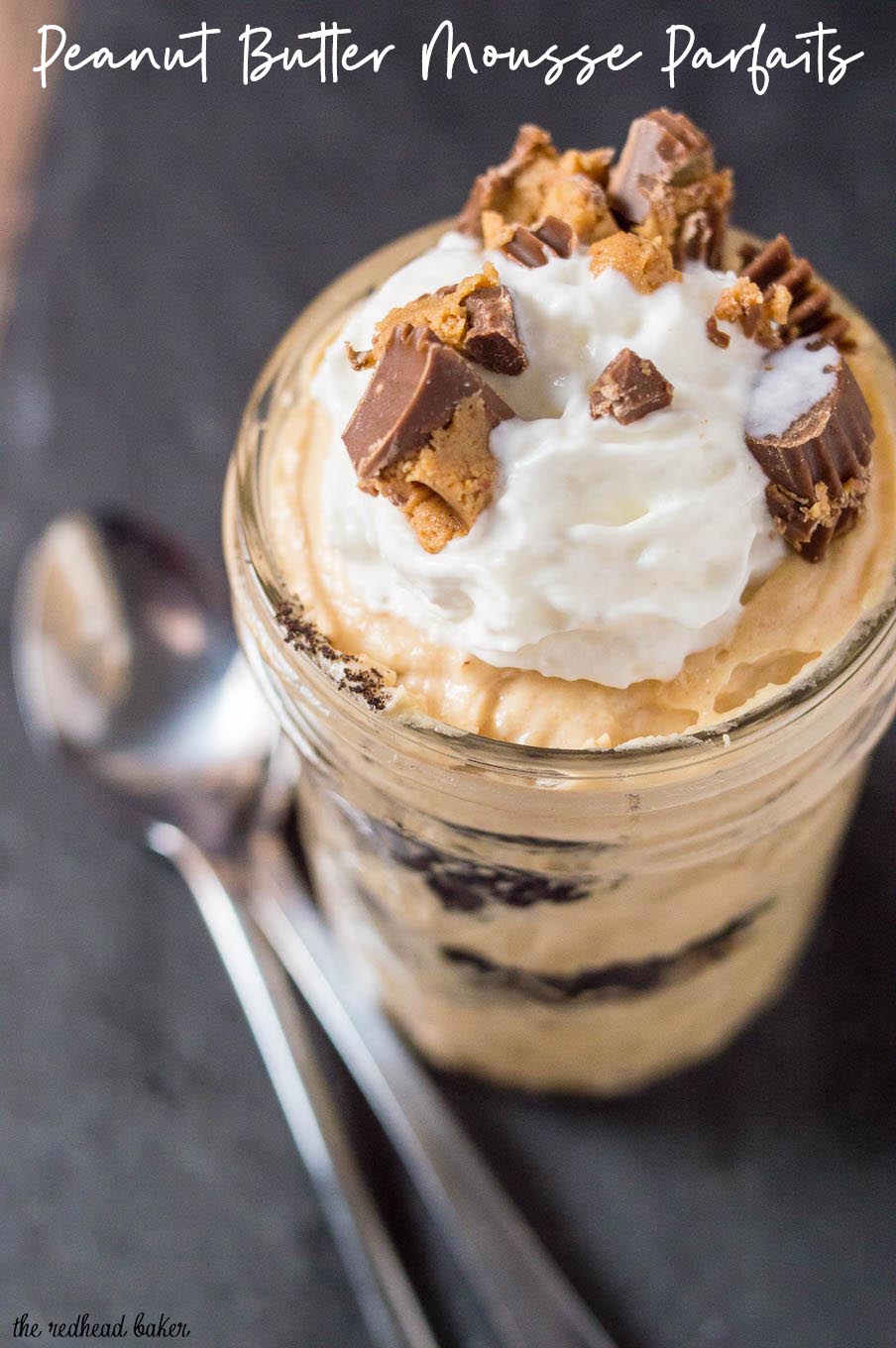 Products from Amazon.com
‹
›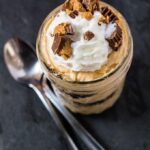 Peanut Butter Mousse Parfaits
Ingredients
1/2

cup

creamy peanut butter

1/2

cup

cream cheese, at room temperature

1/2

cup

confectioners sugar

1/2

tsp

vanilla extract

1/2

cup

heavy whipping cream, chilled

10

chocolate wafer cookies, crushed

3

Reese's peanut butter cup minis, chopped

Sweetened whipped cream, for garnish
Instructions
In a medium mixing bowl, beat together the peanut butter, cream cheese, confectioners sugar and vanilla extract. Set aside.

In a separate bowl, whip the heavy cream to medium- to stiff-peaks.

Transfer a quarter of the whipped cream to the peanut butter mixture and beat in until combined.

Transfer half of the remaining whipped cream to the peanut butter mixture and gently fold in. Repeat with the remaining half.

Spoon some of the peanut butter mousse into each of two 8-ounce mason jar, then layer on some of the chocolate cookie crumbs. Repeat with another layer of mousse, another layer of crumbs, and a final layer of mousse.

Cover with a layer of plastic wrap and chill until ready to serve. Just before serving, garnish each mason jar with sweetened whipped cream, and some chopped Reese's peanut butter cup minis.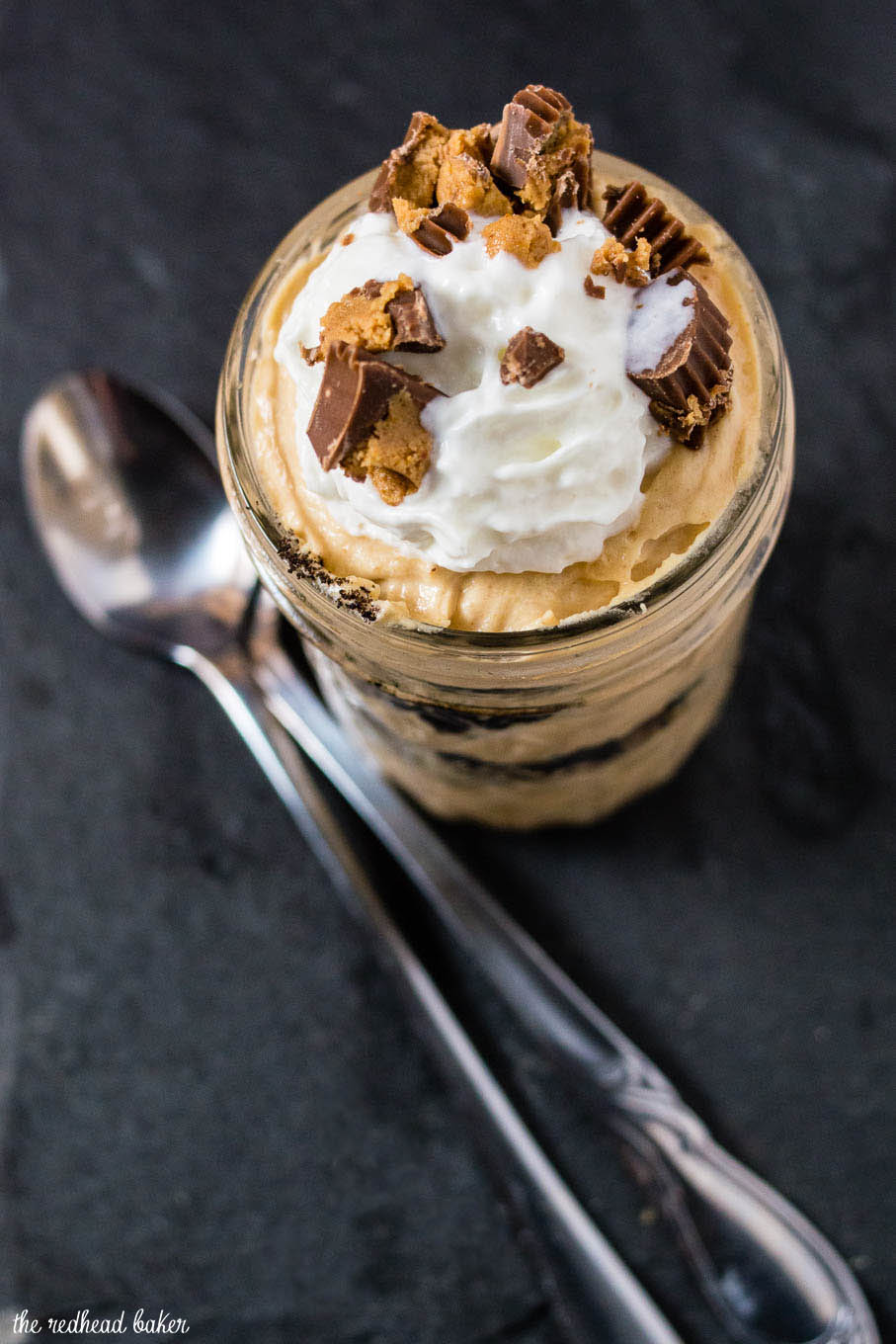 Discover more peanut butter recipes!