Port wine cream of mushroom soup is earthy yet elegant, satisfying comfort food. Serve with a crusty bread such as ciabatta for dipping.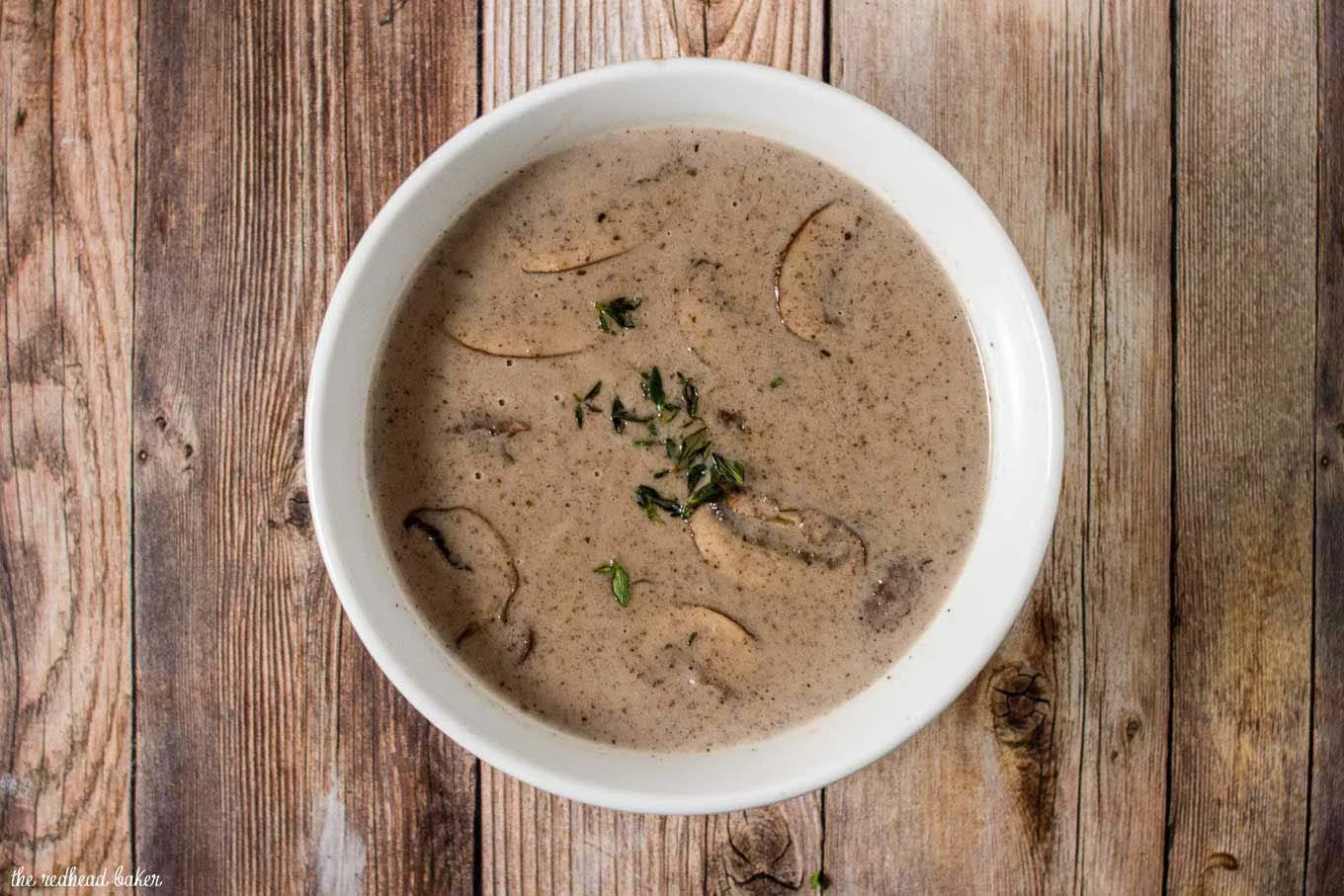 Winter may be my least favorite season, but there is at least one upside to it: it's soup weather. I love soup. I love dipping crusty bread in soup. It just warms me straight through.
I'm rather particular on when I will eat mushrooms. On pizza? Absolutely not. In a pan sauce served with steak? Depends on my mood. In soup? Always!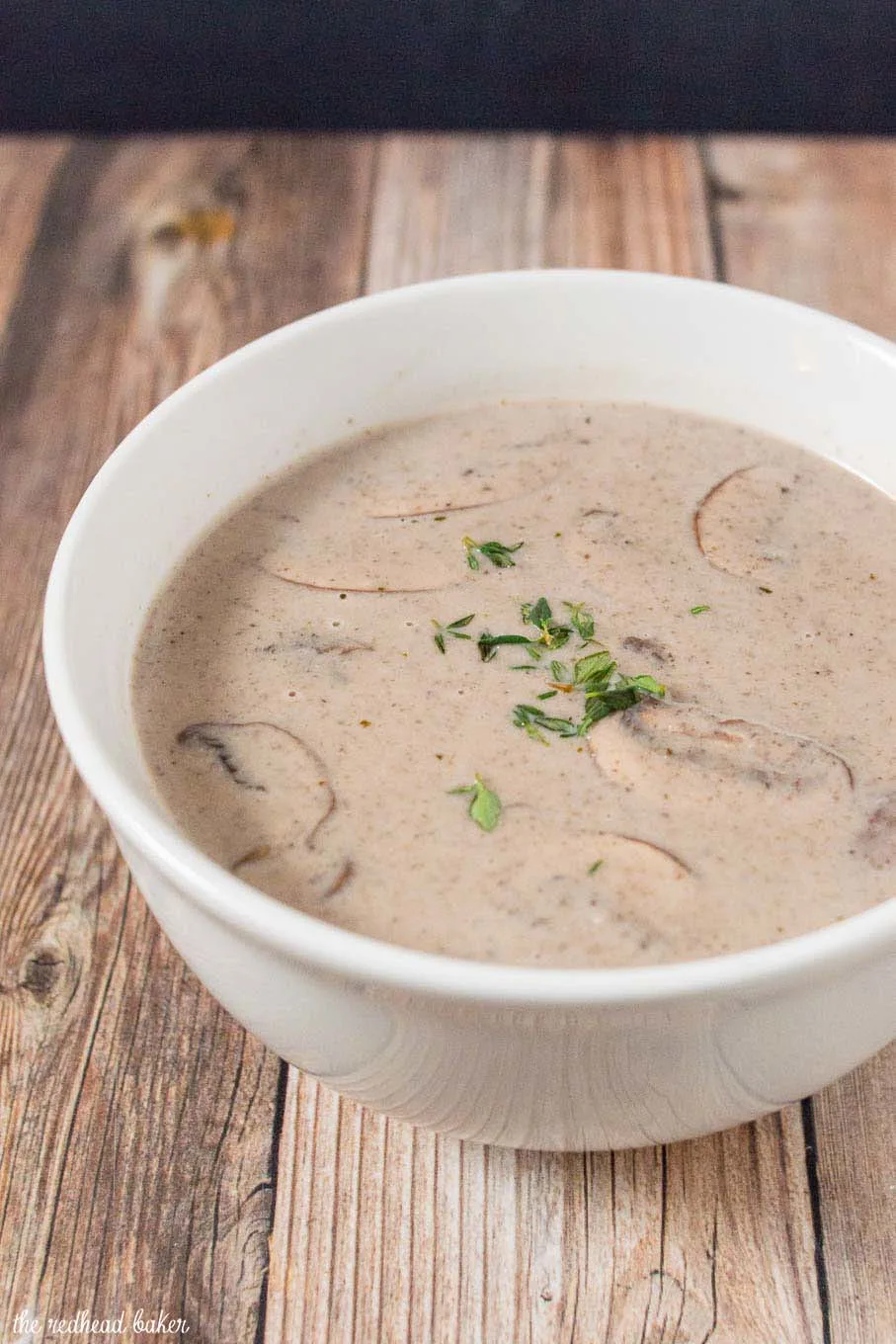 Now, I can't give you a reasonable explanation for my mushroom eating habits. I don't know why I think they're disgusting on pizza, but delicious in soup. I never claimed that I wasn't quirky.
The earthiness of the mushrooms in this soup are complemented by fresh thyme leaves and balanced with a cupful of tawny port wine. Port wine is a fortified red wine that is available in "ruby" or "tawny." Ruby port is younger; tawny port is aged longer and slightly sweeter.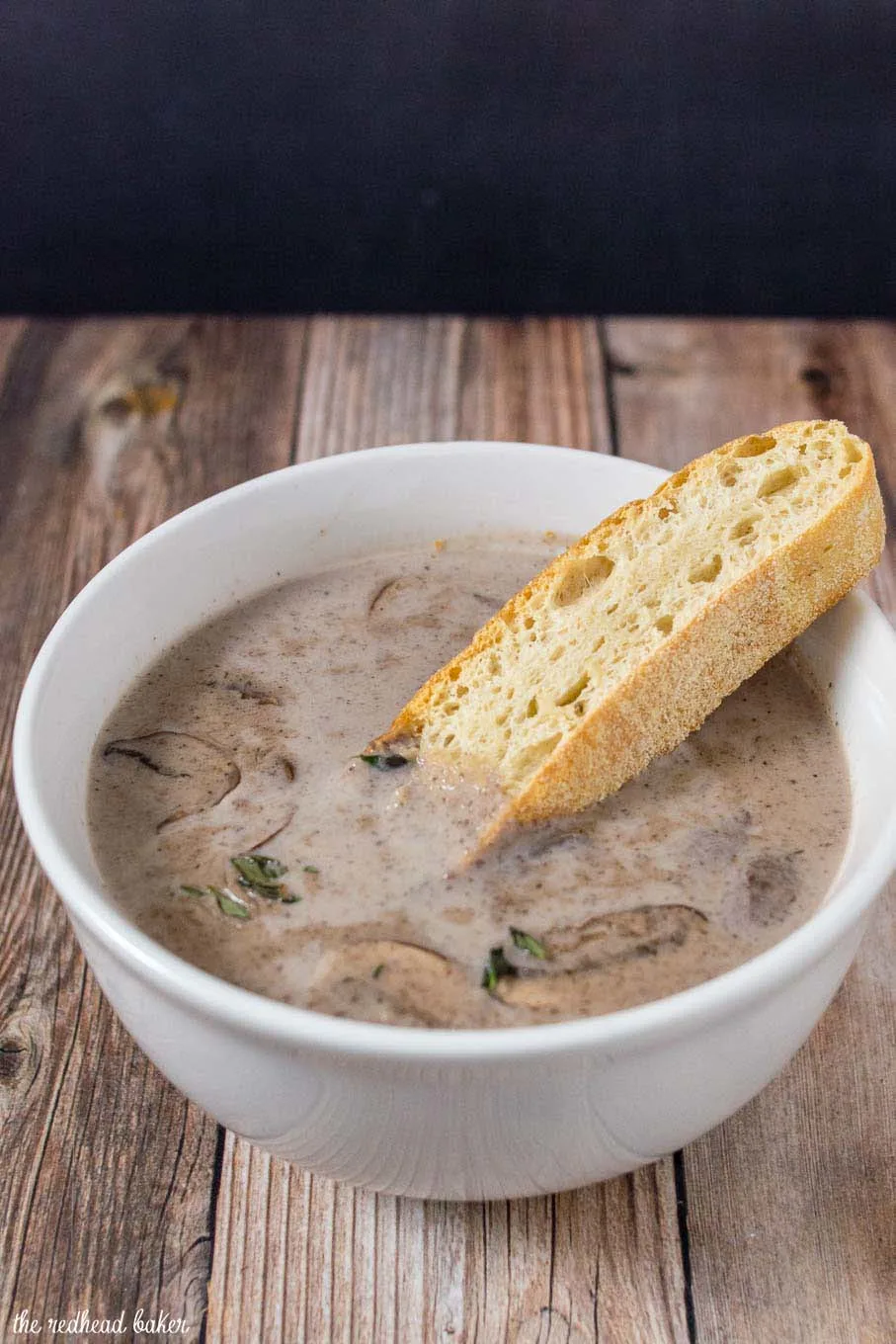 This soup can be served in a larger bowl with crusty bread and maybe a side salad as a main course, or in smaller bowls as an appetizer. If serving as an appetizer, I'd float a few homemade croutons on top instead of serving bread on the side.
Cream-based soups can lose their velvety texture once frozen and reheated, so I don't recommend freezing this soup.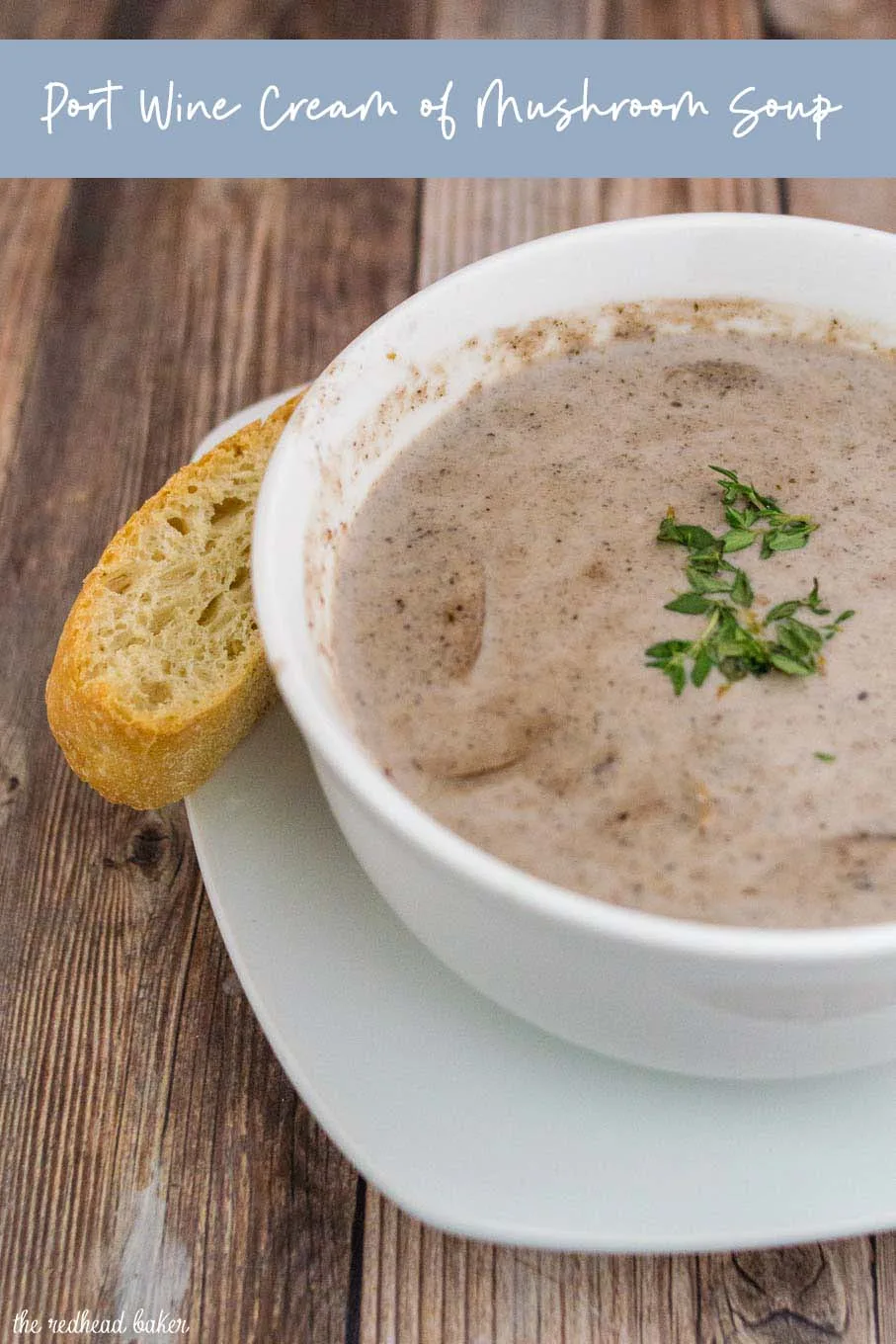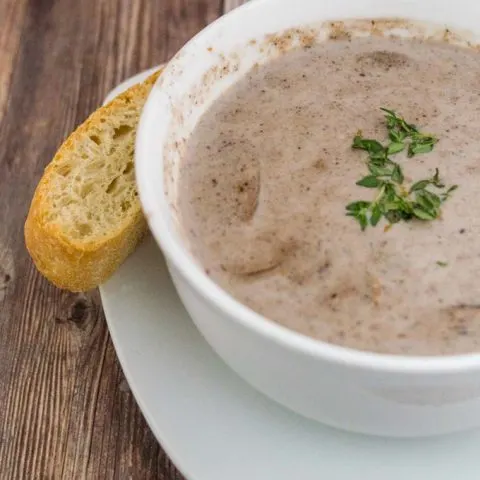 Port Wine Cream of Mushroom Soup
Total Time:
1 hour
10 minutes
Port wine cream of mushroom soup is earthy yet elegant, satisfying comfort food. Serve with a crusty bread such as ciabatta for dipping. This soup makes 4 main course servings or 8 appetizer servings.
Ingredients
¼ cup unsalted butter
1 lb cremini mushrooms, stems removed, divided, ¾ of them finely minced, ¼ of them sliced
2 shallots, finely chopped, about ½ cup
3 cloves garlic
1 tablespoon fresh thyme leaves, chopped
¼ cup all-purpose flour
1 cup tawny port wine
4 cups unsalted chicken stock
2 cups light cream
Freshly grated nutmeg
Kosher salt
Fresh cracked black pepper
Additional thyme leaves for garnish
Instructions
In a large sauce pot, over medium heat, melt the butter. Add the shallots and saute until translucent, about 5 minutes. Grate the garlic into the pot and cook for an additional minute. Stir in the diced mushrooms and thyme leaves and cook another 5 minutes.
Sprinkle the flour over the mushrooms, and stir continuously for about a minute. Pour the wine into the pot and stir for 1 minute, until the mixture is thick. Stir in 1 cup of the chicken stock. Remove the pot from the heat, and puree with an immersion blender. Return to the heat.
Stir in the remaining chicken stock and the sliced mushrooms. Bring to a boil, then reduce the heat and simmer for 10 minutes, stirring occasionally.
Add the heavy cream, nutmeg, salt, and pepper. Continue to simmer for 30 minutes, stirring occasionally.
Taste and adjust seasonings in necessary. Serve with crusty bread.
Nutrition Information:
Yield:

1
Serving Size:

serving
Amount Per Serving:
Calories:

610
Carbohydrates:

46g
Sugar:

9g
Protein:

16g
Adapted from Bobbi's Kozy Kitchen
Discover more delicious soup recipes!