Cannoli cream puffs are filled with the traditional Italian sweetened ricotta cheese mixture and mini chocolate chips. Dust with powdered sugar just before serving.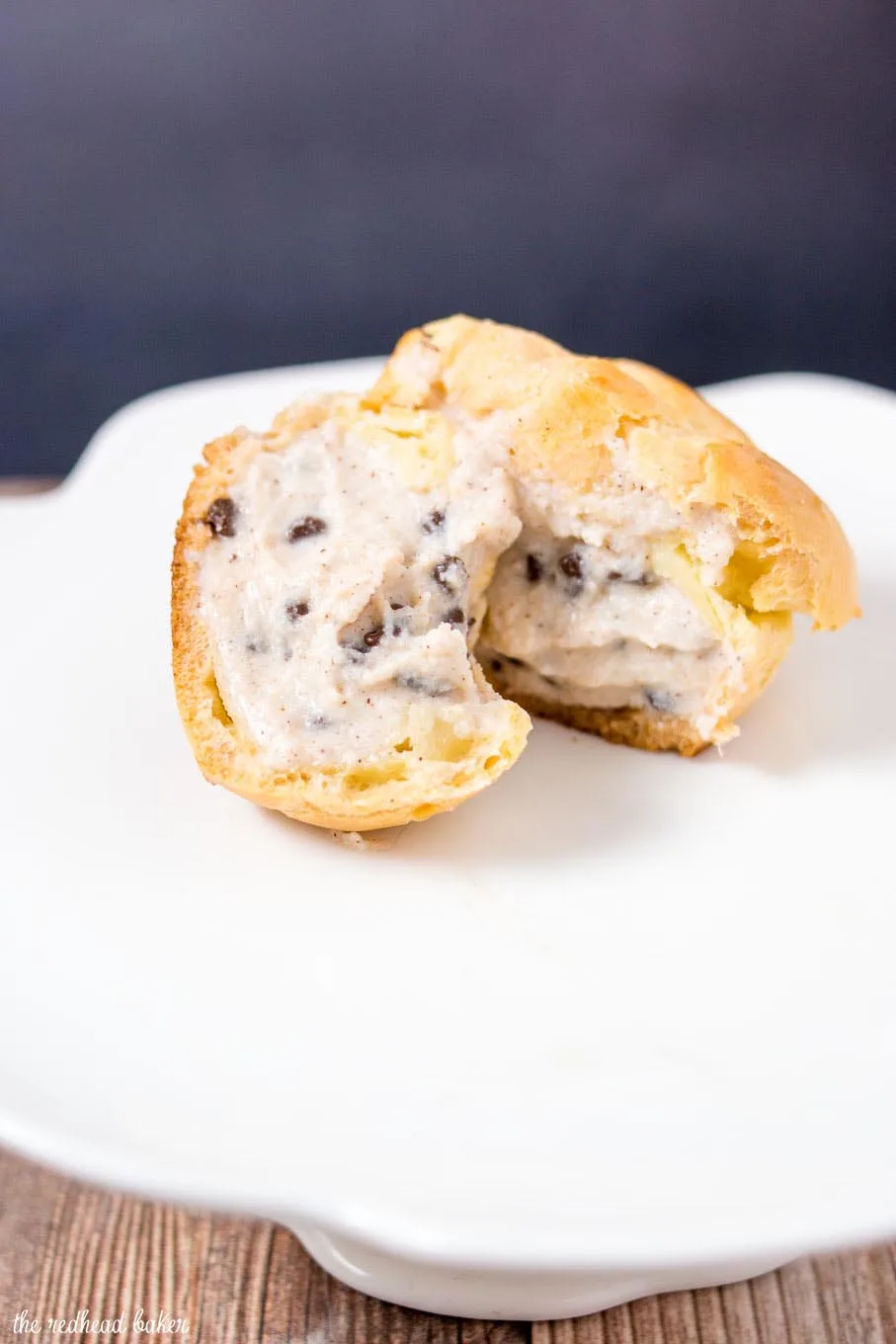 This is Baking Bloggers, a group that chooses a baked good and each participant posts a recipe of that baked item, putting their own spin or flavor into it. Our theme this month is choux pastry, and I made cannoli cream puffs.
First off, choux pastry (also known as pate a choux) is the pastry that makes cream puffs, eclairs, churros and more. The dough is quite basic, made of mostly just flour, butter, sugar, flour and eggs. When baked, the water evaporates and creates a hollow center, which can be filled with sweet or savory fillings.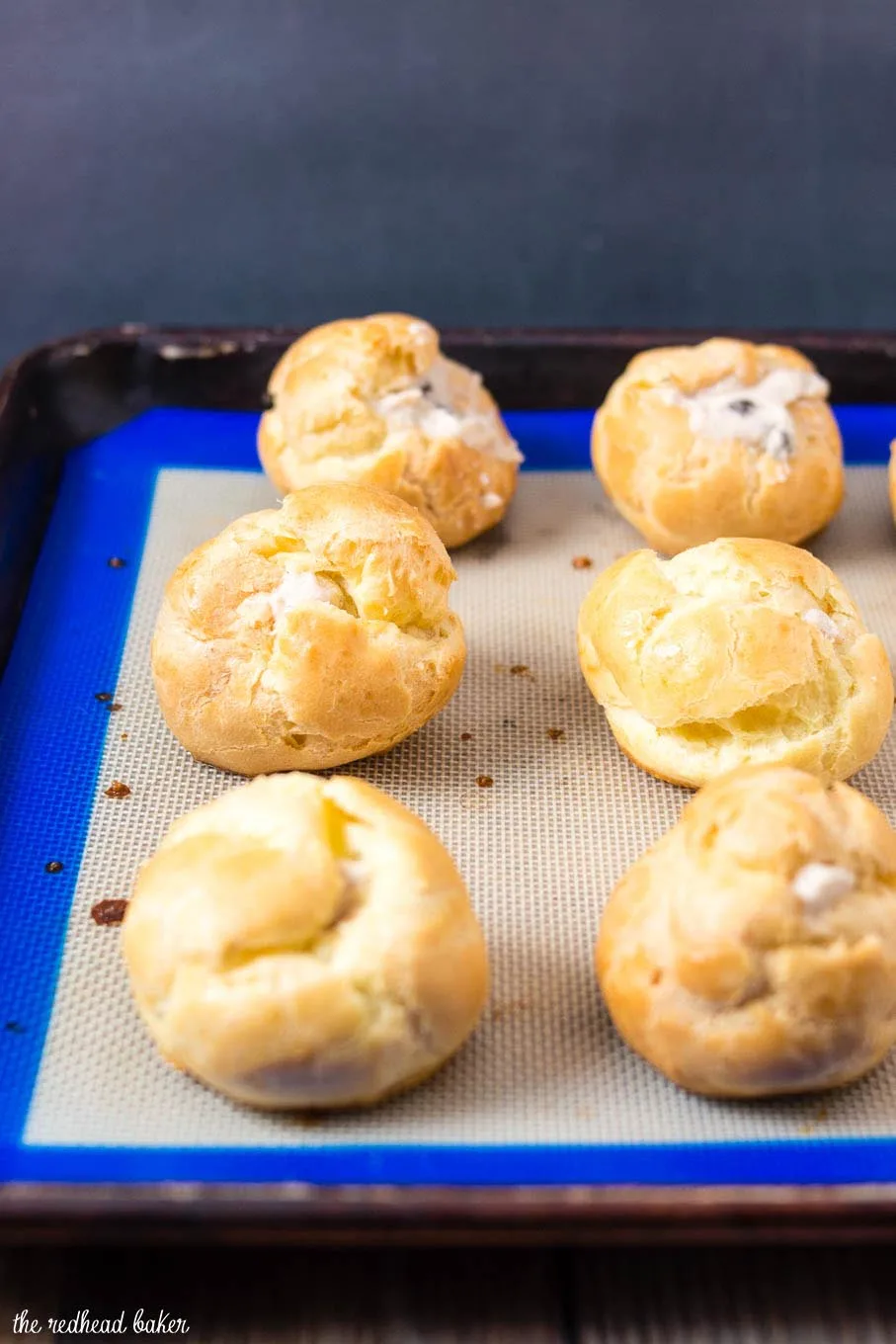 The traditional filling for cream puffs is either whipped cream, ice cream or pastry cream, topped with powdered sugar or a chocolate glaze called ganache. In a pinch, I've also filled my cream puffs with instant pudding.
Today's filling, however, is very nontraditional. These French cream puffs are filled with traditional Italian cannoli cream filling (so, in a way, they are traditional? Kinda?) of sweetened ricotta cheese flavored with cinnamon and lemon.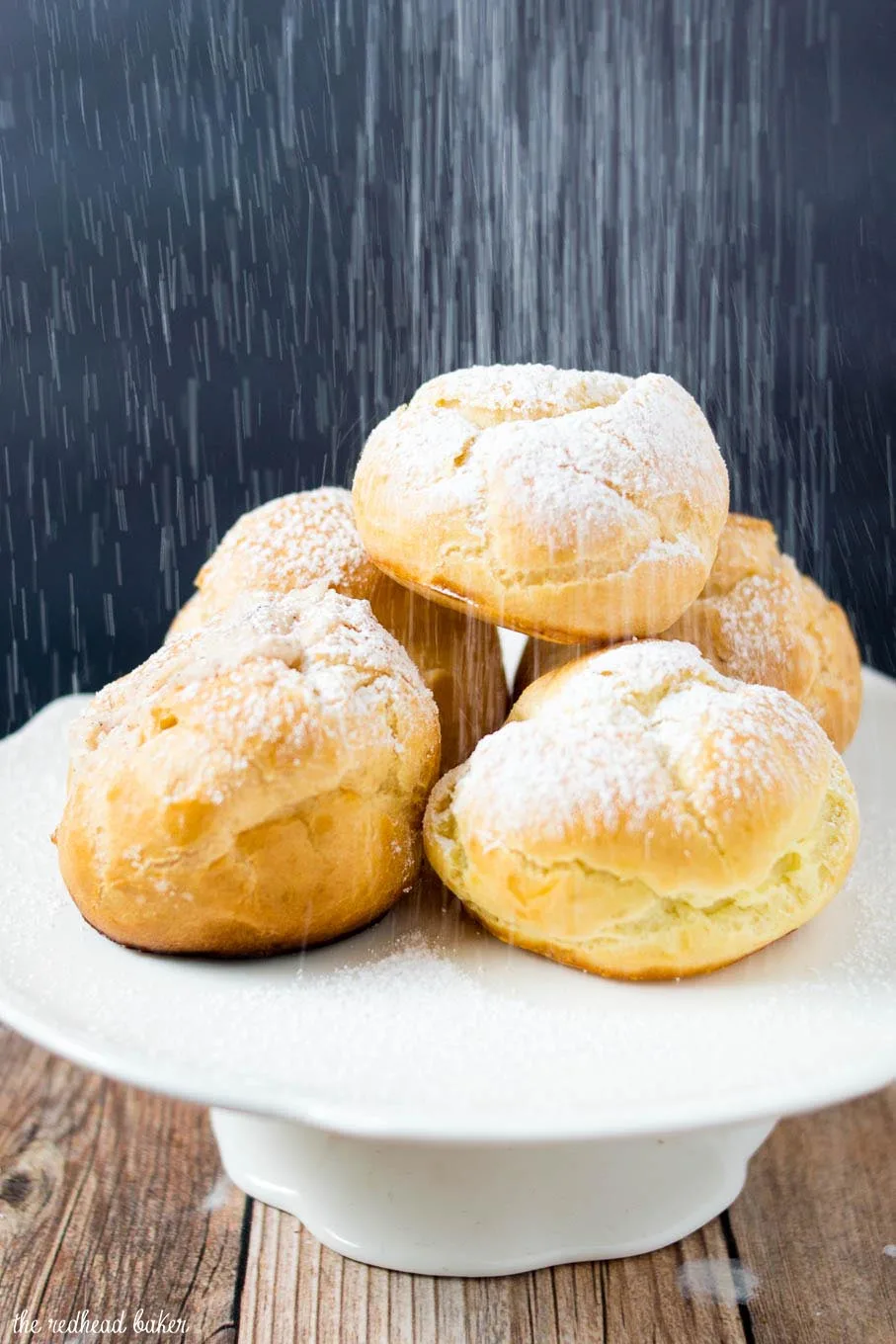 If you love cannolis, but have a hard time finding shells (or buy a box of shells only to find they are broken), give these cannoli cream puffs a try. Your friends and family will be so impressed that you made cream puffs! And they really aren't difficult.
The shells can be made a day ahead and stored in an airtight container or plastic bag at room temperature. They also freeze well, both filled and unfilled. Let them sit at room temperature for about 30 minutes (smaller cream puffs would need slightly less time) to thaw before topping and serving.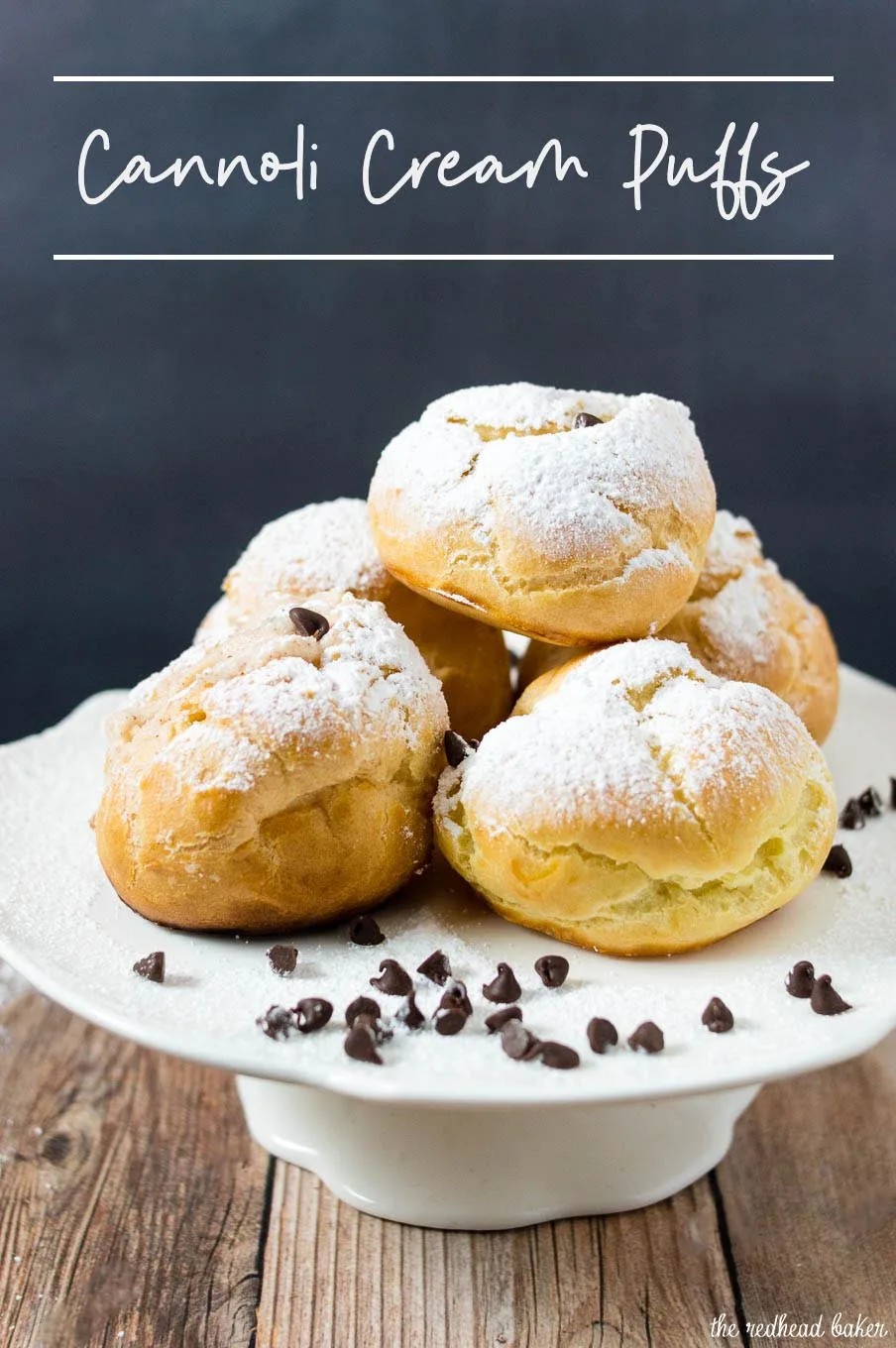 [amazon_link asins='B0000CDVD2,B008BUKO6G,B00Y5VO7F4,B00175TFJ4' template='ProductCarousel' store='theredheadbak-20' marketplace='US' link_id='b7b92db2-f41b-11e7-a722-d954e19208da']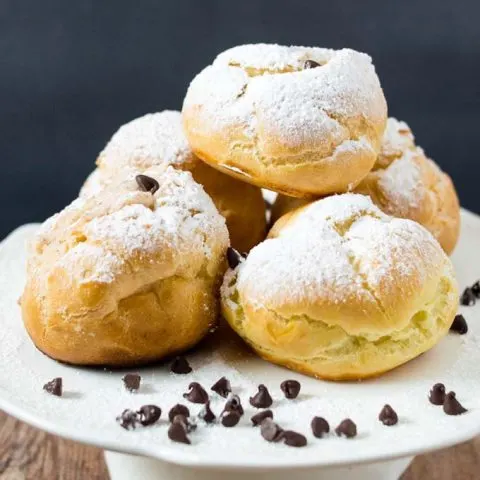 Cannoli Cream Puffs
Ingredients
For the cream puffs
1 cup water
6 tablespoon unsalted butter
1 tablespoon sugar
5 ¾ ounces bread flour 1 ¼ rounded cups
4 large eggs
2 egg whites
For the cannoli cream
1 cup whole milk ricotta cheese, squeezed of excess liquid
¼ cup powdered sugar
½ teaspoon ground cinnamon
⅛ teaspoon allspice
2 tablespoon cold heavy cream
2 tablespoon mini semisweet chocolate chips
Zest of half a lemon
Instructions
Make the cream puffs:
Preheat oven to 425 degrees.
Bring water, butter, and salt or sugar to a boil in a heavy-duty saucepan over high heat. Add flour and work mixture together until it forms a ball. Continue working the mixture in the pot, until most of the moisture is boiled out. Poke your finger in the dough. It should be shiny (from the butter), but not wet from water. The dough will start to leave a film on the bottom of the pan.
Transfer mixture into bowl of a standing mixer and let cool for 3 or 4 minutes.
With mixer on stir or lowest speed add eggs, 1 at a time, making sure the first egg is completely incorporated before continuing.
Once all eggs have been added and the mixture is smooth put dough into piping bag fitted with a plain round tip with a ½-inch opening.
Pipe dough into golfball-size rounds, 2 inches apart, onto parchment lined sheet pans, or scoop dough with a medium-size cookie scoop. (TIP: Pipe a small dollop of dough directly onto the cookie sheet in each corner, then place parchment on top — then the parchment won't lift off the cookie sheet when you pipe your cream puffs.)
Continue with the remaining dough. When finished, dip your finger in warm water, and gently press down on the tops of the cream puffs, to remove the "hat" that forms when you lift the pastry tip away from the piped cream puff.
Bake for 10 minutes, then turn the oven down to 350 degrees F and bake for 10 more minutes or until golden brown. Once they are removed from the oven, pierce with a paring knife immediately to release steam, and cool completely on a wire rack.
Make the cannoli cream filling:
In a medium bowl, whisk the ricotta until smooth. Sift in the powdered sugar, cinnamon and allspice. Mix to blend.
In a separate bowl (or in the bowl of an electric mixer fitted with the whisk attachment), beat the heavy cream until fairly stiff. Using a rubber spatula, gently fold the cream into the ricotta mixture.
Stir in the chocolate chips. Lightly zest the exterior of the lemon and stir it into the ricotta.
Assemble the cream puffs:
Poke a hole in each cream puff. Fill a piping bag halfway with the cannoli filling. Snip off the tip of the bag, just large enough to allow the mini chocolate chips to pass through.
Insert the tip of the bag into each cream puff, and fill with cannoli cream.
Refrigerate until ready to serve. Just before serving, dust with powdered sugar.
See more #BakingBloggers Choux Pastry Recipes