American Beer Day is Sunday, October 27th, celebrating all kinds of American-brewed beer. To celebrate, some fellow bloggers and I are cooking and baking with beer all this week! Five days of recipes that include beer.
I'm kicking things off with a cookie recipe that includes pumpkin beer. It's a soft cookie, much like a snickerdoodle, so be careful, because they will break easily.
You'll get the most pumpkin flavor if you use a pumpkin ale that, well, tastes like pumpkin, like Lakefront Pumpkin Lager, Weyerbacher Imperial Pumpkin, Saranac Pumpkin Ale. I used Smuttynose Pumpkin Ale, which has a strong pumpkin flavor as well.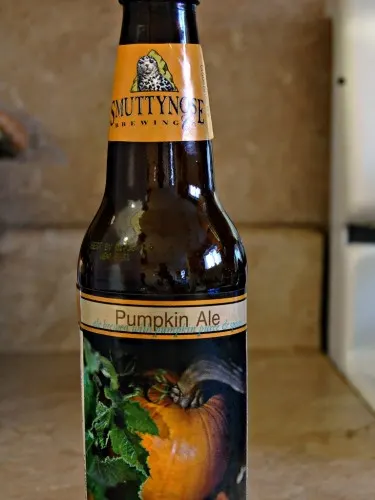 These cookies are addicting. Do yourself a favor, and eat one straight out of the oven. OK, give it a couple of seconds to cool off, but seriously, it one while it's still warm.
I love the chewy texture and almost slightly savory undertones in the flavor! And since I replaced half of the butter from the original recipe with pumpkin puree, I can call them healthy ... right? OK, healthier.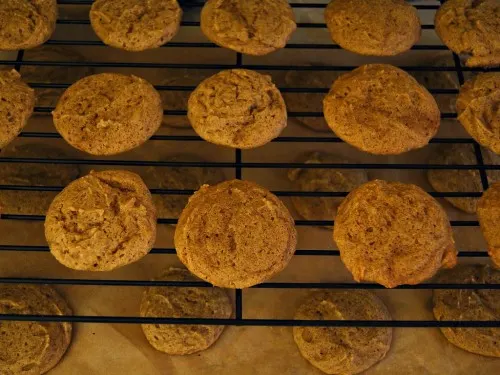 Pumpkin Beer Cookies
Adapted from The Beeroness
Ingredients
6 tablespoon (3 oz) unsalted butter, softened
6 tablespoon (3 ½ oz) pumpkin puree
1 ¼ cups (9 ⅜ oz) light brown sugar
1 large egg yolk
½ teaspoon vanilla extract
⅓ cup pumpkin beer
1 ¼ cups (5 ⅜ oz) all-purpose flour
1 cup (4 ¼ oz) bread flour
1 ¼ teaspoon baking soda
1 teaspoon baking powder
½ teaspoon salt
1 teaspoon cornstarch
1 teaspoon cinnamon
Directions
In the bowl of a stand mixer, cream together the butter, pumpkin puree and brown sugar. Mix on medium-high until well-mixed.
Add the egg yolk and the vanilla, beat on medium speed until light and fluffy.
Add the beer, beat on low until mixed in, then on medium until well combined.
In a small mixing bowl, whisk together both the all-purpose and bread flours, the baking soda, baking powder, salt, cornstarch and cinnamon until evenly distributed and aerated.
Add one third of the dry mixture to the dough, and mix on low. When the flour mixture is almost incorporated, add another third of the dry ingredients. Mix on low until almost incorporated. Add the remaining third of dry ingredients and mix just until fully incorporated.
Using a scoop, portion out balls of dough slightly larger than the size of a walnut onto parchment-lined baking sheets.
Place the baking sheets of cookie dough in the fridge to chill for at least 20 minutes.
Preheat your oven to 325 degrees.
Bake for 12-14 minutes, rotating the pans front to back and top to bottom halfway through, until the edges just start to turn golden brown.
Remove the pans from the oven and Immediately pull the parchment paper onto the counter or a wire rack and allow the cookies to cool to room temperature.
Number of servings (yield): 36 cookies