So, did you enjoy the Pepper Party? I enjoyed finding so many new ways to cook with bell peppers!
Our family also enjoyed an extended Columbus Day weekend. I had an "early out" from work on Friday (I got out at 2 p.m. instead of 5 p.m.), and had Monday off. We visited with family on Saturday, and had a great time at the Philadelphia Zoo for "Beast Feast" on Sunday. We got to watch a jaguar play with a pumpkin! We also saw two tigers playing together, and got a really up close and personal look at the polar bear swimming in his pool.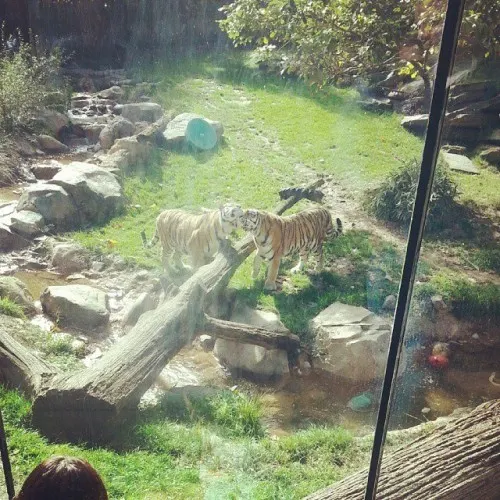 Check out my Instagram feed for more photos.
Speaking of work, it's been crazy busy the past month. I would normally check out a few posts on my blog reader on my down time and read the rest at home after Liam went to bed. But I've had no down time, and was even working through my lunch hour. I finally logged into Feedly, and where it used to tell me the number of unread posts, I just had a little dot — which meant I had more than 999 unread posts waiting for me. YIKES! I'm down to just under 400 now.
And speaking of blog posts, I've been seeing quite a few in my blog reader that combine the flavors of pumpkin and cranberry. It sounded odd at first, but after thinking about it for a few minutes, it made sense.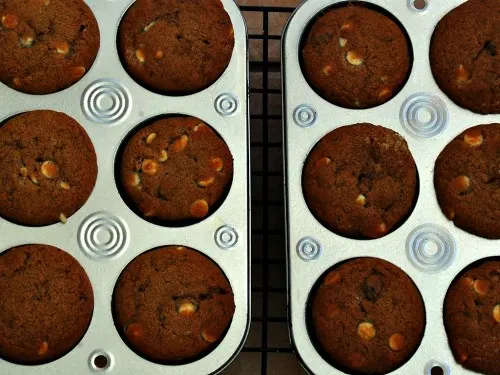 I had already planned to make pumpkin muffins, so I decided to add some dried cranberries to them. And white chocolate chips. Because chocolate. Any breakfast pastry can only be improved by the addition of chocolate. (Yes, I'm aware white chocolate isn't REALLY chocolate.)
The original recipe called for a baking time of 18 to 22 minutes. I don't know if my oven runs cooler, or my muffins were larger, but these took 30 minutes to bake. So, set your timer for 18 minutes, then add more time if needed. And don't do what I did the first time around and use the timing instructions intended for baking this recipe as a loaf, otherwise, you will have rather inedible burnt-black muffins. Not tasty.,
Baked correctly (in my case, on the second attempt), these muffins are dense and moist, and sweet with a warm spicy pumpkin flavor. They can be stored at room temperature sealed in an airtight container, or frozen for longer storage.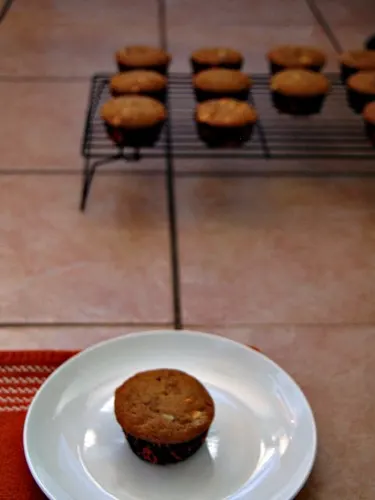 Pumpkin Cranberry White Chocolate Muffins
Slightly adapted from Joy of Baking
Ingredients
1 ½ cups (6 ⅜ ounces) all-purpose flour
1 teaspoon baking soda
1 teaspoon ground cinnamon
¼ teaspoon ground ginger
¼ teaspoon ground cloves
¼ teaspoon ground nutmeg
½ teaspoon salt
½ cup (1 stick) unsalted butter at room temperature
1 cup (7 ounces) sugar
2 large eggs
1 teaspoon vanilla extract
¾ cup (7 ⅛ ounces) pumpkin puree
1 cup (6 ounces) white chocolate chips
½ cup (2 ounces) dried cranberries
Directions
Preheat your oven to 350 degrees and line a 12-cup muffin tin with paper liners.
In a bowl, whisk together the flour, baking soda, spices and salt until evenly distributed.
In the bowl of a stand mixer, cream together the butter and sugar until fluffy and light in color.
Add in the eggs one at a time, beating well and scraping down the sides and bottom of the bowl between additions. Beat in the vanilla.
Stop the mixer. Add one-third of the flour mixture to the bowl, and stir in on low speed. Just before it's fully incorporated, add half of the pumpkin puree. Stir on low just until incorporated. Add another third of the flour, then stir on low. Add the remaining half of the pumpkin. Add the final third of flour and stir just until incorporated.
Add the white chocolate chips and cranberries and stir just until evenly distributed.
Divide the batter evenly among the paper liners, filling each ¾ full (or with 3 ounces of batter, if going by weight).
Bake until firm to the touch, or a toothpick inserted in the center of a muffin comes out clean (check after 18 minutes, continue baking if needed).
Remove from the oven and set the muffin tins on a wire rack, let the muffins cool for 5 minutes. Then remove the muffins from the tin and continue to cool to room temperature on the rack.
Preparation time: 10 minute(s)
Cooking time: 20 minute(s)
Number of servings (yield): 12