The first guest post for American Beer Week is fellow Philadelphian, Aly from Cooking in Stilettos. If that blog name sounds familiar, she was also a part of the recent Pepper Party. I originally found her blog through The Great Food Blogger Cookie Swap, and I love her style of writing and her recipes.
If you like the recipe below, go follow Aly's blog! You can find her on Facebook, Pinterest, Twitter and Instagram.
One thing I look forward to every fall is the pumpkin ale that hits the store shelves and taps here in Philly. In speaking with my favorite beer expert at Whole Foods in Plymouth Meeting, he steered me towards this Southampton Pumpkin Ale and it is divine. However, it's too good to not share in one of my favorite ways to cook with short ribs – braising them in my favorite beer. I find that the beer adds a bit of earthy flavor that is totally different than the typical flavors present in a braised short rib.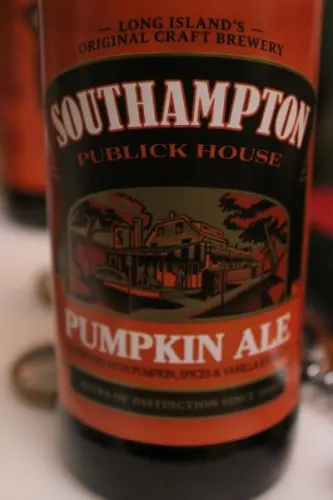 These short ribs are so packed with flavor due to the melding of the the beer and spices and the deep flavor of the molasses. To add an extra flavor punch, I let the braising liquid reduce a bit the last 30 minutes or so with the cover ajar so the braising liquid becomes a bit syrupy – perfect for drizzling over the perfect cheddar polenta.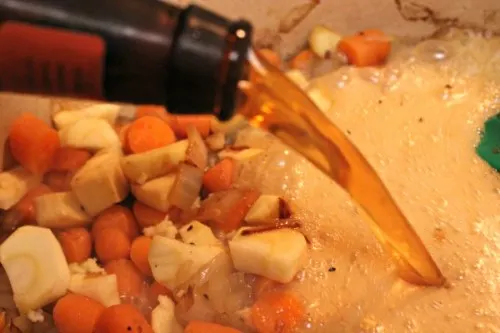 Next time you have a great beer you want to spotlight, why not try it with these rich and hearty short ribs!
Harvest Pumpkin Ale Short Ribs
Recipe by Cooking in Stilettos
Ingredients
Olive oil
6-8 short ribs
1 onion, diced
2 cloves garlic, minced
3 carrots, diced
2 parsnips, diced
2 bottles of your favorite Pumpkin Ale
¼ cup apple cider vinegar
2 tablespoons of molasses
2 teaspoons of ground allspice
1 teaspoon of ground nutmeg
⅛ teaspoon of ground cloves
½ teaspoon of ground pepper
¼ teaspoon of red pepper flakes
Salt and Pepper
Directions
Season the short ribs with salt and pepper.
In a large Dutch oven, heat the oil over medium high heat. Add the short ribs in batches and brown on all sides.
Remove to a plate and remove any excess oil.
Add the diced onion and sauté for about 5 minutes or so.
Add the minced garlic and sauté for a minute more.
Add the carrots and parsnips and let them cook for a bit.
Deglaze the pan with one of the bottles of beer, taking care to scrape up any brown bits on the bottom of the pan.
Add the remaining beer, apple cider vinegar, and molasses and stir.
Add the ground allspice, nutmeg, cloves, pepper and red pepper flakes. Stir again and bring the mixture to a simmer.
Return the short ribs to the pan and nestle them in among the vegetables.
Cover, reduce the heat to low and let braise for about 2 hours.
If you want to reduce the liquid – for the last half hour or so, move the lid slightly ajar.
Serve the short ribs over polenta or mashed potatoes with a bit of the luscious braising liquid and veggies.
Enjoy!
Many thanks to Coleen for letting me get into the kitchen and experiment with two of my favorite ingredients and learn that beer and short ribs are, indeed, a perfect combination.