Even novices at breadmaking will be able to make this easy pumpkin-cranberry yeast bread. It's not too sweet, so it's delicious as bread for ham sandwiches, and also delicious toasted with a spread of creamy butter.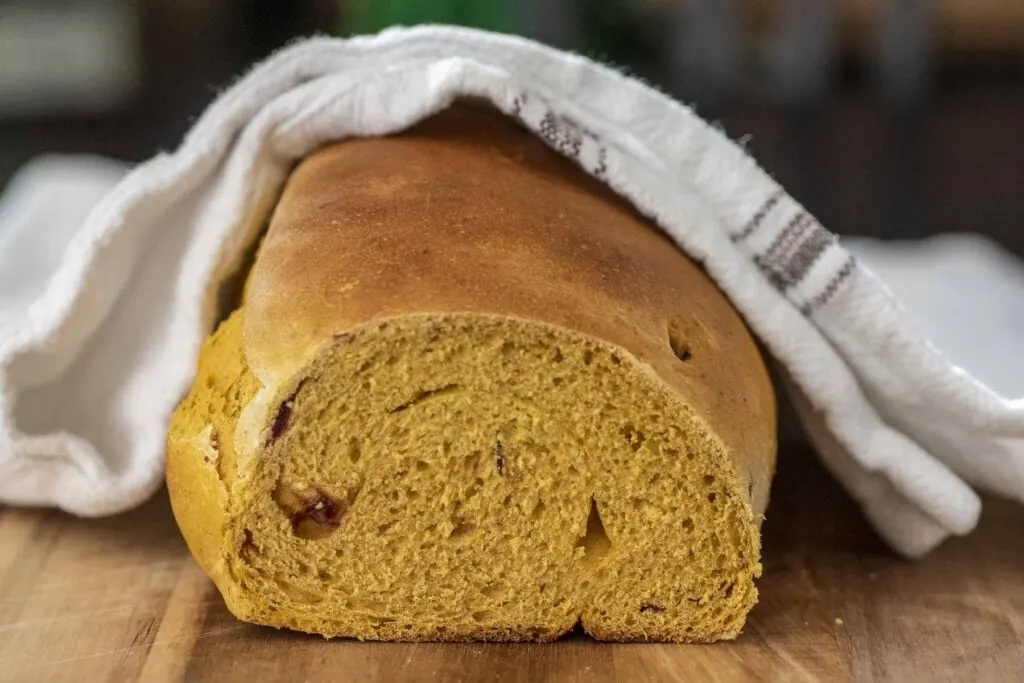 Pumpkin season is in full swing. I've got my pumpkin beer, my pumpkin coffee creamer, and this delicious pumpkin-cranberry yeast bread. It's slightly different and less sweet than pumpkin cinnamon raisin bread.
This is such a versatile bread dough. Bake it as a loaf and slice it for sandwiches (yes, really! Try it with ham.) or toast. Or, divide the dough and make them rolls for your Thanksgiving table.
Jump to:
Ingredients
The basics of any bread recipe are flour, salt, water and yeast. This bread also contains milk and egg to make it tender, and oil to make it easier to slice, as well as pumpkin and spices. Dried cranberries add little bursts of sweetness.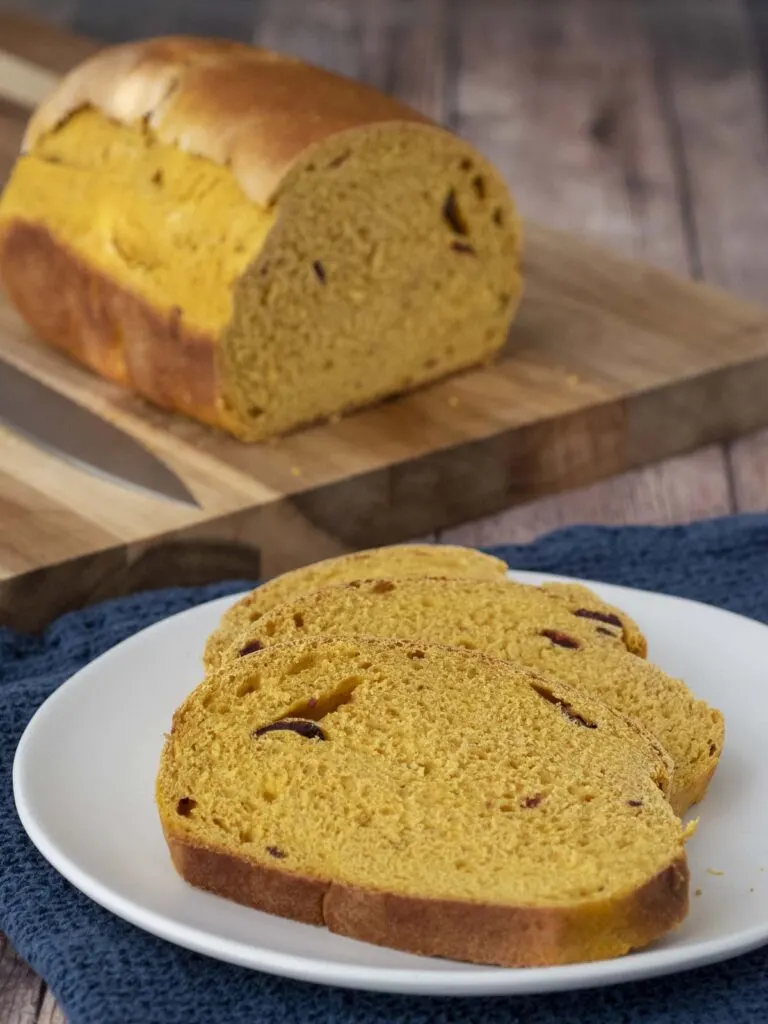 Flour: this bread uses all-purpose flour.
Yeast: instant yeast or active dry yeast. Most packets of yeast contain 2 ¼ teaspoons, so you'll need a little extra from a second packet to make this bread.
Milk: you can use whole or reduced fat. I don't recommend using fat-free. I haven't tried non-dairy milks in this recipe and can't comment on whether they would work.
Pumpkin: I used canned pumpkin puree. You can use homemade, but I'd recommend taking the time to squeeze out extra moisture before using it in this recipe.
Pumpkin pie spice: if you don't have this spice blend on hand, use ¼ teaspoon of cinnamon, ⅛ teaspoon of nutmeg and ⅛ teaspoon of cloves.
See recipe card for quantities.
How to Shape a Loaf of Bread
Once your dough has been kneaded and proofed (for tips on that, see my Italian bread recipe), then it's time to shape it into a loaf. First, deflate the dough by pressing it with your fingers. Then, on a clean, flat surface, press it into a rough rectangle.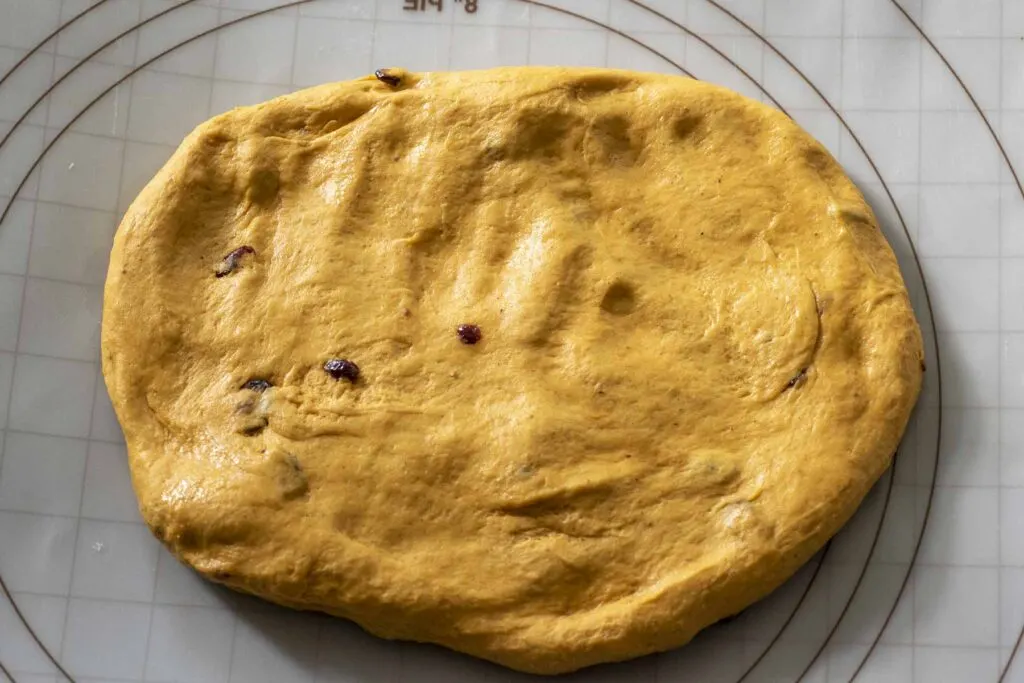 Fold about a third of the dough from the left in towards the middle and pinch it down with the heel of your hand.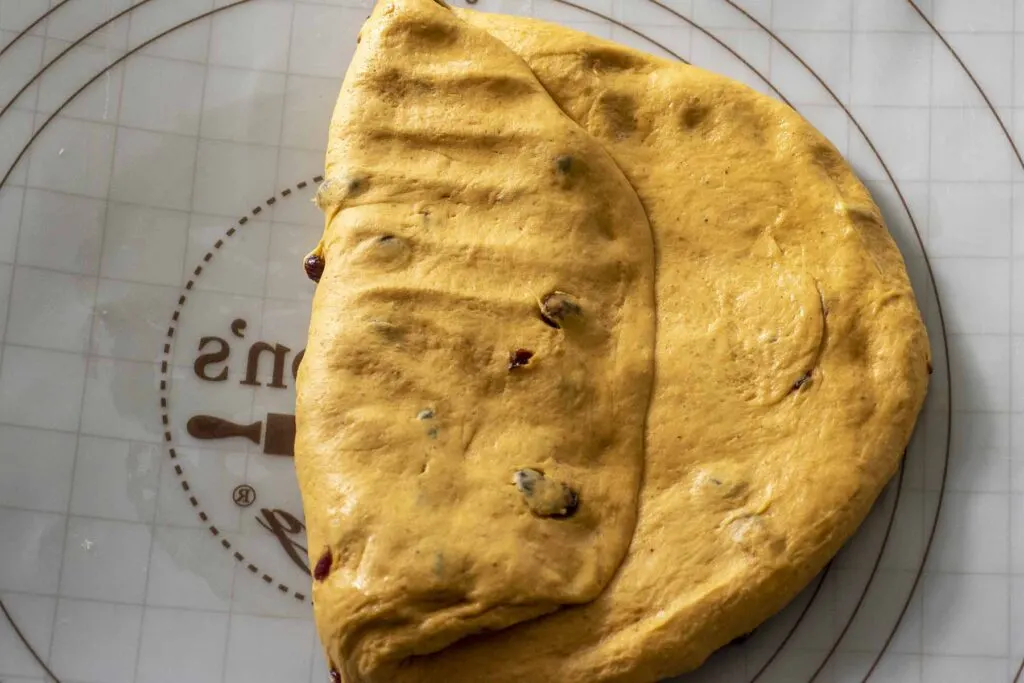 Next, pull in the upper and lower left corners, and pinch them at the middle with the heel of your hand.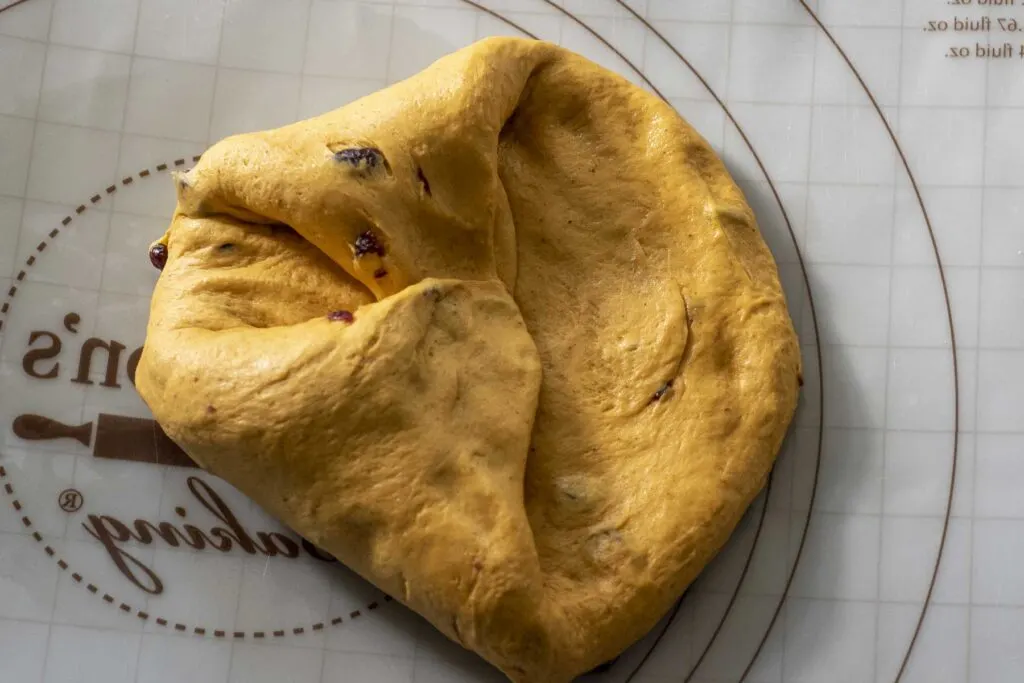 Fold the left side of the dough in to about 1 inch of the right edge and pinch down with the heel of your hand.
Roll the dough to the right so that the seam is on the bottom.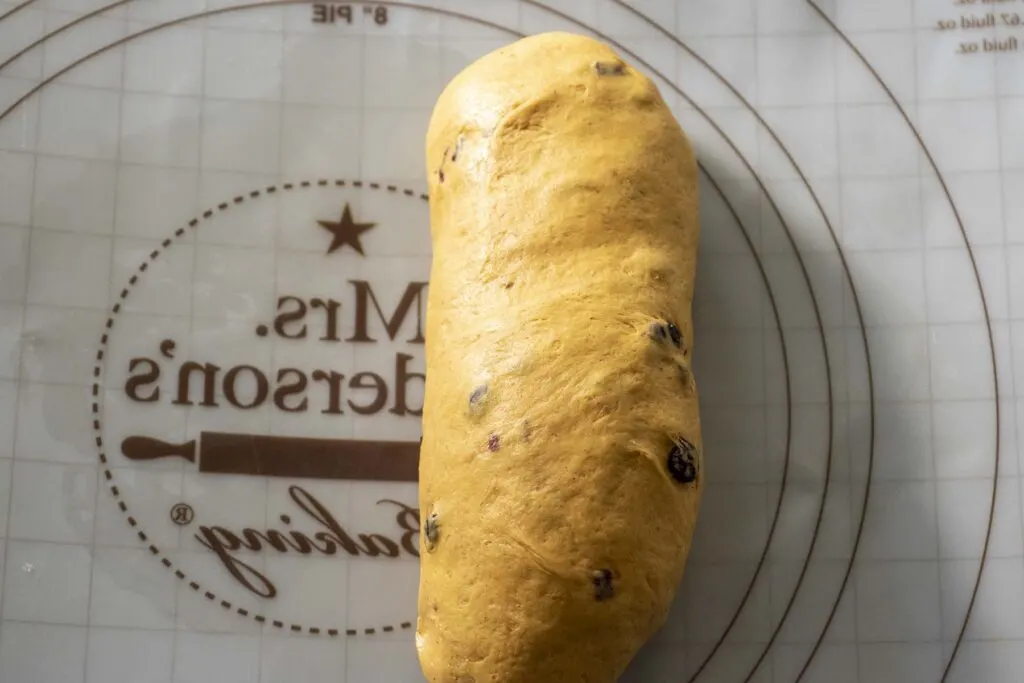 Place the dough in a greased 9-inch by 5-inch loaf pan.
Variations
To make pumpkin cranberry yeast rolls, once the dough has finished the first proof, divide it into 24 equal pieces.
To shape rolls, flatten each piece of dough, and pull the edges in toward the center and pinch them together. Turn the dough ball over and cup your hand over top. Move the dough ball in tight circles to roll the dough into a tight ball.
Place them on a parchment-lined sheet pan or in a greased 9-inch cake pan (you'd likely need 3 to 4 cake pans), and proof as directed for the loaf. Bake at the same temperature, for about 20 minutes.
Equipment
Not much equipment is needed to make this pumpkin cranberry yeast bread! I used my KitchenAid mixer with dough hook to make the dough. The recipe was slightly adapted from a King Arthur Baking recipe, which states that you can use a bread maker to knead the dough.
Some extras that are nice to have but not necessary are a dough scraper (makes it easier to get the dough out of the mixer), a bread proofing box (makes it easier to see when your dough has doubled), and a pastry mat for easy shaping and easy cleanup.
For slicing, use a serrated bread knife.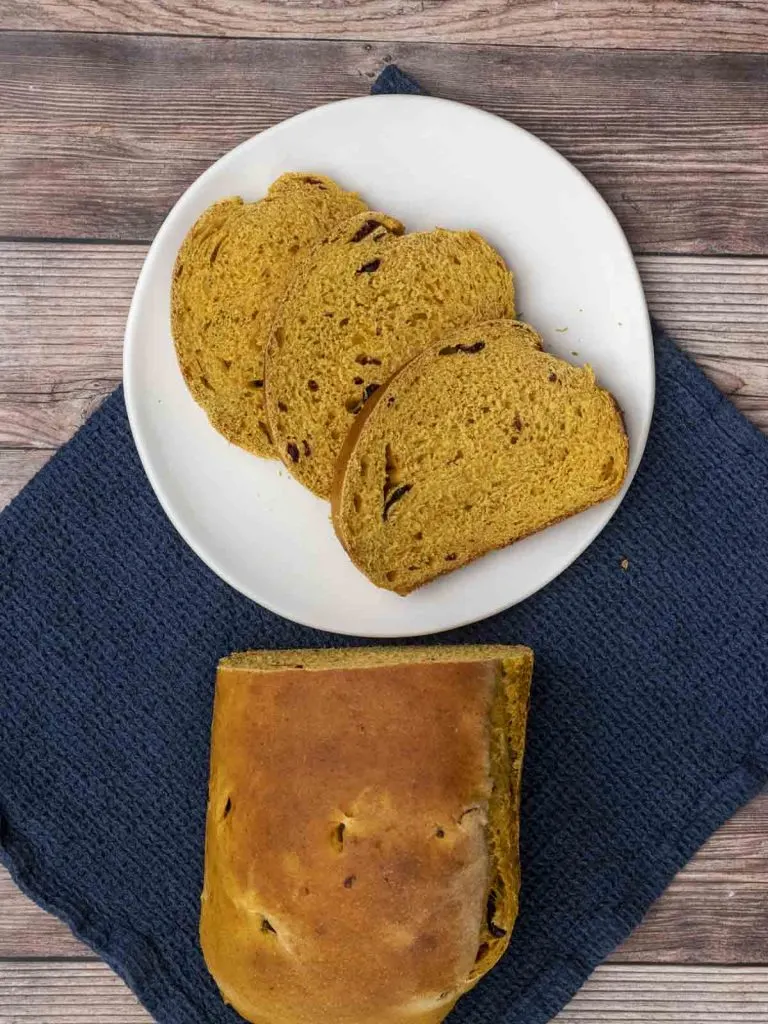 Storage
Store the bread tightly wrapped at room temperature for several days. I like to use leftover bags from empty store-bough bread or bagels.
The baked and cooled bread can also be wrapped in two layers of plastic wrap and stored in the freezer for three months.
Top tips
Weigh your ingredients. I say this in almost every recipe, but weighing is so much more accurate than measuring by volume, and can especially make a difference in bread baking.
Ensure no cranberries are poking through the top of the dough. Push any cranberries on the top of your loaf under the surface before baking so that they don't burn. Pinch the dough together over top of them.
Increase the spices, maybe. The spice in this bread is very subtle, which is nice for sandwich bread. If you don't intend to use it for sandwiches, you might want to double the amount of pumpkin pie spice in the recipe.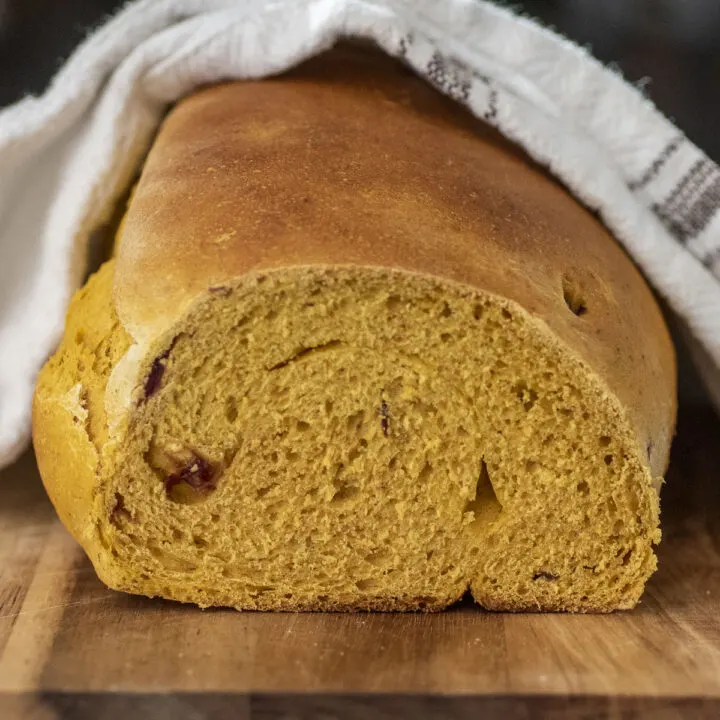 Pumpkin Cranberry Yeast Bread
Yield:
1 loaf or 24 rolls
Proofing Time:
1 hour
45 minutes
Total Time:
2 hours
40 minutes
Even novices to breadmaking will be able to make this easy loaf of pumpkin-cranberry yeast bread. This recipe can also be made into rolls.
Ingredients
1 tablespoon instant or active dry yeast
¼ cup lukewarm milk
1 large egg
¾ cup (170 g) pumpkin purée
1 tablespoon vegetable oil
3 ¼ cups (390 g) all-purpose flour
¼ cup (53 g) brown sugar
1 ¼ teaspoons salt
½ teaspoon pumpkin pie spice
¼ cup dried cranberries
Instructions
Combine all of the ingredients except cranberries in a large bowl, and mix and knead — by hand, using a mixer, or in a bread machine set on the dough cycle — to make a smooth, soft dough (about ten minutes on low speed with a mixer and the dough hook). Add the cranberries during the last minute of kneading.
Put the dough into a lightly greased bowl. Cover and let it rise until doubled, about 60 to 75 minutes (or cover with plastic wrap and let rise in the fridge overnight).
Gently deflate the dough, and turn it out onto a lightly oiled work surface.
Shape into a loaf, and place in lightly greased 9" x 5" loaf pan, making sure no cranberries are poking through the surface of the dough. If making rolls, shape into 24 rolls, and place into four greased 8-inch round pans.
Cover the pan(s) and let the loaf/rolls rise until almost doubled, about 45 minutes. Toward the end of the rising time, preheat the oven to 350°F.
Bake the bread for 30 to 35 minutes, or until its crust is a deep golden brown, and a digital thermometer inserted into the center registers about 190°F. Bake the rolls for about 20 minutes, until golden brown.
Remove the bread from the oven, and turn it out onto a rack to cool. Store completely cool bread or rolls well-wrapped, at room temperature, for several days; freeze for longer storage.
Recommended Products
As an Amazon Associate and member of other affiliate programs, I earn a small percentage from qualifying purchases.
Nutrition Information:
Yield:

24
Serving Size:

1
Amount Per Serving:
Calories:

78
Total Fat:

1g
Saturated Fat:

0g
Trans Fat:

0g
Unsaturated Fat:

1g
Cholesterol:

8mg
Sodium:

115mg
Carbohydrates:

15g
Fiber:

1g
Sugar:

1g
Protein:

2g
I am not a certified nutritionist. This nutrition information is automatically calculated by third party software and is meant as a guideline only.
Pumpkin season is here, and we are celebrating our love of pumpkin with #PumpkinWeek hosted by Terri from Love and Confections and Christie from A Kitchen Hoor's Adventures. All week-long 13 bloggers will be sharing over 40 pumpkin-filled recipes for all your Autumn celebrations, including breakfasts, baked goods, savory pumpkin recipes, desserts, and drinks.
More #PumpkinWeek Recipes Below:
Mains, Salads, and Sides
Did you miss a recipe? Head to the Pinterest board to find all the #PumpkinWeek recipes shared this week.