I'm kicking off #IceCreamWeek with a light and fruity no-churn ice cream pie! Raspberry lemonade ice cream pie is the perfect summer treat!
Welcome to Ice Cream Week 2014! This year the event is hosted by Kim of Cravings of a Lunatic and Susan of The Girl in the Little Red Kitchen. We have teamed up with 25 amazing bloggers to bring you ice cream treats all week long. I hope you have as much fun as we did. Break out those stretchy pants and celebrate Ice Cream Week with us!
To kick off Ice Cream Week, and since today happens to be National Ice Cream Pie Day, I made a no-churn ice cream pie. Lemon juice and zest give intense lemon flavor, and raspberry puree adds a sweet contrast.
The recipe starts off similar to "real" ice cream, with cooking egg yolks over a double boiler. However, instead of churning, you fold in whipped cream before freezing the mixture. By making the ice cream this way, it doesn't freeze as hard as regular ice cream, so it's ready to slice and serve straight from the freezer.
I thought the recipe could benefit from even more raspberry flavor. That can be achieved with using a larger amount of raspberry puree, or by adding a splash of raspberry extract. If you want a pinker color, using more raspberry extract might help, otherwise, add a drop of pink food coloring.
We thought this was a really refreshing summer treat. The creamy sweet-tart ice cream contrasted with the slightly salty, crunchy graham cracker crust. And we didn't feel full and heavy after eating a not-so-small slice.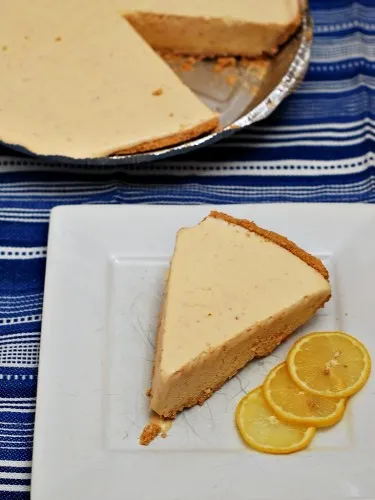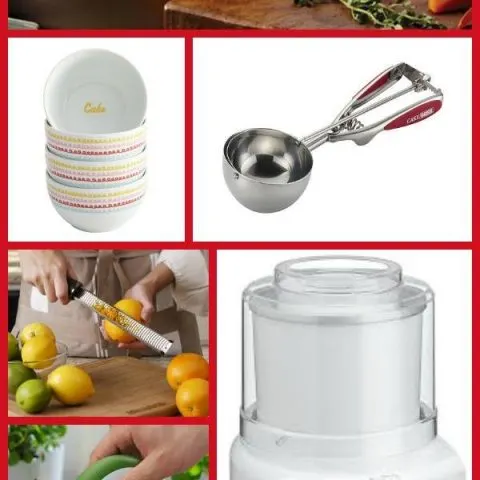 Raspberry Lemonade Ice Cream Pie #IceCreamWeek
Ingredients
1 cup raspberries
1 ½ cups whipping cream
1 cup sugar
6 large egg yolks
⅓ cup lemon juice
Zest of half a lemon
½ teaspoon salt
Graham cracker crust, storebought or homemade
Instructions
Place the raspberries and 2 tablespoon of sugar in a food processor. Process until liquified. Press the liquid through a fine-mesh sieve to remove the seeds, discard the seeds and leftover pulp. Refrigerate until ready to use (can be made up to a day in advance).
Beat the whipping cream until soft peaks form; refrigerate until ready to use.
Place the remaining cup of sugar in a the bowl of a stand mixer. Set the bowl over, but not touching, simmering water. Add the egg yolks, lemon juice, lemon zest and salt. Whisk constantly until thick and fluffy and the sugar dissolves.
Take the mixture off the simmering water and place it on a stand mixer. Beat with the whip attachment until doubled in volume and cool to the touch.
Stir a quarter of the whipped cream into the egg mixture. Fold in the remaining whipped cream quickly but gently, to retain the whipped texture. Then fold in the raspberry puree.
Scrape the mixture into the graham cracker crust and freeze for at least 8 hours.
Recipe adapted from Kitchen Simplicity
Make sure you swing by for a scoop from each of today's Ice Cream Week Participants:
Other Blogs participating later this week:
Special Guest for the Week is Lindsay Clendaniel of the blog, Scoop Adventures. We're very excited to have her join us. Lindsay is the author of Scoop Adventures which is chock full of ice cream goodness.
Disclaimer: I was not compensated monetarily or with any product(s) for participating in this blogging event. The #IceCreamWeek Giveaway is open to U.S. and Canada residents only. ONE winner will receive ALL the prizes listed. Giveaway ends at midnight on August 31st. See official giveaway rules here.