Fresh raspberry puree creates a pretty pink, fruity swirl inside this tender, buttery pound cake.
My foodie friend, Colleen from Souffle Bombay, was thinking about just what cookbook it was that made her fall in love with cooking recently, then she decided to ask the same question to a number of her foodie friends, myself included, and #CookbooksandCalphalon was born! Enjoy these food bloggers stories as well as the recipes that go along with them as we celebrate our love of cooking and the perfect pairing of Cookbooks and Calphalon!
My story? Well, I like food. Making it, eating it, sharing it. And since a career in the culinary industry didn't work out, I started this blog to share my love of cooking and baking.
I've always liked food. As soon as I was old enough, I was the designated birthday-cake-baker in my family (yes, that included my own). I was a bookworm kid, and you would be just as likely to find me with my nose in a Babysitters' Club book as my mom's tattered old Betty Crocker cookbook.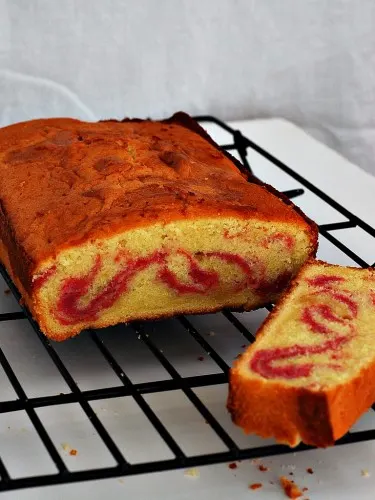 That old cookbook had recipes for just about everything, from appetizers to drinks to main dishes to desserts. One of the first things I made out of that cookbook was pound cake. The recipe below is not from that book, as it's long-since fallen apart. But it does remind me of my early baking attempts.
Pound cake got its name because when the recipe was first developed in the 1700s, it was made with a pound of butter, a pound of flour, a pound of eggs, and a pound of sugar. Yikes!
The recipe has been refined since, and the ratios altered, and new flavors added. This one uses the juice of fresh raspberries to create a pretty pink swirl, and adds a mild raspberry flavor. If your raspberries are not very ripe, you can add a small splash of raspberry extract to enhance the raspberry flavor.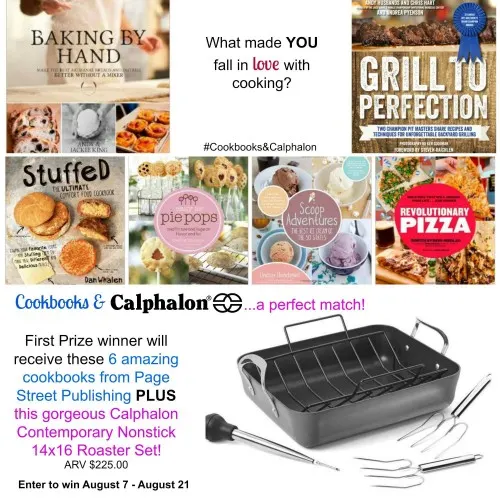 This wouldn't be complete without a fun giveaway for you to enter—you can't cook without cookware and you can't use cookware unless you can cook, right? So when you're done drooling over this pound cake, take a moment to scroll to the bottom of the post and enter our awesome Cookbooks and Calphalon Giveaway!
Also, now through September 1st, Calphalon is celebrating couples! From the first meal they create together in their new home to the meal they share on their 25th anniversary, couple cook up memories! The cookware they choose serves as the foundation for which these "Couples Cooking" memories are made.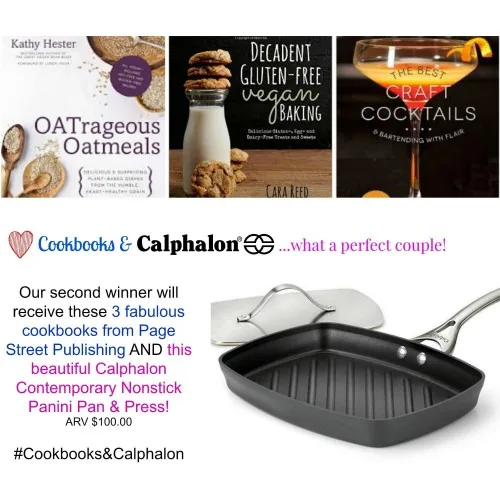 Calphalon wants to recognize these #CouplesCooking moments by asking couples to share pictures of the meals they cook together for a chance to win $1,000 in Calphalon cookware! Calphalon is inviting couples to post photos of the meals they prepare with their significant other on Calphalon's Facebook page. To enter, couples will be asked to share why the dish is unique or special to them and use the hashtag #CouplesCooking. How fun is THAT?
Follow the #CookbooksandCalphalon fun on social media for great recipes, tips and more and good luck in BOTH giveaways!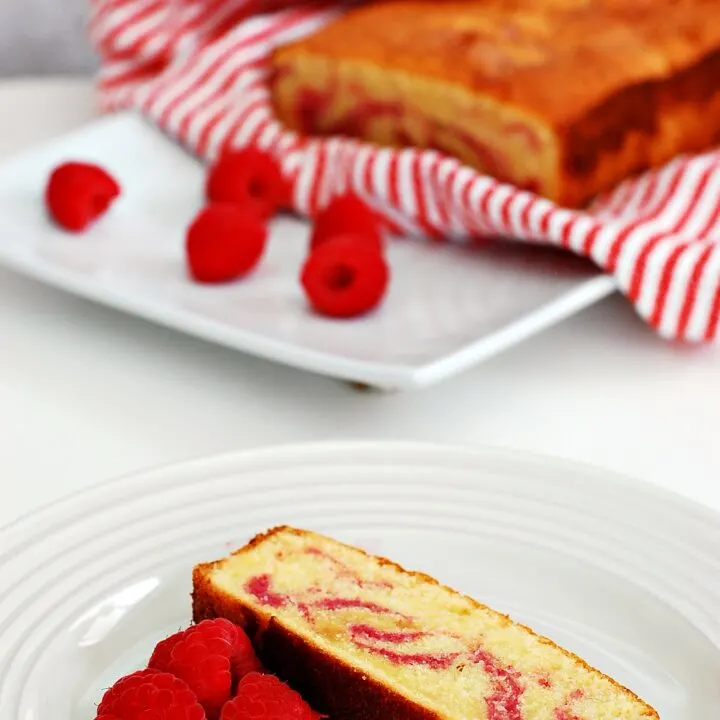 Raspberry Swirl Pound Cake
Ingredients
3 tablespoon whole milk
3 large eggs
1 ½ teaspoon vanilla extract
1 ½ cups sifted cake flour, 5 ¼ oz
¾ cup sugar
¾ teaspoon baking powder
¼ teaspoon salt
13 tablespoon unsalted butter at room temperature
3 oz fresh raspberries
Instructions
Preheat oven to 350 degrees. Spray an 8x4-inch loaf pan with nonstick cooking spray.
In a small bowl, lightly whisk together the milk, eggs and vanilla.
In the bowl of a stand mixer, mix all the dry ingredients (flour through salt) on low speed until combined (about 30 seconds).
Add the butter and half the egg mixture, and beat on low speed until all dry ingredients are moistened, then beat on medium speed for 2 minutes. Scrape down the bowl.
Add half of the remaining egg mixture, beat for 20 seconds, and scrape down the bowl. Add the last of the egg mixture and beat for 20 seconds.
Remove ½ cup of the batter and place in a small mixing bowl. Press the raspberries firmly through a fine-mesh sieve with a rubber spatula until you get a tablespoonful or so of thick juice. Add to the reserved cake batter and mix until well-combined.
Scrape ⅓ of the vanilla batter into the prepared pan. Add half of the raspberry batter down the middle, and use a butter knife to swirl with the vanilla batter. Add another ⅓ of the vanilla batter on top, then scrape the rest of the raspberry batter down the middle, and swirl again. Top with the remaining vanilla batter and smooth it out with a knife or spatula.
Bake for 45 to 50 minutes, until a toothpick inserted in the middle comes out clean. Cool for 10 minutes on a wire rack, then remove the cake from the pan to cool completely.
Adapted from Rose Levy Berenbaum's "Perfect Pound Cake" (found in The Cake Bible)
Don't forget to check out the other #CookbooksandCalphalon recipes!
Cooking:
Baking:
Drinks:
Disclosure: I was not compensated with money or products to write this post. Thanks to Page Street Publishing and Calphalon for offering fun prizes!