Have a healthier barbecue — lean ground turkey burgers flavored with chili powder and roasted poblano peppers, dressed with chili-spiced mayo.
In summertime, we usually end up having burgers at least once a week. And since I prefer to use 85/15 ground beef (85% meat/15% fat), well, those calories can add up. And that's before you smother them in melty cheese.
I made this recipe a little reluctantly. My only past experience with turkey burgers was ... less than yummy. It was flavorless and dry. Unlike beef burgers, turkey burgers must be cooked all the way through for safety reasons, which contributes to the dryness.
But I've been on a chili powder kick lately, and I just couldn't pass these up. I've been spicing everything up with chili powder, ancho chili powder, chipotle chili powder ...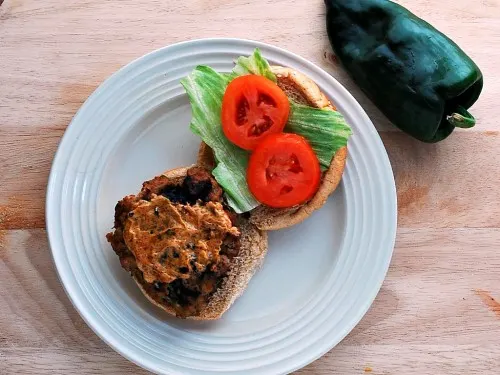 These burgers are the complete opposite of flavorless and dry. Chili powder and roasted poblano peppers add tons of flavor. The original recipe called for regular chili powder, but I use chipotle chili powder, because I prefer the smoky flavor.
The burgers are topped with mayo mixed with yet more chili powder, which adds more moisture. The original recipe does not call for any cheese, and we didn't miss it at all. If you want to add some, a slice of Colby Jack, or some crumbled ricotta salata would be delicious!
Green poblano peppers are on the milder end of the chili pepper spectrum, so don't worry about using gloves or removing the seeds before roasting.
We served these with Trader Joe's frozen fire-roasted corn, but they would also be great with some baked sweet potato fries.
The original recipe contains 320 calories, 8.5 g of fat, 27 g of protein, 32 g of carbohydrates, and 2.6 g of fiber. I didn't alter the recipe very drastically, so the recipe as written below probably isn't too far off from that. That's about half the fat of a typical homemade beef cheeseburger!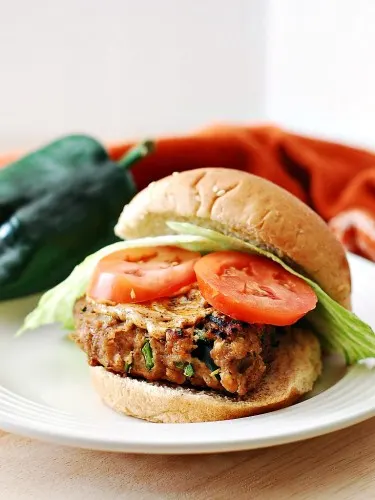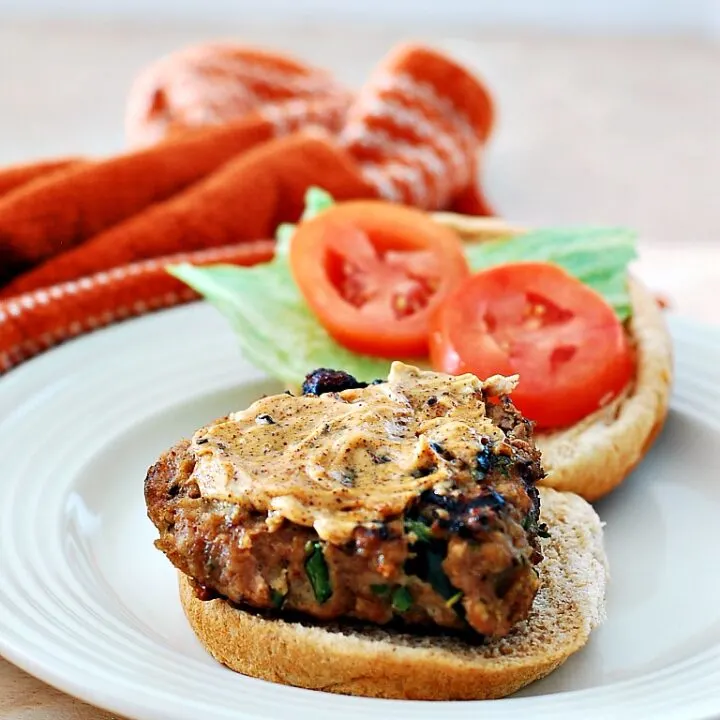 Southwestern Turkey Burgers
Ingredients
2 poblano chiles, about ½ pound
½ oz plain bread crumbs, plus more if needed
¼ cup 1% milk
½ teaspoon chipotle chili powder, divided
1 teaspoon ground cumin
½ teaspoon salt
¼ teaspoon black pepper
¼ teaspoon ground red pepper
1 lb lean ground turkey breast
Cooking spray
2 tablespoon mayo
4 whole wheat hamburger buns, split and toasted
4 slices plum tomato
4 leaves iceberg lettuce
Instructions
Set broiler to high. Cut the tops off the peppers and split them in half. Line a baking sheet with tinfoil, then spray with nonstick cooking spray. Place peppers, skin-side down, on the baking sheet and broil for 5 to 10 minutes.
Place the peppers in either a brown paper bag, or in a large bowl covered with plastic wrap. Let sit for 15 to 20 minutes. Peel the skins off the peppers, then dice.
Combine bread crumbs and milk in a large bowl and set aside for 5 minutes. Then add ¼ teaspoon chili powder, cumin, salt, black pepper, red pepper, ground turkey and diced peppers. Gently combine, then divide into four ½-inch thick patties.
Spray a grill or skillet with nonstick cooking spray and cook burgers for about 3 to 5 minutes per side, until a thermometer reads 155 degrees. Remove from the grill or skillet and let rest for a few minutes, to allow carryover cooking to finish the burgers.
While the burgers are resting, stir together the mayo and the remaining ¼ teaspoon of chipotle chili powder. Spread the mayo on one half of each of the buns, then top each with a patty, tomato slice and lettuce leaf.
Recipe slightly adapted from Cooking Light