Savor the flavor of sweet summer cherries all year long! Make dried cherries in your oven, then keep them in an airtight container for a taste of summer, even in the winter!
There are so many reasons that summer is my favorite season: warm weather, long days full of sunshine, swimming, barbecues, flip flops, and abundant fresh produce.
Sadly, summer doesn't last forever, at least not in Pennsylvania. The weather will begin to cool down, the days will get shorter ... then things will get downright miserable. NOT looking forward to winter, can you tell?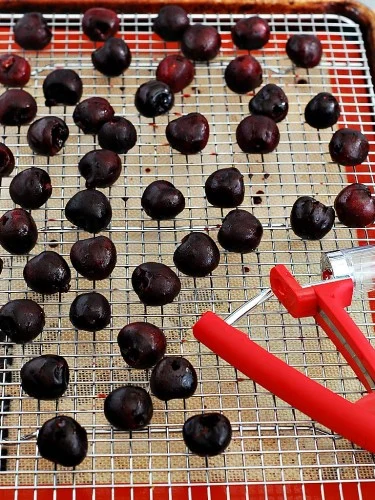 Sure, there are some fruits and veggies that you can buy "out of season," but they don't always have the same flavor as in-season produce, and they're also usually more expensive. So today's #SundaySupper is all about saving that peak flavor.
I actually came across this recipe earlier in the summer. Whole Foods had their annual cherry fest, selling cherries for $2.99 a pound. Cherries normally sell for about $6.99 a pound, so this was definitely a steal! I came home with 12 pounds of cherries!
Between Dave, Liam and I, we polished off half of those cherries in about a week! I sent another two pounds to daycare with Liam for Snack Share Wednesday. I used another two pounds for other recipes. I was left with about a pound and a half of cherries that were getting precariously close to the end of their shelf life. Then someone told me I could dry them in my oven!
If you want to try it on your own, you'll need to choose a day that you'll be home all day. Oven-drying has to be done "low and slow," so it takes a while. But you'll be left with dried fruit just like you buy in pouches at the grocery store that will keep very well in an airtight container. Grab a handful whenever you need a quick taste of summer!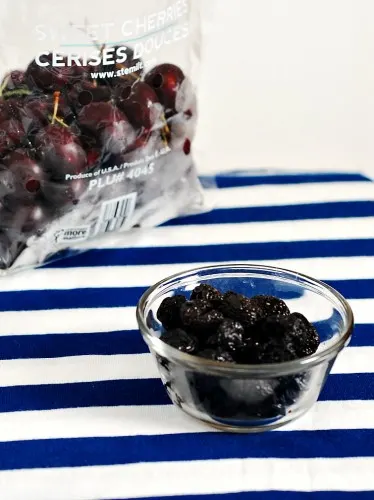 Oven-Dried Cherries
If you don't have an oven-safe wire cooling rack, you can dry the cherries directly on the silicone baking mat or parchment paper, but the cherries will need an additional two hours in the oven.
Ingredients
1 lb Fresh sweet cherries, pitted
Instructions
Preheat oven to 200 degrees. Line a baking sheet with a silicone baking mat or parchment paper, then place an oven-safe wire cooling rack over top.
Remove the pits and stems from the cherries, and space them evenly on the wire rack.
Place in the oven for six hours.
Remove and allow to cool completely on the wire rack.
Transfer for an airtight container to store.
Drying method from The Kitchn
Learn how to …
Sip sunny cocktails and smoothies
Scoop up special salsas and sauces
Jump into jellies, jams and preserves
Pucker up for pickles
Slurp and spoon soup and a side dish
Dive into divine desserts