Happy July, readers! Is it just me, or is this year flying by?
It's almost time for Americans to celebrate our Independence Day with food, fireworks, parades and more food! What food do you typically eat on (or around) the 4th? We usually do burgers and hot dogs, BBQ chicken, pasta salad, potato salad, fruit salad, and chips, along with beer, soda, and water.
This year, I'm going to change things up a bit, and serve sangria. Sangria originated in Spain; it's a kind of punch made with wine, fruit, brandy, sometimes a sweetener, and sometimes some herbs or spices.
This sangria is pretty basic in the ingredients department, but HUGE on flavor. The fruit soaks in the brandy before the other ingredients are added, which draws out the fruits' natural sweetness, so added sugar is not necessary. The resulting sangria is only 140 calories per glass!
The recipe calls for Prosecco. Prosecco is sparkling wine, like champagne. Sparkling wine can only be called champagne if the grapes used to make the wine are grown in the Champagne region of France. You can substitute other white wines, though, if you don't want the carbonation from the sparkling wine. Choose a wine that you like to drink, but it doesn't have to be top-quality — after all, you'll be mixing in other ingredients.
You can also change up the fruit you use in the recipe. The original recipe by Cooking Light included cherries, which I don't care for, so I left them out, and increased the amount of peaches. You can add other kinds of berries, or go with tropical fruits, or all stone fruits. Just be creative!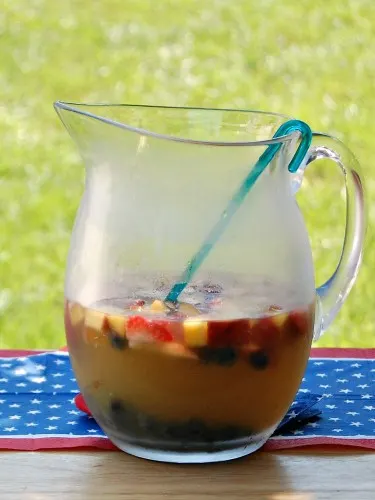 Red, White, and Blue Sangria
Adapted from Cooking Light Magazine, July 2013 issue
Ingredients
1 cup sliced strawberries
1 cup blueberries
1 cup diced peaches
⅓ cup brandy
1 cup pineapple juice
1 (750-mL) chilled Prosecco or other white wine
Directions
Place the fruit in a large pitcher. Pour the brandy over top, toss to moisten all the fruit, and chill for 2 hours.
Stir in the pineapple juice and the Prosecco. Chill until ready to serve.
When serving, pour the wine into glasses, and add some of the fruit to each glass.
Diet tags: Low calorie
Number of servings (yield): 8