In my family, the Fourth of July means grilling: burgers, chicken smothered in barbecue sauce, steaks, with sides of potato salad and pasta salad. I probably eat a week's worth of calories in that one day.
Which was why I was so excited when I received the latest edition of Cooking Light, which featured seven delicious yet healthy burger ideas inspired by different regions around the country. I had a hard time deciding which one to try first: the Tennessee burger with bacon and bourbon BBQ sauce, the Great Plains burger with corn chips in the patty and corn mayo on top ... they all sounded so good!
But we settled on the Southern California style burger, topped with spicy guacamole and alfalfa sprouts for contrasting texture.
We made the recipe almost exactly as written, because it sounded so delicious. The biggest changes were that we left the tomatoes out of the guacamole (because I forgot to buy tomatoes — oops!) and we used potato rolls instead of whole wheat (because we couldn't find whole wheat rolls burger rolls). I've written out the recipe as we made it, but Cooking Light's original version has 403 calories, 21 grams of fat (but nearly half of that is monounsaturated, or "good," fat), 27 grams of protein, 27 grams of carbs, and 7 grams of fiber!
These burgers are a DELICIOUS and healthy way to indulge this holiday! The same issue of Cooking Light also has ideas for healthy side dishes, but I was dying to try these Sweet Potato Wedges with Lime Mayo, which were so tasty, I ate two servings!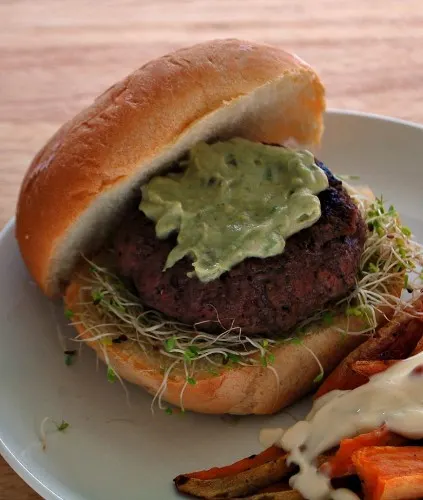 Southern California Style Burgers
Barely adapted from Cooking Light
Ingredients
1 ripe avocado, peeled and divided
1 tablespoon light (not non-fat) sour cream
1 tablespoon mayonnaise made with canola oil
2 teaspoon lime juice
¼ teaspoon ground cumin
½ of a fresh jalapeño pepper, seeds removed and chopped
½ teaspoon kosher salt, divided
1 pound 90% lean ground beef
¼ teaspoon ground black pepper
Cooking spray
4 whole-grain hamburger buns
1 cup alfalfa sprouts
Directions
Preheat your grill to medium-high heat.
Place half of the avocado in a bowl and mash with a fork until almost smooth. Add the sour cream, mayo, lime juice and cumin; stir to combine. Dice the remaining avocado. Add diced avocado, jalapeño, and ⅛ teaspoon salt to bowl; fold in very gently. Cover with plastic wrap and chill until ready to use.
Divide beef into 4-ounce portions. Gently shape each portion into a (½-inch-thick) patty. Press your thumb gently into the center of each patty to make an indentation (this prevents the patty from "ballooning" during cooking). Sprinkle evenly with the remaining salt and pepper. Spray the grill rack well with cooking spray. Grill the burgers for 3 minutes on each side or until your desired doneness.
Lightly coat the cut sides of burger buns with cooking spray. Place the buns cut sides down on grill rack and grill for a minute or until toasted.
Place ¼ of the alfalfa sprouts on bottom half of each bun; top each with 1 burger patty, a quarter of the guacamole, and top with the other half of the bun.
Number of servings (yield): 4