Summer has hit Philadelphia, and hit hard. Temps in the low- to mid-90s, and sky-high humidity. My hair is completely unmanageable.
And dinner? All I want is something cold. I can only have cereal so many nights in a row and apparently ice cream is an unacceptable option. Hmph. So, we've taken to pan-sauteeing some kind of meat or poultry (cooking it in the oven would heat up our whole apartment), and serving a cold salad on the side.
I actually found the inspiration for this salad on AllRecipes.com about two years ago, while planning a Memorial Day picnic for Dave and I. We made the recipe as-written, and it was okay.
I found my print-out as I was cleaning out a box of cooking magazines. I decided to make it again, tweaking it a little bit. The original salad was so close to be "caprese," or "in the style of Capri," a region known for a salad involving tomato, basil and mozzarella cheese.
We took the salad to a family barbecue, and it was a big hit! It was a nice change from the heavy, mayo-based salads we usually have. I think the leftovers tasted even better the next day, after the balsamic vinaigrette had time to soak into the couscous.
You could even turn this into a complete meal by substituting quinoa for the couscous. Quinoa is a seed, but commonly served as a grain. It is higher in protein than other whole grains, and contains all 9 essential amino acids.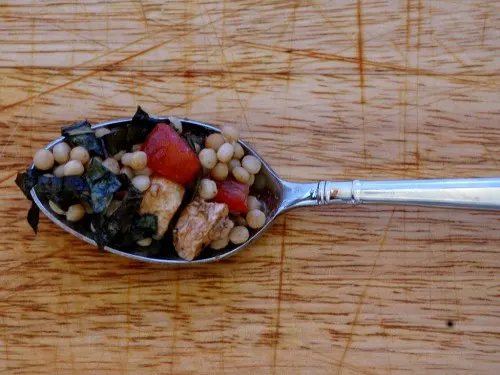 Caprese Couscous Salad
Adapted from AllRecipes.com
Ingredients
14 ½ oz reduced-sodium chicken broth
1 tablespoon extra-virgin olive oil
2 cloves garlic
1 ½ cups Israeli (also called "pearl") couscous
2 tablespoon balsamic vinegar
½ teaspoon kosher salt
¼ teaspoon ground black pepper
2 cups chopped, seeded tomato
½ cup thinly sliced fresh basil
½ cup mozzarella cheese cubes (I used mini mozzarella balls, called ciliegini, cut into quarters)
Directions
Place the chicken broth in a small saucepan, and bring to a boil over high heat. Immediately reduce the heat to low, and cover.
Place the oil in a medium saucepan. Grate the garlic into the oil. Heat over medium heat for about 30 seconds. Add the couscous, and saute until the couscous is lightly browned, about 5 minutes, stirring frequently.
Slowly add the chicken broth to the other saucepan, and return to a boil. Reduce the heat, cover the pan and simmer the couscous for 12 minutes, or until all of the chicken broth is absorbed. Fluff with a fork.
In a large serving bowl, whisk together the vinegar, salt and black pepper. Add the tomato, basil, mozzarella and couscous, and gently stir to coat with the balsamic mixture. Chill until ready to serve.
Number of servings (yield): 8