Tangy-sweet rhubarb berry pie with a beautiful lattice crust is the perfect dessert for Pie Day, or any summer day.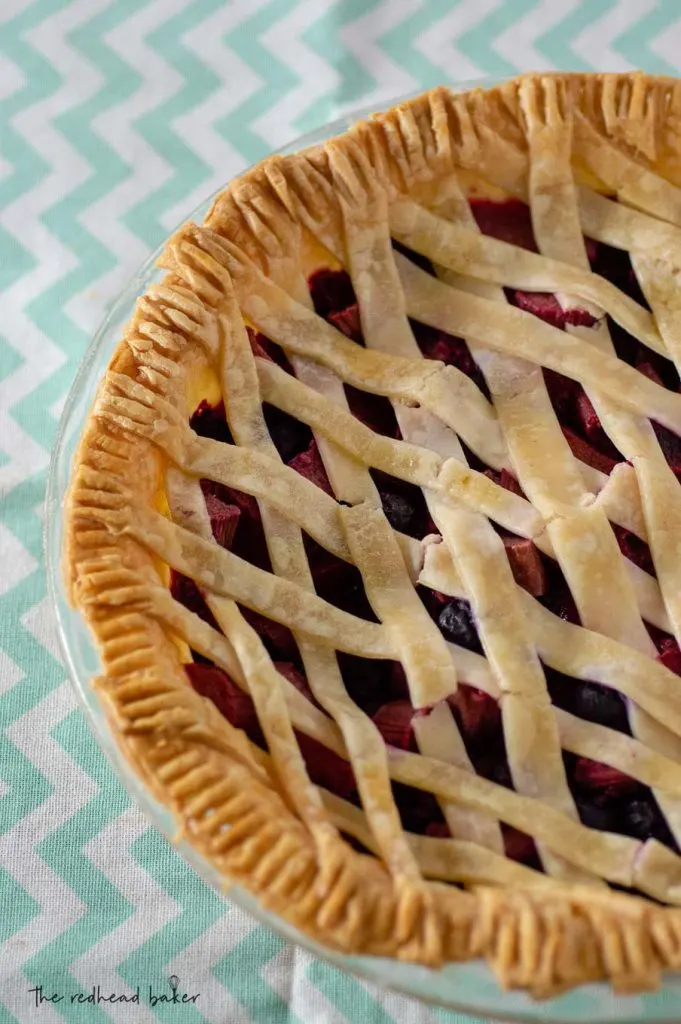 Happy Pie Day! Each year, I host a blog event for pie on Pie Day, and invite several other food bloggers to post their favorite pie recipes, too.
You'll find links to the other pie recipes at the bottom of this post; I hope you'll visit them!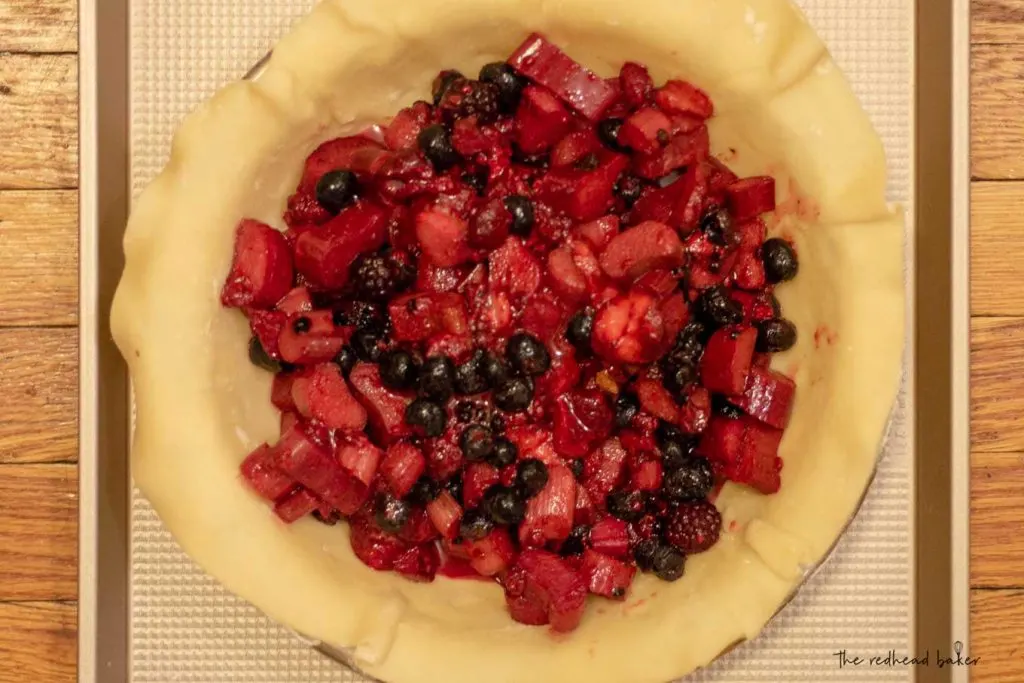 If you've just woken up from a long coma (I kid, I kid), Pie Day is a play on Pi Day. Pi (π) is a mathematical constant, the ratio of the circumference of a circle in relation to its diameter. I hope I'm not bringing back math class nightmares. Pi is an infinite decimal number, but it's mostly known by its first three digits: 3.14.
While ice cream will always be my number one dessert, pie is quite awesome in its own right. I love the flaky pastry, which can hold any number of filling combinations!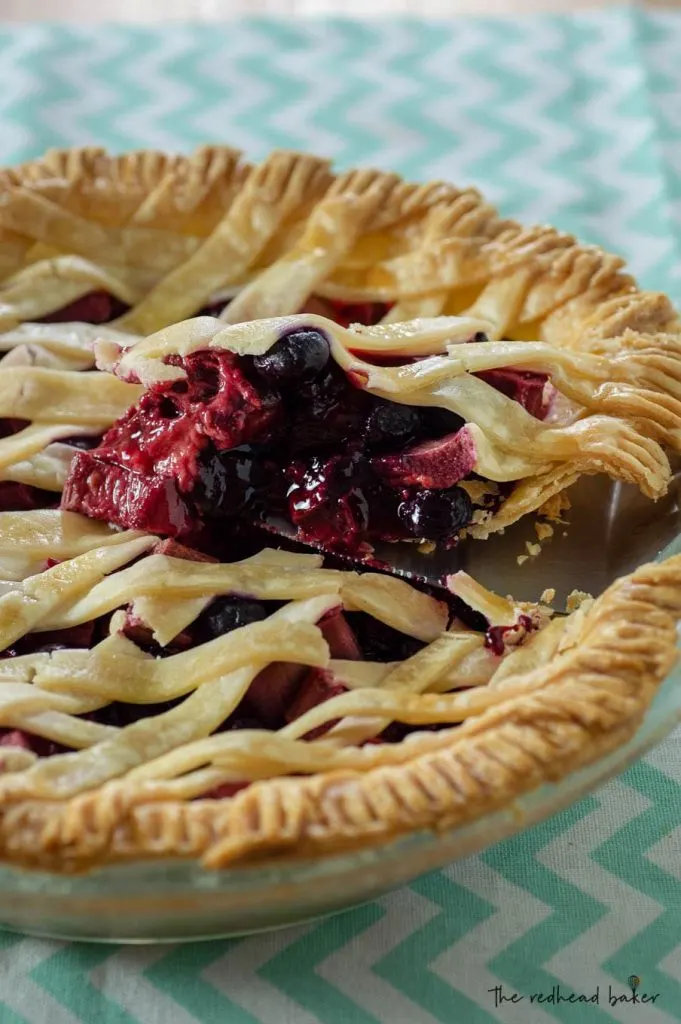 Pie dough is a bit finicky to make by hand. You want to work it as little as possible to keep it tender, and it also has to stay cold to keep it flaky. I like to make my dough in a food processor.
This recipe includes a top crust. I love pie crust, so for me, the more crust on a pie, the better! The style of the upper crust doesn't matter much, so if you don't want to attempt a lattice, feel free to just roll out the second crust and place it on top of the filling — just remember to cut some slits in the top crust for steam to vent.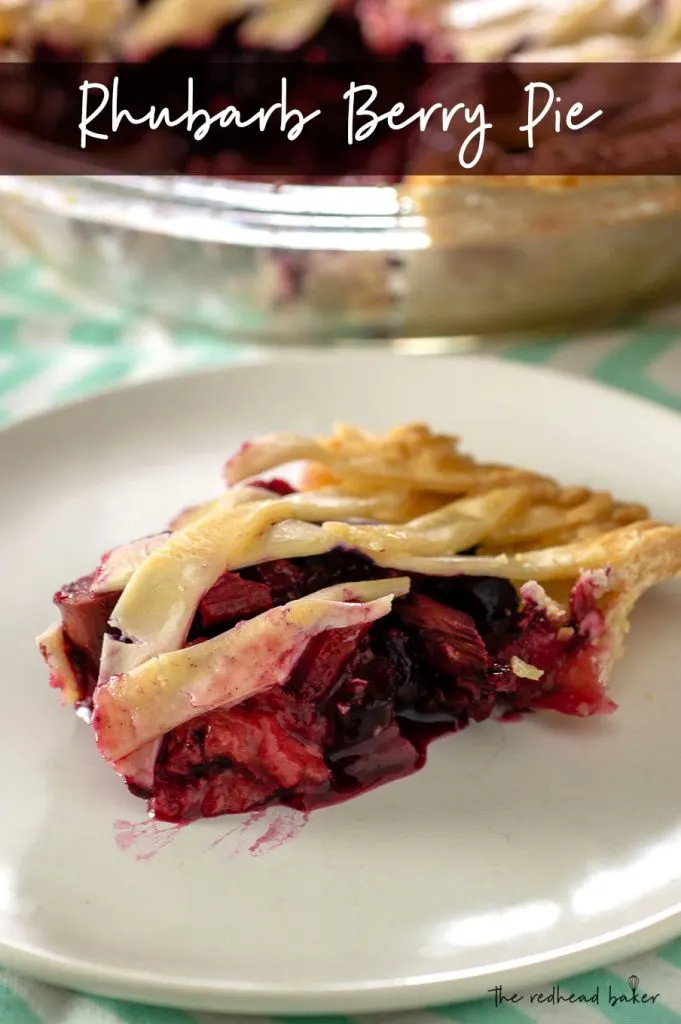 Rhubarb is a fruit that is in season from April through June. The stalks are the only edible part. When raw, the stalks are sour, but baking makes them a bit sweeter (but still tangy). If you can't find fresh rhubarb, look for frozen sliced rhubarb in the freezer section. Thaw the fruit before baking.
Combining the fruit with the sugar will extract a lot of juice. If you don't like soggy fruit pies, feel free to drain off the accumulated juices before spooning the fruit into the crust. I did, and the pie still came out very juicy.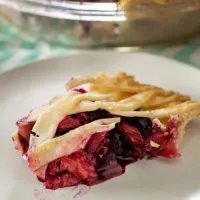 Rhubarb Berry Pie
Total Time:
1 hour
15 minutes
Tangy-sweet rhubarb berry pie with a beautiful lattice crust is the perfect dessert for Pie Day, or any summer day.
Ingredients
For the crust
2 pie crusts, storebought or homemade
For the filling
12 oz sliced rhubarb (thawed if frozen)
1 lb mixed berries (blackberries halved, and strawberries hulled and quartered)
½ cup brown sugar
½ cup granulated sugar
¼ cup cornstarch
1 teaspoon cinnamon
½ teaspoon kosher salt
For the egg wash
1 large egg
1 tablespoon water
Instructions
Place a baking sheet in a cold oven, and preheat to 400 degrees.
Combine the filling ingredients, tossing gently to coat all of the fruit. Set aside.
Roll out one of the pie crusts to about 10 to 11 inches. Carefully transfer to a 9-inch pie plate.
Roll out the second pie crust to about 10 inches. Use a pizza cutter or pastry wheel to cut the dough into ½-inch strips.
Spoon the filling into the pie crust. Take two of the longest strips from the second pie crust, and place them in an X-shape on top of the filling.
Add more strips to either side of the first two strips (weaving under and over if desired) until you've covered all of the filling.
Whisk together the egg and water. Use a pastry brush to gently brush the egg wash all over the pie crusts, including under where the strips meet the lower crust, and use a fork to crimp the edges. Trim off any excess crust.
Place the pie plate on the preheated baking sheet in the oven. Bake for 20 minutes at 400 degrees, then lower the oven temperature to 350 and bake another 40 minutes, or until the crust is fully baked and the filling is bubbly.
Cool to room temperature, then slice and serve. d
Recommended Products
As an Amazon Associate and member of other affiliate programs, I earn a small percentage from qualifying purchases.
Nutrition Information:
Yield:

8 servings
Serving Size:

1 slice
Amount Per Serving:
Calories:

351
Total Fat:

12g
Saturated Fat:

4g
Trans Fat:

0g
Unsaturated Fat:

7g
Cholesterol:

23mg
Sodium:

340mg
Carbohydrates:

58g
Fiber:

5g
Sugar:

30g
Protein:

4g
I am not a certified nutritionist. This nutrition information is automatically calculated by third party software and is meant as a guideline only.
More Pie Day Recipes