I received free products from OXO in exchange for this post. As always, all opinions are my own.
It's that time of year — spring cleaning and organizing! OXO has several products to help you deep-clean and organize your kitchen.
I'm not a fan of cleaning. I tend toward pack rat status. I will admit that I let my husband do the lion's share of the cleaning (thanks, honey!). But in the spring, even I will get the urge to purge and organize.
We don't have a lot of storage in our kitchen, but we do have high ceilings, so my husband put up two shelves on one of the kitchen walls that use as a pantry. We try to keep it organized, but ... yeah. You come home from a big grocery shopping trip, the kid wants a snack, the dogs are trying to say hello, you just kind of throw stuff up there and think you'll organize it later.
But you never actually do. You can't even see half of what's up there, so you buy a new box of rice or bottle of olive oil without even realizing you already have an unopened bottle up there.
Well, thanks to OXO and their 10-Piece POP Container Set, I no longer had an excuse to leave that shelf the way it was. The BPA-free set contains a variety of shapes and sizes, each with a lid designed to give you an airtight seal with just one touch. I added chalk labels on my own purchased from a craft store so I could easily see what is inside each container.
I love how the basic shape of these containers are the same, so they are easily stackable. The rounded corners make it easy to pour the contents into a measuring cup, mixing bowl or pan. The airtight lids come apart for easy and thorough cleaning.
You might be thinking, but what about things like rice and pasta that have cooking instructions right there on the box? Why would I transfer the contents into a container? What if I forget the cooking instructions? So, I had the idea to cut the cooking instructions off of the box and tape it to the underside of the lid.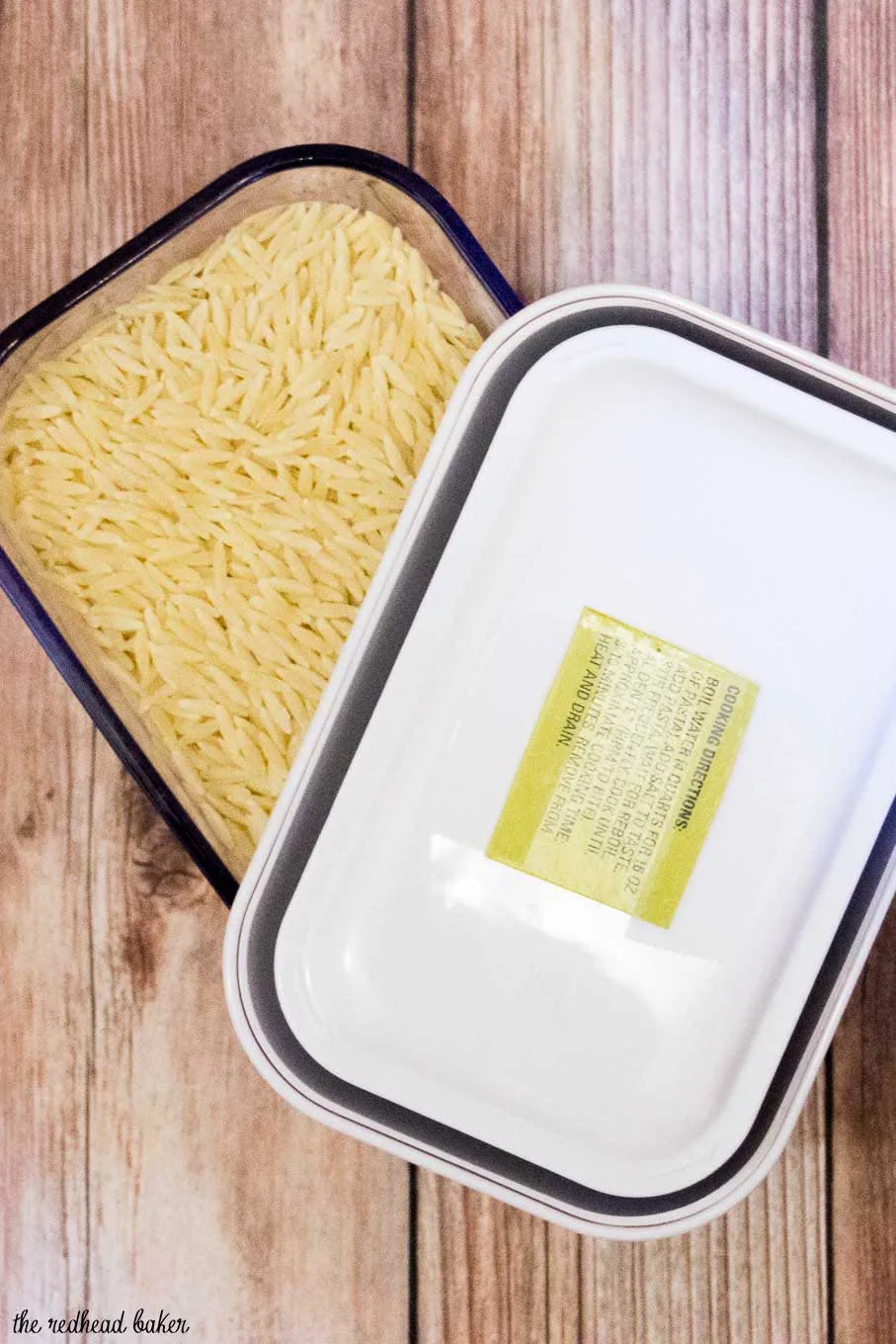 So, we've talked about organizing but what about the actual spring cleaning? OXO has tools to help you in that department, too. The Kitchen Appliance Cleaning Set is actually four tools in one set. There are two brushes, each with two heads, and the two brushes snap together on a handy clip.
There is a loop brush, which is perfect for blender or food processor blades, and the long handle protects your hands from getting too close to the sharp edges. The angled brush is perfect for cleaning my fine-mesh sieve and coffee filter. The flat scraper helps remove messes that are baked onto your stove top, pots, pans and more. The chisel scraper gets into grooves and nooks in the line between your sink and counter and other tight spaces.
No, my stove isn't usually as dirty as in the picture below. I let it get that way so I could show you how well the OXO cleaning tools work.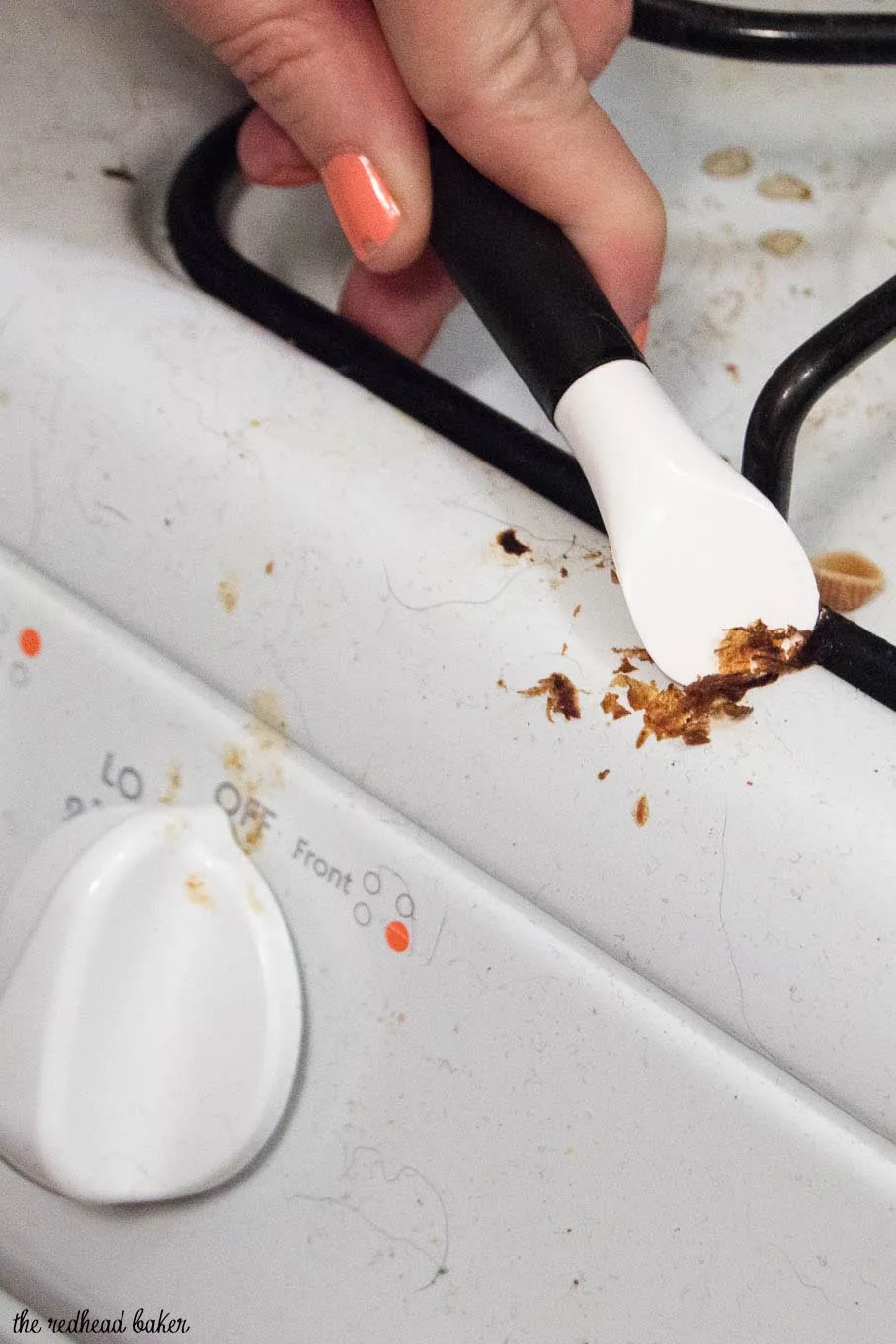 And finally, what is probably my husband's favorite tool, the Microfiber Under Appliance Duster. This tool is just over 2 ½ feet long and somewhat flexible. The long, flat tool is covered in fabric with long, fluffy fibers that catch whatever is under your appliances — dust, dirt, dog fur tumbleweeds, stray toys, whatever.
After you're done cleaning under your fridge, microwave or other appliances, you can snap the head off of the duster and wash it in cold water. Then, you can either put it in the dryer without heat, or line dry.
Happy spring cleaning!