Southwestern mac and cheese is chock full of tex-mex flavors, contrasting textures, and a hint of spicy pepper, with a sweet buttery cornbread topping.
This post was originally supposed to be about buttery, sweet cornbread. A simple yet delicious side dish. Except, despite liberal applications of nonstick cooking spray, my cornbread stuck to the bottom of the baking pan. I had a craggy half of cornbread on my cutting board and a craggy half still in the baking pan.
What a waste, right?! I hated to just toss it out and start again. But what can you do with cornbread crumbs? Well, you can put them on top of a Southwestern-style mac and cheese! Now, you don't need to bake a pan of cornbread from scratch just to crumble it up. You can use a mix, or even purchase a pre-made cornbread (or corn muffins) from some grocery stores.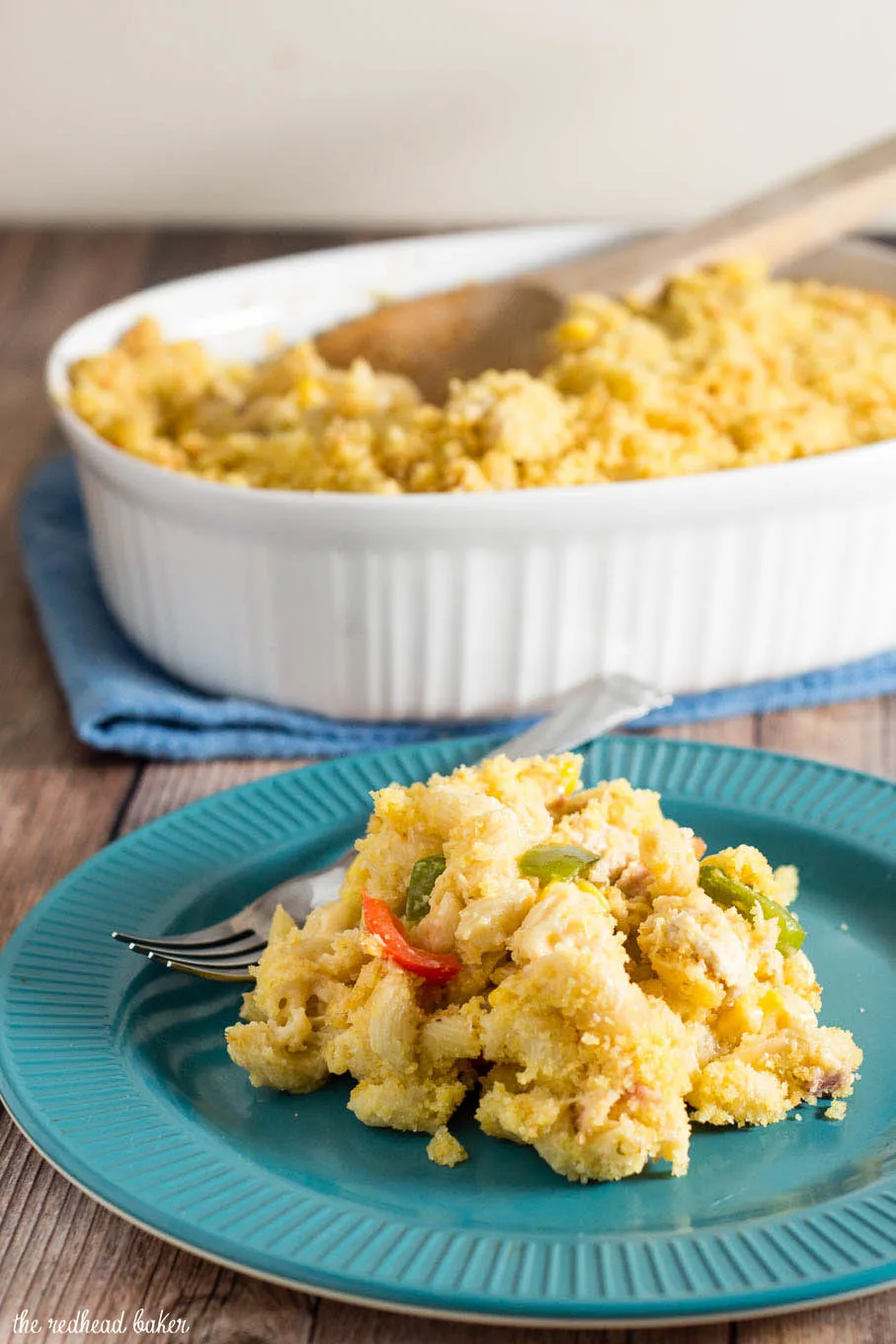 I used cavatappi, but obviously elbow macaroni works just fine. Penne, small shells, or bow ties would also work. Next, the cheese: a mix of pepper jack and cheddar. If you don't like the heat in all that pepper jack, you could reduce that and increase the cheddar to make up for it, or swap out all of the pepper jack for monterey jack or colby jack.
The veggies and protein: again, swap, add, omit to your family's taste. Add some jalapenos or fire roasted tomatoes. Use red onion instead of yellow. Omit the corn. Use pulled pork instead of chicken. Use black beans if your family doesn't eat meat.
This is not a recipe you can make start-to-finish on a busy weeknight. And there's going to be a lot of dirty dishes to clean after (sorry). But what you can do is make this recipe ahead of time, up to step 8 and pouring it into the prepared casserole dish. Then, cover and refrigerate until you're ready to bake. You'll probably need to allow extra baking time if you cook it after it's been chilled.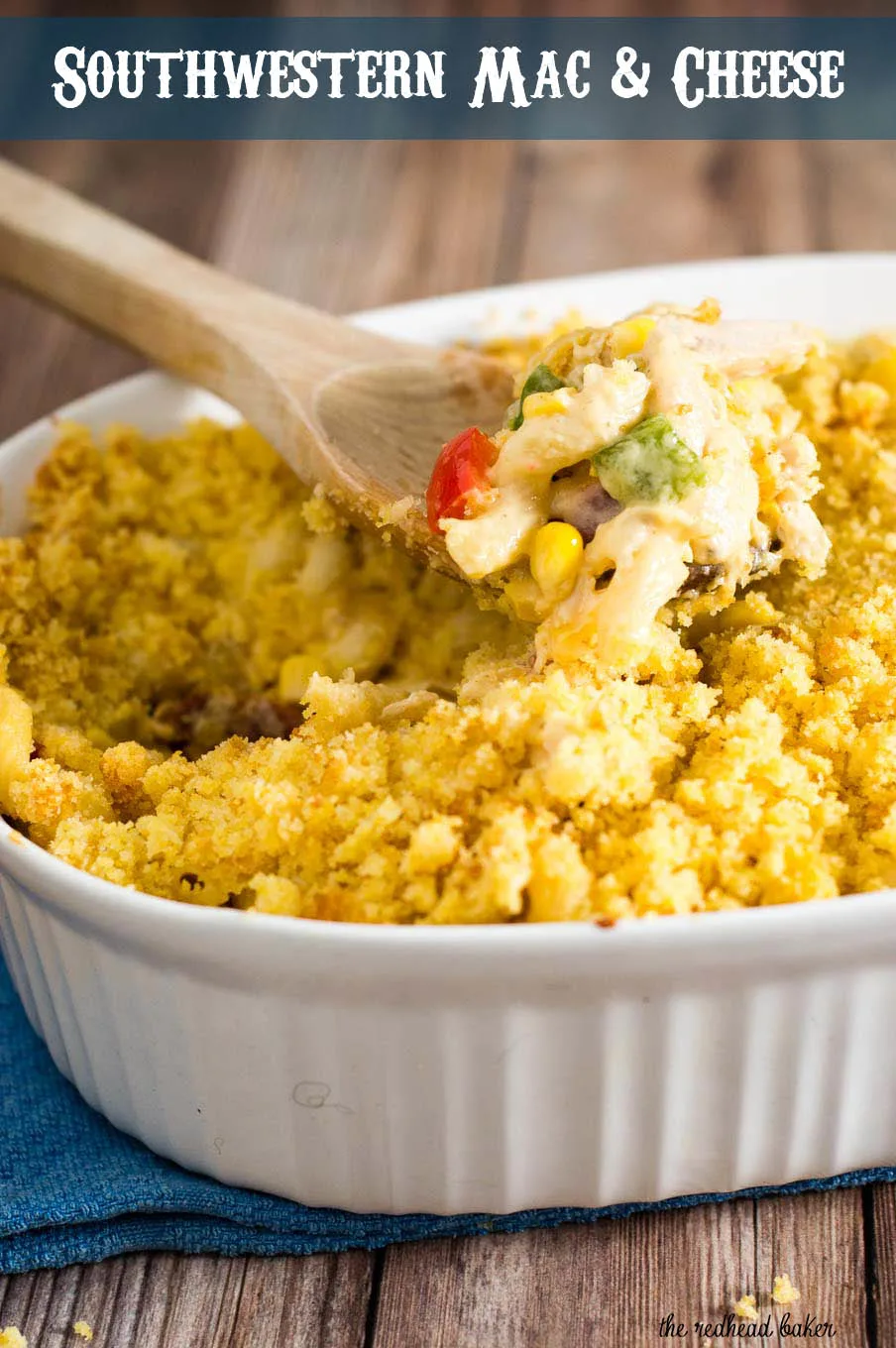 Southwestern Mac and Cheese with Cornbread Topping
Ingredients
1 lb cavatappi or elbow macaroni pasta
4 slices bacon
½ medium yellow onion, chopped
½ medium green bell pepper, chopped
½ red bell pepper, chopped
1 14-oz can whole kernel corn, no-salt-added preferred, drained
12 oz shredded chicken
1 tablespoon taco seasoning (store-bought or homemade)
4 tablespoon unsalted butter
4 tablespoon all-purpose flour
2 cups whole milk
2 cups shredded pepper jack or monterey jack cheese, 8 oz
1 cup shredded sharp cheddar cheese, 4 oz
½ cup cornbread or corn muffin crumbs
Instructions
Preheat the oven to 400 degrees. Butter the bottom and sides of a 2-quart casserole dish. Set aside.
Bring a large pot of salted water to a boil. Add the pasta and cook to al dente according to package directions. Reserve 1 cup of cooking water before draining.
In a skillet, cook the bacon over medium heat until crispy and brown on both sides. Remove to a plate lined with paper towels, leaving bacon drippings in the skillet.
Add the onion and bell pepper to the skillet, season with salt and pepper, and cook over medium heat for about 5 minutes, or until tender. Add the corn and chicken to the skillet. Crumble the cooked bacon and add to the skillet. Sprinkle the taco seasoning over the mixture and toss to coat. Set the skillet aside.
In a large saucepan, melt the butter. Add the flour and 1 teaspoon of kosher salt, and whisk to combine. Cook, whisking continuously, until the mixture turns pale brown (about 3 minutes).
While continuing to whisk, slowly drizzle in the milk. Once the milk is fully incorporated, cook over medium heat, stirring constantly, until the mixture thickens. Do not let the mixture boil.
Add the cheese, 1 cup at a time, and stir to combine and melt the cheese before adding more. Once the cheese is fully incorporated, taste, and season with salt and pepper if needed.
Pour the reserved cup of pasta cooking water over the pasta to loosen. Add the pasta to the cheese sauce, as well as the onion/pepper/corn/chicken/bacon mixture. Mix everything together.
Pour the mixture into the prepared casserole dish. Spread the cornbread crumbs over top, and mist lightly with nonstick cooking spray. Bake for 15 minutes, or until the mac and cheese is bubbly and the crumb topping is browned.
You might also like:
Butternut Squash Bleu Cheese Mac and Cheese from The Redhead Baker
Cajun Shrimp Mac and Cheese from Lemons for Lulu
Caprese Mac and Cheese from Prevention RD
French Onion Mac and Cheese from Hungry Couple
Jack Daniels' Smoky Bacon Mac and Cheese from The Slow Roasted Italian