It's so easy to make the fruit leather rolls we remember from our childhood, and the sky's the limit for fruit flavor combinations!
My neighborhood elementary school didn't have a cafeteria, so students either brought their own lunch and ate at their desks, or went home for 45 minutes for lunch. I always stayed at school and brought my own lunch.
I still remember picking out a new lunchbox each year, I remember going through an anti-sandwich phase for a year or two, and I remember that we had to pack a kitchen towel to lay over our desktops for lunch.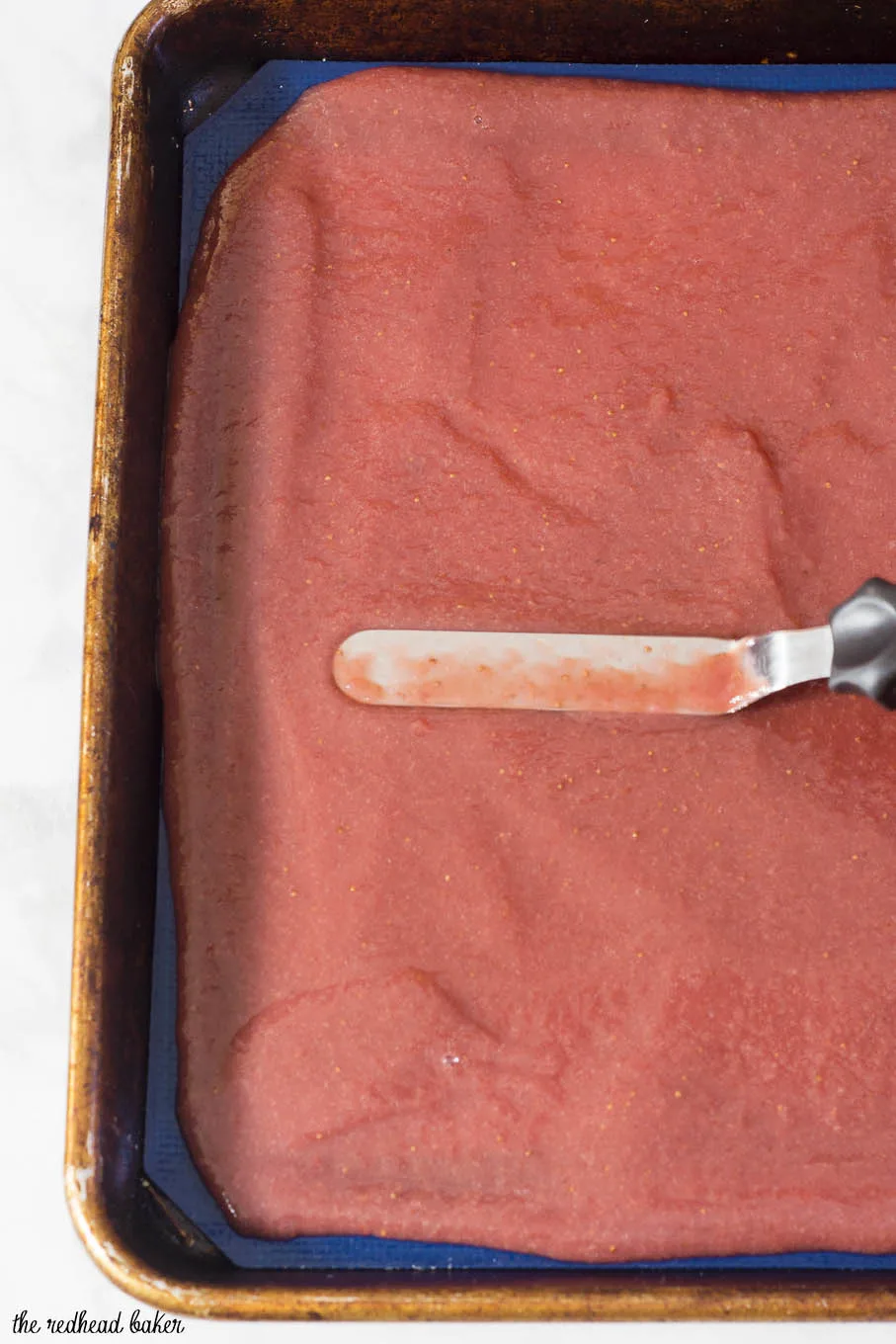 In addition to my sandwich (or cracker stackers during my anti-sandwich phase — they were crackers, circles of deli lunch meat and cheese), my mom always sent something sweet, such as a cookie, a little cupcake, or some kind of fruit snack.
I'm a chocoholic, but I still loved those fruity snacks. My favorite was the roll of fruit-flavored leather, a thin layer of almost rubbery sweetened fruit wrapped in a roll around cellophane.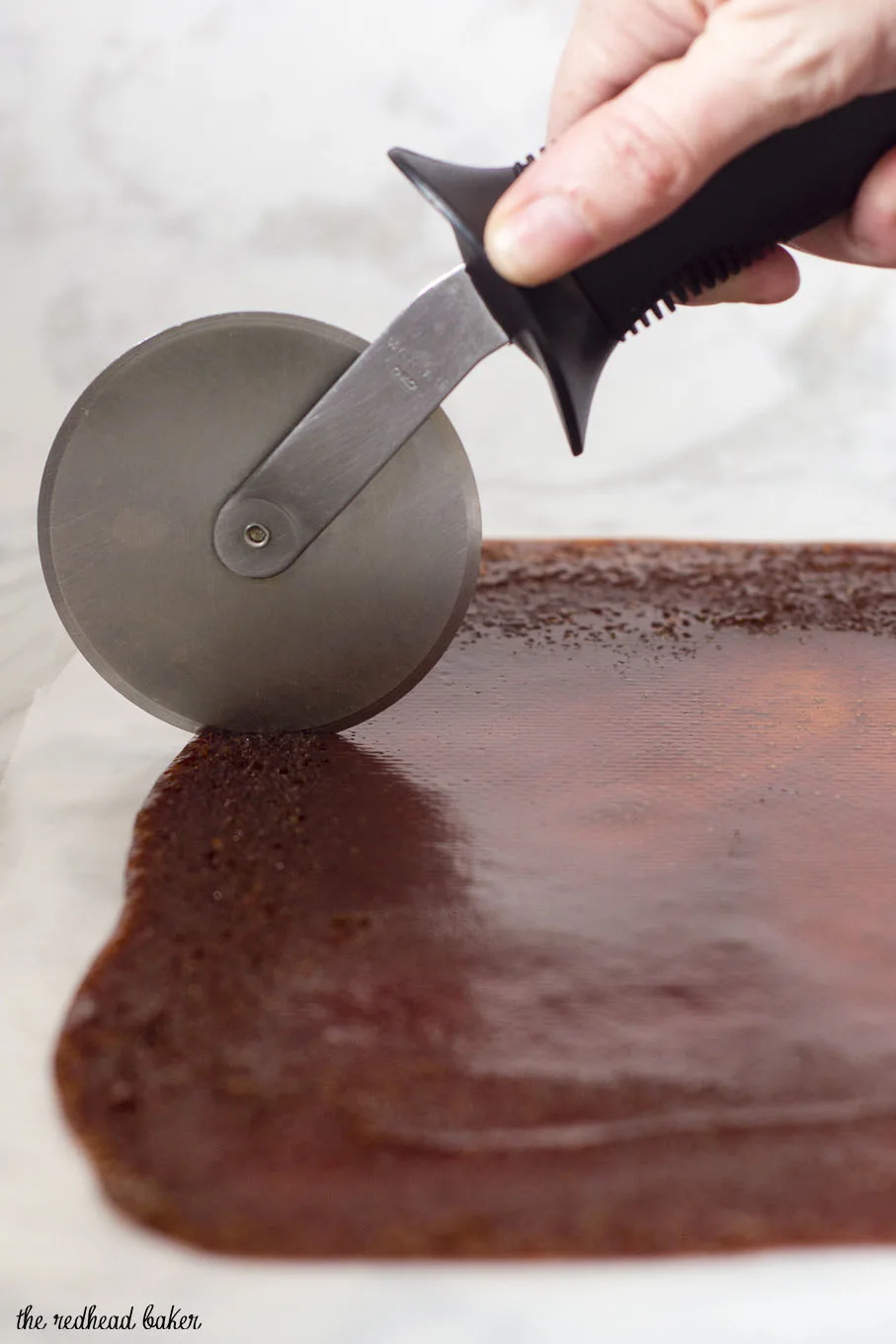 One of my favorite fruity snacks was a roll of fruity leather, My favorite flavors were strawberry and cherry, and there was also lemon-lime and tropical punch. I used to wish there were more flavors available.
I recently discovered that fruit leather can be made at home! Technique-wise, it's pretty easy, though it is time consuming, because you have to cook out the water without burning the sugar, then dry out the leather in a low-temperature oven.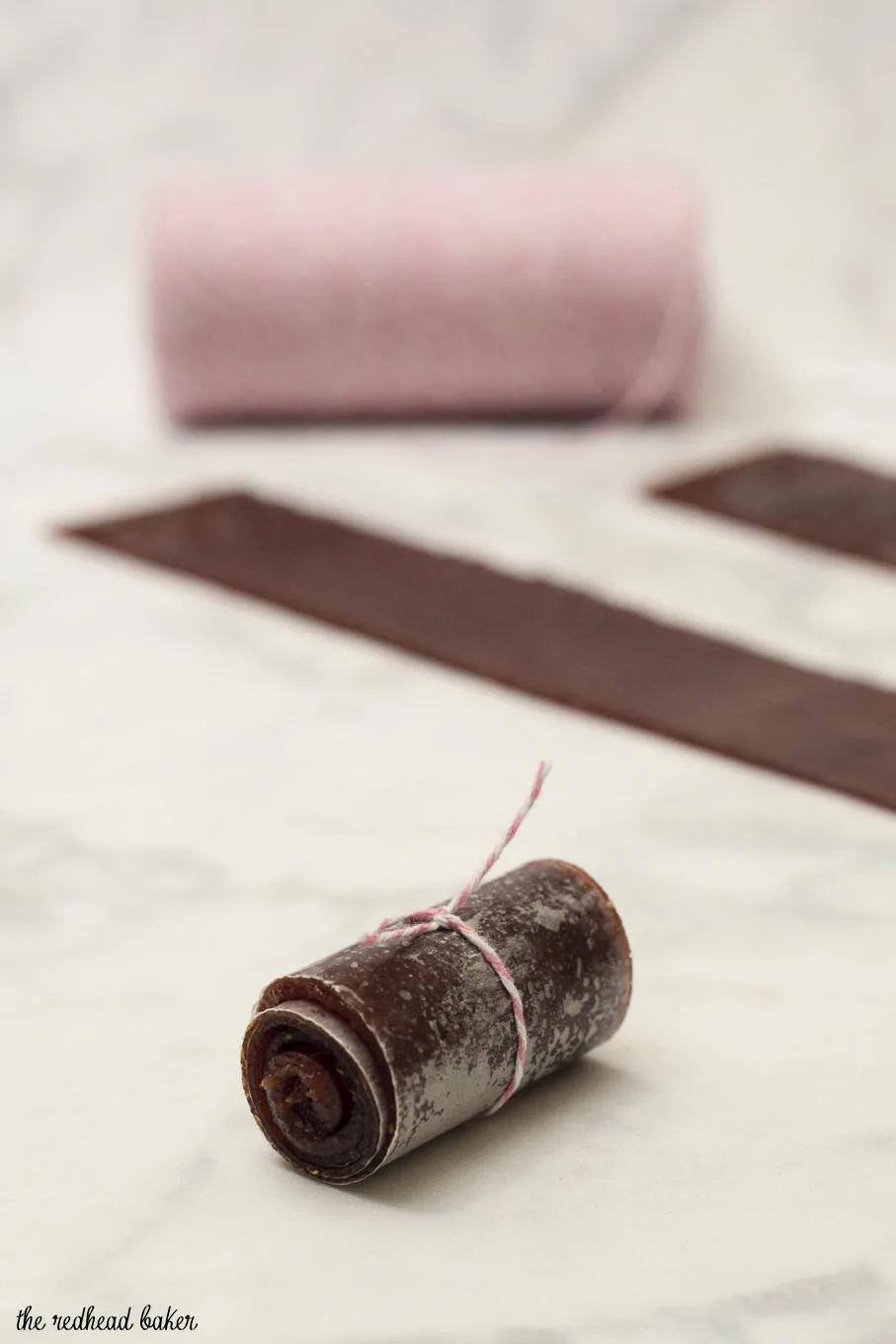 My son loves fruity snacks more than chocolate (I have no idea where that trait came from, because it wasn't from me!), so I knew he'd love these. The first combo I made is strawberry banana, but the flavors are completely customizeable. Just puree 1 ¼ lbs of chopped fruit with ½ to ¾ cup of sugar (depending on how sweet your fruit is), then add lemon juice if using a fruit that will oxidize, such as apples or bananas.
I highly recommend using a silicone baking mat to bake the fruit leather. You can be sure there won't be any creases or bumps and your fruit puree will be flat. Once baked, place the wax paper on the fruit leather, flip everything over, and peel the baking mat off. Never cut anything on a silicone baking mat.
Silicone baking mats are a great addition to any kitchen. They can be used instead of parchment paper when baking cookies or pastries, or make parmesan crisps, kneading bread and more!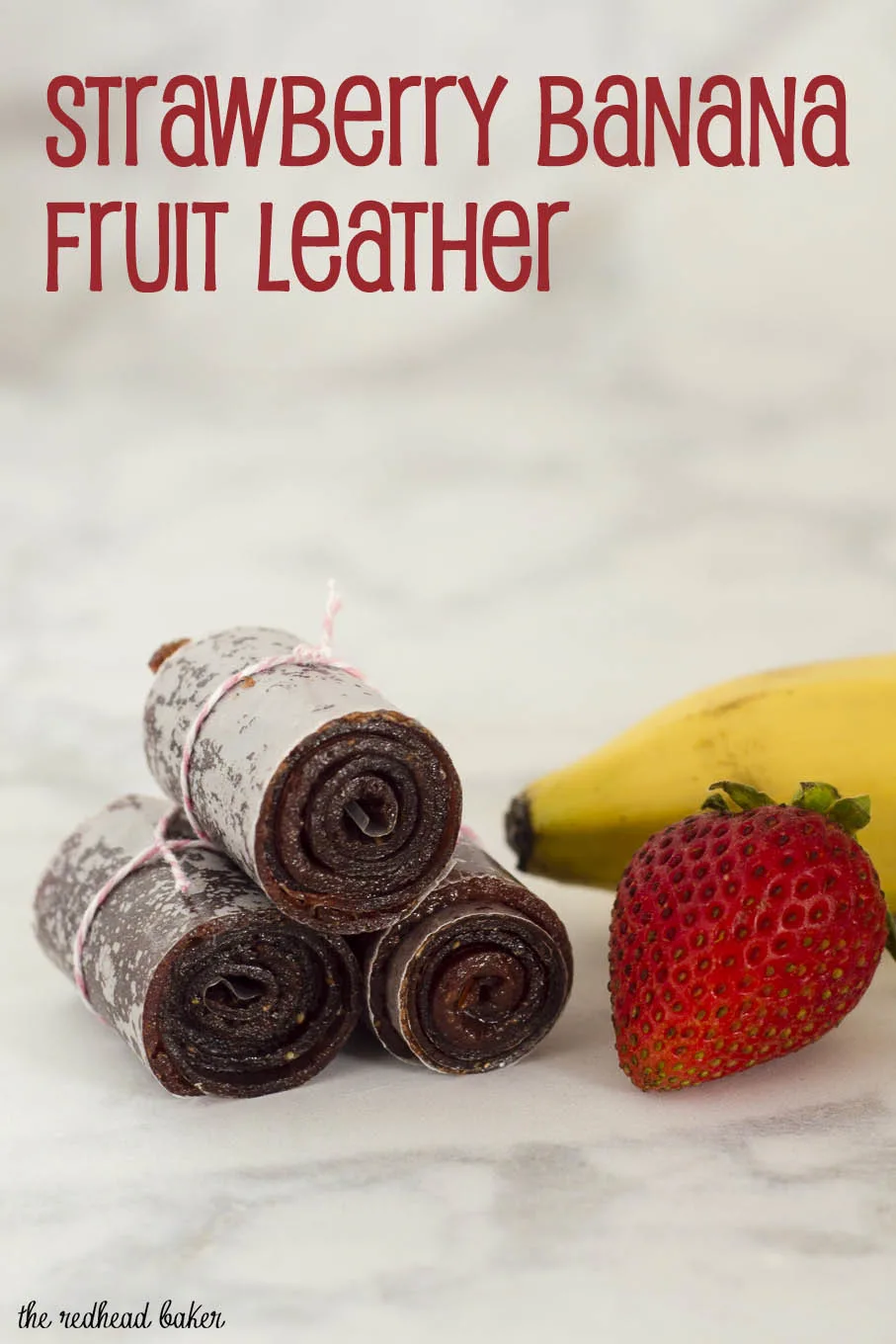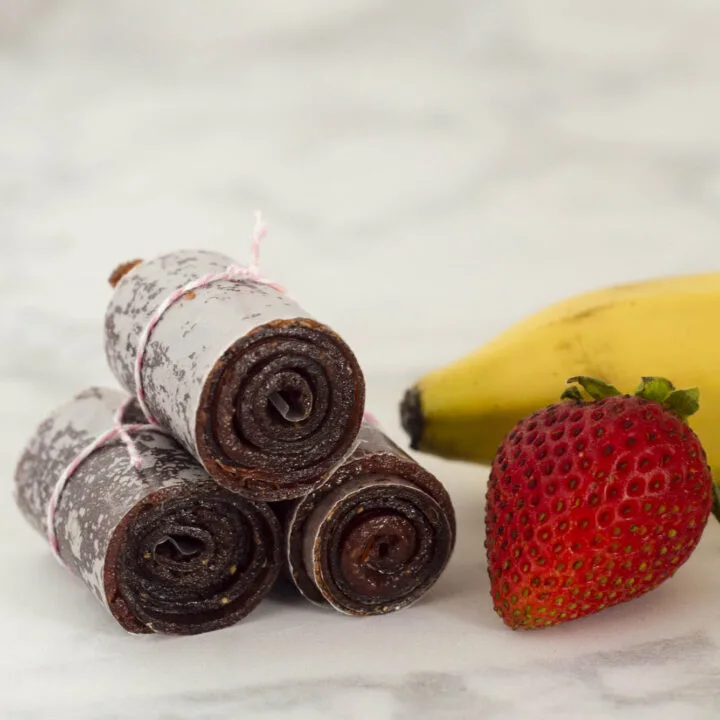 Strawberry Banana Fruit Leather
Prep Time:
1 hour
10 minutes
Cook Time:
3 hours
30 minutes
Total Time:
4 hours
40 minutes
For this recipe, you will need a silicone baking mat, wax paper, and baker's twine.
Ingredients
1 ¼ lb strawberries, hulled and quartered
2 inch medium very ripe bananas, peeled and cut into 1- chunks
¾ cup sugar
1 ½ tablespoon freshly squeezed lemon juice
Instructions
Place the strawberries, bananas and sugar in a food processor and puree until smooth.
Strain the puree through a fine-mesh sieve into a large heavy saucepan. Add lemon juice and stir to combine.
Bring puree to a boil over medium-high heat, then lower the heat to medium-low and simmer, stirring occasionally (more frequently toward end), until very thick, about 45 minutes to 1 hour.
Preheat oven to 200°F with rack in middle. Line a large baking sheet with silicone baking mat.
Pour the puree onto the liner and spread as thinly and evenly as possible into a 15- by 10-inch rectangle using a small offset spatula. Dry the fruit leather in the oven until it feels just slightly tacky (it shouldn't stick to your fingers) 3 hours to 3 ½ hours.
Remove the liner with the fruit leather from the baking sheet and place on a wire cooling rack until completely dry, at least 3 hours and up to 24.
Place a sheet of wax paper over leather, flip over, then peel off the silicone baking mat. Cut the rectangle crosswise into 1-inch strips. Roll up each strip and tie with baking twine.
Store in a zip-top plastic bag at room temperature for up to 2 weeks.
Adapted from Epicurious